What do your accessories say about you? Do they tell people a bit about who you are and where you came from? When you walk through the door, do they make you feel like this is your home? Choosing the right accessories is as important as selecting your major furnishings. When you look at them, they should feel personal and evoke some emotion or memories, including pieces from your travels or hobbies. I have a number of paperweights that my cousin gave me over the years. Every time I look at one, it makes me smile.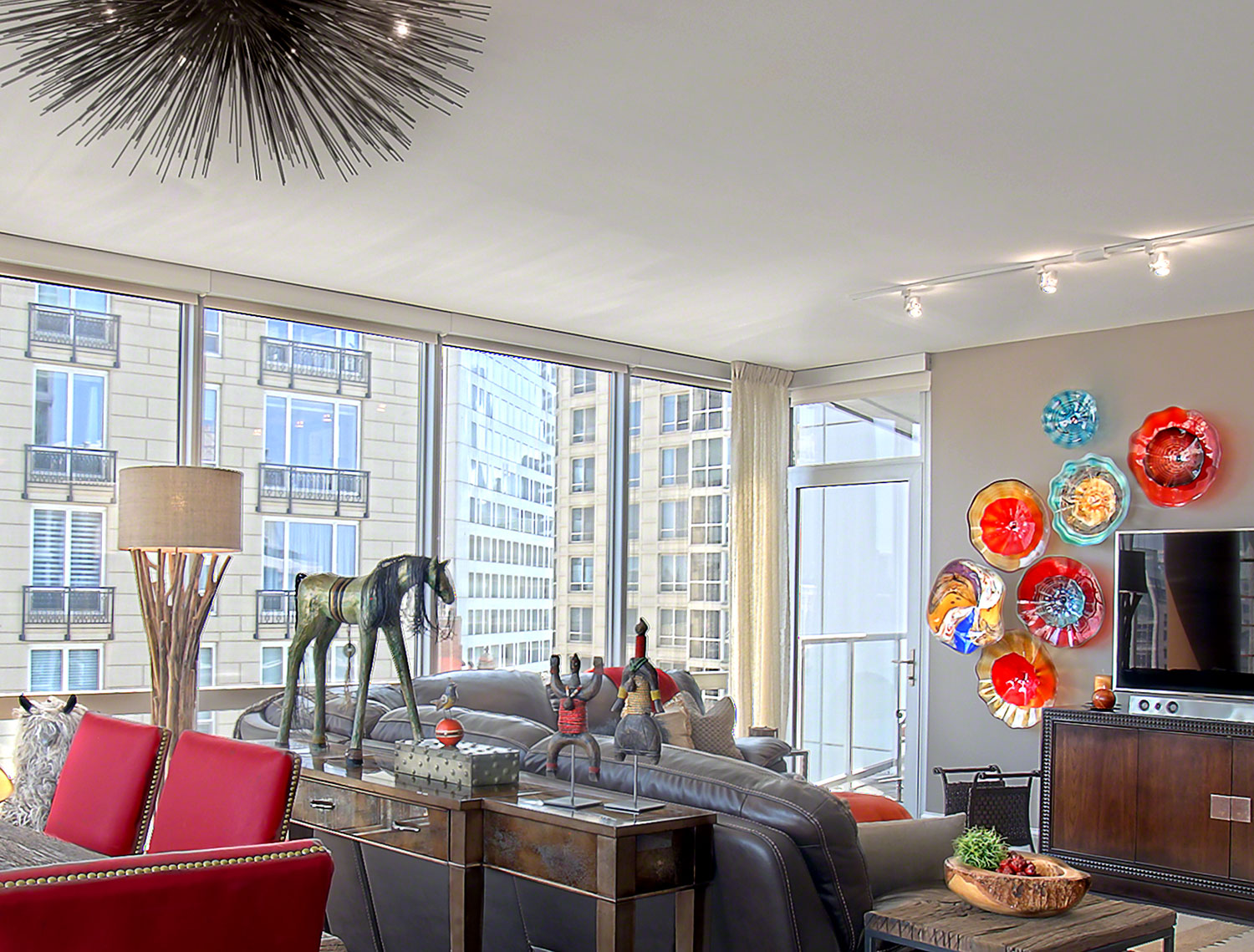 Layer Your Accessories
Often, accessories are a conversation starter, as in, "where the heck did you get that gorgeous wall art? My approach to accessorizing is to create layers, often starting with one key accent piece such as the colorful glass wall installation in the Chicago pied-a-terre above. Then I layer in supporting pieces, such as the leggy horse and the modern sculptures. Imagine this high-rise condo without the accessories. It wouldn't be quite so exciting and engaging without these colorful bright spots, would it? One look tells you so much about my clients! Warm and friendly. Playful. Willing to take a risk. These bright colors and unusual designs aren't for everyone, and that's the point. I hand-select accessories for each client based on my insight into who they are. It's a challenge and a lot of fun!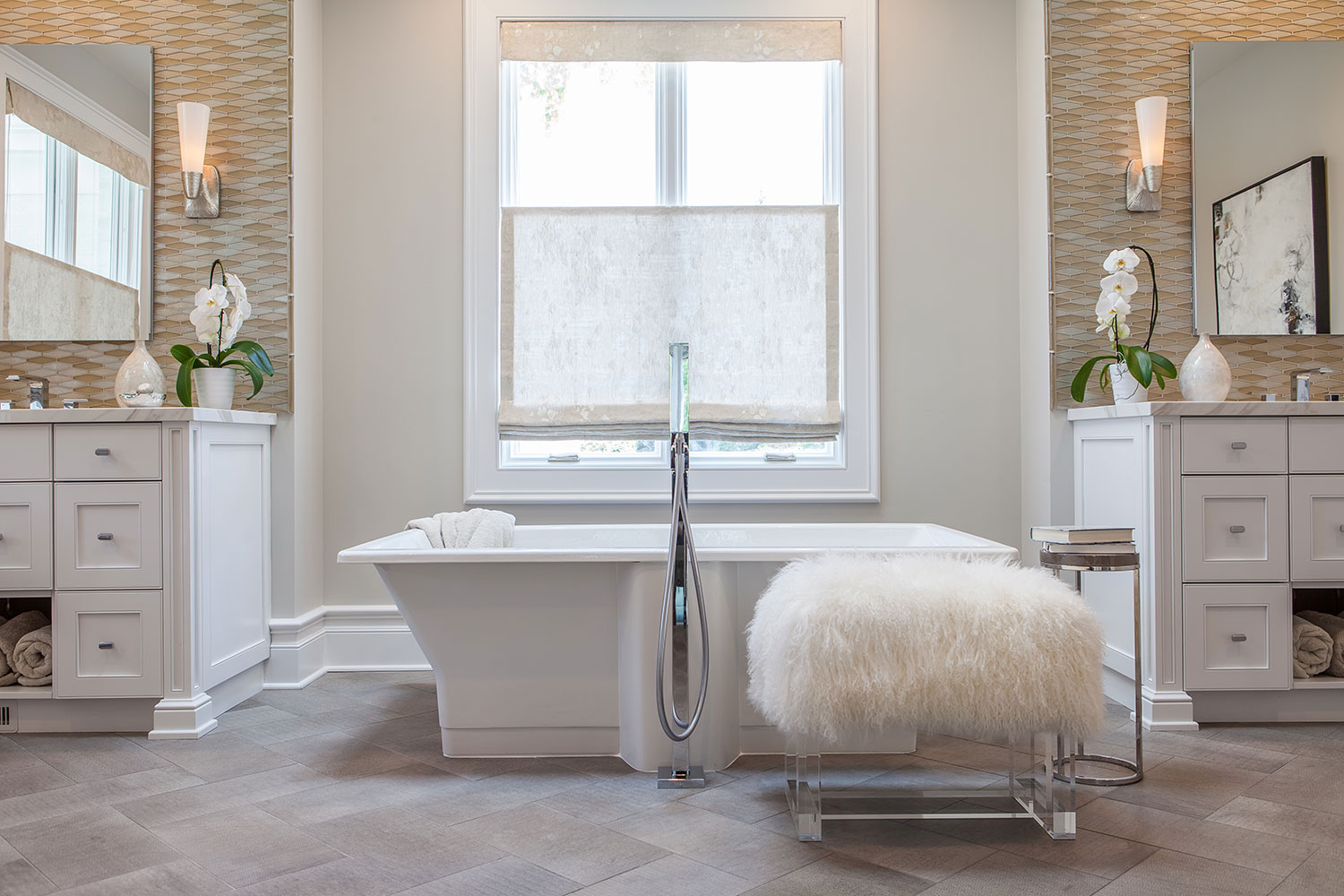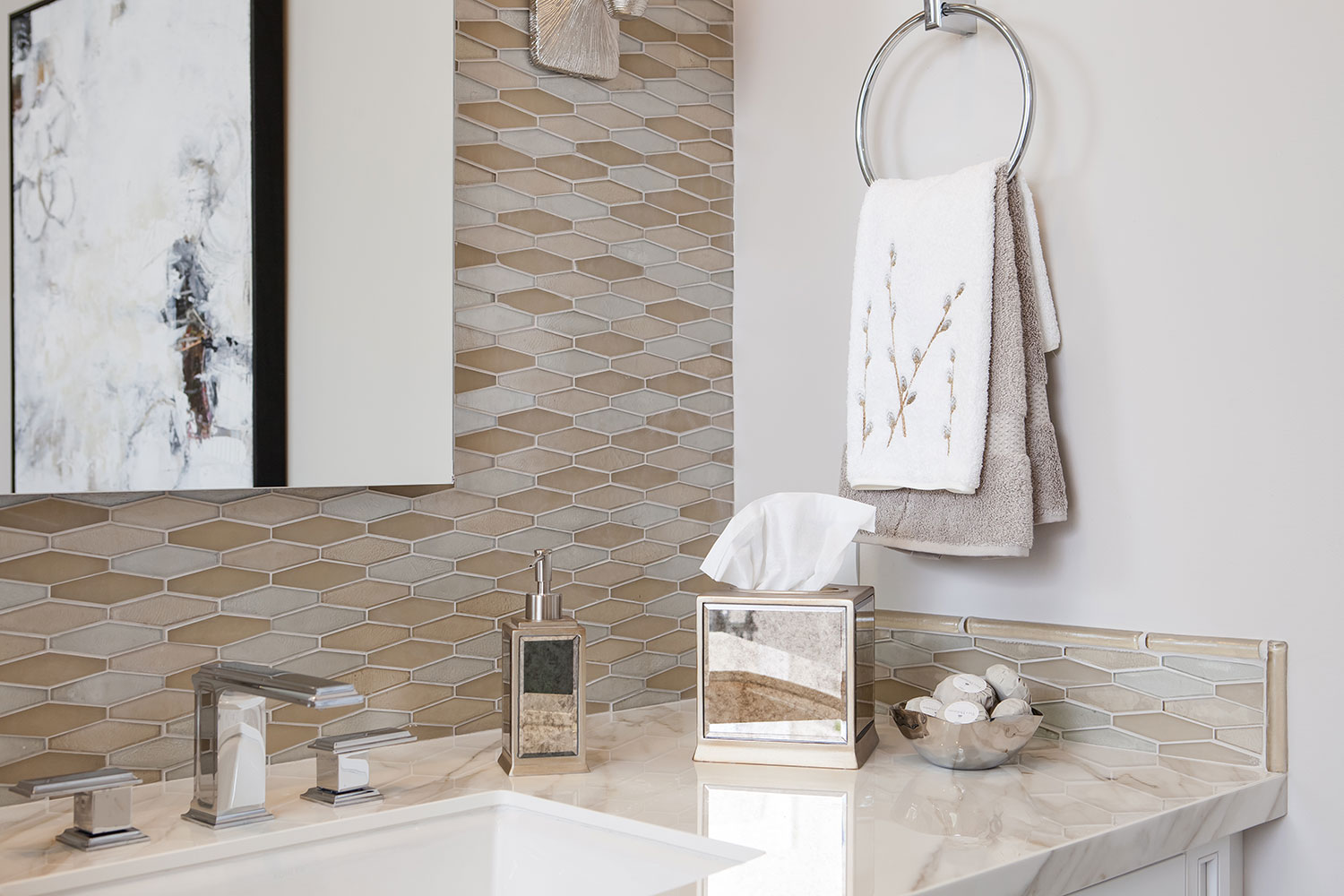 Choose the Right Style
Take a closer look at the vanity accessories from the bathroom above. Whenever I accessorize a home, I look for pieces that reflect the style and tone of the space. In this case, that would be upscale and a bit ritzy. The mirror-like finishes on the soap dispenser, tissue and soap holders remind me of the gleaming chrome details on a luxury car. For a soft touch, I added plush towels that pull together the colors of the backsplash tile.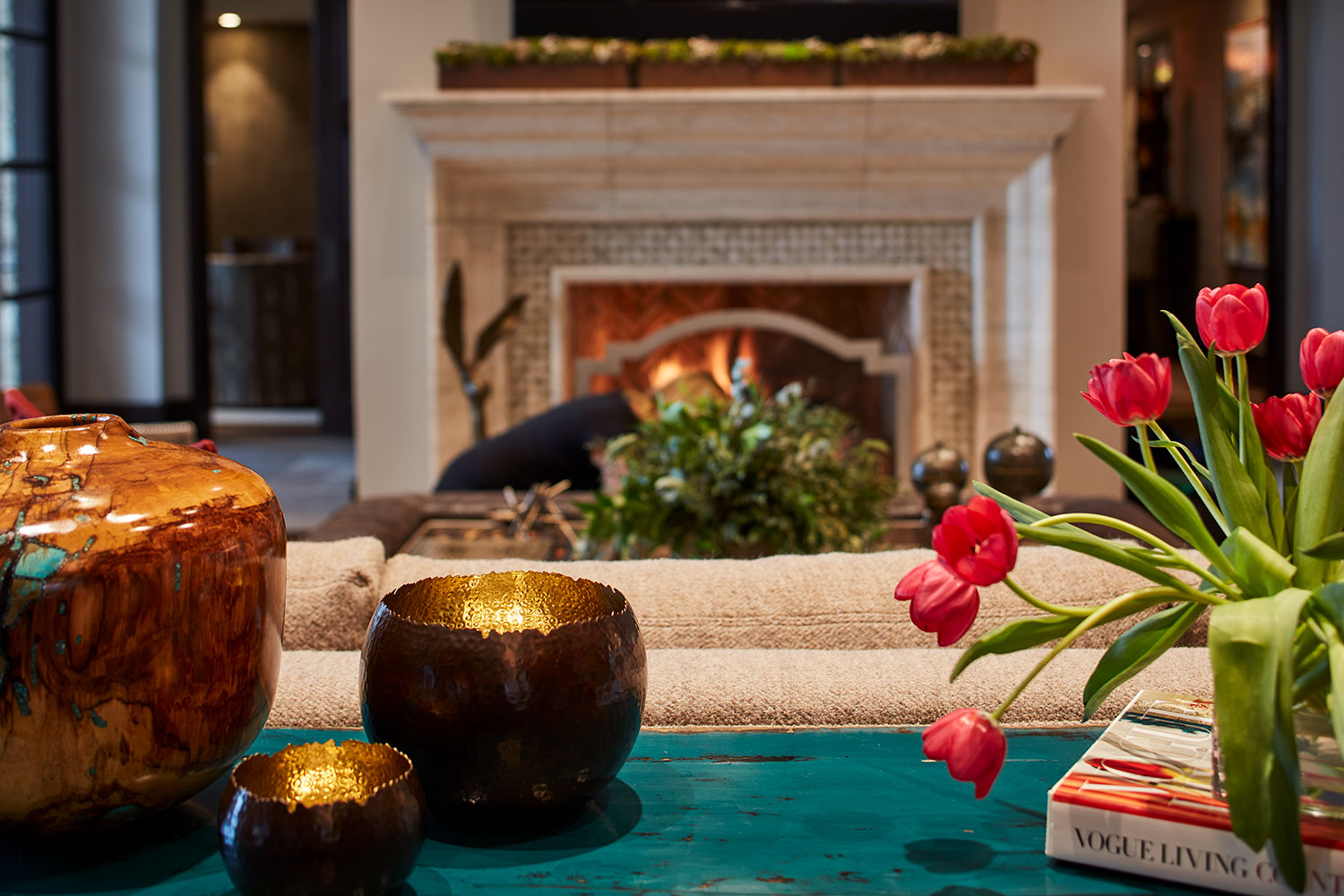 Create a Focal Point
The star of this vignette is the textural metal collage tucked into a niche at the end of this soaring limestone hallway. I installed the piece over a panel of wallcovering in a stone-like pattern that adds another layer of intrigue to the scene without detracting from the artwork. The patinated bronze chair, upholstered with Kelly Wearstler fabric, builds on the metallic theme while adding to the somewhat mysterious mood.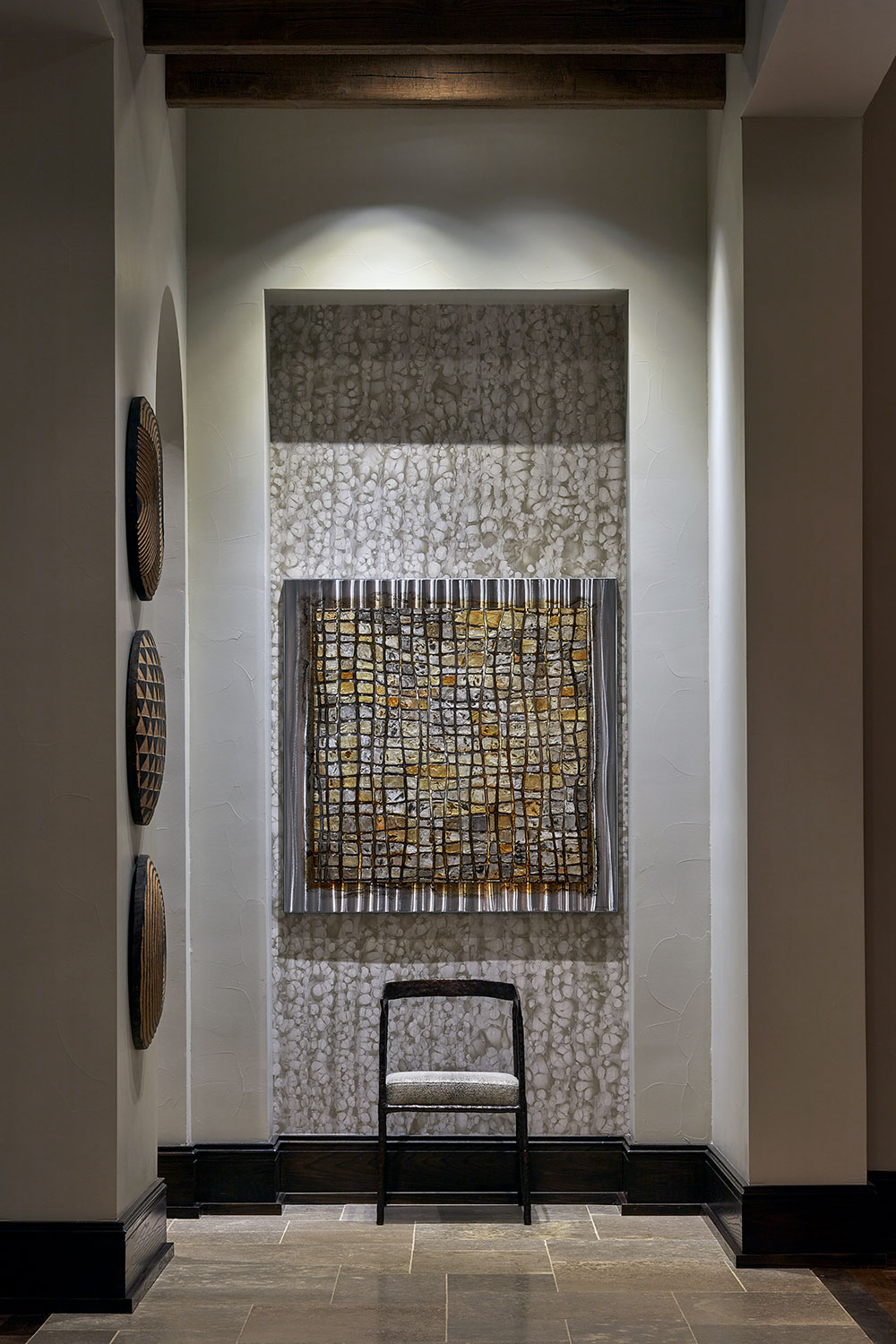 Be Unique
Finding unusual, fascinating artwork is one of my favorite things about interior design. These clients love art and want pieces that they aren't likely to see anywhere else. The beautifully rugged geography of North Central Texas inspired my choice of textures for their dining room, shown above. I placed this statuesque trio of carved African figures on a richly carved chest against a backdrop of contemporary encaustic wall art. The open texture of the sculptural, framed piece offers a peek at the champagne colored wall behind it.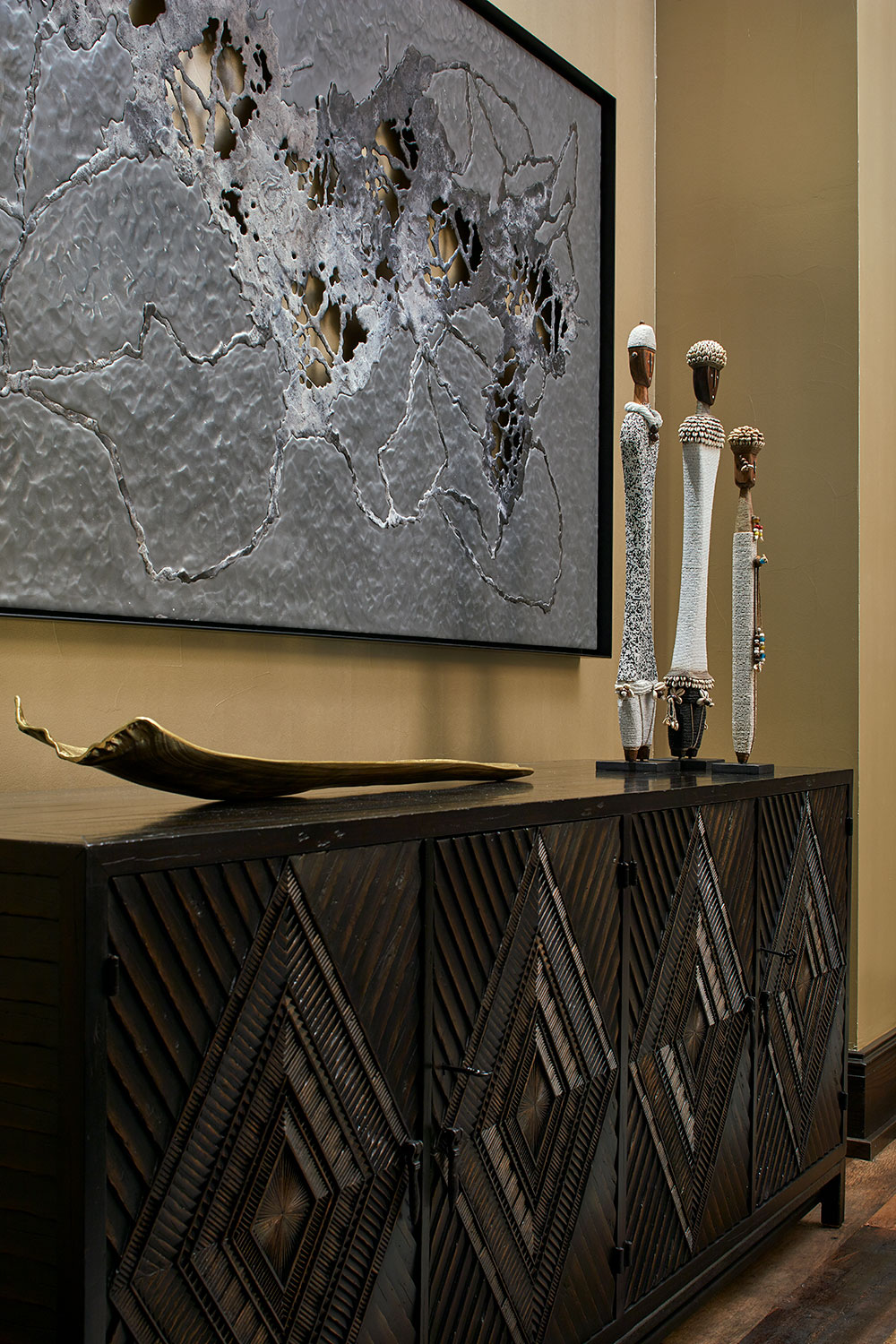 Include Family Treasures
Finding the right place for my clients' collections and heirlooms is so rewarding. And virtually all of my clients want to include some much-loved pieces when they are updating or moving into a new home. For this client, I framed her treasured collection of Norman Rockwell plates in shadow boxes and displayed them around the window. They bring a homey touch to a much-used space, while the all-new wooden cherries on the island and the flower basket pick up the red-tinged backsplash tile.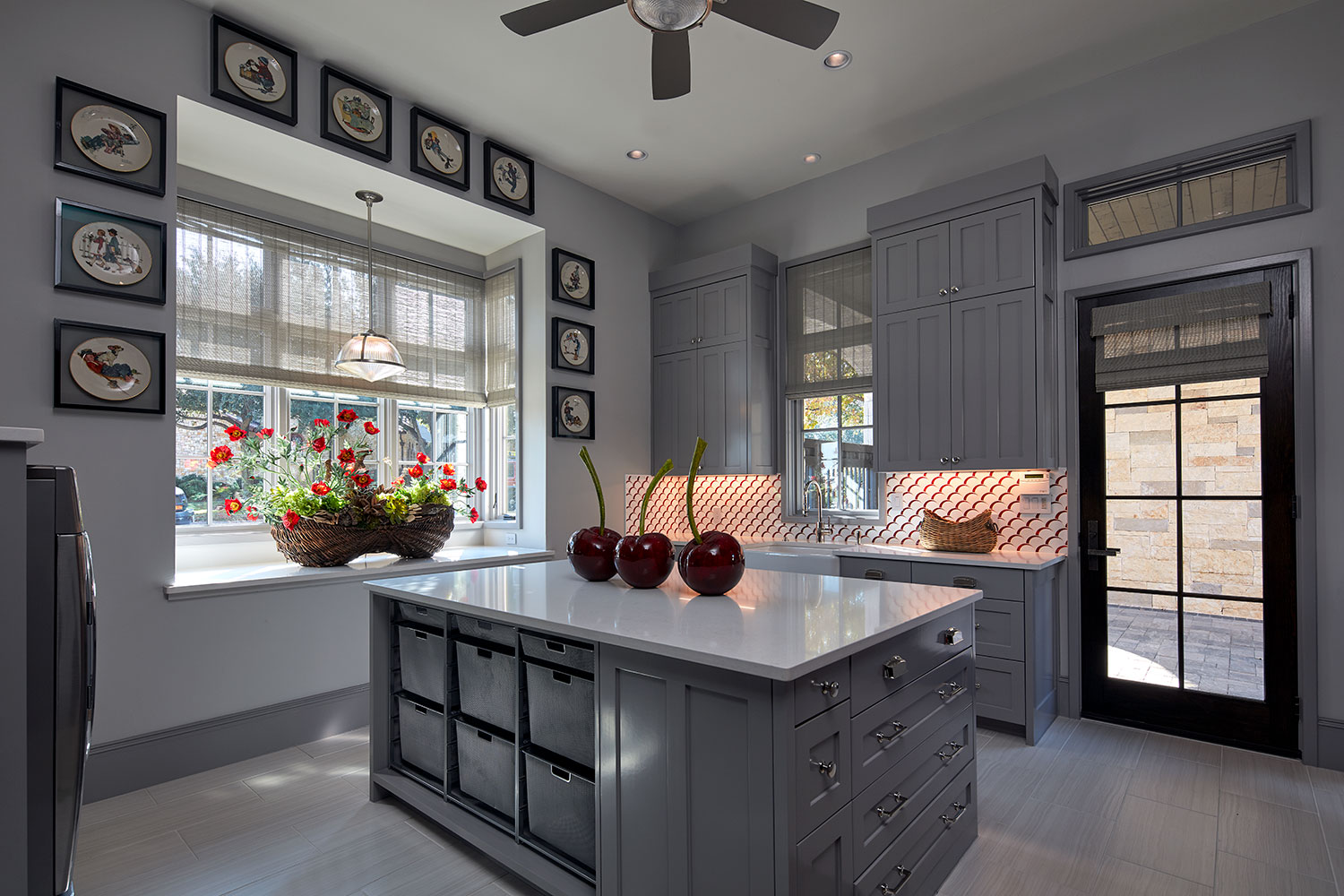 Experiment with Layouts
Some accessories just call out for creative layouts, like these copper pans that my client collects. The best way to find the right arrangement is to lay them out on a surface—like the countertop in the laundry room above—and experiment with different groupings. I wanted the right balance—not too top or bottom heavy—as well as an interesting layout without crowding the pieces. I think this works on all fronts!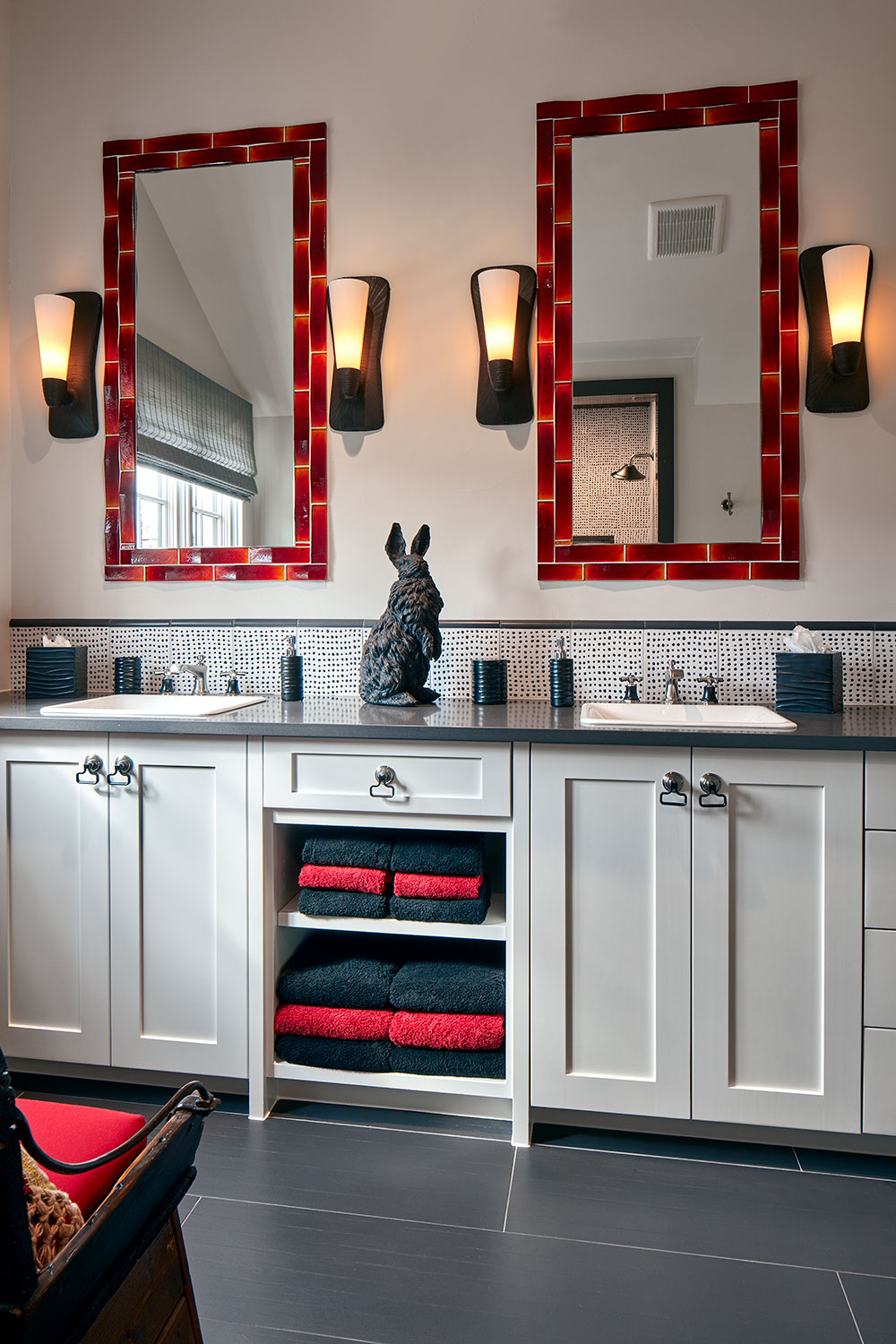 Have Some Fun!
Black rabbits are rare in nature, and even more unexpected in a bathroom. That's why I chose this little fellow. His whimsical pose is pretty cute in this sophisticated-glam bathroom, and he fits right in with the black counter accessories and red accents.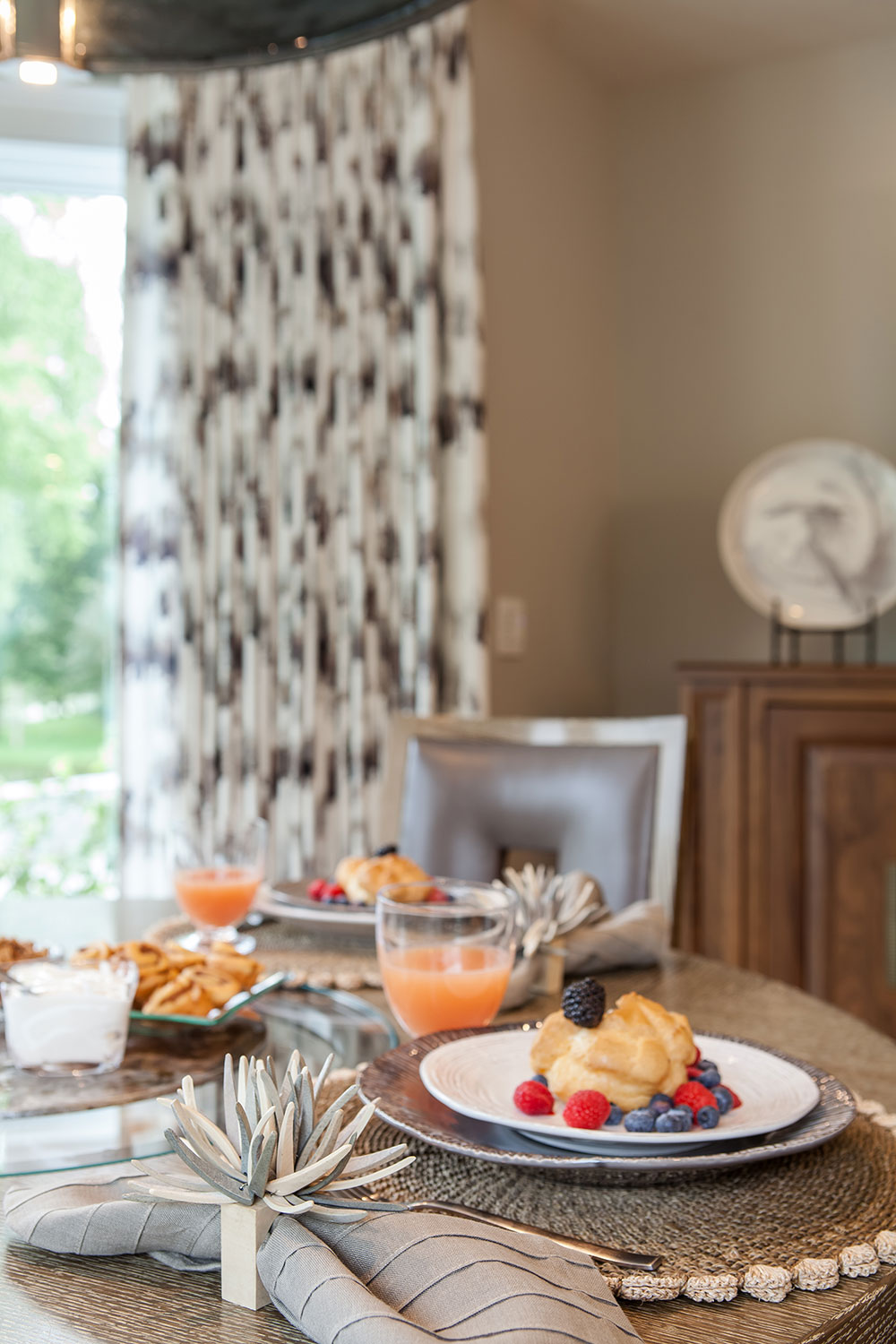 The Difference Between Average and Stunning
Yes! I am very happy to help you choose dishes, place mats, napkins and napkin rings for your table as well as linens for your bedrooms, bathrooms and kitchen. Michelle's Interiors is truly a full-service studio. Many of my clients love to have me complete their home right down to the smallest details. After all, "It's attention to detail that makes the difference between average and stunning," according to Francis Atterbury, 17th century English politician, writer and bishop. I agree!