In the design world, we call ceilings the "fifth wall." It's our way of giving them the "elevated" status they deserve! Ceilings give designers another opportunity to generate a bit of excitement at home with unexpected  texture, color, pattern or shine. I understand that it can be daunting for some to venture away from basic ceiling white paint.  But when our clients see the results, they love the way a new ceiling treatment brings energy and personality to their homes.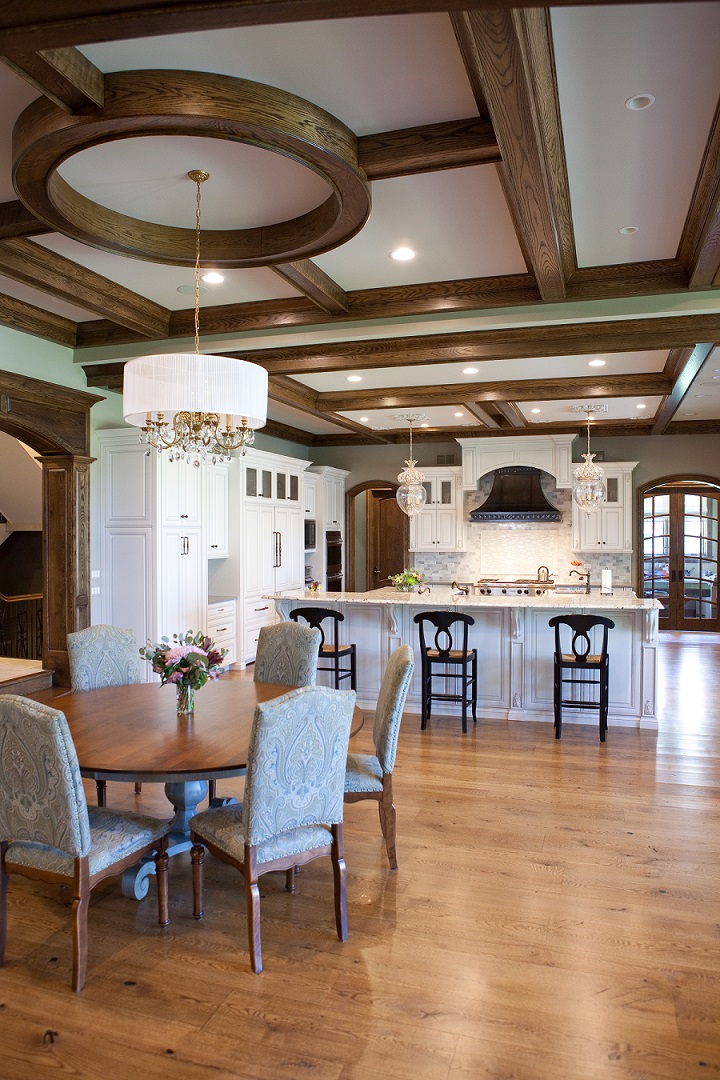 Photo by Jeff Mateer
Creative Coffers
In this Chicago-area client's kitchen and breakfast area, above, the wooden beams bring a bold pattern and undeniable warmth to family meals and get-togethers with friends. The darker ruggedness overhead juxtaposes beautifully with the elegant lighting fixtures and fresh white cabinets. The contrast of the circular ceiling medallion with the right angles of the coffered ceiling also puts a personal stamp on this home.
Color Coordinates
For the master bedroom in the same suburban home, we defined the barrel vault ceiling with a relaxing,  grayish blue hue. I can't imagine this room now with a plain white ceiling – it just wouldn't have the same refinement.  Your bedroom should be a retreat. When the ceiling becomes a vital part of the design, it can have a cozy, enveloping effect.
Specialty Painting
Because the walls are soft gray and have no artwork, the ceiling is the focal point in this traditional hallway. It has been specialty painted for richness and shine, and to draw eyes upward to the luxurious chandeliers.
Pattern Play
Children enjoy a pretty ceiling, too! Though the color palette here is subtle and soothing, the ceiling is engaging and playful. It's just right for cuddling up during story time in the swivel-rocker. I remember those days!
~Michelle