Whether reconfiguring an existing interior space or adding square footage to a home, interior design of excellence begins with understanding what is involved.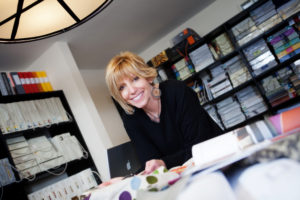 As the new year is well upon us, and many of you are looking toward home renovations and renewed design ideas, I thought this month's blog topics might inspire you.
This time of year, when many people desire creative changes in their homes, I am often asked for my thoughts and advice about interior design. The topic of interior design is complex and can involve refreshing the look and feel of a room the whole way to accomplishing a total home renovation project.
I tend to work with clients on larger-scale projects, including custom furniture design, lighting, fabrics, finish selections, custom cabinetry and millwork as well as planning, procurement and installation coordination. Much goes into evoking new design aesthetics for a home, and no two interiors are exactly alike.
Of dozens of questions I am frequently asked about home design, this blog shares my take on a handful of topics about which many of you have inquired. I hope this information will help you consider exciting new interior design ideas for your home.
Now that the holiday décor is stored away for another year, it is time to enhance your home in innovative and imaginative ways to add luxury and beauty to your interior.
Enjoy these often-asked questions and my answers, and contact us if we can help conceptualize your new rooms and spaces in 2018.
Q. What advice do you have for transforming a dining room into a stunning gathering space for family and friends?
 A. At first it may sound obvious, but one of my favorite dining room components to incorporate for my interior design clients is the table. While, yes, the table is clearly the essential item every dining room must have, there is more to table selection than meets the eye.
Round dining tables evoke connectivity between everyone seated at the table, allowing diners to easily converse and see one another. Of course, not every space has the correct dimensions to easily accommodate a round table. Square and rectangular dining tables also give way to conversational dining experiences. I love planning rectangular tables because creative uses of harmonizing side and captains' chairs are possible.
Selecting the table shape is about how the spaces will be used for both quiet family dinners and lavish dinner parties. But, by all means, the dimensions of the dining room are first and foremost. For dining rooms, size undoubtedly matters and should be at the core of planning.
For one of my client's dining rooms (pictured below), we chose a rectangular dining table to fit generously into the spacious and elongated space, which needed to be elegant with a touch of contemporary flair, yet not too busy.
To make a statement that was appealing but not over-dramatic, we went with shades of purple for the chairs' upholstery. This added pop of chair color was just the right design emphasis against a subtle gold wall paper we picked that looks like soft satin.
I customized the tables' side chairs with a plush and textured purple fabric. Then, we covered the captains' chairs in a corresponding purple material displaying a gorgeous geometric pattern.
Tying the color hues together in an orchestrated balancing act, I specified a cream-colored area rug with a pattern of curving purple-dotted lines. We instilled a touch of understated contrast in the room with an oval chandelier boasting a gold finish and strands of hanging crystals, which we hung above the table.
The oval light fixture above the rectangular table created a sense of spatial interest for the room, not to mention provided necessary light with a touch-button dimming feature. Oh, and did I mention the crystal chandelier was my way of infusing a dash of luxury to the dining room?
The overall effect is a warm, inviting dining room for entertaining friends. Though, the design also offers a space for family dinners that are sure to keep the kids engaged and their phones and handhelds out of sight- well, at least for a few minutes.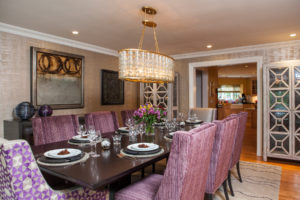 Q. What is the secret to using multiple fabric colors and patterns in the same room?
A. Incorporating fabrics in interior design is a creative way to turn an ordinary room into an extraordinary one. As a designer, fabrics are one of the creative "tools" I can't live without. By mixing and matching fabrics, we can create the opportunity to evoke a specific sense of style for a space. Though, this all depends on what type of sentiment you want to create within a room.
To produce a calming effect, I admire fabrics that contain shades of light blue and serene green. Deep reds and gold are workable choices I like to fashion more dramatic or attention-grabbing spaces. No matter which emotion you are trying to imbue, decorating with fabrics can easily give a room a new and chic appearance.
There are a few principles for mixing and matching fabrics. I suggest beginning by selecting three to four colors per room. Often, I will find a print fabric that has several colors in it. I might only use this fabric in a small way, but I can easily build an entire color scheme and room concept around it. This is especially true for homes with tall ceilings and ample wall space.
For one of my client's guest rooms (below), I planned the perfect room with three colors, black, white and red. But, delving deeper into ultimate design, the tri-color theme was then carefully planned to incorporate seven different patterns or textures. This was our way to give the bed room heaps of design interest, yet keeping all of the patterns nicely unified by the three consistent colors.
I covered the headboards with a solid-red matelassé fabric, which was set against a black and white wallcovering which showcases the pattern of Birch trees. Black and white large-plaid bedding was customized to provide foundation to the room. We further personalized the room with custom, complementary decorative pillows, which have a black and white pattern that appears like square letter "S's," for the room's pièce de résistance.
I topped off the bed with smaller, solid-black rectangular pillows with piping edges as well as two darling round, red pillows that have the texture of playful balls. I then selected art for the room from my client's art collection, including touches of red, black and white.
When I design fabrics for clients, I like to incorporate different scales of prints and solids. The first fabric pattern usually is a large-scale. This will create a focal point. Next, we choose a second pattern that is completely different from the first. A medium-size pattern but within the same color palette is wise. If not already planned, I then settle on a solid fabric to accompany or counter-balance the first two patterns. Or, we sometimes pick a fabric with a completely contrasting color that features an embroidered design or embellished accents such as decorative buttons, fringes, brocades, or tufts.
I can provide you with predetermined color schemes and compatible families of cohesive fabrics for your next design project. I'll show you how to play with patterns!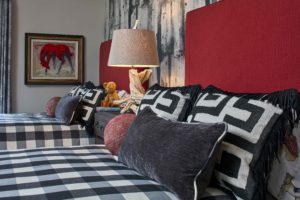 Q. My family room has become the hub of our home for both family and guests. How can I make the room comfortable for my family but more suitable for guests?
 A. Proper planning is extremely important in order to ensure overall form and function of the space. Two components of sophisticated interiors are the floor plan and a room's focal point. The best arrangements provide the right kind of seating where needed, like furniture placement that allows you and your guests to easily converse; a table within arm's reach of most seats; and a clear sight line to the room's focal point- whether it is a beautiful view, fireplace or even the television.
We start with a creative assessment of how a family room will be used and take proper measurements of the room and any existing furniture. You will want to consider the location of immovable structures of the space such as doors, stairs and electrical sockets, as these determine where certain pieces can be placed. I always remind that walkways need to remain unobstructed and wide enough to ease traffic flow.
With these steps prepped and executed, you can arrange furnishings to focus attention toward your desired focal point. A natural-looking arrangement that equates to comfort and flow is key. My design staff and I often try various sketches or other visuals to explore options upfront. Ample seating permits use of the room by both family members and your visiting guests.
In the family room seen below, one of the objectives was comfortable seating to be used for the couple who owned the home. Making good use of the couple's existing sofas, and creating a seating arrangement in the shape of a "U," I incorporated two wide armchairs, a useful cocktail ottoman, a rug to ground the space, and draperies easily opened and closed for both day and nighttime uses.
A widescreen television was hung above the fireplace mantle. By doing so, we created two focal points, one being the T.V. when turned on and the other being the fireplace when the T.V. is off and a fire is lit. I flanked the chairs with leather ottomans to provide additional seating when needed.
As you consider your family room's redesign, think of all the ways you enjoy the room and what it currently does and does not offer. From there, a new design for the room can be conceptualized and planned.
Contact us if we can help. Family rooms, like kitchens, are where much takes place in homes, and we can plan your dream space where you can create memories to last a lifetime.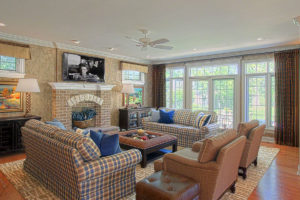 Q. Do you have suggestions for a much-needed kitchen makeover we are considering for 2018?
A. Kitchens are the heart of the home. I often say if the kitchen table could talk, the stories would be endless. The kitchen design process is complex but does not have to be daunting.
Before any kitchen design project can be successful, you have to assess your wants and needs. For our interior design clients, I sometimes advise them to begin by starting a kitchen "Style File." This is where they collect photos and information about all the things they think they might like for their new kitchens. This is a time to dream big and let your imagination run a little wild.
Similar to the family room, the best kitchen is one that has been designed for both aesthetic form and real-life function. When we start a kitchen project, we guide our clients through a series of questions such as how many people live in the household and will use the kitchen on a daily basis; does the kitchen need to accommodate small children and pets; do you love to cook; do you collect kitchenware or dishware; is the kitchen used strictly for family, or is it a place of entertaining, too? By asking these and other questions, you will better achieve an end result that suits the needs of your family.
Next, we like to determine whether a client needs a kitchen refresh design, full makeover and renovation, or a brand new kitchen with added square footage.
Possibly, above all else, you will want to assemble the right team members to help you. A kitchen interior project is not one to take lightly or treat as a DIY project.
The first person on your team should be an experienced designer. A good designer can guide you through myriad details that need to be addressed. A designer will also assist with simplifying and supervising the process, at times, including overseeing the kitchen project's budget.
 Many design experts believe the most efficient kitchen pathway is the triangle. Not always a literal triangle, this path involves the refrigerator, stove and sink. For maximum efficiency, the design should include counter space next to the open side of the fridge as well as plenty of additional counter space on both sides of the stove and sink.
Today's trend of doubling-up on appliances such dishwashers, sinks, refrigerator drawers, and a separate cooktop may allow for extra work stations, which means you will also want to create supplementary work spaces in your kitchen. For kitchens I conceptualize, I like to avoid "collision" paths, so two people moving about the space while cooking is easy and smooth.
 Picking the right counter tops, choosing appliances, and customizing cabinetry and storage in the kitchen are tasks best left to the guidance of a designer. For example, we learn our clients' needs and preferences for their kitchens, and we follow-up by researching several options for them to see and consider. All of these kitchen essentials must be carefully predetermined to satisfy cooking and food prep operations and activities well in advance of the final design scheme and material procurements.
 As the most important and potentially most used room in the home, it is important to add your own influence in the kitchen. Following the overall tone of the home is crucial, but the kitchen is a space in which you can break away a bit, with just the right color or a twist on the home's style.
Colors trending right now include gray, all-white kitchens and splashes of unexpected soft aqua or tones of blue (see our example of this below).
My best kitchen advice: Allow a designer (our own Michelle's Interiors, if you choose) to help create a personalized kitchen you will love each morning when you make your coffee, one that is also designed to simplify your life during busy family nights and allows you to enjoy and entertain dinner guests.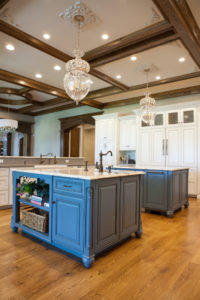 Q. I'd like to create a seating area or reading nook in my master bedroom. How would you, as a designer, make it comfortable for leisure as well as be consistent with the room's overall design?
 A. Adding a seating area is a charming way to increase a master bedroom's functionality and space. An elegant chaise longue or a pair of overstuffed armchairs can instantly create a cozy reading spot or an intimate space to unwind at the end of the day.
With my knowledge of color theory, I know the mind can be positively or negatively stimulated by the surroundings first seen when beginning the day. While each bedroom design is unique, many bedroom's can include a softer color plan to give way to tranquility, relaxation and rest.
For this master bedroom's seating area (below), my clients desired a peaceful area for waking in the morning while reading daily devotionals and the newspaper. I custom-designed a tufted chaise for the room with beige, Chenille-like fabric adorned with fringed lumbar and back pillows.
Because their legs are delicate and minimalistic, saving much needed space, we added two lovely, round occasional tables next to the chaise to hold books, coffee cups and juice glasses.
The space still needed that something special. So, I selected a large, round ottoman and had it custom-covered with a luxurious fabric with a sheen in a semi-tufted, circular style.
Keeping the intended use of the seating area top of mind, yet wanting to yield beauty for the space, I hung a small-scale, antique chandelier just above the chaise and placed a floor lamp aside it. Always a fan of natural light as well, I had custom draperies made for the adjacent windows. A heavier nighttime drapery was installed to remotely open and close overtop a lightweight sheer curtain, allowing options for dark or light in the room as desired.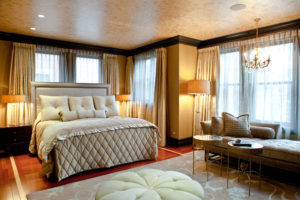 Q. We are considering a whole-home renovation, and the process seems as if it could be overwhelming. What do you suggest for making the process enjoyable?
A. We believe that a well-designed renovation project begins with a strategic approach to creativity and planning. A successful and pleasurable project is always within your reach if you choose the right design team.
My team of designers and I plan many large residential and commercial prospects by first hosting an initial meeting that involves envisioning the completed space and how its end-users will use and enjoy it. Whether the goal is to renovate an existing space or design and build one from scratch, we use this information as a critical component in preparation of a space plan.
We look at future space functions and establish both a creative interior design theme and the physical aspects the space will need to oblige its eventual usage. We survey the space, calculate measurements, and assess the necessary contracting or construction prerequisites.
Our service includes an intrinsic design plan and is often accompanied by floor plans or other visual tools to help our clients imagine and plan the future space with our team. When multiple design options have been explored, we finalize the resulting design theme and either draft or provide consultation for construction documents as needed.
My staff and I then concept and provide a series of material, finish, flooring, wall, ceiling, and many other creative options to evoke decisions about the desired environment. Furniture, lighting and artwork choices are studied to address the interior's intended impact, stylistically and personally.
It is important we work with our clients until they are completely satisfied and excited about the plan. After they approve the product selections and the plan of action, we assign responsibilities to our staff. Some of these can involve construction bids, overseeing contractors, synchronizing change orders, space planning, site meetings, furniture and fabric selections, customization of one-of-a-kind items, and full interior design installations.
I like to say, we do not consider a whole-home project complete until everything is in its place, and there is a place for everything.
Most of all, do not be overwhelmed. The prospect of a large-scale project like this should be enjoyable and fun. How a project is planned and executed is as important as the final, beautiful result.
Contact me, and we can streamline the process for you in a way that will have you ready to grab a sledge hammer to knock down walls and give your home an entirely new interior flair.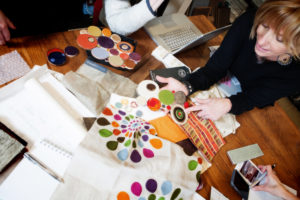 To my faithful blog readers and social media followers, please send me more questions about design, and I'll answer as many as possible in some of my forthcoming blogs!
Happy designing,
Michelle