Shopping for awesome furnishings is one of my favorite pursuits. Sharing my finds with you is another! Do you remember my blog about Fabulous Finds for Backyards?  Well, I have been virtual shopping again and gathered ten absolutely amazing pieces that I hope will inspire you. Of course, if you're interested in learning more, you know where to find me: 847-223-2660.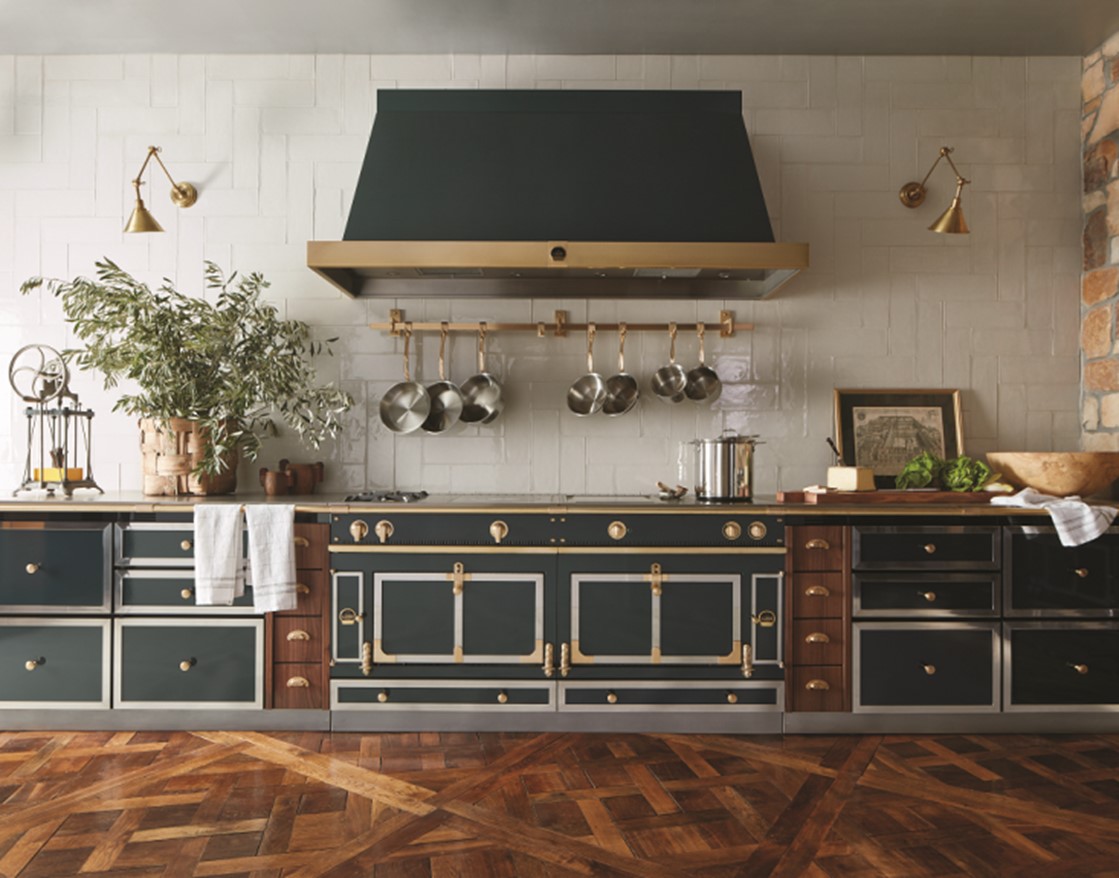 Just How Big is that Range?
Check out this Grand Palais 180 range from La Cornue. Isn't that six feet of awesome? La Cornue calls this the crown jewel of its Chateau Series, and I agree. Imagine how labor-intensive it is to make this range, and all by hand! The Grand Palais 180 features one vaulted gas oven and one vaulted electric oven, set beneath a range top that comes in one of seven configurations. Each La Cornue range is made to order in the company's Saint-Ouen l'Aumone workshop outside Paris and is available in a range of configurations, colors, finishes and measurements. Complementary cabinetry, hoods, rotisserie and accessories are also available. Wouldn't this be a fantastic birthday or anniversary gift!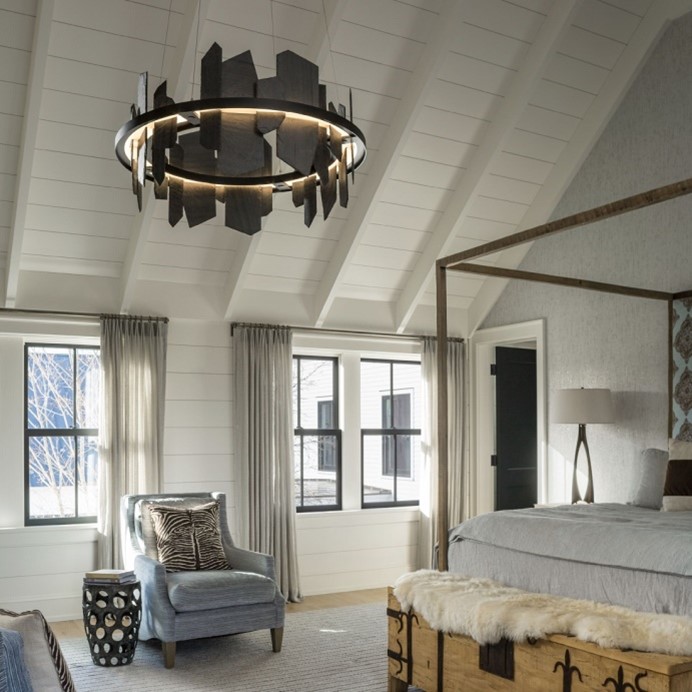 Slate Slabs = Unique Design
Wow! I couldn't take my eyes off of this Aradesia Circular LED pendant from Hubbardton Forge. There is so much to love about this fixture – most of all the organic design. Don't those pieces look like they broke off a huge piece of rock? In fact, the slate slabs are mined from a Vermont quarry, making each piece unique in texture. The metalwork is done by skilled Vermont artisans. It's a wonderful interplay of nature and technology, plus, it's made by American artisans with American materials. That's fantastic.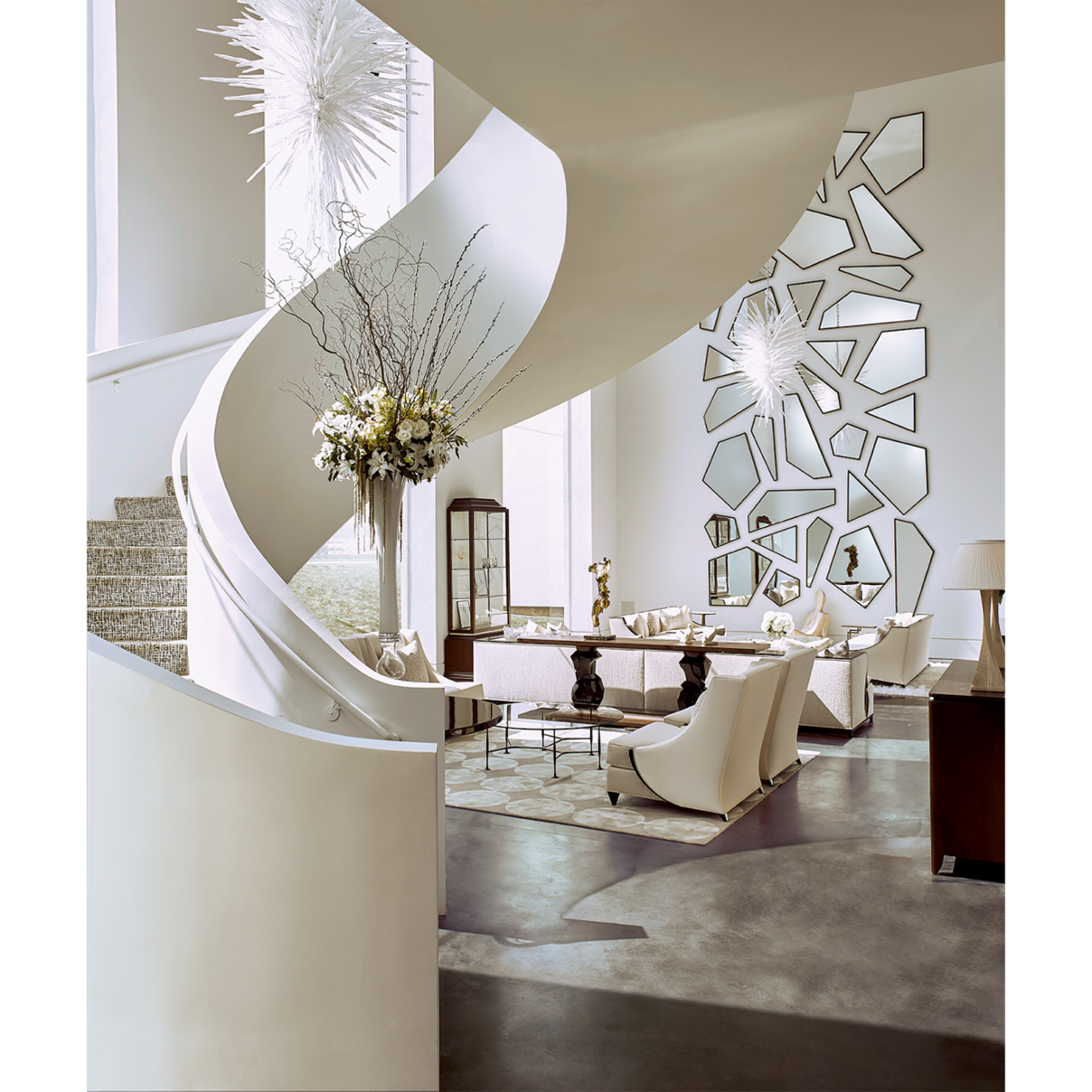 Jigsaw Puzzle, Mirror or Art?
Are you good at puzzles? With this impressive collage mirror from Christopher Guy you can let your imagination run wild. Or, you could allow me to put those pieces together in a unique pattern. That would be so exciting and challenging. The individual pieces are faceted and shaped in a variety of crisp, geometric forms, and each one is framed with hand-carved wood. If you saw these pieces individually, you would never imagine the impact they could have when assembled. Truly the whole is greater than the sum of the parts. You can think big with this mirror, too. Very big. It comes in five sizes, from roughly 5-feet by 11 feet to an immense 11 feet by almost 24 feet. Talk about making a statement.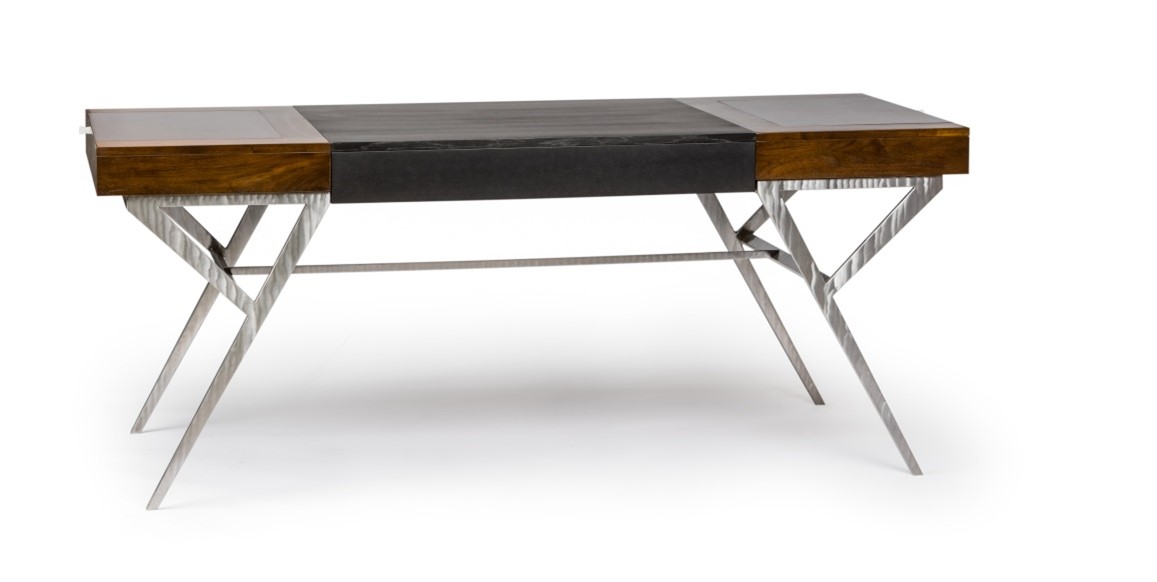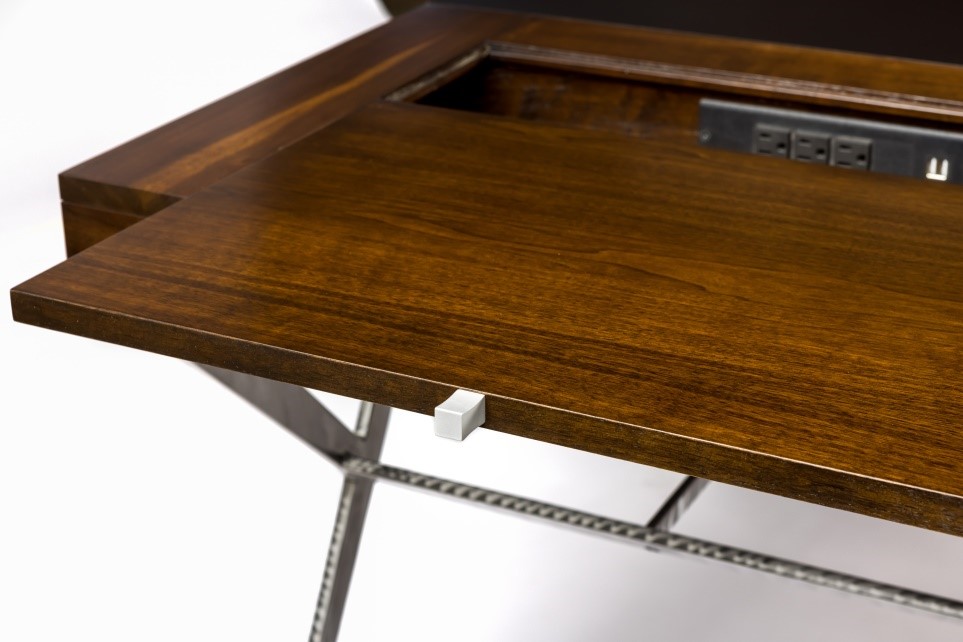 Secret Compartments? Sort of!
Here's a desk that would make working at home more exciting. The two finishes on the maple top are handsome and those polished, stainless-steel legs are so energizing and industrial-eque. Check this out, too: the top at each end of the desk slides open to reveal storage and plug-ins. At just over 6 feet long, you'll have plenty of space for all your tech devices, a lamp and a double espresso. Hey Siri – play some Billie Eilish for me!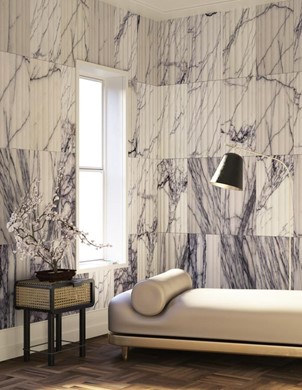 Marble Slabs Get Groovy
Look closely at these gorgeous marble slabs from Artistic Tile. Can you see the vertical channels that have been cut into the stone, like fluted columns? I like the fluid effect those channels create as each tile flows into the next. The stone is smooth, but architectural, a bit like carved millwork. For me, these tiles are a blend of symmetry and a carefree style. While the tiles are laid perfectly straight, the grain goes its own way. I can imagine this luxurious wall covering in my home office for sure, along with the inviting chaise! Whenever I needed a 15 or 20-minute break, I could lie down and meditate with a beautiful backdrop. No need for artwork on this wall. It's the star of the show.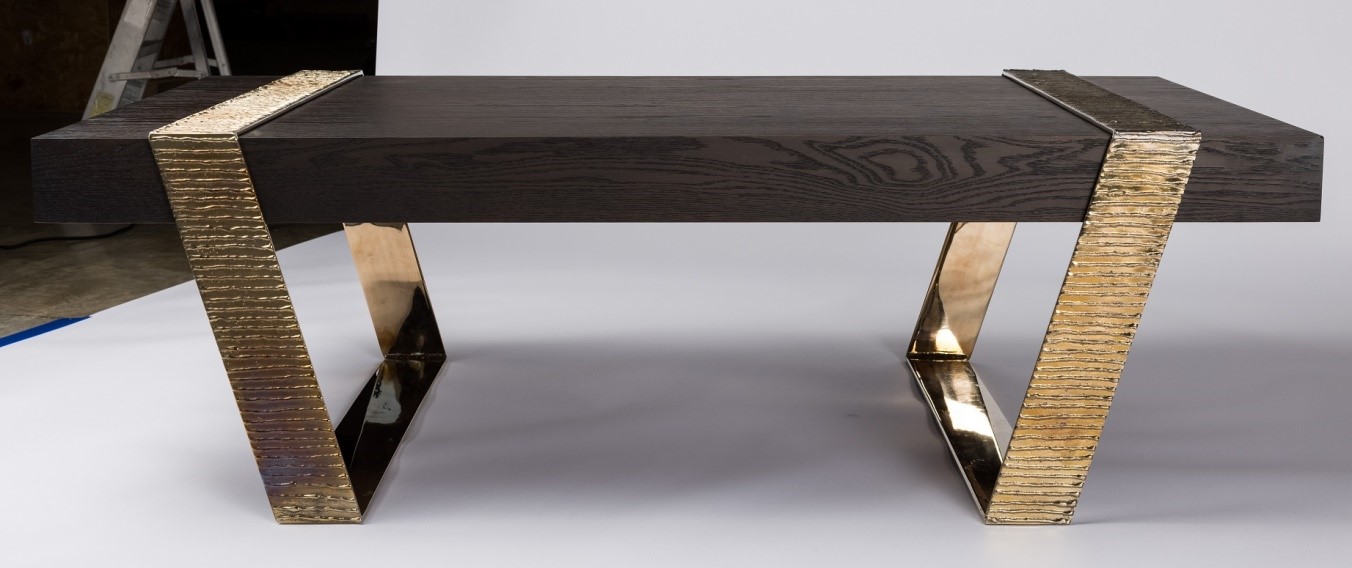 New Angles on a Cocktail Table
Do you like to play the angles? In this case, I would say yes! Those cantilevered gold steel legs and the thick, red oak top really spoke to me! This table has country-meets-city appeal that would work in a wide range of living room styles. As a bonus, red oak is a highly sustainable, durable hardwood that is grown abundantly in North America.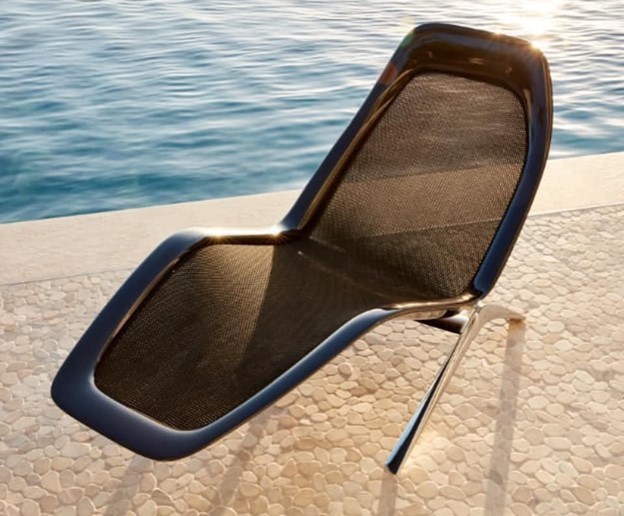 Call This Modern Industrial Style
Yes, I'm already dreaming of summer at our lake house in Wisconsin! This incredible chair from Belgian designer Jean-Pierre Geelen would be ideal for al fresco lounging. Geelen is known for his modern industrial styles that take a technological approach. I can't say enough about this chair! It is so well-designed and the detailing is amazing. You're going to get that zero-gravity kind of experience when you sit in it. Look at how the sleek carbon fiber frame attaches to the seat and creates such a fluid design with mesh body. That chair you will not have to adjust to. That chair, you'll just sit in and melt!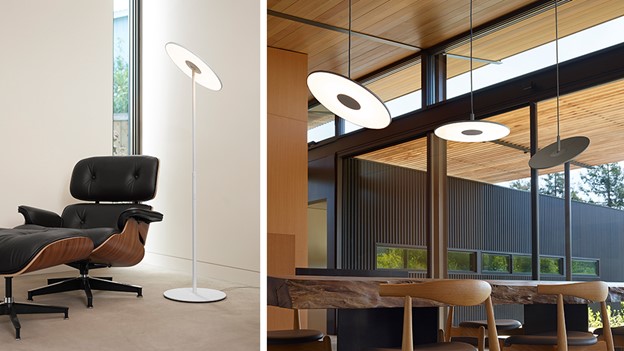 Eco-Friendly Circles of Light
Eco-friendly AND so cool! These new fixtures from Pablo Studio bowled me over. The defining feature is a flat-panel LED disc that moves fluidly in an infinite number of positions. That makes it a fantastic task light that supplies warm, even lighting. The Circa light offers an integrated USB charging port, as well, on the table, floor and wall models. I'm a big fan of this company too, because of its focus on sustainability, including:
Minimal use of materials
Contains no hazardous substances, such as mercury
Lasts for 50K hours or 25 years of daily use
Uses only 11W of power (90% more efficient than a comparable halogen light source, 40% more efficient than CFLs)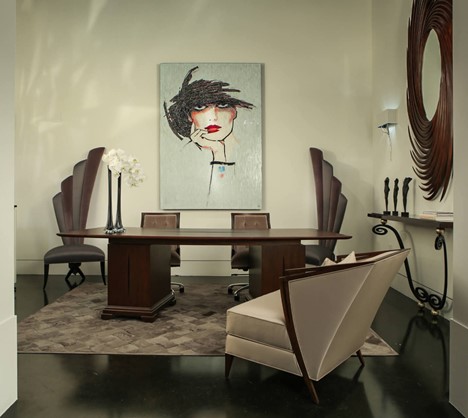 What is She Thinking?
I don't know for sure, but I imagine she's developing new strategy for her company's growth in 2022! I can relate to that. This glittering mosaic panel features a sophisticated flapper girl from the Roaring 20s who is definitely ahead of her time. She's much too strong and independent to worry about living up to conventional standards of the day, and I love that! This piece is made of thousands of hand-cut and individually colored glass pieces. What a fabulous work of art to place in a home office or bedroom, or maybe a boardroom?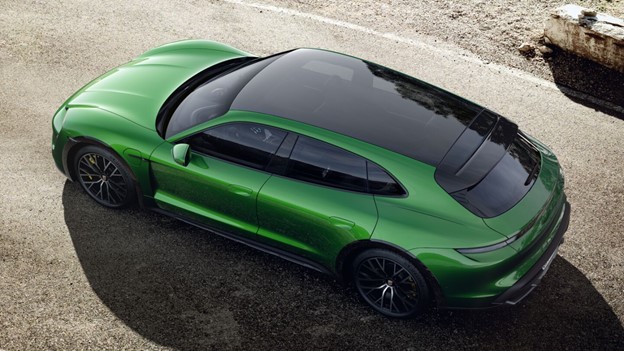 Why a Sports Car?
I do love sports cars! But you're probably wondering why I chose a luxury electric sports car for a blog about interior furnishings. Well, I have always felt that walking up to your home and going inside is like approaching your car and opening the door. You want the interior to match the promise of the exterior. When you open that door, you're looking for comfort, excitement, incredible fit and finish and attention to detail. You know what it's like to get into a luxury automobile. The seat conforms to your body and you can appreciate the feel and the stitching of the leather. When you reach for the controls they are exactly where they need to be to make driving a pleasure.
Of course, electric cars tie in beautifully with my "50 Shades of Green" philosophy of eco-friendly design. I believe that each small sustainable step we take can make a difference in our health and the health of our planet. Going sustainable at home is like easing into an organic diet or an exercise program. You don't have to go completely organic or work out like an athlete to improve your lifestyle, and you don't have to go 100 percent sustainable green at home. You can be any shade of eco-green you like. Our homes are a place of refuge, happiness and peace. Our planet is our home. I feel compelled to participate in the fight to save it.
Are you contemplating a home renovation project for 2022? Contact me!