Welcome to Our Home
We are a team of passionate, creative designers who are devoted to your personal lifestyle.
Led by Michelle Rohrer-Lauer, one of America's most accomplished and versatile interior designers, the firm is widely recognized for luxury residential design expertise & extraordinary custom furniture designs.
Luxury is an element of lifestyle. It enriches our lives, enhances our environments and leaves everlasting memories.
—Michelle Rohrer-Lauer
Interior design has been a life-long passion for Michelle Rohrer-Lauer, the award-winning founder and principal of Michelle's Interiors. She has dedicated her three-decades-long career to creating extraordinary lifestyles through luxury home design, becoming one of the Chicago area's most well-respected professionals.
A graduate of the design program at Gateway Technical College, Wisconsin, Michelle's aesthetic is inspired by the architecture and history she discovers during her travels here and abroad, as well as her own innate sense of style, color, texture and function. She brings a depth of knowledge to each project that encompasses the arts and critical math skills, a rare combination in her field.
During the past 30 years Michelle has created one-of-a-kind homes for hundreds of Fortune 500 executives, CEOs, entrepreneurs and others in the Chicago area and throughout the United States.  Her clients and colleagues respect her energy, creativity, attention to detail and talent for making each home fit the unique lifestyle and personalities of the people who live there.
Michelle won First Place Kitchen in the 2018 ASID-Illinois Design Awards of Excellence and a Best Powder Room award in the 2018 Kitchen and Bath Design Awards, sponsored by Kitchen and Bath Design News magazine.  She is co-author of "Today's Inspired Leader" and is featured in Kids' Space Idea Book and Kids' Rooms.
A dedicated professional and philanthropist, Michelle is an associate member of the American Society of Interior Designers (ASID), a member of the International Interior Design Association (IIDA) and is a certified GREENleader and member of the Sustainable Furnishings Council. She also is a member of PowerHouse SMART, a networking and educational community for the luxury design-build market. Michelle supports the American Cancer Society's Relay for Life, Feeding Starving Children and Juvenile Diabetes Research Foundation.
Michelle is a proud member of the Sustainable Furnishing Council.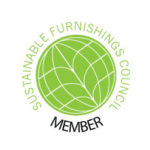 Erika Maroney, Senior Designer
The details are not the details...they make the design.
—Erika Maroney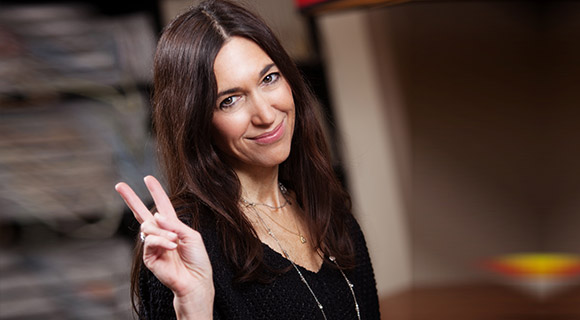 Growing up in New York, with a passion for art, fashion and design, Erika graduated from the prestigious NYSID (New York School of Interior Design). Erika has worked on high-end residential projects for major design firms. Working on projects in New York, New Jersey, Boston, Florida, California, Arizona, Wisconsin and Chicago has given her a wide range of knowledge.
Having a wonderful eye for color and detail, she has spent over 20 years in the design world and has enjoyed every aspect of design. Erika has always cherished helping clients to better enjoy their homes.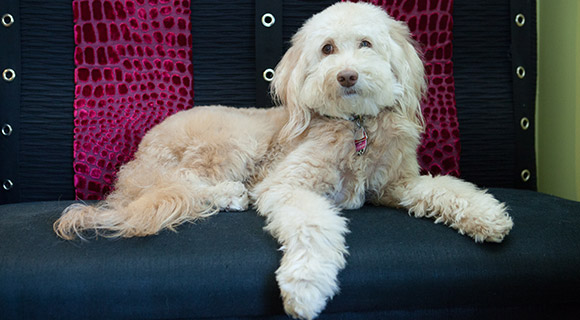 Style is a way to express yourself without having to speak.
—Dreamy Pie
With six years of experience in the design world, Dreamy Pie is the much loved mascot of Michelle's Interiors, and being the mascot sure comes with its perks! She can generally be found snuggled up in the rug department or brainstorming under the back tables. She loves testing the quality of the carpet samples as well as thinking over the blueprints. Dreamy's favorite part of the job? Getting paid in treats!