There's always something new under the sun for outdoor design, and I'm always excited to share my discoveries! With the backyarding season upon us, I have gathered of the hottest new outdoor furnishings to share with you. I made my choices with smart technology, outstanding design, comfort and durability and eco-friendly materials at the top of my mind. After all, my  50 Shades of Green philosophy is just as important outdoors.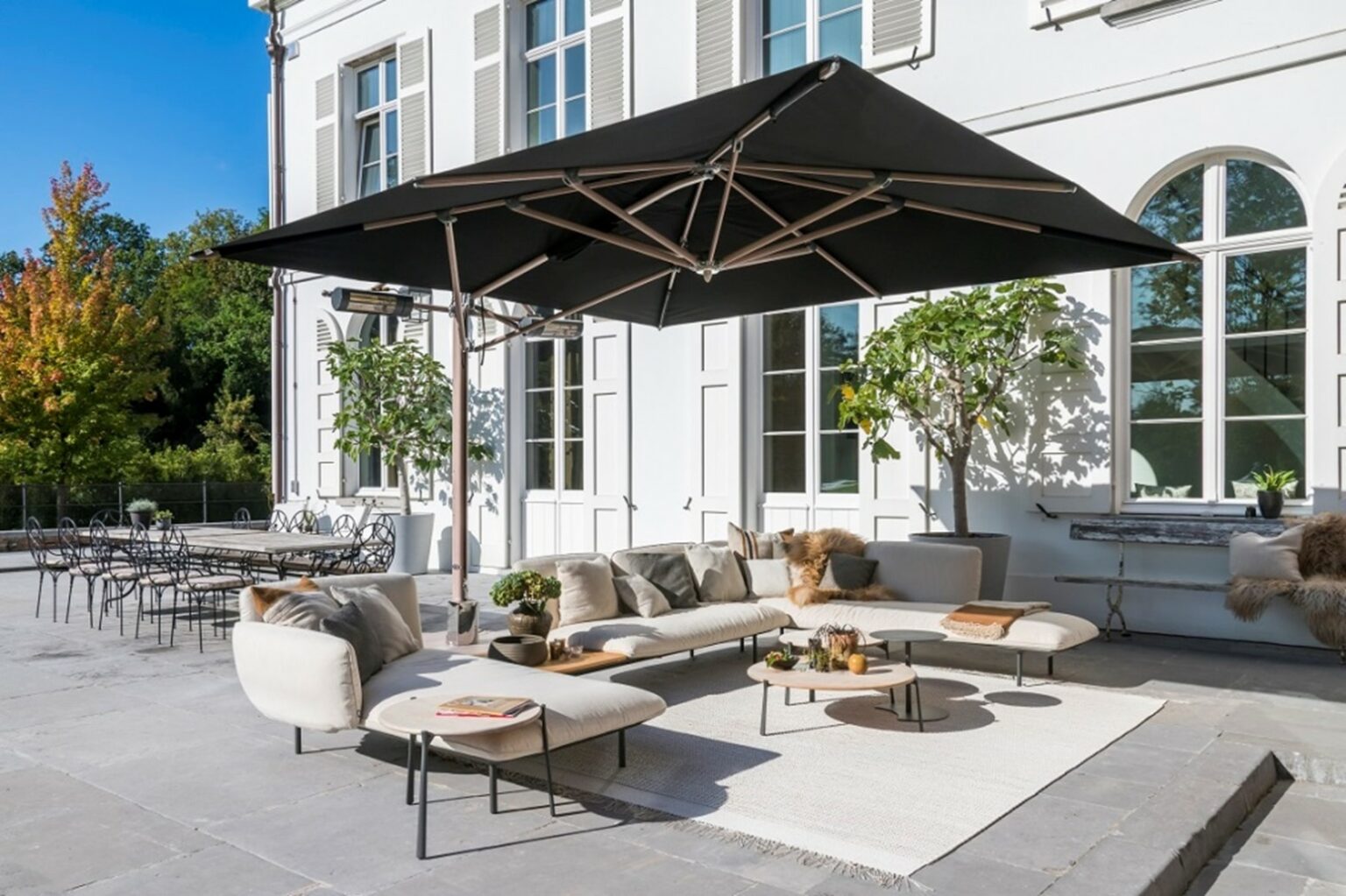 How to Extend the Season
My husband, Jeff, and I, love to enjoy the outdoors right through the end of fall, when the leaves are so beautiful, the insects are gone and the temperatures are cool and comfortable. These parasols are one of my favorite ways to extend the outdoor season from early spring to hot mulled cider time . This heated and lighted umbrella from Tuuci supplies LED light and high-efficiency, infrared radiant heaters. The sleek, control panel has an easy-to-use, push-button, icon-based interface.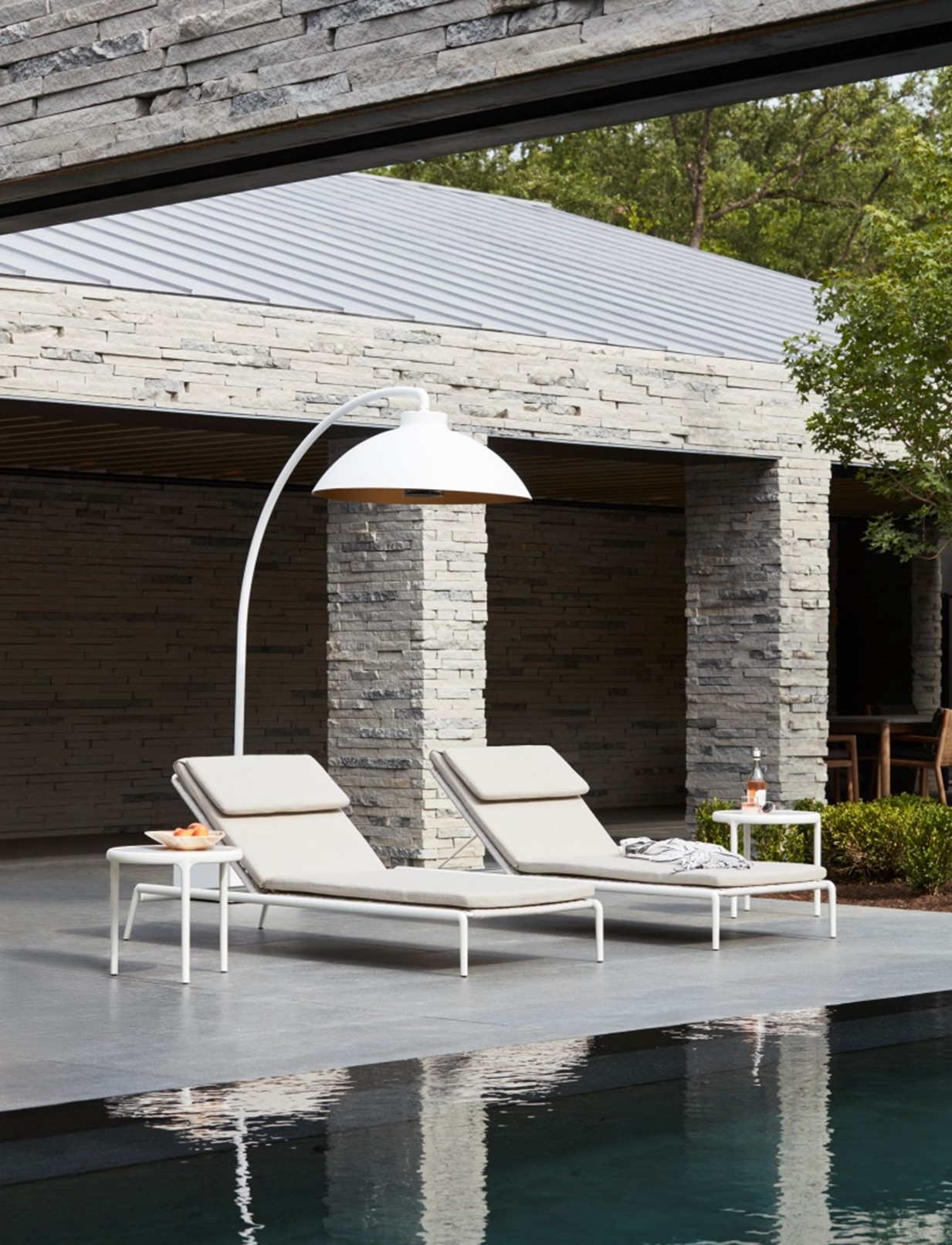 Another Option: Heat and Light
When you're chilling out but don't want to be chilly, these smart Heatsail Lamps from Sutherland Furniture can keep you comfortable longer outdoors. Nearly all outdoor heat sources only supply heat, but these lamps give you both. And how about that cool design?  I love the way it arches over the seating and distributes the heat more evenly. So much better than those floor heaters that restaurants put in the corners of their patios.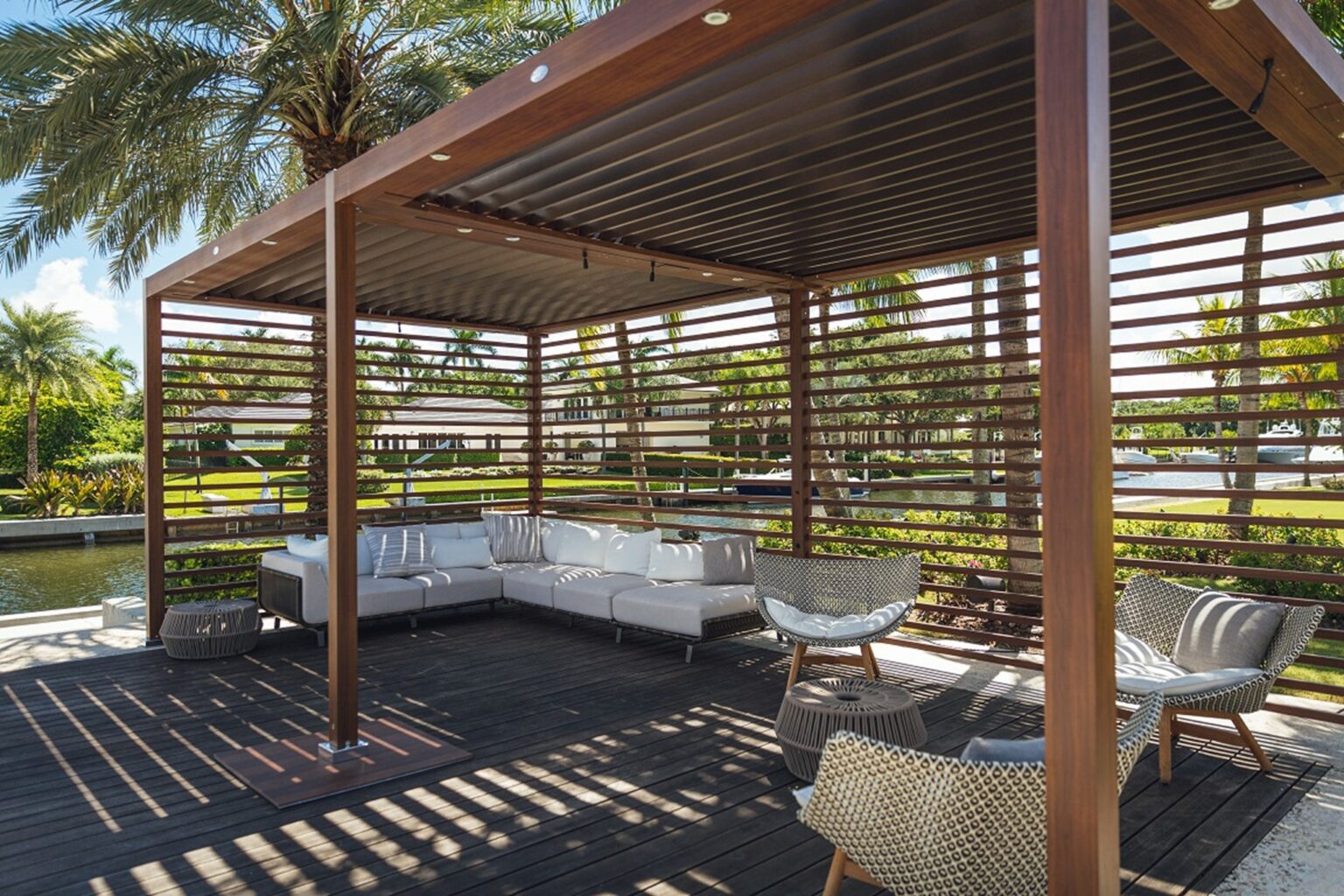 Redefining the Home Office
If this isn't a trend, it should be! Working outside is a logical extension of the burgeoning work-at-home trend, whether you are at your primary residence or second home. This automated, louvered cabana from Tuuci is a great framework for an outdoor office. It offers the perfect combo of working outside while enjoying some of the benefits of being inside: protection from the wind, sun and summer sprinkles. Just add furniture and the optional outlet/USB port for you electronics, and you can hang out your shingle! Lights and heating elements are optional but who wouldn't want them? They can dramatically extend your daily and seasonal outdoor hours. Not long ago I installed one of these cabanas for clients in the Chicago suburbs. I can't wait to hear how they are making the most of it this summer.
Bonus Green Points
I love that this cabana is fabricated of durable aluminum and stainless steels, which are both 100 percent recyclable. Here are some fun facts to share with your friends while you are backyarding this year. Haha!
Seventy-five percent of all aluminum ever made is still in use because the metal can be recycled indefinitely.
Used aluminum beverage cans are the most recycled metal product in the world.
Plus, recycling aluminum requires only 5 percent of the energy used to make primary aluminum for the first time.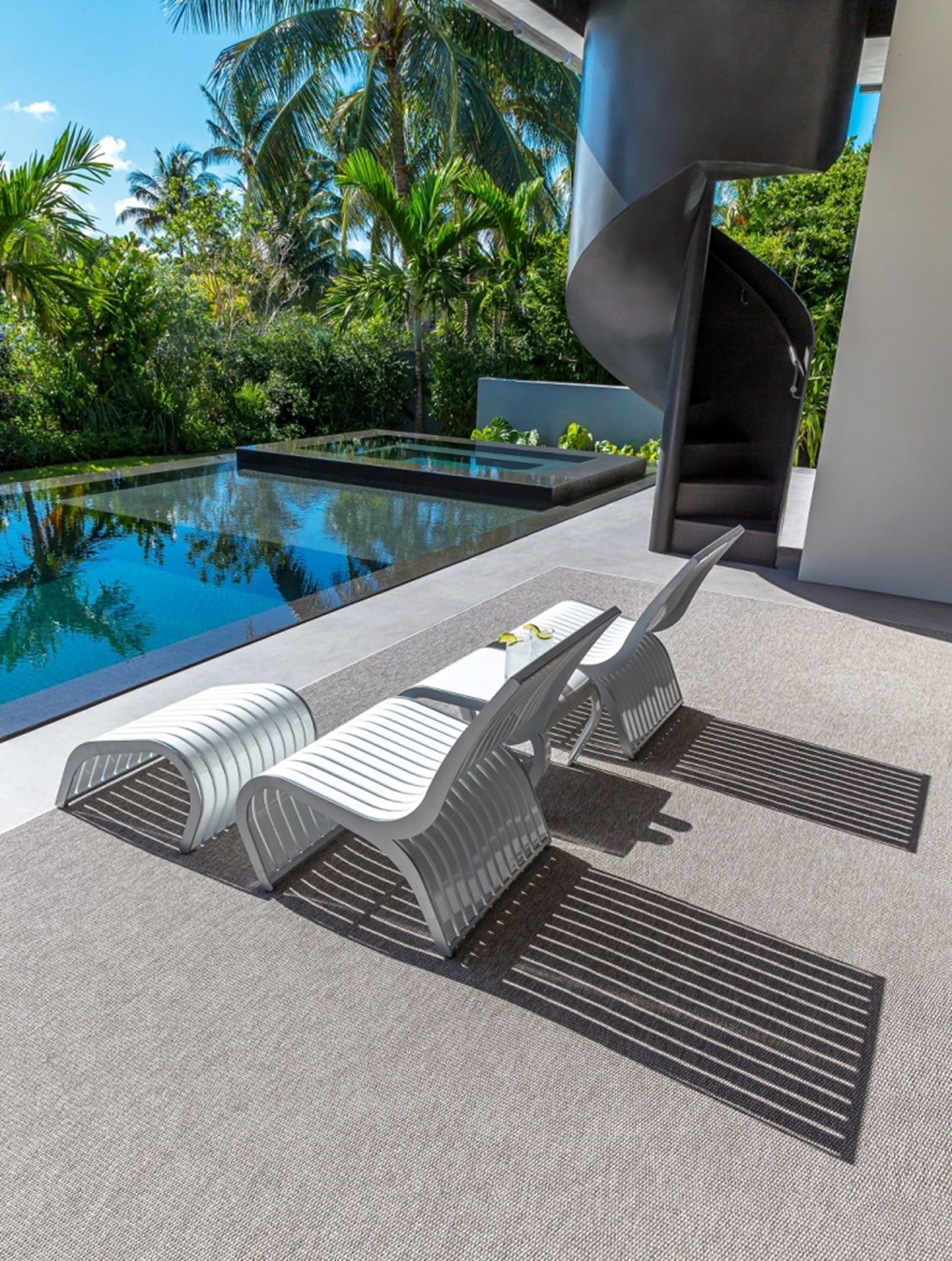 Bringing Life to Art
It was love at first sight when I discovered these chairs and ottomans on the Pavilion Furniture website. I fell even harder when I learned the story behind the design. This "Waves" collection was designed by Petu Kummala, a native of Finland who now heads up a design studio in Miami and is senior director of interior design and architecture for Carnival Cruise Lines! Doesn't that sound like an amazing job? Kummala said he was inspired by the gentle rolling of the ocean's tides when creating these awesomely curvy outdoor chairs, but comfort was important, too. Those curves will provide ergonomic support for relaxing hours of lounging. Of course, the way the sunlight passes through the slats produces awesome shadows as the sun moves across the sky.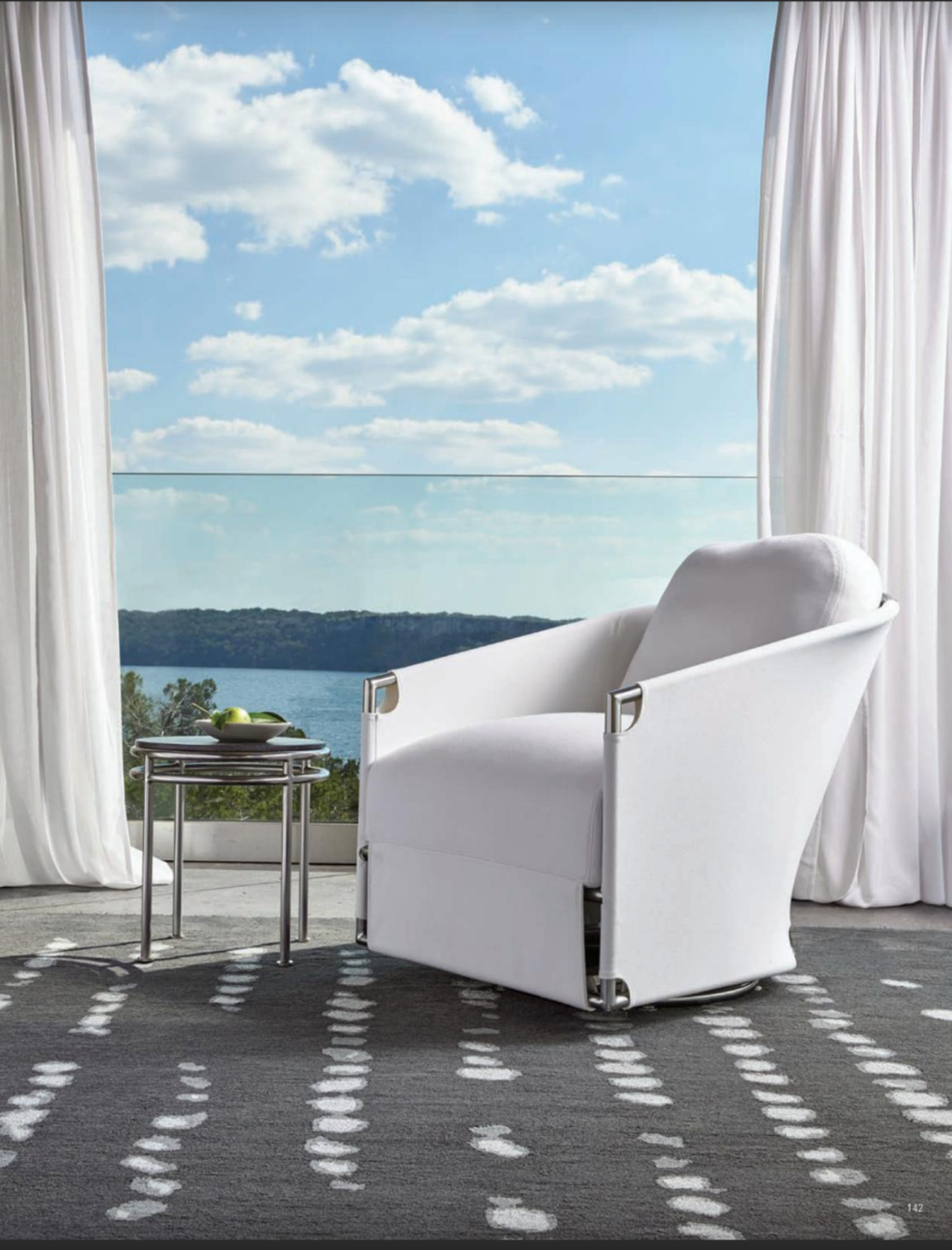 Taking the Indoors, Outdoors
People just can't get enough of this trend – extending the comfort and beauty of their home to the outdoors. Look how beautiful outdoor living can be with this amazing swivel chair, the outdoor rug and the sensual drapes. Aren't you thinking, 'oh my gosh, that space looks like it's inside the house, but oh no, it's outside!' I think that's really cool. The way the fabric is so tightly wrapped around the frame makes me think of a sail boat. And imagine how those luxurious drapes would make you feel so beautiful and semi-private outside, too. Better yet, the marine-like frame work of the chair is made of super-recyclable aluminum. Bonus green points!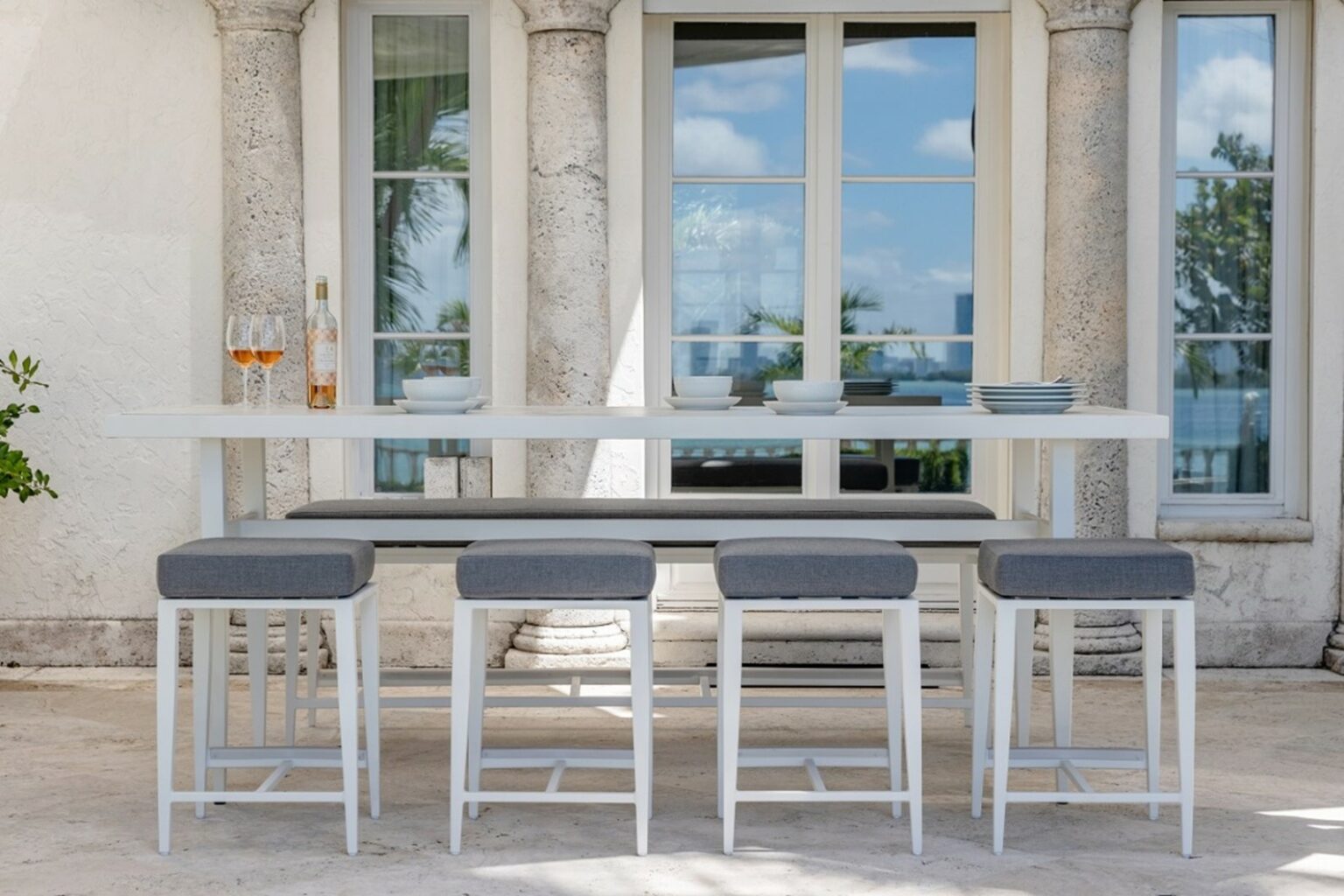 Elevating Dining, Literally
Talk about towering stilettos! The tapered legs for this counter-height dining table and stools bring urban elegance and new energy to outdoor meals. I like pairing the stools with the upholstered bench on the opposite side. You could seat a lot of wriggly little kids there! The table is available at just over six feet or 9 feet, so feel free to invite a crowd and watch the fun happen. Don't miss the faux marble table-top below, either.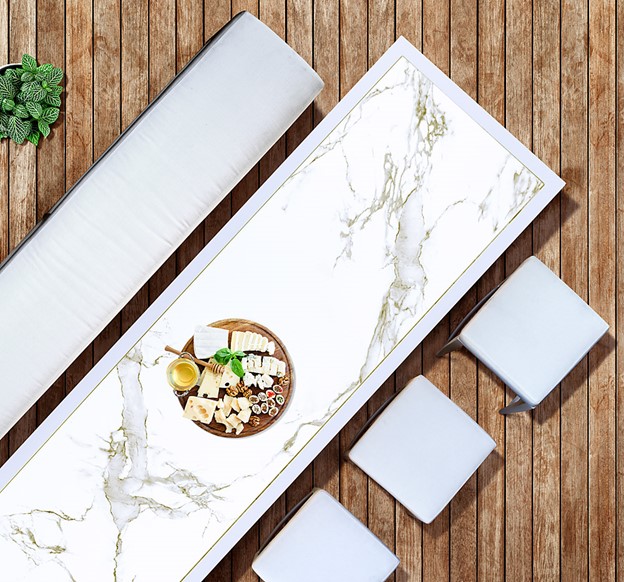 Is That Marble?
The dramatic grain of this table top makes it look like a luxurious slab of blue-grey Carrara marble, but it isn't. The stone-like tabletop surface is actually made from a blend of materials using a process that produces a highly compact material. It is resistant to scratches, abrasions, stains and UV-rays as well as high heat and freezing temps. I call that optimal for outdoor lifestyles.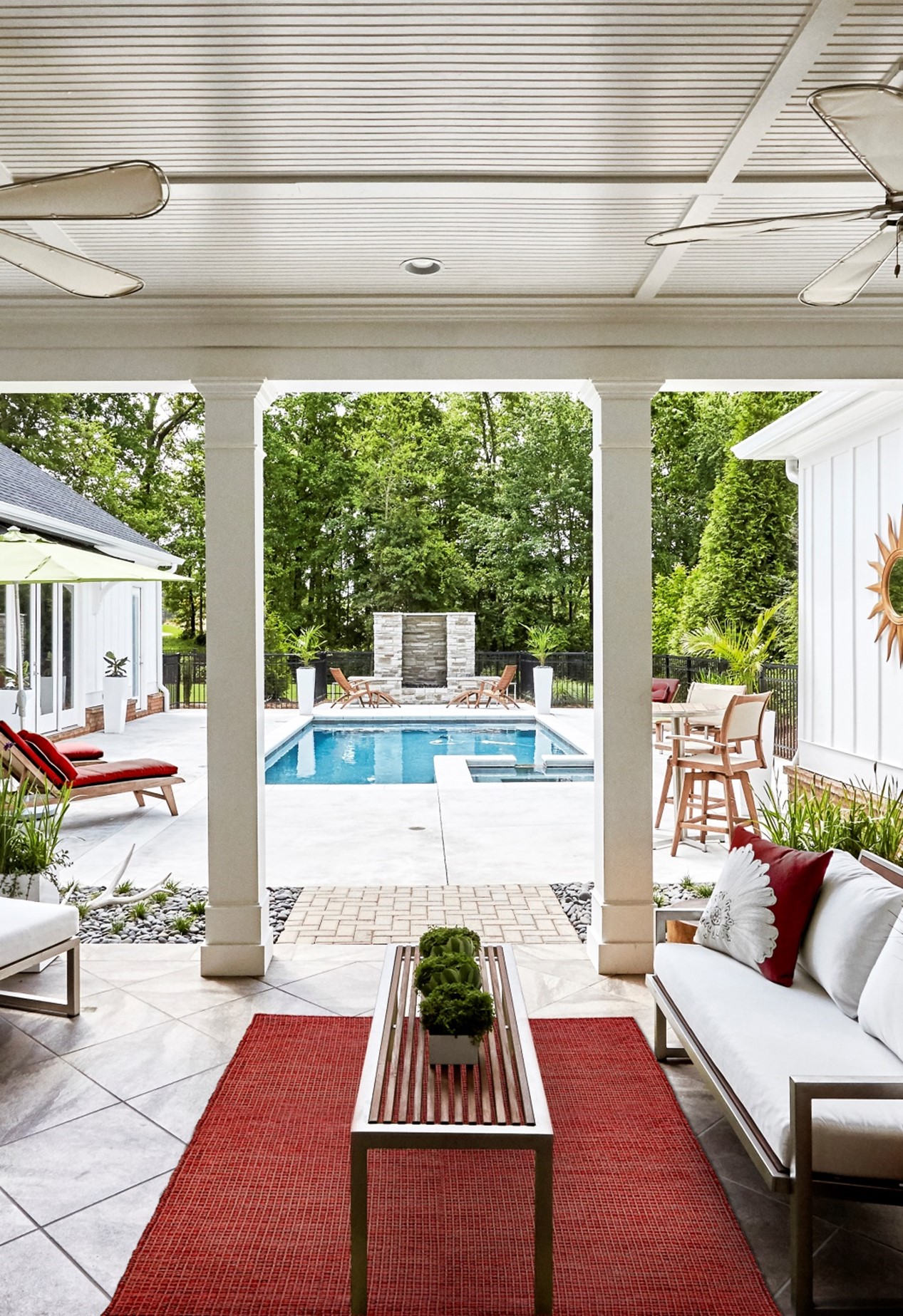 Luxurious + Sustainable
Those who know me, know that I am passionate about eco-friendly design and color! This rug from The Delos Company combines both in a yummy shade of pomegranate. The flexible flat-weave style is woven from yarn made of recycled plastic water bottles – yay! These flat-weaves are easy to maintain, reversible and luxuriously soft underfoot, plus they come in a variety of shades. Who said it's not easy being green?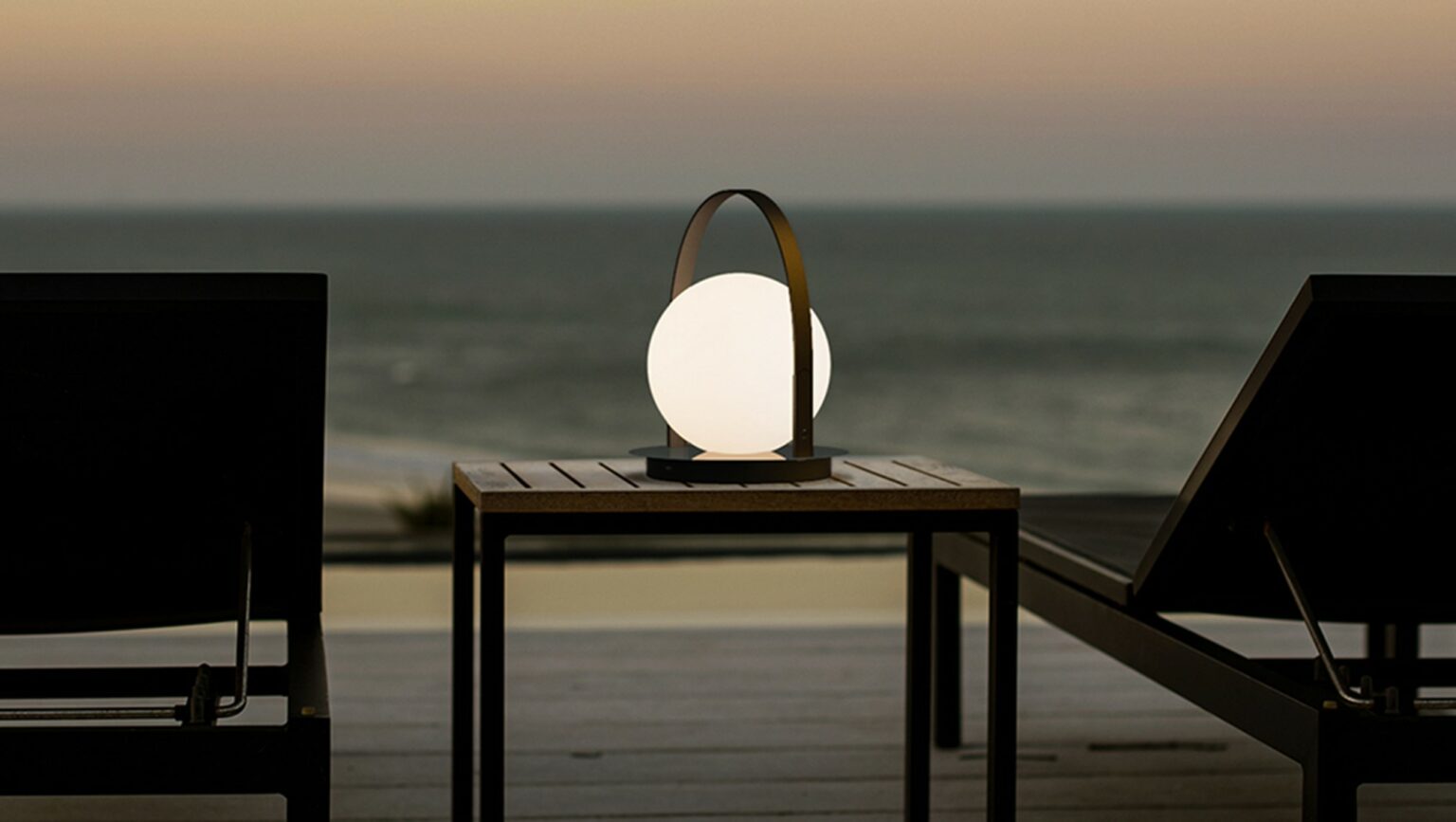 What's New in Backyard Lighting?
Mood lighting is one of my specialties. I'm all about underlighting, dimmer switches and of course, the latest in outdoor illumination. This Bola Lantern from Pablo Designs is a big winner. The floating globe is simple and effective. The leather handle makes it very portable and the lamp offers four levels of warm, ambient light at your fingertips. The rechargeable battery supplies 10 to 400 hours of light, depending on the intensity level, so your backyarding festivities can continue well after the fireflies come out.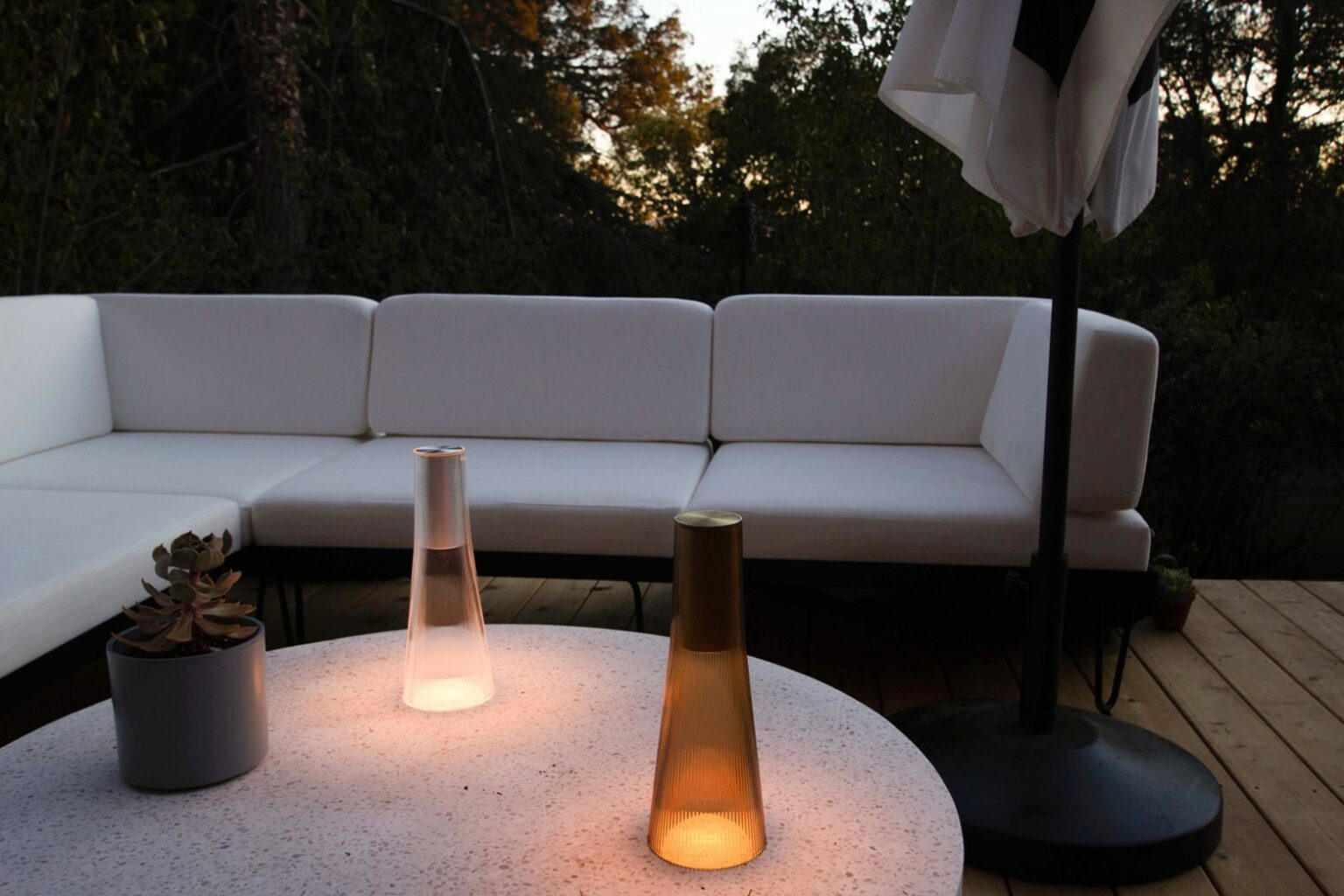 Illuminating and Eco-Friendly
I'm crazy about the graceful, vessel-like silhouette of these rechargeable Candel lights by Pablo Designs. They shed an intimate, candle-like glow that blends beautifully into your backyard surroundings. Imagine how they would look with your outdoor stemware and serving pieces. So pretty!  Depending on your mood, you can choose from four levels of touch-control light that can brighten your backyard for up to 150 hours.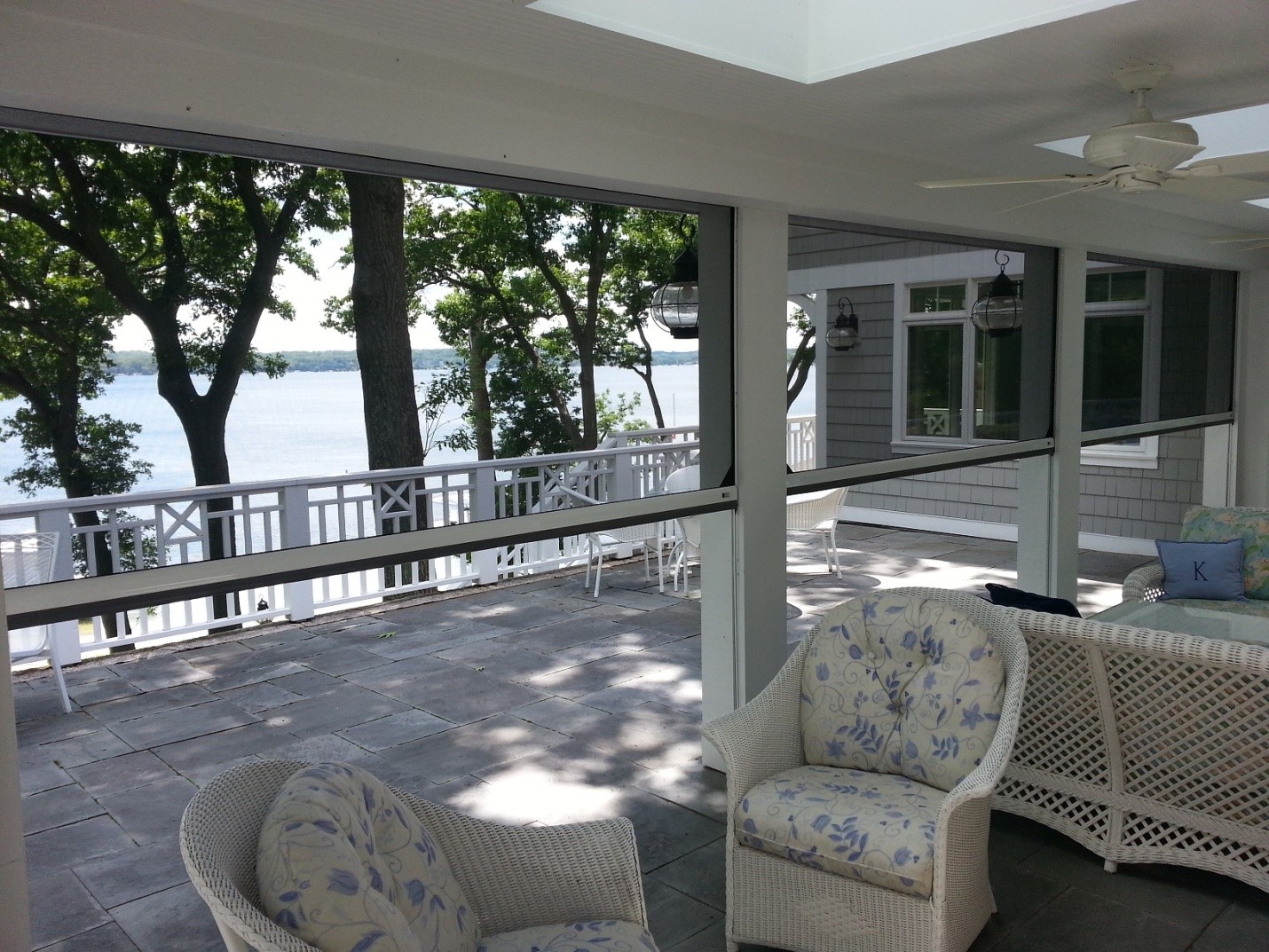 Tech-Savvy Screens and Shades
Let's face it, sometimes we are plagued by flying critters that bite and sting when we're outside, but these motorized Phantom screens and shades are a great solution. They allow fresh air in, provide shade from the sun, protection from pesky insects and a bit of privacy. The automated controls include sun and wind sensors and can be controlled by wall-mounted and hand-held remotes or by smart phone app. Just raise and lower them at the touch of a button.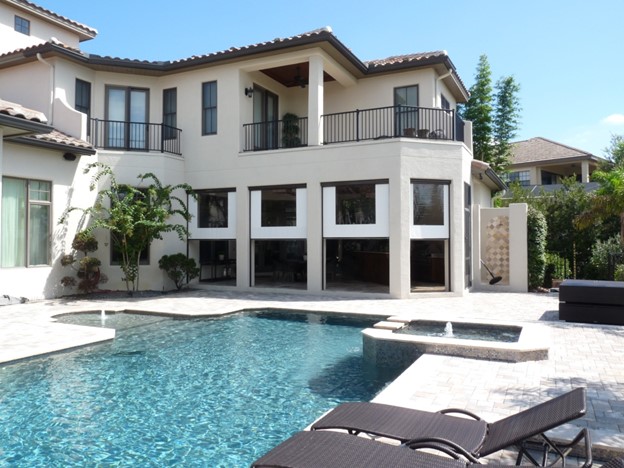 Vinyl is Back!
Vinyl may be out of date for music, but it is on-trend if you want comfortable outdoor living.
Phantom Screens also has developed clear vinyl shades for covered porches and other outdoor structures. Pairing the clear vinyl with the motorized screens, above, allows you to control the temperature in your outdoor living space without obstructing your view. In cooler climates, the vinyl shades keep the warmth in and the weather out, and for hotter climates it's perfect for keeping cooled air in your covered porch or patio area. This is another smart way to extend your outdoor season.
Ready to Go Outside?
Contact me!