What's the first thing you notice when you walk into your bedroom? If you're like me, it's your bed, right? As the biggest piece of furniture in the room, your bed is the focal point — and it should draw you in with luxurious bedding!
We spend up to one-third of our lives sleeping (or trying to sleep), so why not indulge in bedding that looks and feels great? You know that feeling you get when you walk into a luxury hotel suite, and the bed looks so beautiful, comfortable, and inviting that you can't wait to crawl in and go to sleep? Imagine if your bedroom made you feel the same way!
Types of customized bedding
Personalized bedding is one of my favorite design tasks. I can tailor every element to your taste, including duvets and comforters, throw pillows and decorative shams. Details are so important. I can select the exact fabric, color, size, texture, and trim to make each element just right for you.
Customized bedding ideas: A Texas mansion
Take a look at these beautiful custom bedrooms from a whole-house project I designed in Texas. I started working with the clients before the builders broke ground on their two-story, 9,000-square-foot home. I reviewed and revised everything including the blueprints, designing their entire house right down to the custom bedding.
The Primary Bedroom
My clients wanted their home to feel comfortable and luxurious while suiting their upscale casual lifestyle. Because the house was so huge and featured soaring 12-foot ceilings, one of my primary goals was to make it feel more intimate, warm and welcoming — and I think this primary bedroom is the epitome of "elegant cozy!"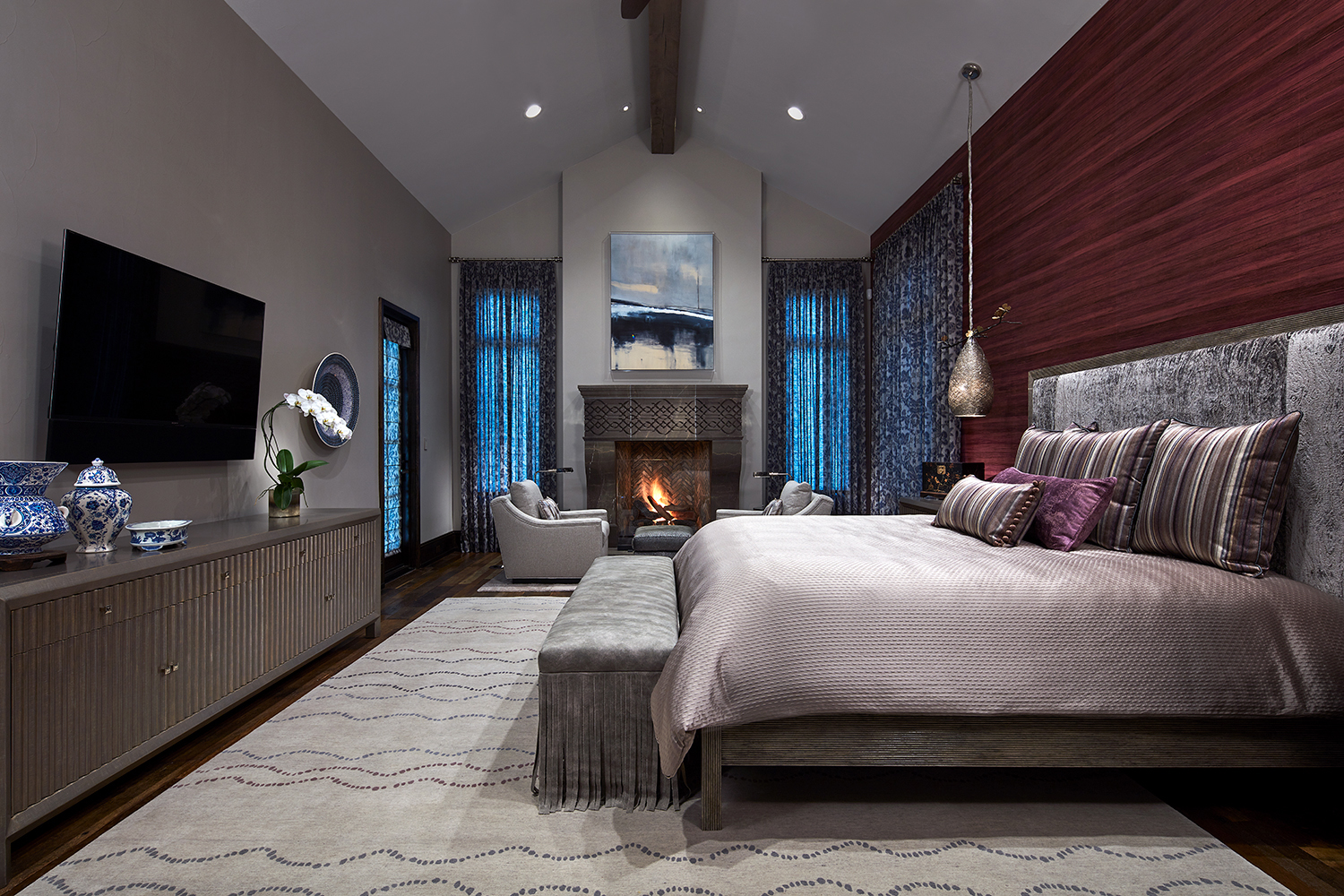 Don't these fabrics, colors, patterns and textures make you feel relaxed and calm? This is the kind of place I'd love to start my day or wind down the evening!
I chose a king-sized bed with a custom-created gray velvet headboard. On the bed, the duvet, shams, and long pillow were hand-crafted by Quiltmaster using luxury fabric I sourced from Kravet. The custom rugs under the bed and near the fireplace by Julie Dasher echo the colors and patterns throughout the room without competing for attention. Plus, they help amp up the room's warmth.
"Elephant" guest bedroom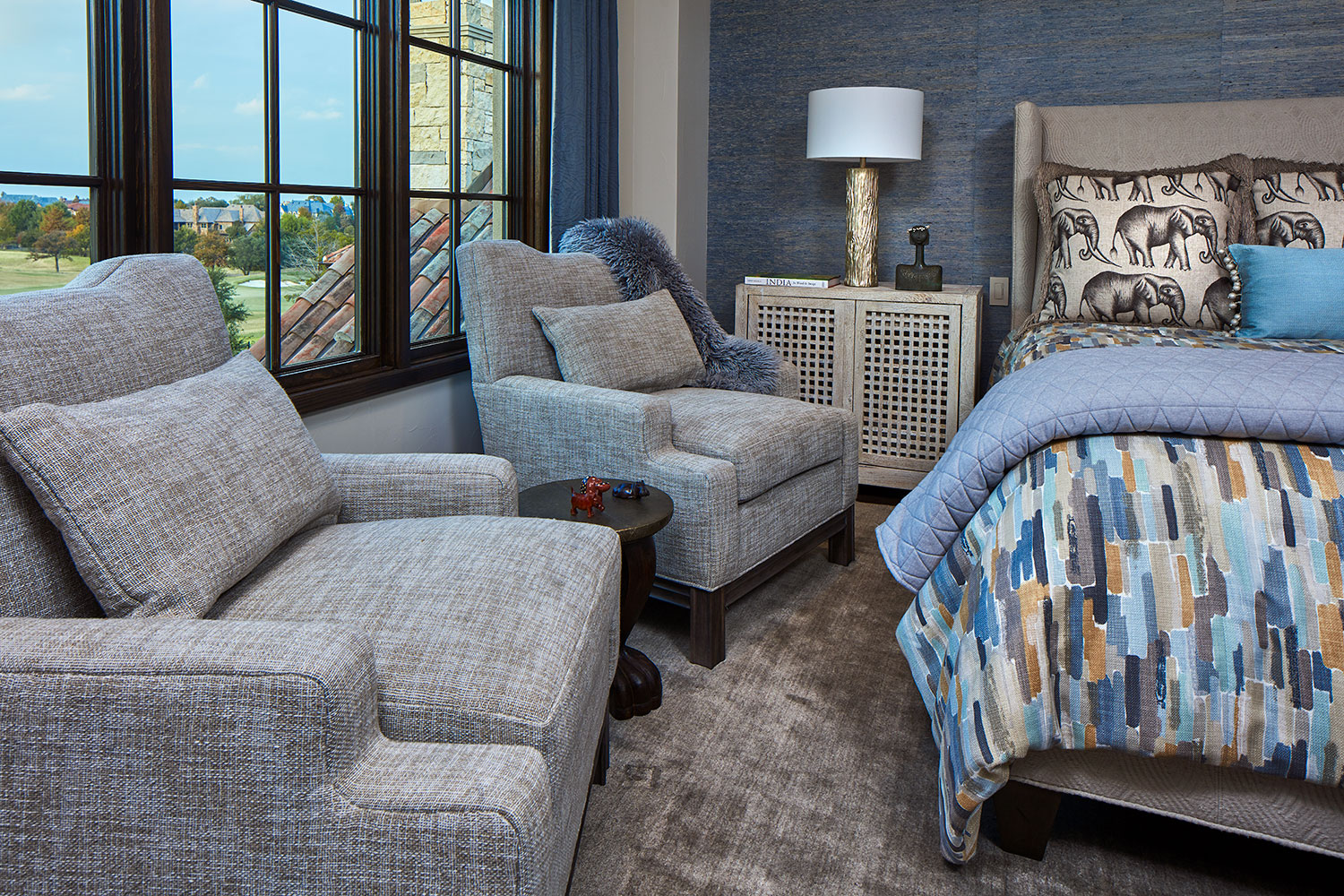 With two grown children and four grandkids, my clients needed comfortable spaces to host family, friends, and little ones. For this guest bedroom, I chose a Stanford bed frame and headboard, customizing it with flax-colored fabric from Romo that complements the tweed Romo fabric on the lounge chairs. I absolutely love the elephant pillows — crafted with fabric sourced from Kravet — because they add a touch of elegant whimsy to the room.
Pillows are a great way to have a little fun without making a room feel too over-the-top. I like to choose unique, funky fabric and treat pillows like they're statement pieces. For decorative pillows — not for sleeping — I like to use fabulous textures, materials, and decorative trim (like beading) that are not practical elsewhere.
"Medallion" guest bedroom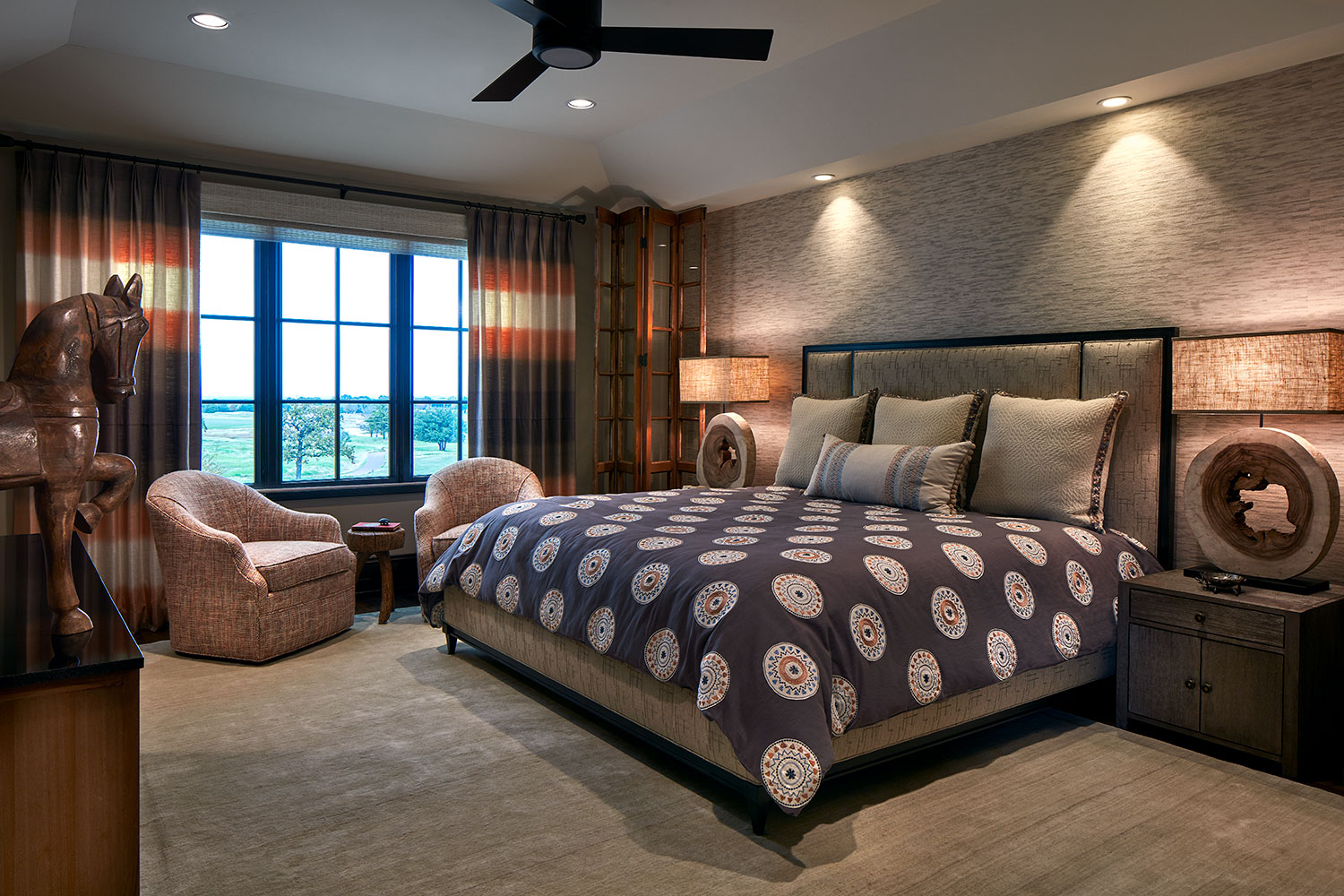 I added a bit of Western flair to this guest bedroom, inspired by the colors of Texas' rolling plains. The layers of color and texture here give the room a warm, organic feeling — I know I'd be excited if this were my guest room for the weekend!
Here, Quiltmaster crafted the custom medallion duvet cover with fabric I selected from Romo. The euro shams feature trim sourced from Kravet, and the custom rug under the bed is also from Kravet. I always insist on using luxury, breathable materials that feel as good as they look — so that guests will enjoy a good night's sleep, staying warm even during the chilliest winter nights.
Also, one of my favorite features of this bedding is it's reversible! I always design coverlets so they can be used in two different ways, with each complementing the throw pillows, Euro shams, and other bedding elements. This gives you a ton of versatility without having to store more linens. Change your bed with the seasons!
Grandchildren's Room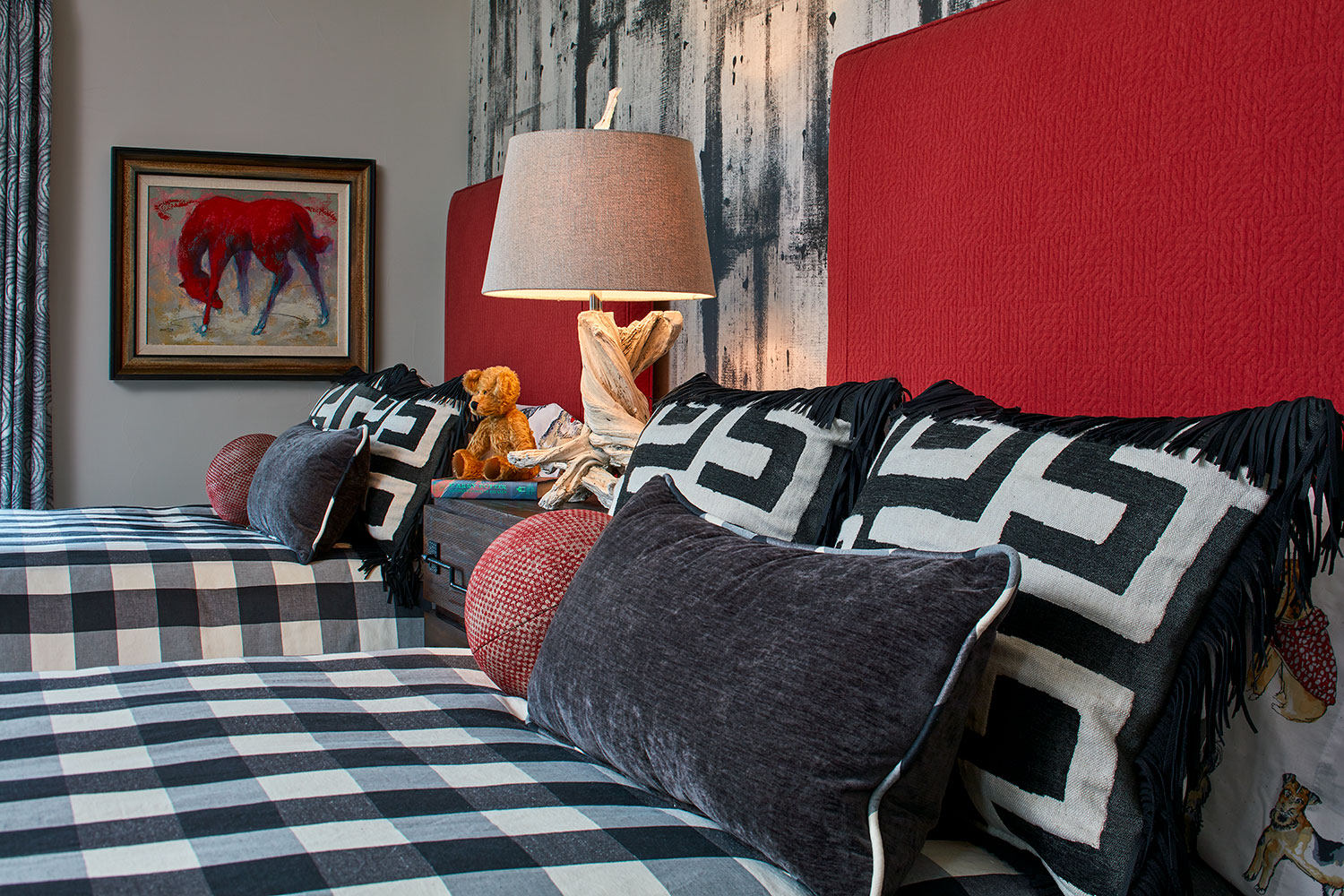 The clients wanted something extra special for their young grandchildren. I set the tone with young, bold, and fun bedding that still reflects the home's overall style and design.
I chose custom, full-sized bed frames from Stanford with upholstered headboards in a cheerful, bright red fabric, then worked with Quiltmaster to create the custom buffalo check duvet covers, long pillows, and ball pillows with fabric from Romo. Can't you imagine the grandkids literally having a ball with those pillows?
One design detail I love using on custom bedding, especially in kids' rooms, is baseball stitching. You know what I mean — where the stitches are separated instead of being on top of each other. This technique introduces a modern, sporty look that's perfect for a tween or teen's room. Lots of times, I'll do the stitching in a shade that contrasts with the bedding to add another pop of color. Little details like that really boost a room's "wow" factor.
Creating customized bedding
To help design the (literal) bed of your dreams, I'll ask you and your partner questions to better understand your needs, preferences, lifestyle, and sleeping habits. Do you need an adjustable bed? Are you a hot sleeper? Do you prefer firm or soft pillows and mattresses?
Armed with the answers to those questions, I'll start selecting fabrics so we can choose the perfect combo of patterns and textures to create YOUR bedding. Then I'll employ one of my favorite workrooms to tailor-make your linens — from duvet covers and coverlets to decorative pillows.
Get in touch
Don't wait until your next holiday or vacation to crawl into the luxury bed of your dreams — create your dream bed in your own home with bespoke bedding! Are you ready to get started? Contact me!