There is something incredibly appealing about the season of autumn. To me, it is the season in which we look inward as we congregate in cozy, well-appointed rooms with loved ones. It is also the time to decide how you are going to celebrate the season's tastes, scents, traditions, and colors.
Fall rings in the holidays with a wonderful excuse to surround yourself with carefully selected lifestyle and luxury items that add the essence of warm, moody hues and touches of everyday extravagance to enjoy.
Here are five of my favorite finds that make life warm and cheery during this time of year:
Fabulous Missoni Knitwear
Right now, I'm loving knit skirts and sweaters from the iconic Italian brand Missoni; who says cozy can't be glamorous? There are some great pieces available in Missoni's trademark space-dyed pattern, in which woven threads create a blended stripe effect of various colors. I think this metallic space-dye knit sweater, from Nordstrom, would be perfect for autumn luncheons or even turkey day. I really like the fact it is lightweight with a glamorous sparkle. It looks incredibly chic when paired with Missoni's metallic stripe midi skirt, which I learned is also made in lightweight knit. Missoni's signature zigzag pattern (which I have come to admire!) is unmistakable in this skirt and, by combining it with the sweater, I think this look works from day to night. (Photo courtesy of www.shop.nordstrom.com).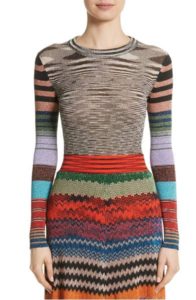 Luxury Mahjong set from AERIN
I didn't know I was missing this in my life, but I was! It is a handcrafted mahjong set from AERIN, a very cool lifestyle brand launched by Aerin Lauder. There's nothing like an after-dinner parlor game to keep the festivities going, right?
Let's just say this mahjong set embraces luxury with wanton abandon. Contained in an embossed shagreen box, it includes 144 engraved tiles made of white melamine and can be used by up to four players. And, while this game will keep guests entertained during the holidays, it's so gorgeous and stylish, you'll want to keep it out year-round. (Photo courtesy of www.aerin.com).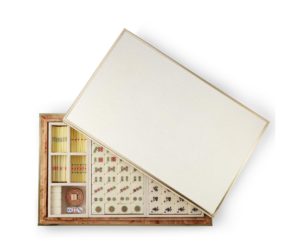 The cookbook "Gateaux: 150 Large and Small Cakes, Cookies, and Desserts"
As soon as the holidays grow near, I always need a few new ideas for sweet treats to serve or gift. I can't think of a better place to find them than "Gateaux: 150 Large and Small Cakes, Cookies, and Desserts." Published by Rizzoli, this is my newest go-to cookbook for autumn, which was written by Christophe Felder and Camille Lesecq, renowned pastry chefs in France. The book is so beautifully illustrated, I call it a Look Book! Its 150 recipes can teach some tricks to both the sage baker and the complete novice. I suggest the book as being perfect for the Francophile who wants to master French classics, including éclairs, Saint-Honoré cake, tarte tatin, and croquembouche. Or, if kitchen utility is not your cup of tea, you can always place this stunning book on a book stand or decorative plate holder as an eye-appealing pop of color and interest for fall. Bon appétit! (Photo courtesy of www.rizzoliusa.com).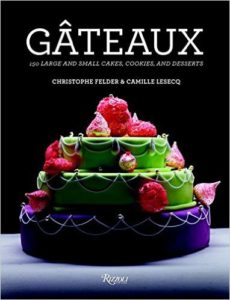 Scalamandré's "Oh, so Luxurious" Jardin de Chine fabric
When I first saw this deliciously rich espresso color of Scalamandré Jardin de Chine fabric, I knew instantly it will bring extravagant warmth to any room. From the La Boheme collection, this chintz is a classic chinoiserie print with motifs of flowers and bamboo foliage. Personally, I like it since the design is adapted from an antique, hand-printed wallpaper, but it is executed with a modern sensibility. Scalamandré makes an identical wallpaper for those who desire the opulent look of matching curtains and walls. (Photo courtesy of www.scalamandre.com).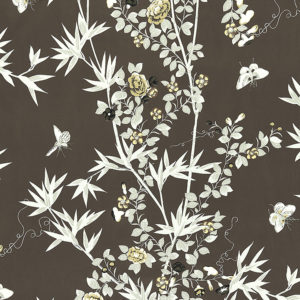 The treat of a Silver Plum personal chef
At no other time of year is food held in higher esteem than during the holiday season. That's where Silver Plum Personal Chef comes in. Founded by Chef Elizabeth Wells in 2010, this private chef service brings fine elegant dining to your dining room.
An impressive factoid, Wells graduated, magna cum laude, from the Baking and Pastry Arts program at Sullivan University in Kentucky. Now she creates intriguing dishes, such as spiced winter squash soup with crabmeat; torched date canapés with blue cheese, walnuts and watercress; and sous vide duck breast salad with blackberry-sumac sauce. If you need some chic hors d'oeuvres for a cocktail party or a multi-course meal with drink pairings, Silver Plum Personal Chef can whip it up in your kitchen- so you can concentrate on entertaining friends and family this season. (Photo courtesy of www.personalchefblog.com).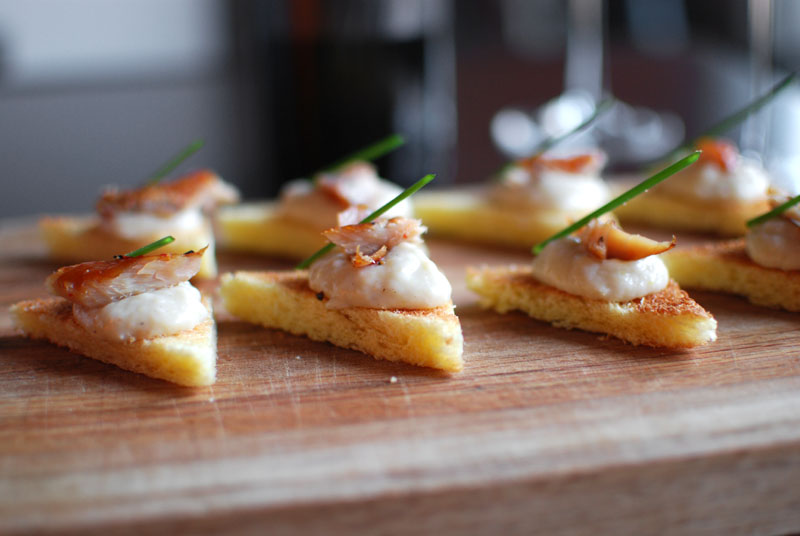 In the end, no matter how you shape your own personal season, I like to say, "Embrace love, life and luxury this time of year."
~ Michelle