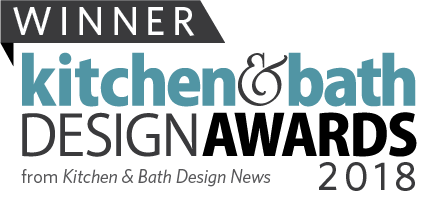 I feel so honored! One of my luxurious powder room designs just won a Best Powder Room award in the national 2018 Kitchen & Bath Design Awards. The judges at Kitchen & Bath Design News Magazine called it "unique and architectural."

Stunning Staircase Ceiling 
I have never met a powder room quite like this! It is tucked beneath the home's curved main entry staircase, forming the underside of the ceiling. The varying height staircase-ceiling is unusual and so striking. It set the tone for the entire space. Because these clients enjoy authentic materials with an historic feel, I finished the staircase above and below with antique French farmhouse planks. They're beautiful, and if those planks could talk, they could tell so many stories!  To balance the unusual length of the space and give it an open feel, I chose a seven-foot floating vanity, accented by a striated metal band.
Artistic Powder Room Wall
The focal wall above the vanity speaks to the clients' love of artistic elements in their home. The richly textured tiles have a warm, mocha-brown rubbed finish that intensifies the ridged pattern.  To balance the elegance of the room, I added a quartzite counter top with a casual, leather-like finish. The bronze vessel sink, faucet and white bronze door handle round out the design with metallic sheen and warm tones.
Who would guess that such a sophisticated powder room is hiding beneath this stunning staircase? Many thanks to the judges at Kitchen & Bath Design News for this distinguished award. And I welcome you to browse my portfolio at https://www.michellesinteriors.com
~Michelle