I'm not kidding—I love to design children's bedrooms! It isn't just about the décor. I enjoy discussing the projects with the young ones themselves—if they're not too little—so I can incorporate their personalities and interests into these very personal spaces.  I have a lot of experience in this area.
My first business venture was a children's furniture boutique called the Stork Room, which I co-owned for 11 years. I have also co-authored two books on children's bedrooms, Kidspace and Kids' Rooms and worked on dozens of children's bedrooms through Michelle's Interiors. Plus, I have decorated my own sons' rooms.
Channeling the Lone Star State
More than ever, my clients who are grandparents want a designated bedroom for the grandkids to make them feel at home during overnighters. For these Texas clients, I channeled a bit of rustic cattle country with faux, weathered-wood wallcovering from Cowtan and Tout and a bleached wood lamp. Color is almost always a big factor in the kids' rooms I design. The ruby-red headboards on these custom, full-size beds echo the red accents I scattered throughout the home. Don't they just jump off the walls? Of course, layers of pillows are a must for pillow fights, but the round pillows are my favorites. Imagine the fun the kids are having with those!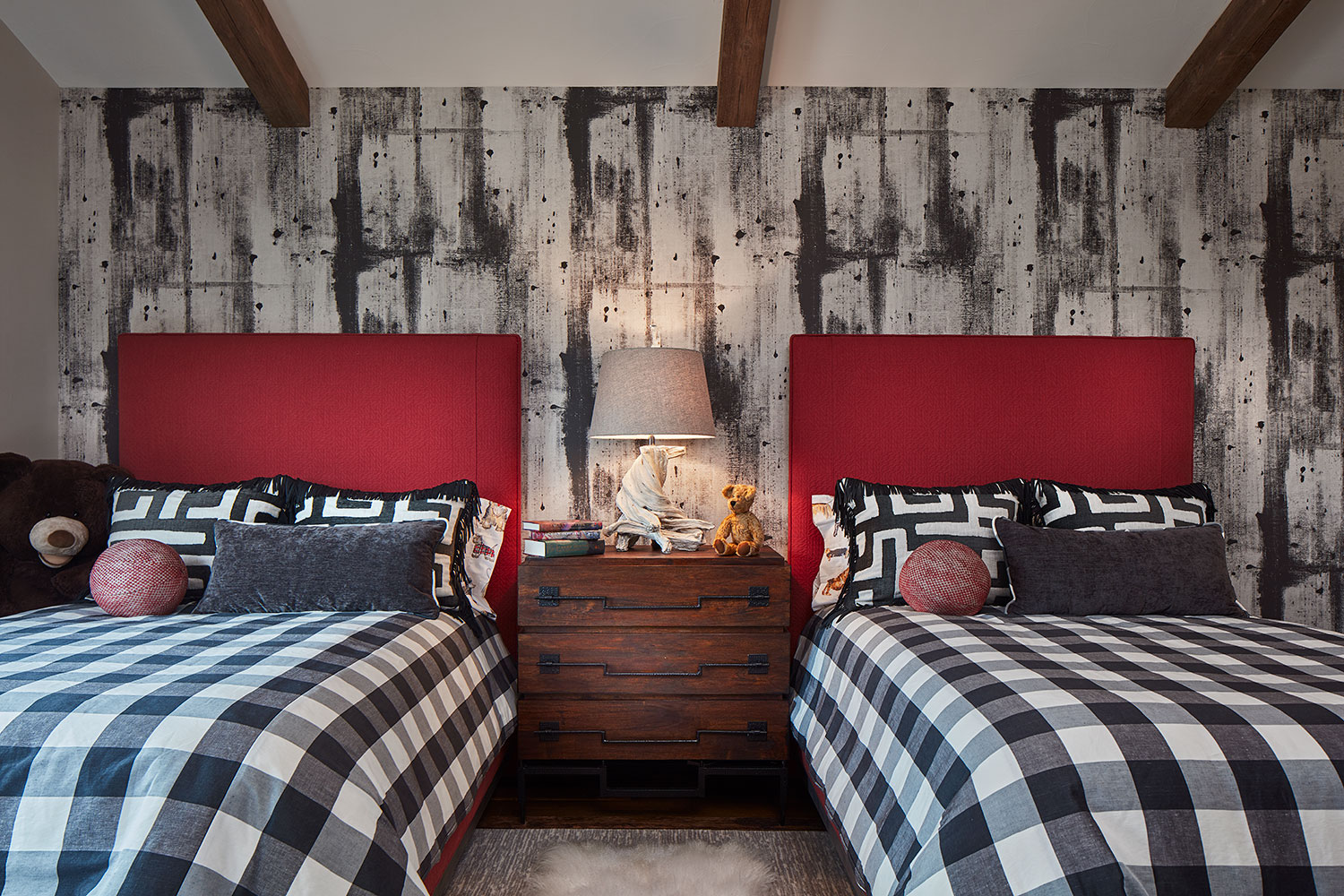 Splurging on the Grandkids
As a grandmother myself (the kids call me Gigi), I understand the urge to splurge on the grandkids! For the bedroom above, my clients couldn't resist going a little overboard with a playful "confetti" dresser from Mike Bell.  The old pine chest has a flat, ivory-rubbed finish and is sprinkled with handmade, colored wedges of glass that are flushed into the wood.  I'm a stickler for including an inviting chair and reading lamp in kids' rooms so the youngsters can curl up with a good book. This faux fur swivel chair is pretty much irresistible, don't you think?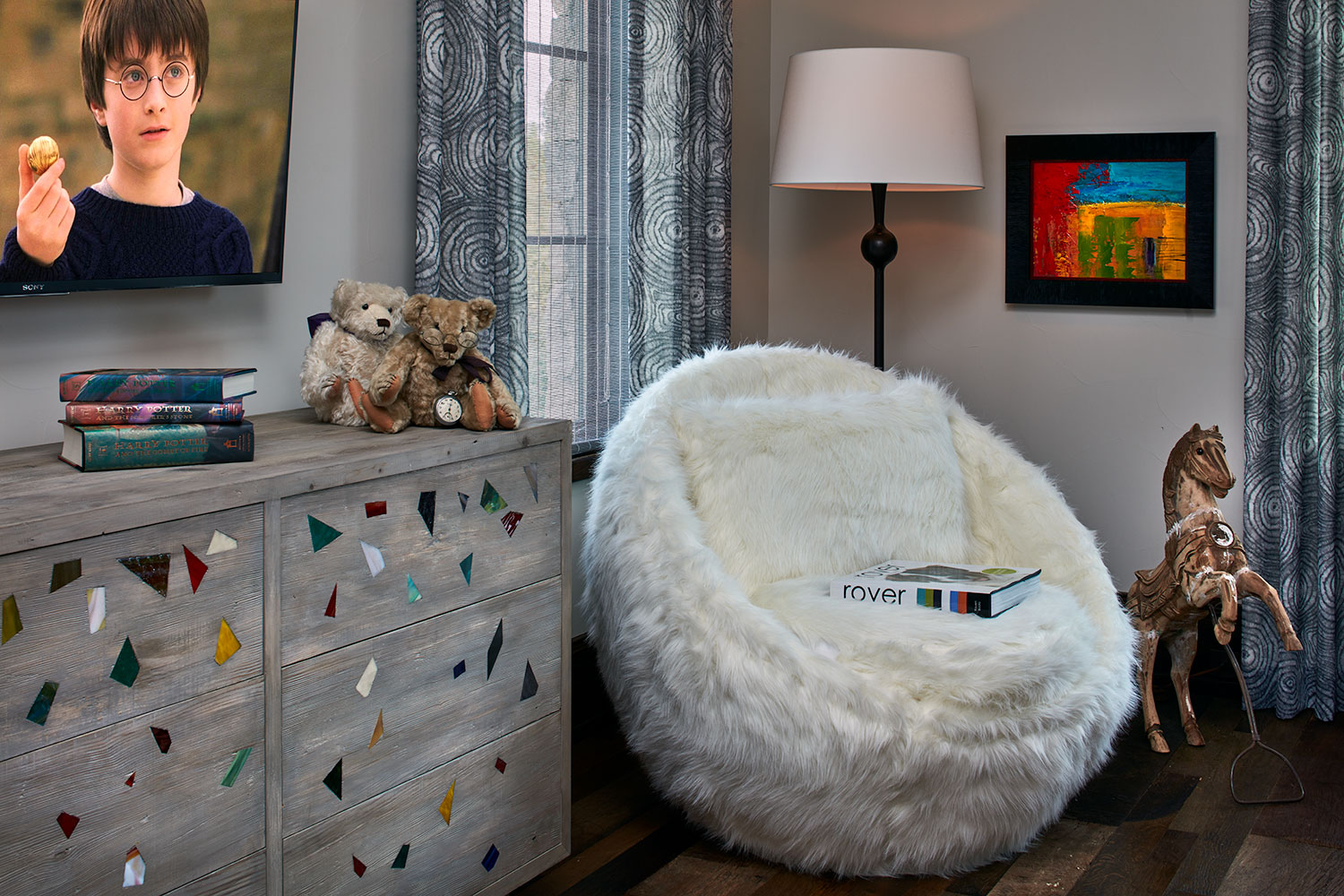 Closet Conversion
Even in a home as large as the one above, it's important to make the most of the space you have. I turned this unused closet into a sweet, gender-neutral nursery for a visiting grandbaby. Multi-colored, horizontally-striped wall covering from Romo makes the space look larger, and works for boys or girls. Just change out the accessories and you're good to go for Amelia or Ethan.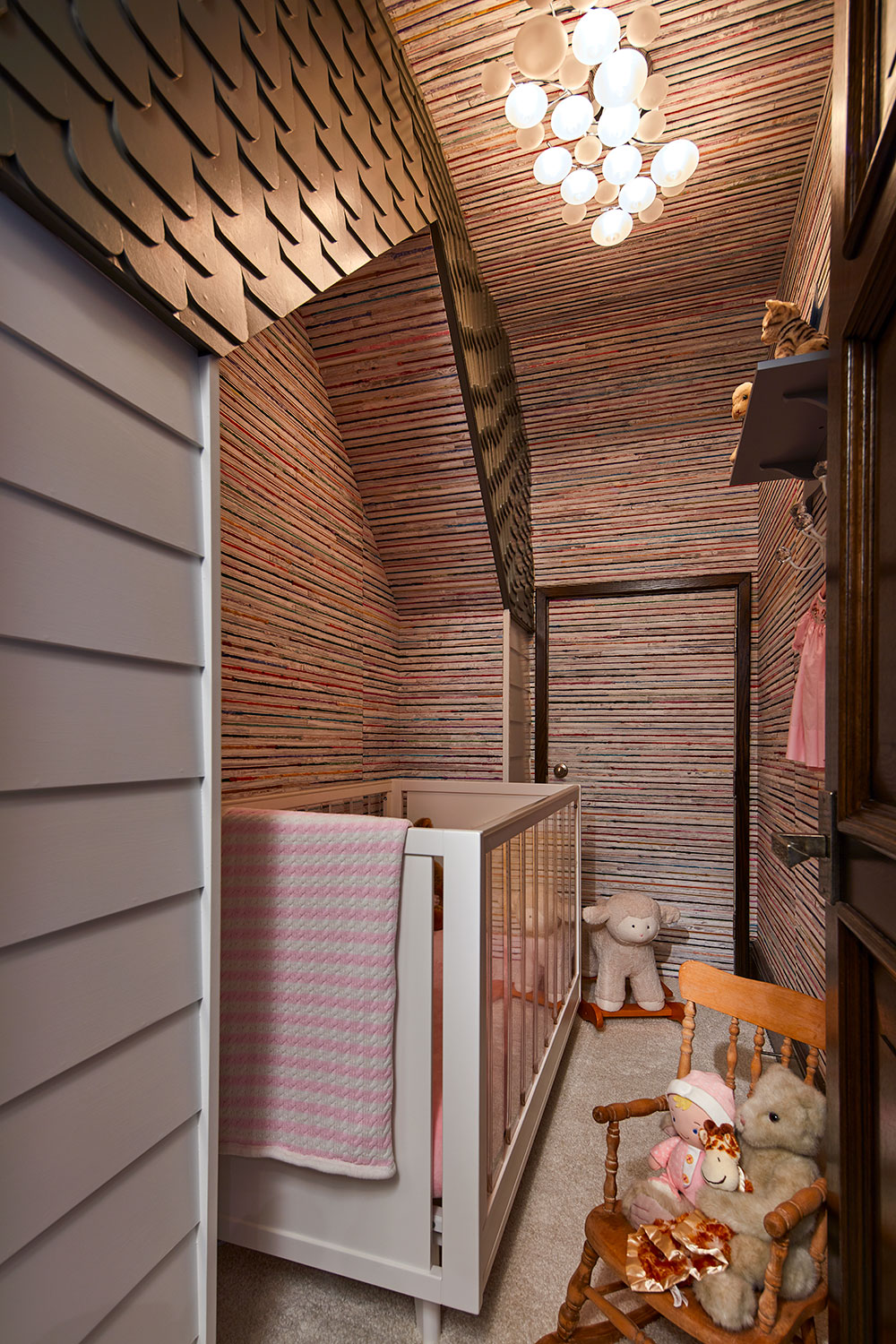 Give the Girl What She Wants
This much pink would be a bit crazy for a grown woman, but the two little girls who occupy this room thought it was just right. Their parents gave them a lot of leeway for their own space, which I totally endorse. I'm not a fan of bland bedrooms that kids can "grow into." Let them enjoy being kids, and let yourselves enjoy them at this stage, with their ruffles and bows and gauzy materials.
A day bed with a huge drawer is a fabulous piece for a child's bedroom. It provides storage, a place to stretch out and read or do homework, and a spare bed for sleepovers with a friend. Kids love feeling cozy, so I added tie-back panels that can be pulled together for a sense of privacy.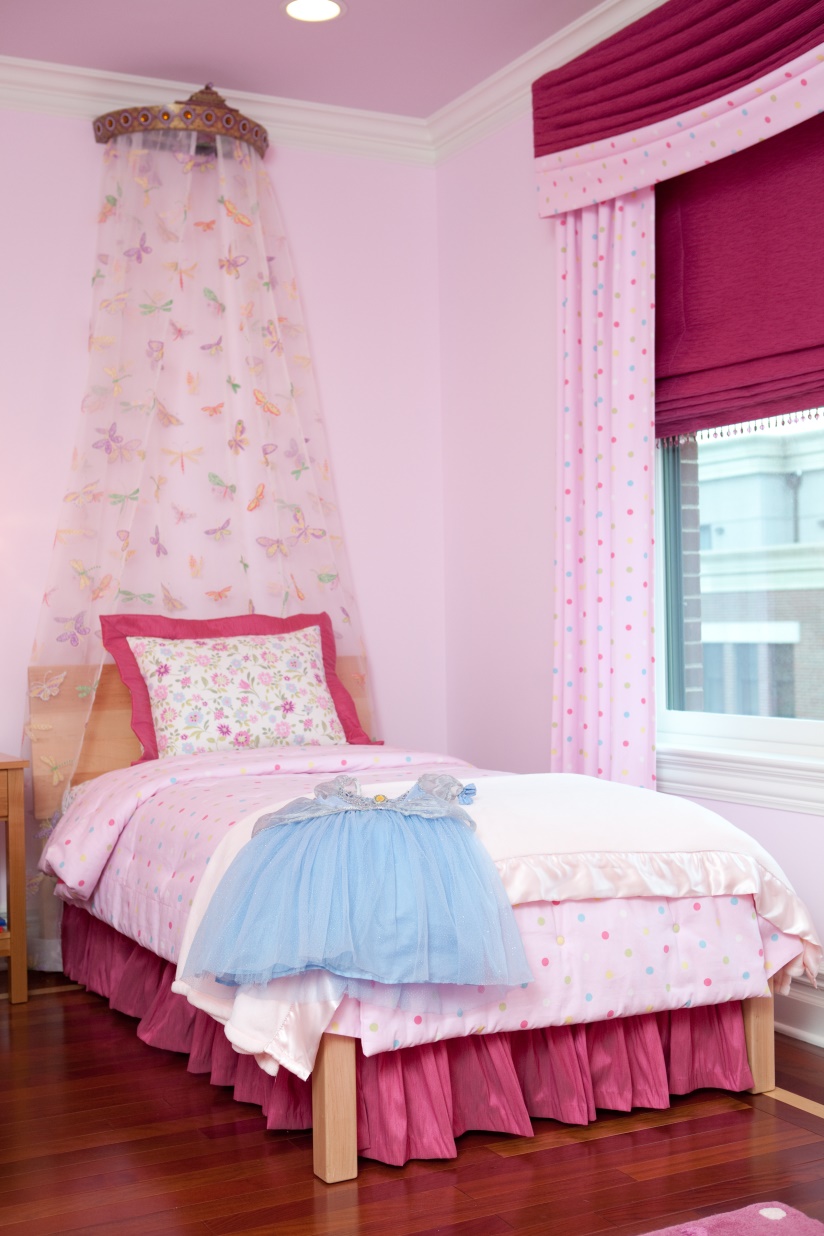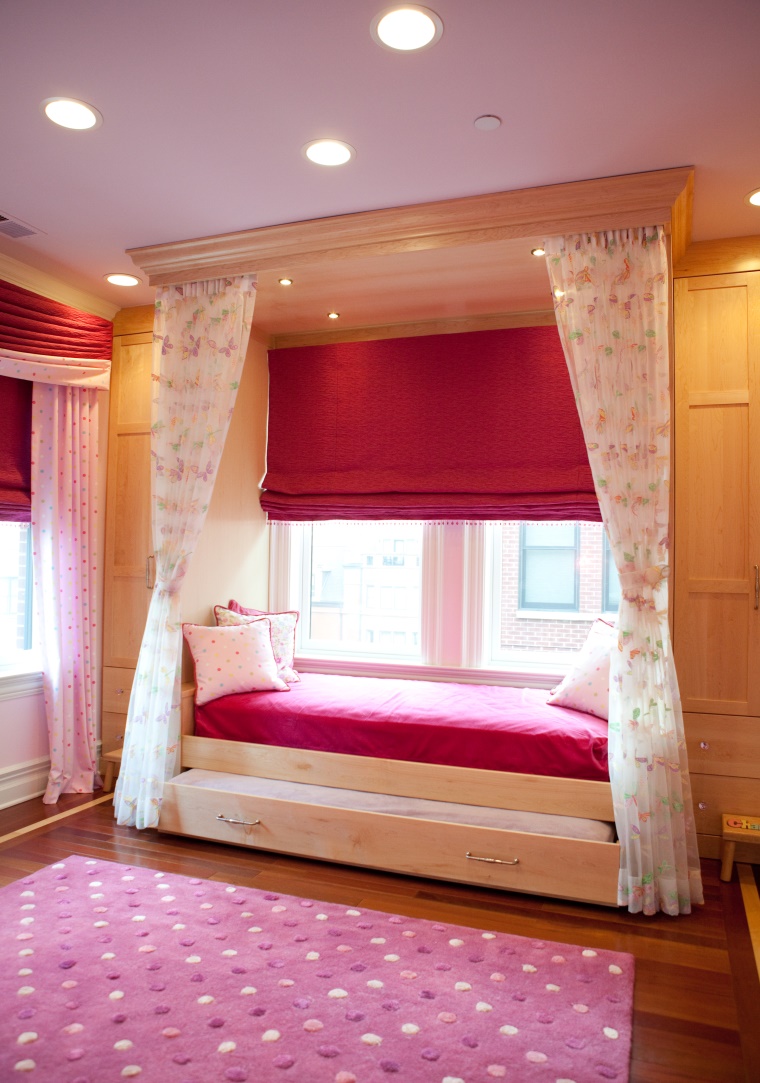 Minimizing Clutter
Who couldn't use more storage in their lives? I loaded up this bedroom with open shelves and a bed with built-in storage below. There's a place for everything, if only she will put it in its place! Age-appropriate accessories make a difference, too. The playful, oversized punctuation marks on the headboard hint at the student who lives here.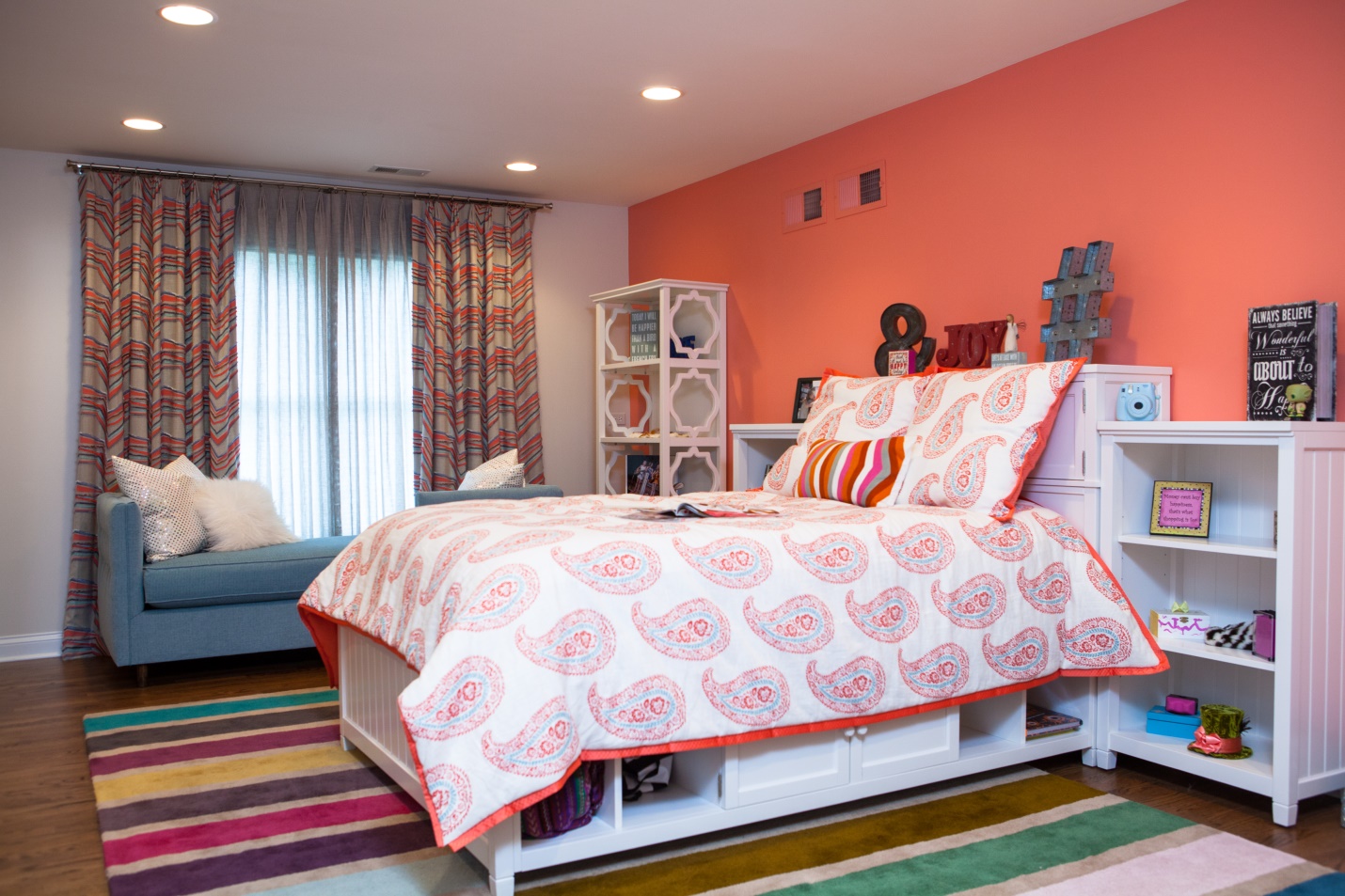 Optimizing Space for Two
Bunk beds are practical and a bit adventurous.  They provide two beds in the space of one, and they always remind me of a tree house, because the ladder takes you to the upper-most perch.  The bright colors, glamorous chandelier and bold patterns give this room a fairy-tale vibe that's perfect for a pair of princesses.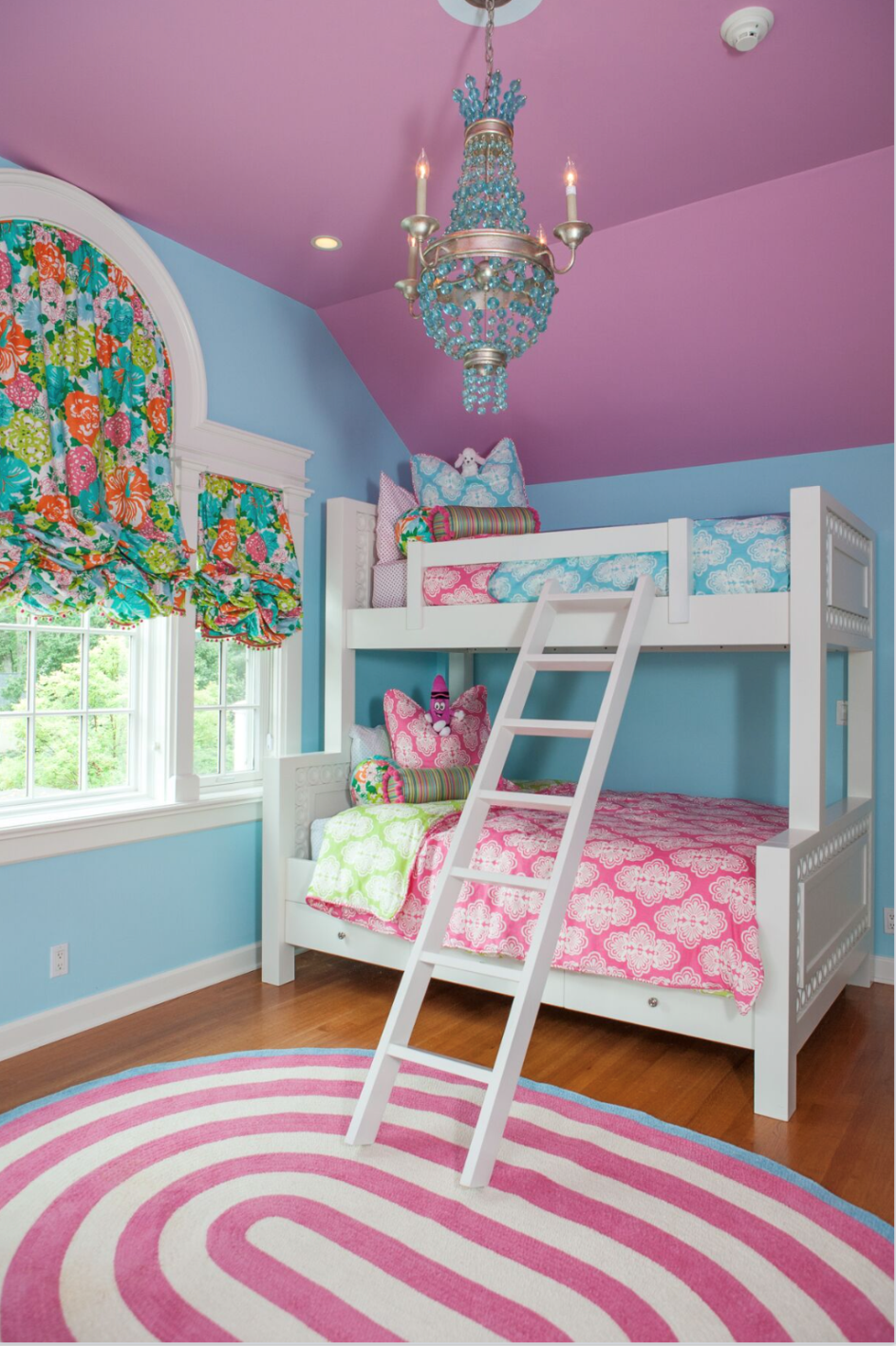 Don't Forget the Fifth Wall
Have you heard about the fifth wall? In design, we call the ceiling the fifth wall because it is an important part of a complete plan. In this case, I painted the fifth wall purple to connect the dots between the window treatments and ceiling, and to accent the ceiling's crisp angles.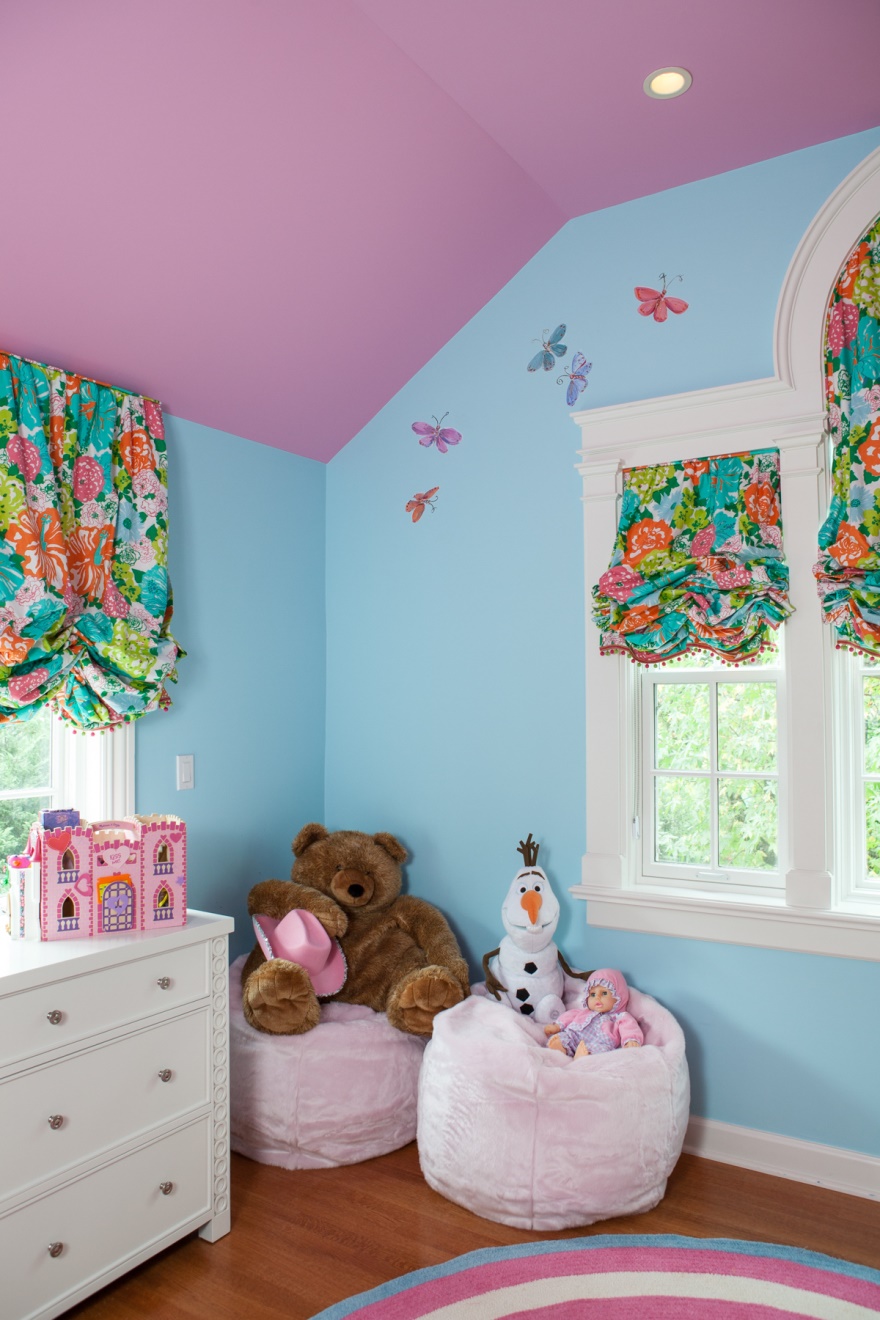 Ruffing it Up
Yes, blue is a classic color for boys, but I like to mix it up with a Crayon box full of accent shades. Notice that there are even pink pooches on the sheets? Why not? The result is playful and unrestrained, just like a new puppy or a young boy. Of course, practicality always plays a role in children's rooms. A reading chair and study desk are must-haves for the young scholar.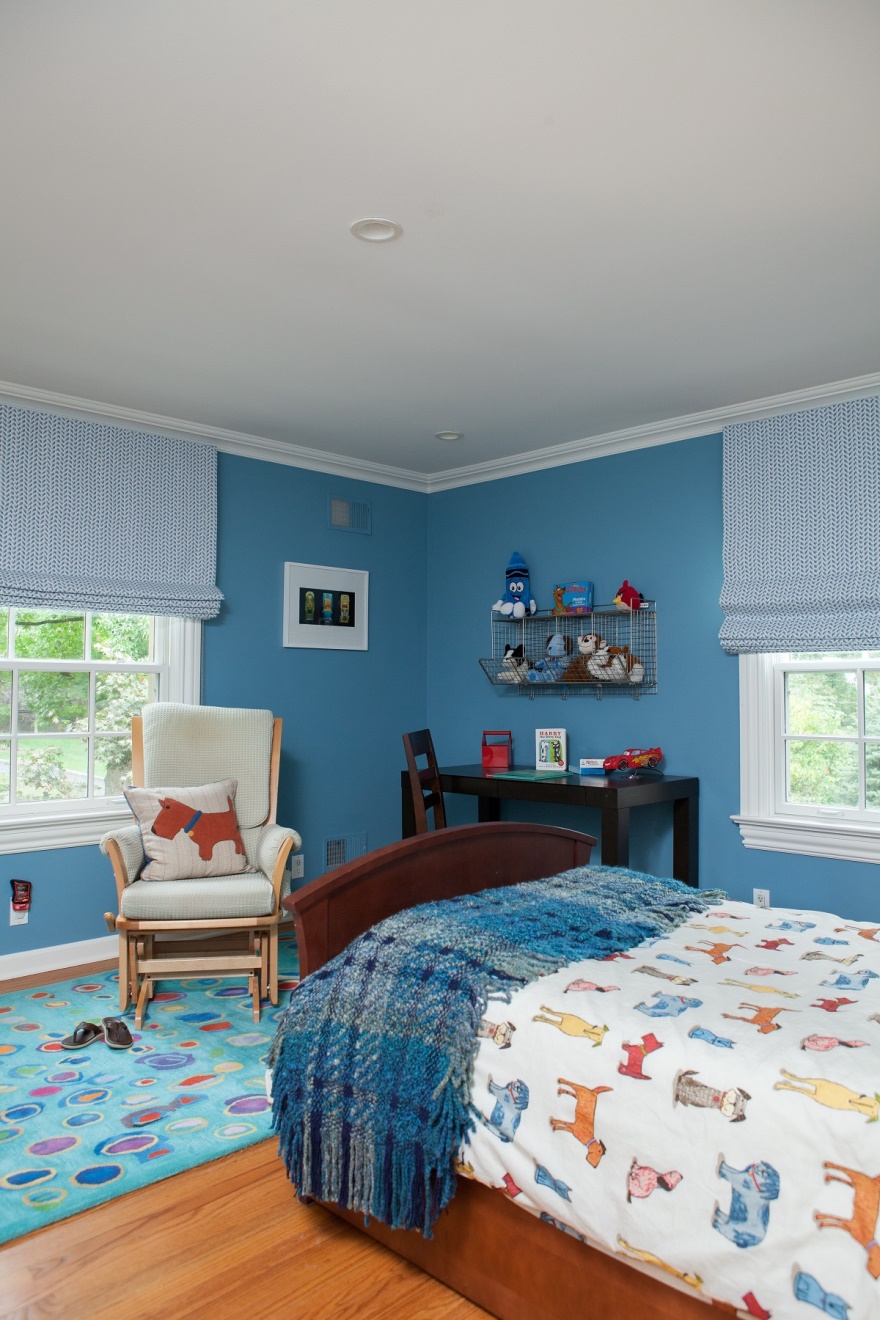 Updating for Tweens and Teens
As the kids grow, their bedroom needs to mature with them. This young lady was ready for more sophisticated colors, patterns and textures. I mixed low-key greys with a luscious mix of purple and pink that's not too young or too old. The wing-back headboard is a more grown-up way to give a young adult a sense of privacy. Of course, a plush rug is very cozy for bare feet!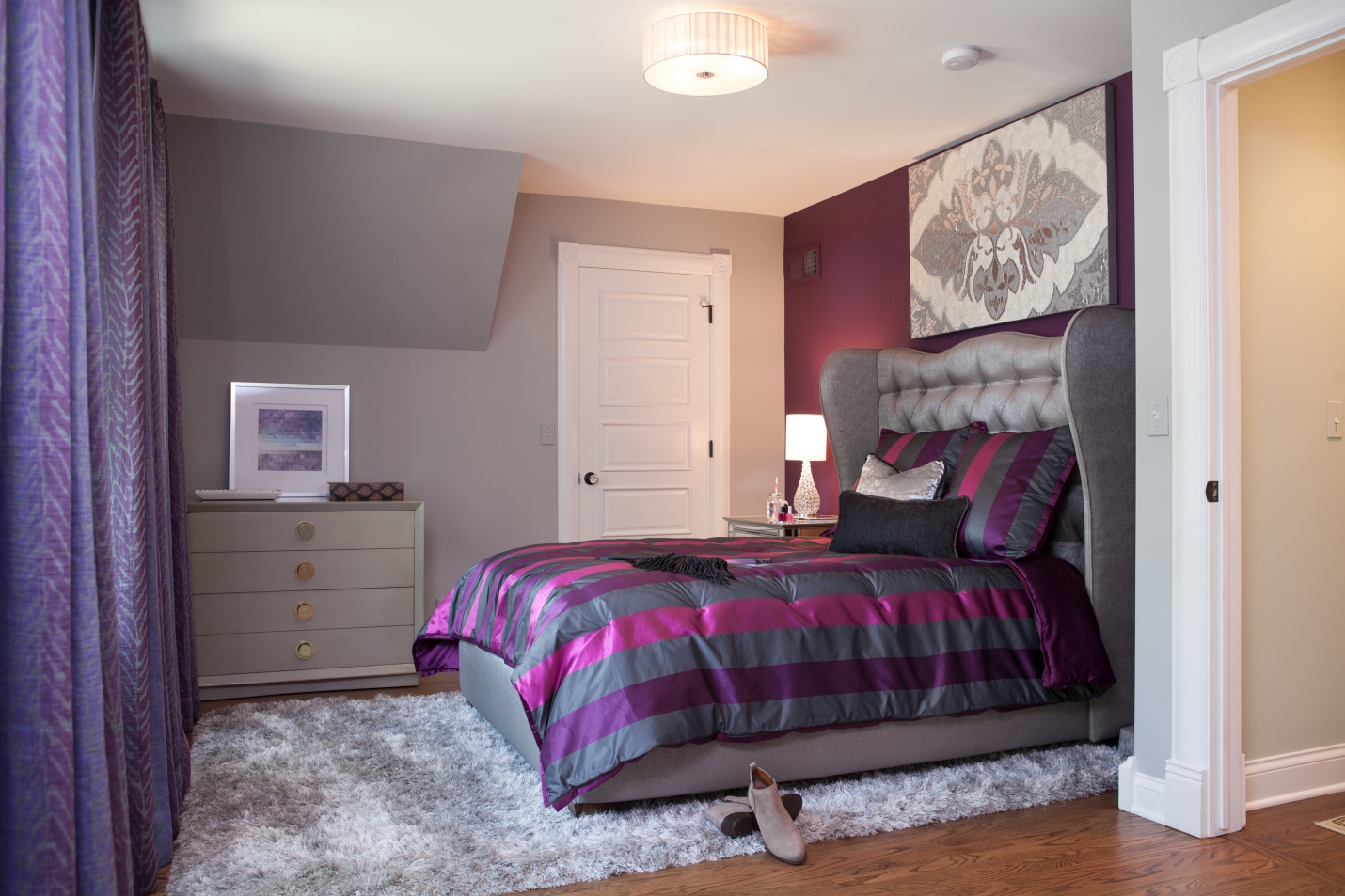 Personality Plus
It was a pleasure to have so much space to work with in this young lady's bedroom. Her "art studio" is located opposite the bed in the photo above. I gave it a whimsical touch with the cupped hands table and oversized easel placed perfectly to catch the best light of the day. The custom storage conceals not only art supplies but clothing. The drawers below the comfy window seat are big enough to hold extra blankets in the off-season, too.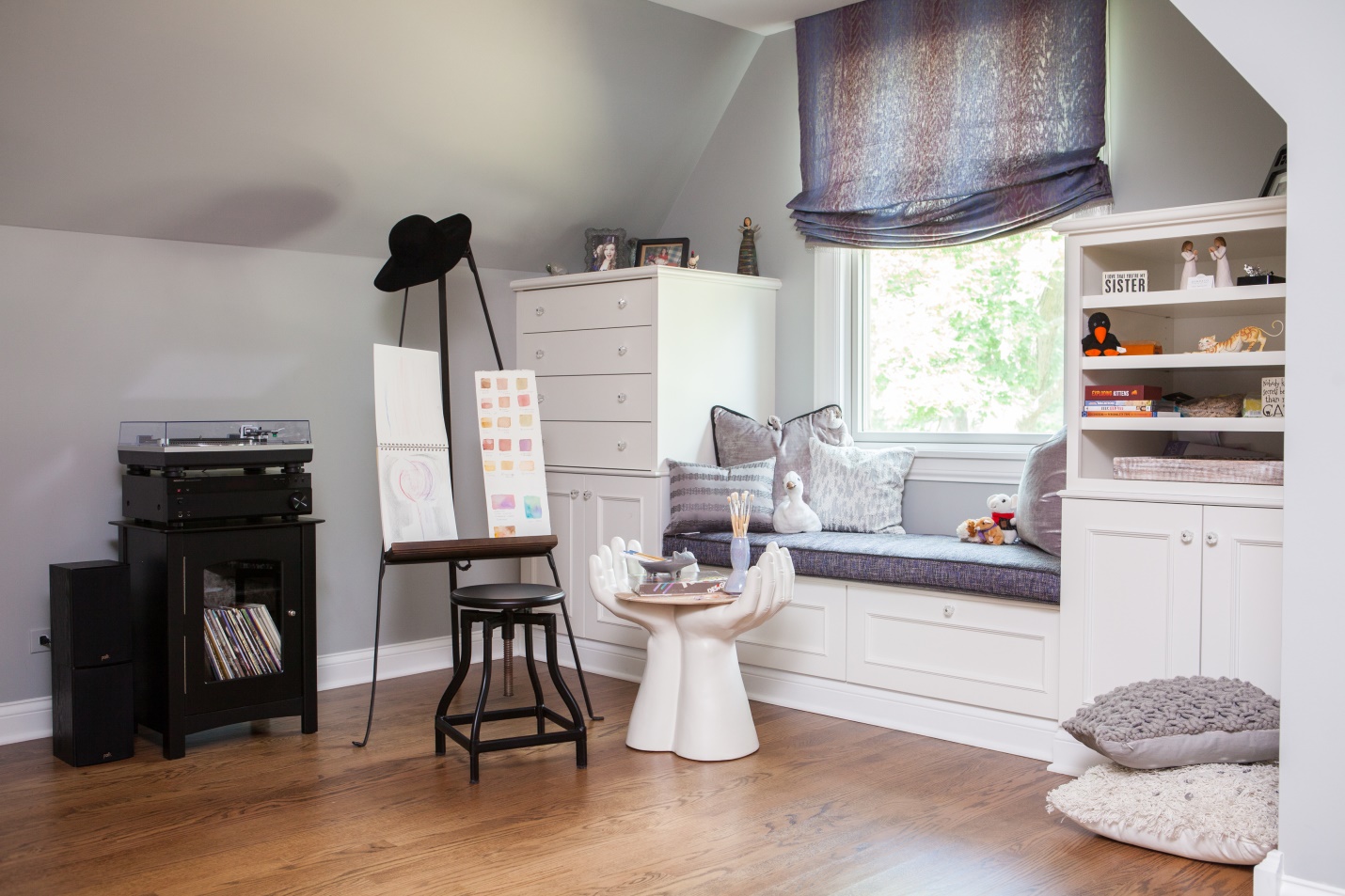 Are you welcoming a new baby or grandchild this year, or is it time to update the kids' bedrooms?
Let's talk! My youngest clients are some of my biggest fans!