Some of the hottest buzz words in interior design today are repurposing, recycling and renewable materials. That's good news because billions of tons of materials go into our homes each year. We need to  reduce that drain on our environment and preserve our world for generations to come.
Two Options: French Farm House Wood and Red Grandis Wood
But you don't have to furnish your entire home with green materials to make a difference. I am very committed to incorporating recycled, repurposed and renewable in my design plans whenever possible. For this newly constructed home outside Dallas, I selected repurposed French farm house wood flooring from Exquisite Surfaces throughout much of the 9,000-square-foot space. For the kitchen, I chose sustainable Red Grandis (eucalyptus) wood from Woodland Cabinetry, for the cabinets and millwork framing each of the three wall niches. They were not only smart choices environmentally, but aesthetically.
Repurposed French Farm House Wood Adapts to Many Styles
My clients are sophisticated world travelers, but they are down-to-earth and unpretentious. They wanted a casual, organic elegance at home with an authentic, lived-feeling and a sense of history. The repurposed French farm house wood for their flooring meets all of those goals. It also works well with the transitional vibe they desired. But, I could use this versatile product in a lodge-like home in Aspen or Telluride, too. Plus, I could pair it with modern cabinetry and furniture for an industrial-modern look that is casual, warm and inviting. My supplier harvests the boards from a variety of homes that date back for generations, resulting in rich variations in color and markings.
Red Grandis Wood Has Subtle Grain, Finishes Well
Renewable Red Grandis wood for the cabinetry and millwork was a good choice as well.  It has a beautiful, soft grain, finishes well and is more cost-effective than some premium woods. The texture is subtle enough to work with all styles of design while retaining an organic feeling. It can be painted or I can add a little distressing to give the wood a more traditional look. For these clients, I chose a weathered gray finish for the perimeter cabinets and a soft white for the island. The floor-to-ceiling millwork around the niches is finished in a dark brown stain with a whitish-gray glaze.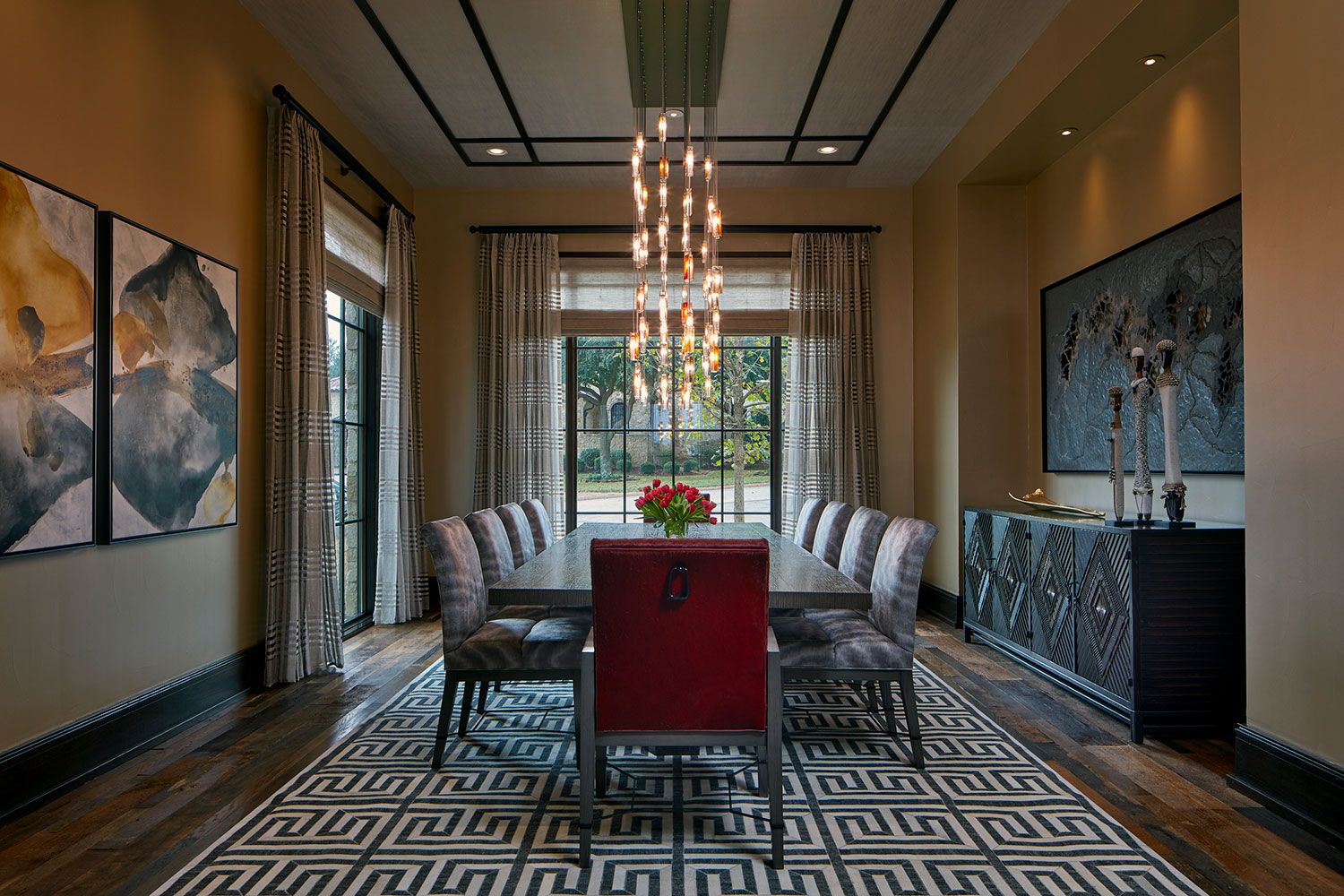 Rustic Flooring Pairs Well With Elegance
For consistency in this open floor plan home, I extended the vintage French farm house wood into the dining room. The delicate, hand-blown glass chandelier from Shakuff is an elegant contrast with the organic floor board texture. The dark wood trim and carved buffet reference the darker planks in the floor, while the golden tones in the artwork and chandelier tie into the lighter colored floor sections.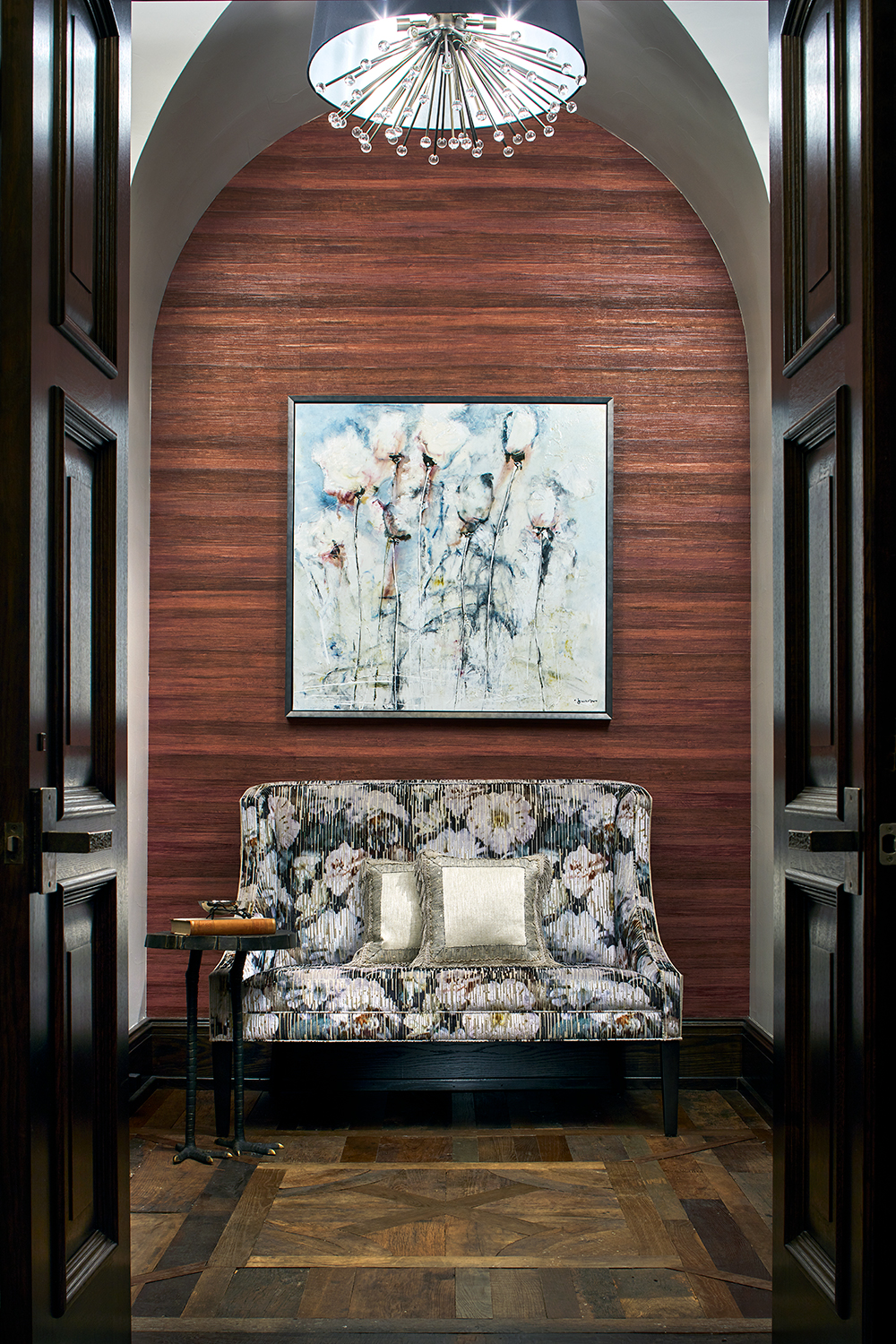 Creating a Dramatic Focal Point With Vintage Planks
I chose a decorative inlay design in French farm house wood to create a dramatic focal point in the master bedroom vestibule.  The combination of vintage wood with the floral settee and artwork creates a nature-inspired vignette.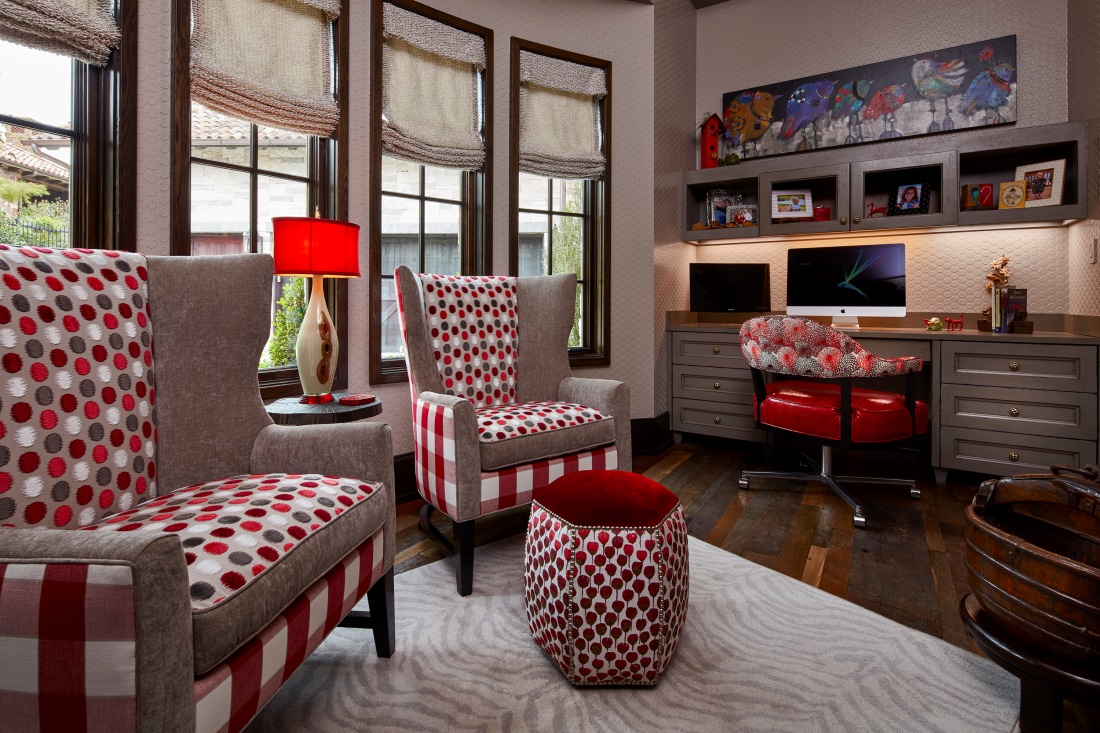 Rustic Can Be Feminine or Masculine
The natural warmth of the wood floor works as well in the wife's feminine office, above, as it does in her husband's masculine study and entertainment room, below. The subdued flooring grounds the whimsical polka dot and plaid fabrics of the Charles Stewart wing chairs and the colorful artwork above the desk.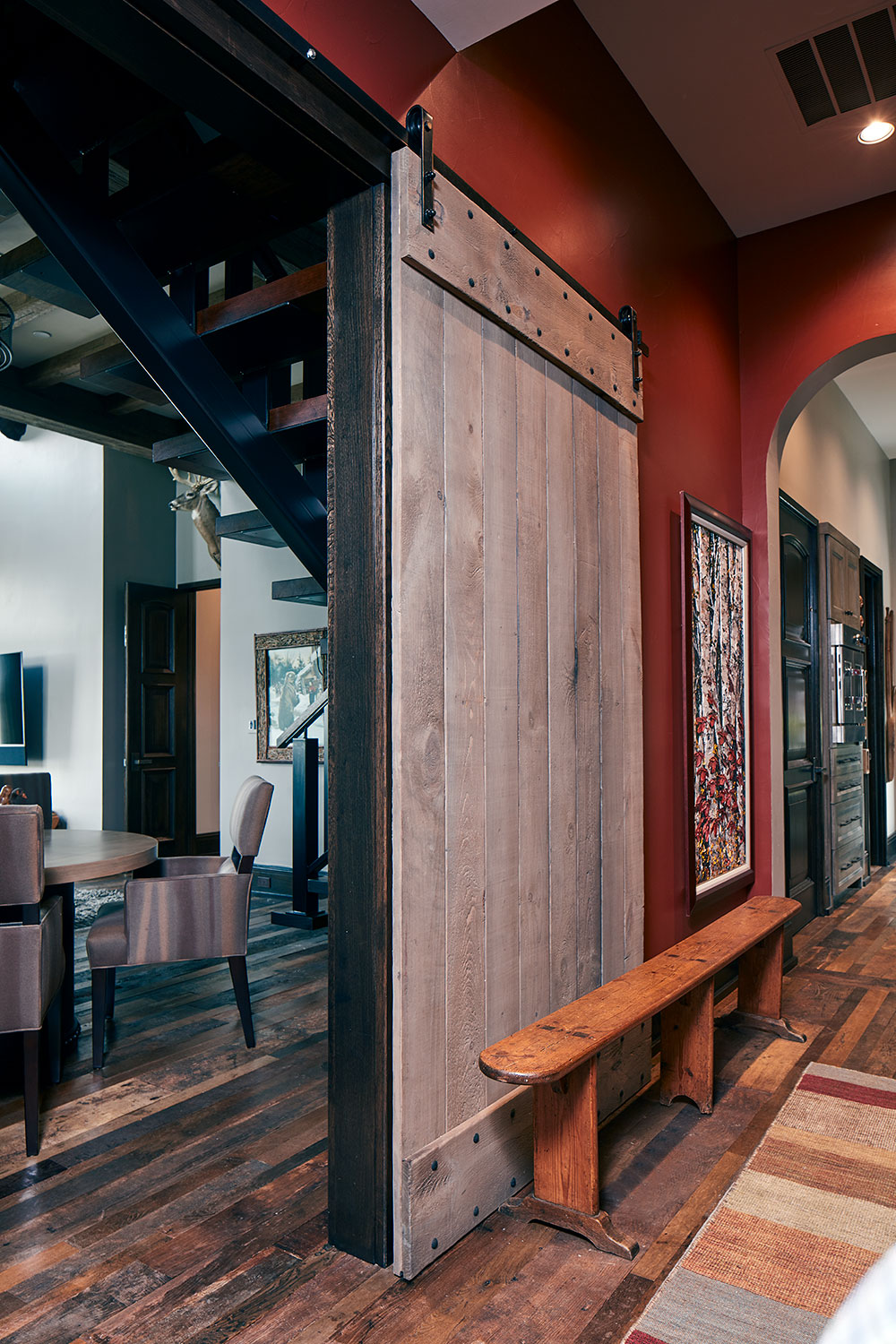 Reclaimed Flooring Gives Unique Look to a Home
Paired with a custom barn door entry and wood-beamed ceiling, the repurposed wood floor becomes uniquely masculine for the husband's "wing." His space includes a game table and chairs, seen here, where he plays cards with his friends in a lodge-like atmosphere.
Want to see more? You can find all the photos from this whole-house project here: TransitionalNewConstructionTexas.
~Michelle
Ready to go green? Just fill out the form below and we'll get to work.