When I'm looking for inspiration, nothing compares to my annual trek to High Point Market in North Carolina. This is the largest home furnishings trade show in the world, and it is always a source of discovery and delight. I spend several days exploring 10 million square feet of exhibit space and roughly 2,000 exhibitors. Comfortable shoes are a must-have! The show attracts the top furnishings designers and manufacturers in the world with the latest designs in fabrics, finishes, furniture, lighting and accessories.  It is exhausting, but worth every step. I always come home with dozens of photographs and acres of ideas for my clients' homes. This year, as a newly certified member of the Sustainable Furnishings Council, I was truly happy to see an increase in furnishings made with sustainable or reclaimed materials, too. Below, I have curated some of my favorite finds from my latest expedition.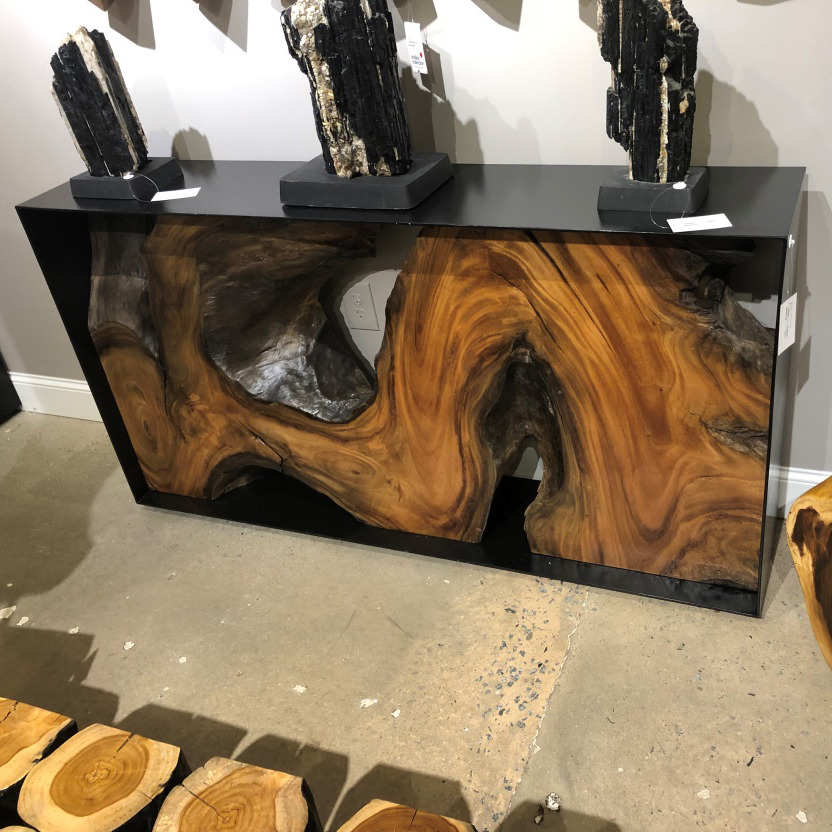 Not a single tree was cut down to create this contemporary live-edge wood table from the Origins Collection at Phillips Collection, which means I love it even more. The unusual shape and flowing grain of the reclaimed wood are unique to this metal-framed piece, so you won't see an exact replica anywhere else. It's truly a conversation piece for a home office, great room, hallway or foyer.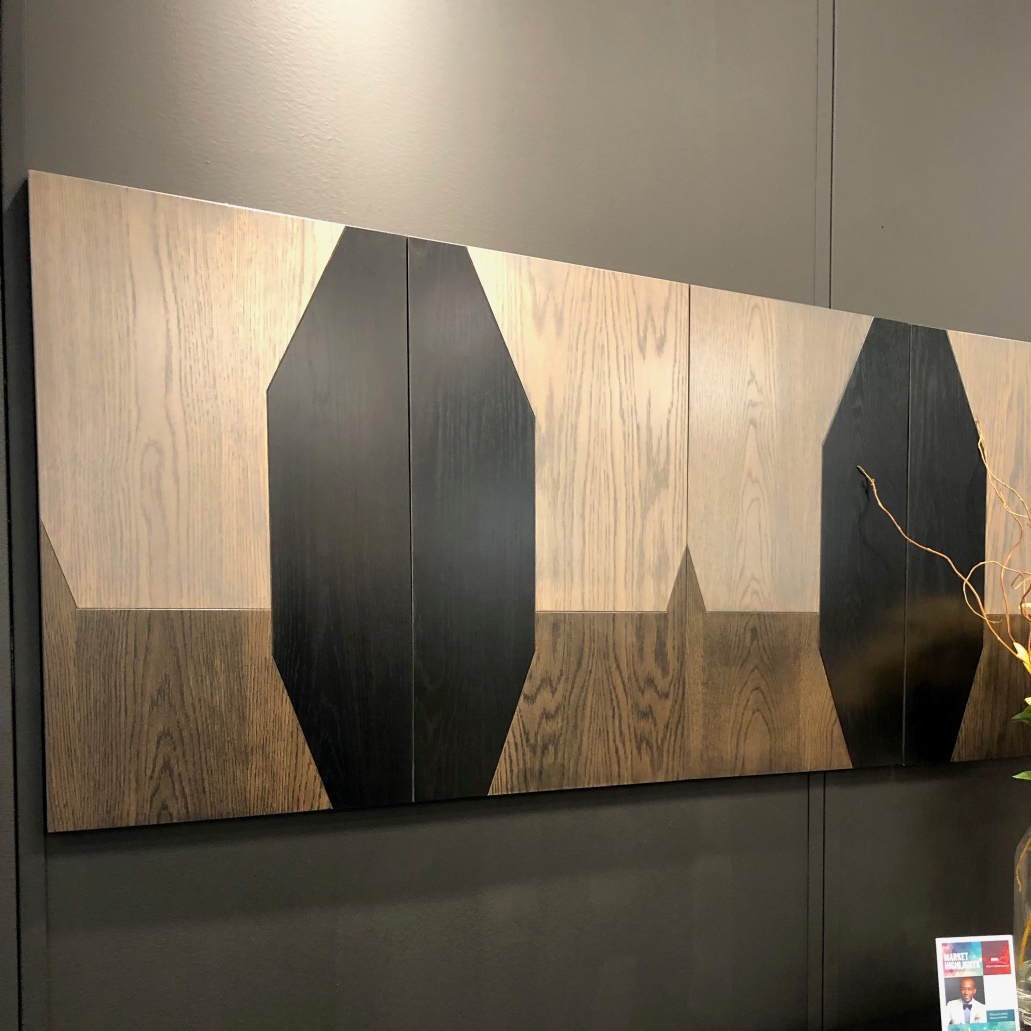 Women-owned furnishings companies were among my favorites at this year's Market, and it's easy to see why. They are producing creative and top quality pieces. The cabinets above are from Bridgett Hamilton and Cynthia Gross at 1429mfg. 1429 is a Maryland-based company that calls its work "custom furniture as livable art," and that speaks to my artistic spirit. I was so impressed with the meticulous workmanship and distinctive, geometric pattern of this cabinetry. From the stained white oak sections to the ebony inlays, the craftsmen gave careful thought to the way the wood grain transitions from one section to another. These cabinets would be a sophisticated addition to a kitchen or the hospitality area of a commercial structure or private club.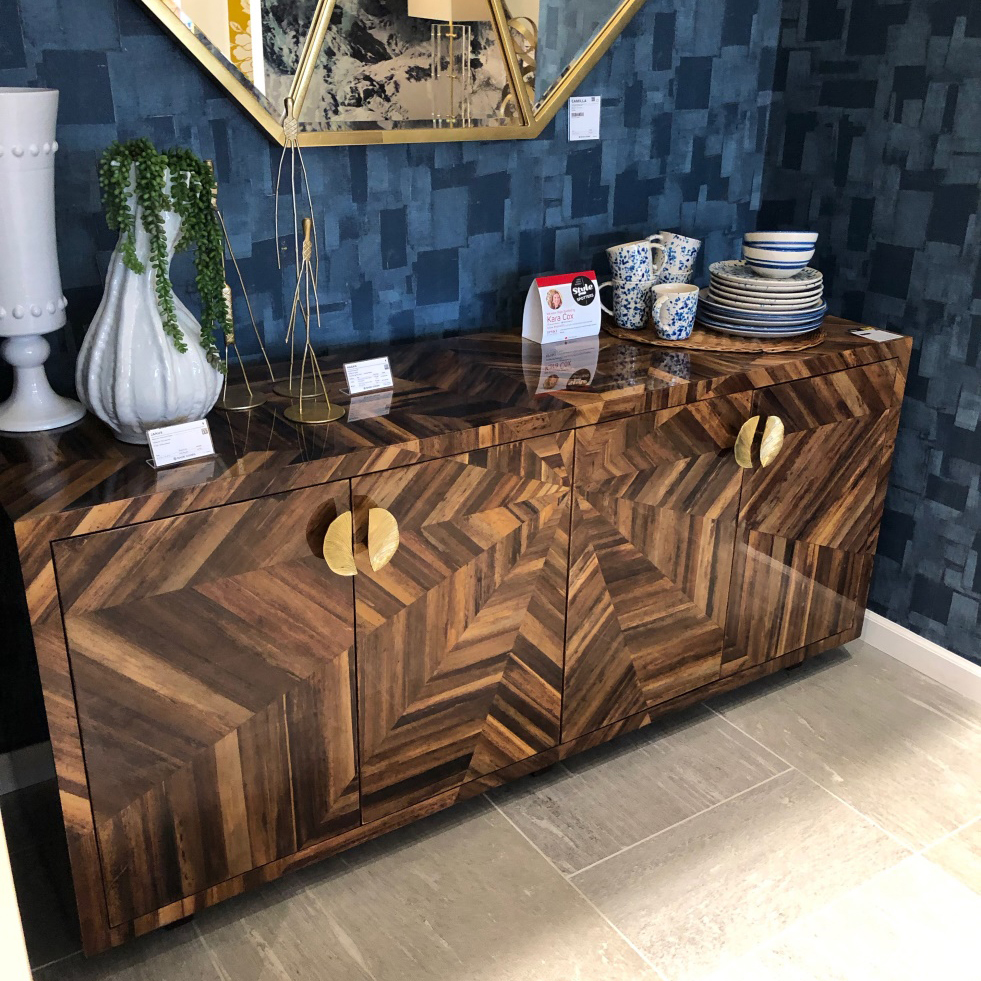 This unusual inlaid chest from 1492 is stunning as well. The intricate starburst pattern is bold, elegant and timeless, and it draws your eyes into the piece. The variation in wood tones may seem random, but must have taken hours of thought and experimentation. Because of the grain and pattern, this chest is very forgiving – you will never see a fingerprint or a small scratch or nick. I can picture this piece in a dining room, foyer, hallway or living room.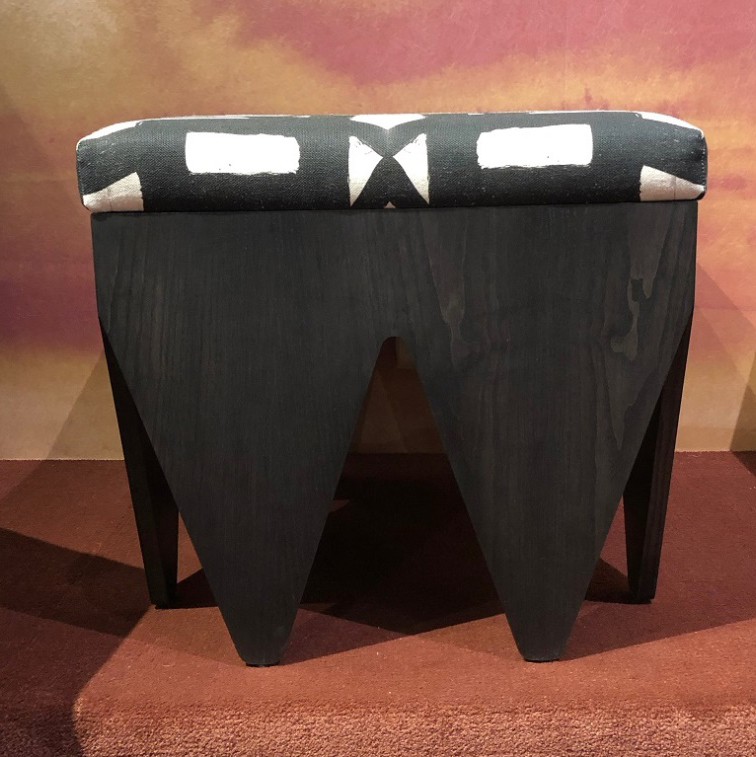 The artistic fabric and architectural structure of the legs give this ottoman from Bradley USA a Modern Tribal style and a lot of flair. I love the way the subtle triangular pattern in the fabric inspired the shape of the legs—or was it the other way around? It's an unusual statement piece for a family room, game room, library or media room, and it can easily be moved wherever needed for an extra seat.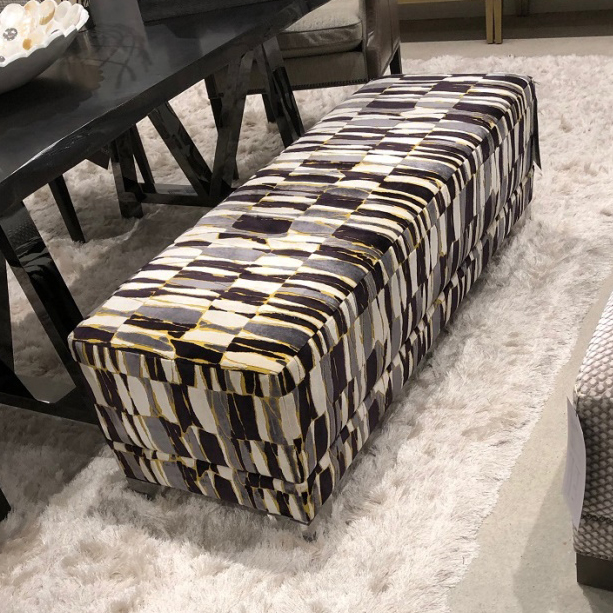 Just imagine the possibilities for this modern, clean-lined bench from Burton James. It would be fabulous in a foyer or the foot of a bed, or in a living room or family room as extra seating for guests. Because of its low lines it won't block the view of your landscaping, or perhaps the spectacular city, mountain or lake views outside your pied-a-terre or vacation home. The color palette is on-trend now, too. The yellow-gold accents in the velvet fabric pick up today's newest brass finishes on lighting fixtures, hardware and faucets.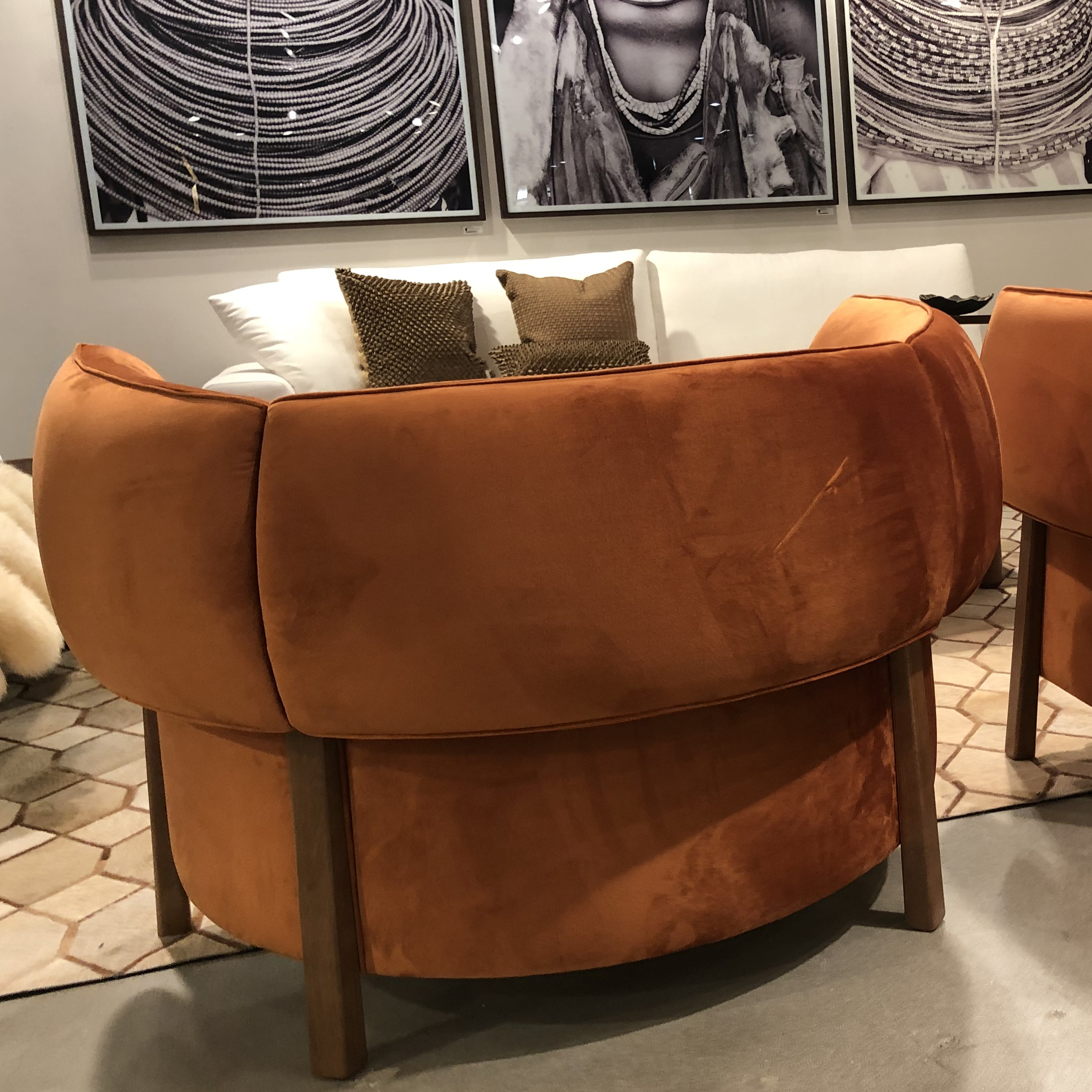 The updated, 60s-glam look of these suede chairs and the luscious color are irresistible. Plus, they have some tribal influence, which is amplified by the artwork on the walls. This unusual design comes from another thriving, woman-owned firm—RS Collection by Roberta Schilling. A native of Brazil, Roberta travels throughout her home country in search of talented local artists to design contemporary furnishings. The clean, modern lines and striking shapes of these curvaceous chairs are very appealing, too, and they are extremely comfortable. I know, because I always sit on chairs and sofas to test them out. These chairs are so roomy, I can imagine sitting Indian-style in one of them for hours with a glass of wine, checking out email on or chatting on the phone with a friend.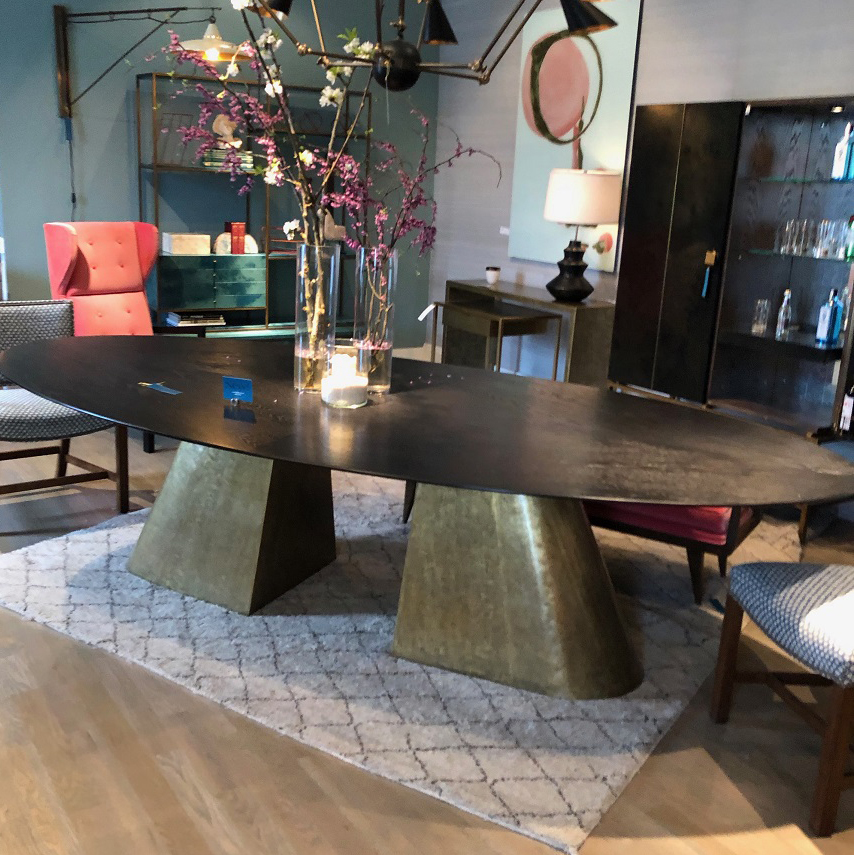 The combination of sturdy metallic bases supporting an ultra-thin wood top give this dining table from Julian Chichester an original, sculptural look with a lot of personality. The asymmetrical bases add another level of intrigue, and this table would blend well with a variety of metal accents in a room. The brass bases have a hint of pewter and copper, with a subtle acid-washed finish that sets it apart from the crowd.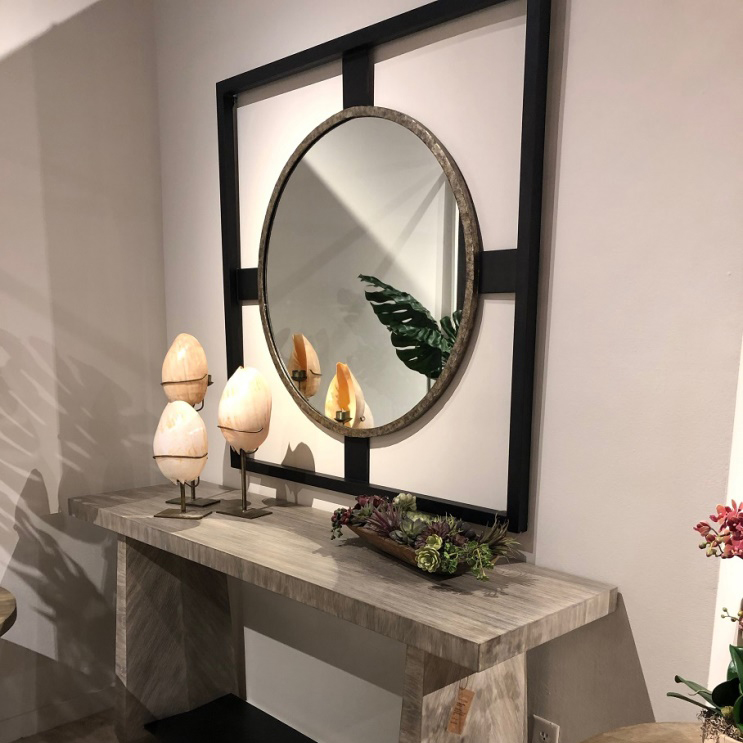 The combination of an architectural wood and metal mirror with the clean-lined, white oak table creates a vignette with geometric appeal. The pieces come from Robert James Collection. It is known for its mirrors, which in this case features a black wood frame and a mirror edged in hand-hammered metal. The white oak table takes a basic design and elevates it with precision detailing. The inside of the legs are mitered together in a herringbone pattern while the front edges have a horizontal grain. Another interesting detail—the bottom of the legs taper near the lower shelf. This is exceptional workmanship from a company I used for a spacious, newly constructed home outside Dallas.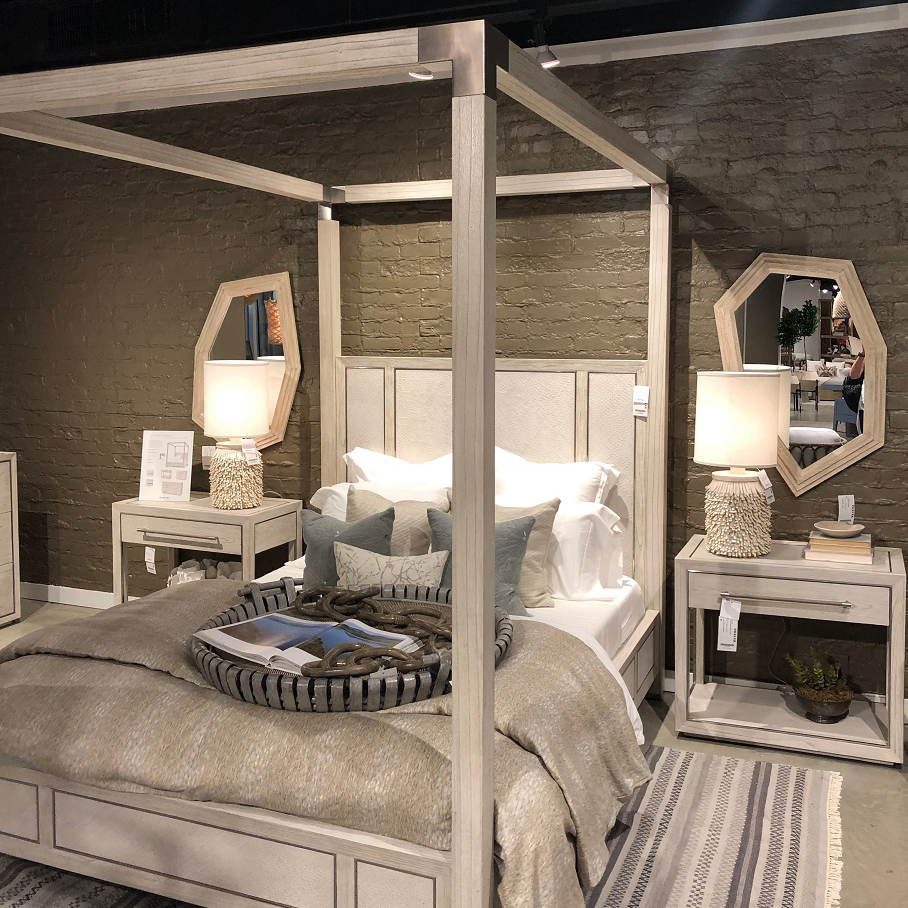 I'm always looking for distinctive bedroom furniture, and it's a bonus when the company is committed to using fast-growing, renewable materials and eco-friendly production practices. San Francisco-based Palacek provides all that, and award-winning designs. I was particularly drawn to the metal corners on this updated, four-poster. But the texture of the lamps and the irregular shape of the mirrors inject just the right amount of quirky contrast to the symmetrical lines of the bed frame.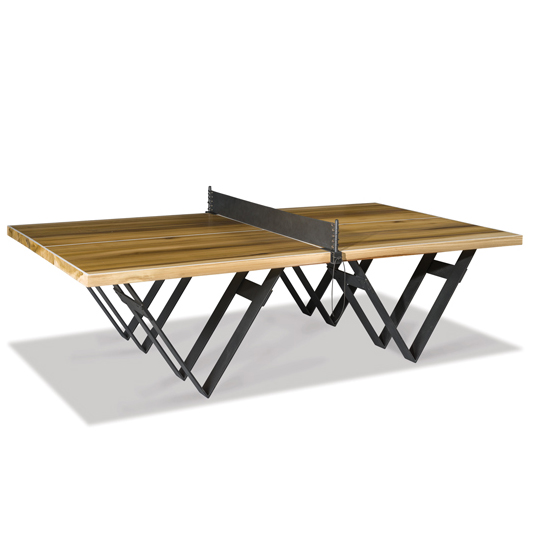 Abner Henry wants to take game rooms up a notch, too. The company brought its newest hard wood ping pong table with a leather net to High Point. The metal V-shaped legs give it a sturdy base and a modern look. Winning or losing is up to you.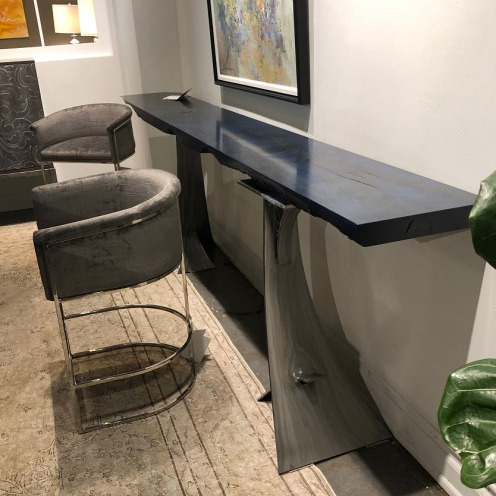 Would you have guessed that this modern-looking console table came from an Amish-owned furniture company that is 101 years old? AbnerHenry is still a family-run business, which was founded in 1918 by Ernest Hershberger's great-grandfather. And it still produces the mission-style oak furniture associated with the Amish. But the company has added many new styles of furniture, including this metal framed console. Not only did the sweeping legs catch my attention, but the rugged, blue-stained wood top. What a great piece for a home office!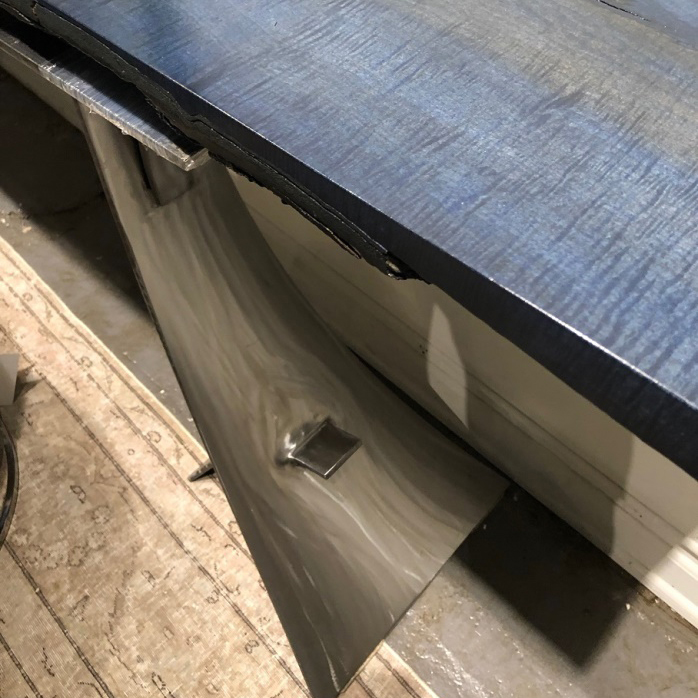 Closeup view of blue-stained wood top and sweeping leg.