Beautiful lighting is essential to all of my design projects and is one of the most important elements that can be used to create spaces with luminous style and design.
An indispensable design ideology I learned and mastered years ago is that well-planned lighting transforms spaces and sets the tone for every room. I always have a road map including specific research and planning when I start a project with dazzling lights.
Because lighting should be one of the primary considerations when designing interiors, I love staying informed about lighting essentials, lighting design trends and the best options for specifying light fixtures for my clients.
Already this year, I have uncovered some of the most beguiling and elegant sconces, chandeliers, pendants, globes, and hanging lights. So, I have shared just a few of my favorites in this blog post.
1. The Pathleaf Wall Sconce Brings the Outside Inside!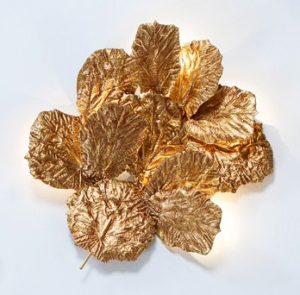 Nature is made manifest in the Pathleaf Collection from Serip. I was awestruck after seeing some of Serip's lights at the Hamptons Contemporary Design Show; the Pathleaf Collection recreates every graceful vein in a leaf with its stunning Pathleaf Wall Sconce, which is handmade in Portugal.
It comes in 10 creative metal finishes, including pink gold, copper, black and silver with a white patina, and the glass can be ordered from an array of colors, too. This wall sconce can be customized to one's specifications. There are so many wonderful options like having it made into a large piece for an open space such as a two-story foyer.
You can see the line at www.serip.com.vn/index.php/product/collection/pathleaf-collection/pathleaf-all.
2. The Kadur Drizzle Pendant Resembles Falling Rain.

Rocks and shells were the childhood muses of Joseph Sidof, the founder of Brooklyn-based Shakúff Custom Glass Lighting & Decor. His inspiration shows in the hand-blown Kadur Drizzle Pendant, which looks like an exquisite beach treasure that was pocketed, once upon a time, by an enterprising child on a beach adventure. That is my creative view of the inspiration behind this highly imaginative light!
The pendant is available in an array of breath-taking colors, finishes and sizes, with the center orb of each pendant filled with drizzled glass fibers that are encased within a pristine, outer glass sphere. One concept of using this light fixture is to create the fanciful, yet carefree, look of a gentle rainfall in nature, with its hanging or seemingly dripping "raindrop" orbs.
I customized a version of this light when I worked with one of my clients to address an architecturally awkward space above her front foyer and main staircase. By designing a distinct and unique version of the light that was specific to the space, I put to good use the fixtures' artistic shape and ability to offer varying heights with its globes. This changed the awkward space into a key design element of the interior's new essence. For more information, visit www.shakuff.com/kadur-pendant-light-custom-chandelier.
3. Petra Baku Updates the Past.

During the 16th and 17th centuries, chandeliers were made of irregularly-cut rock crystal that enhanced the modest power of candlelight. Petra Baku, a stunning fixture from Wired Custom Lighting, revisits the earliest days of chandelier design with this modern design created with black iron and hand-tied raw, milky rock crystal.
It's such a fascinating blend of old and new; it would be the perfect statement piece for a dining room or to affix above a curving stair.
To learn more about Petra Baku, visit www.wired-designs.com/collections/ceiling/products/petra-baku.
4. The Bold, Yet Delicate, Liquid!

This linear suspension LED fixture, Liquid, is yet another spectacular creation from the studio of David D'Imperio. An innovator in linear suspension lighting, what I adore about D'Imporio is that he brings art to lighting through his totally unique sculptural style. His lighting design is unlike most you will see, and this alone is what gives it such an attractive and understated languid quality.
The exterior of Liquid is stainless steel, while the interior is aluminum. In my view, the piece artfully pushes the boundaries of lighting design by marrying organic and geometric shapes in perfect harmony. It quickly caught my eye when I saw it shining, with each and every jemstone-like appendage shimmering in its light.
I would put this piece in a space in which no other art is nearby. Why? Because Liquid leaves no room for competition. It's no wonder that D'Imperio's work has been featured in the most exclusive of places. To learn more about Liquid, visit www.daviddimperio.com/liquid.
5. Getting Celestial with the Luna Globe.

For a classic, transitional or evenly subtly modern space, I like to bring in some important features such as with the Luna Globe's sphere. When I first saw this fixture, I knew it was an updated version of an armillary sphere giving way to numerous options for where and how it could light spaces. I envision it placed individually as a low-hanging globe above a dining table, or as part of a pair hung higher from a ceiling to flank the interior of a room with extended length or width.
It comes from KingsHaven. The company's founder and lead lighting designer, Lauren Wylonis, and her team have launched an entire line of sophisticated lighting options for interiors and exteriors. The Luna Globe's hand-crafted iron sphere is embraced by a beautiful ring of delicately-grained laurel wood. Inspired by the shapes in the night sky, the Luna Globe is available as a chandelier, pendant or semi-flush fixture in virtually any color of wood and finish.
What I like about it most may be the fact it is versatile. It works particularly well in historic homes in need of staying true to historic architecture, yet it also can add light and levity to a new and more modernized home. This fixture certainly creates the point at which coziness enters a room. Learn more at www.kingshaven.com/collections/lighting/products/luna-globe-large.
Believing in the power of well-designed light as well as embracing the ways it provokes evolution of style in any space are second to none when it comes to interiors that reflect beauty and luxury.
Contact me with your questions about lighting and interior design for your home or business.
Michelle