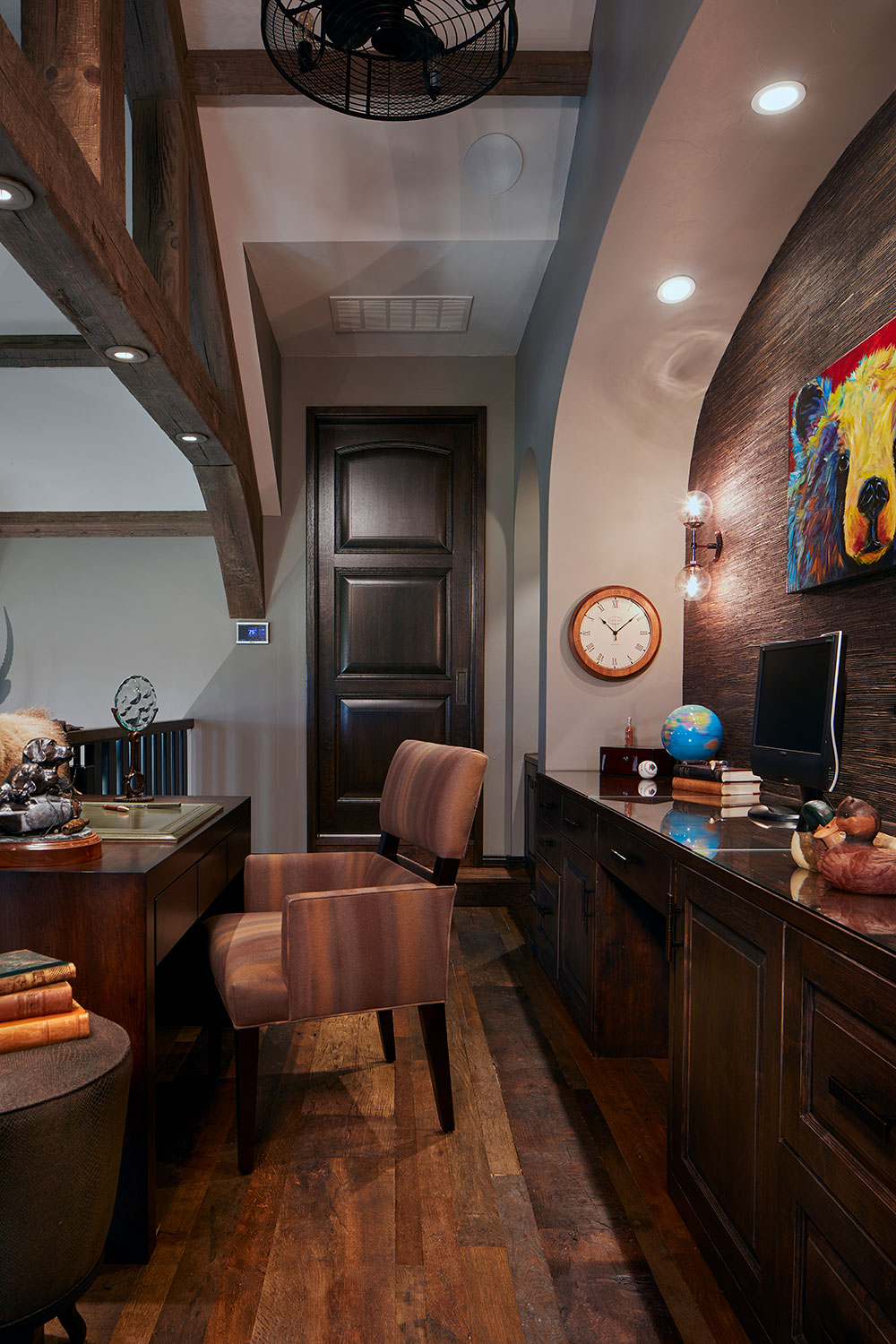 I don't know about you, but I am spending many more hours in my home office these days and it looks like that's going to continue. Just three years ago, 8 million Americans were working at home. Now? Let's just say it's a lot more! The lines between work and home are blurring, which means our home offices probably need some updating. Does your desk chair feel comfortable and support your back for long hours in front of the computer? Do you have enough lighting and is it gentle on your eyes? Your home office should be soundproof enough to shut out household distractions.  It should channel your personality, promote your best thinking and productivity. More than ever, your office should convey a professional look as you're zooming through video-conference calls. I would love to help create the ideal office space for you.
Blending Your Office with Your Home
Your home office furnishings should reflect the design throughout your home. For this client's office in the photo above, I chose a casual-upscale look that channels his Texas lifestyle and is consistent with the other rooms in the house. Storage and lighting solutions and a comfortable chair were among his must-haves. I provided plenty of custom cabinetry, several types of lighting – notice the recessed lights above the desk in the ceiling beam – and a wool-upholstered chair with good arm and back support. The dramatic ceiling beams and repurposed, French farm house flooring are juxtaposed with beautifully finished desks and storage units. This space was incorporated into his almost- guys-only great room, where he watches sports and plays poker with friends when he isn't working.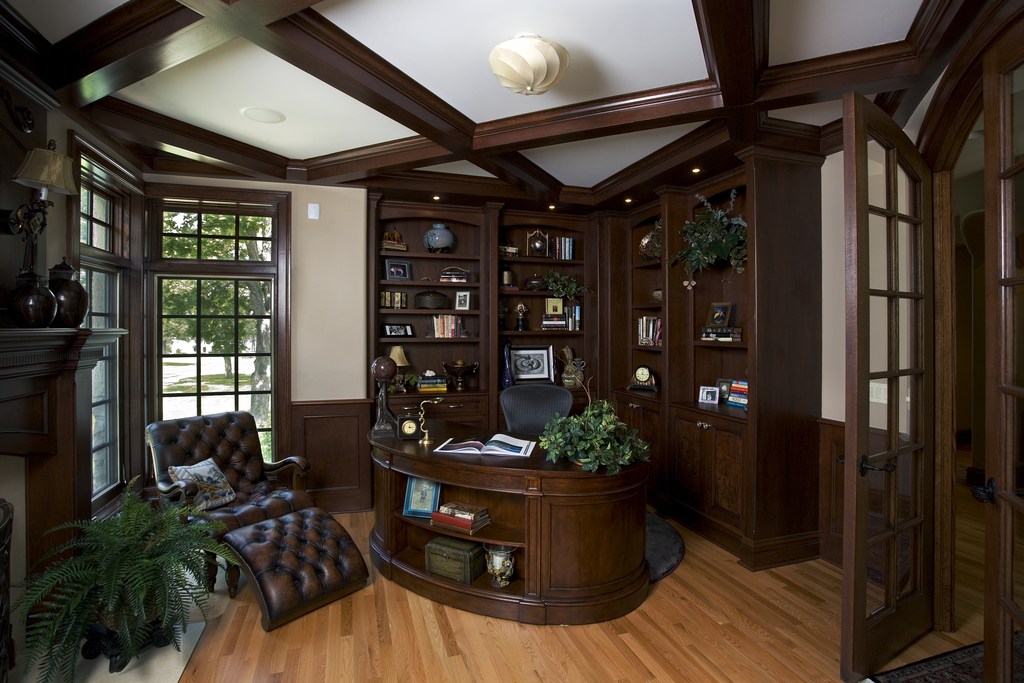 Is Your Office Zoom-Ready?
Here is a sign of the times: Not only do we have to dress for success – at least from the waist up – for a video-conference call at home, but our offices need to be ready for their close-ups, too. Maybe you have invested in a new external USB camera, and you know to position it above your eyes. You have a high-performance new microphone and headphones. What next? Make sure the "scenery" behind you is uncluttered, attractive and professional, as in the office above, built by Orren Pickell Building Group. The shelves each contain just a few items, and the dark cabinetry has a luxurious, executive suite presence.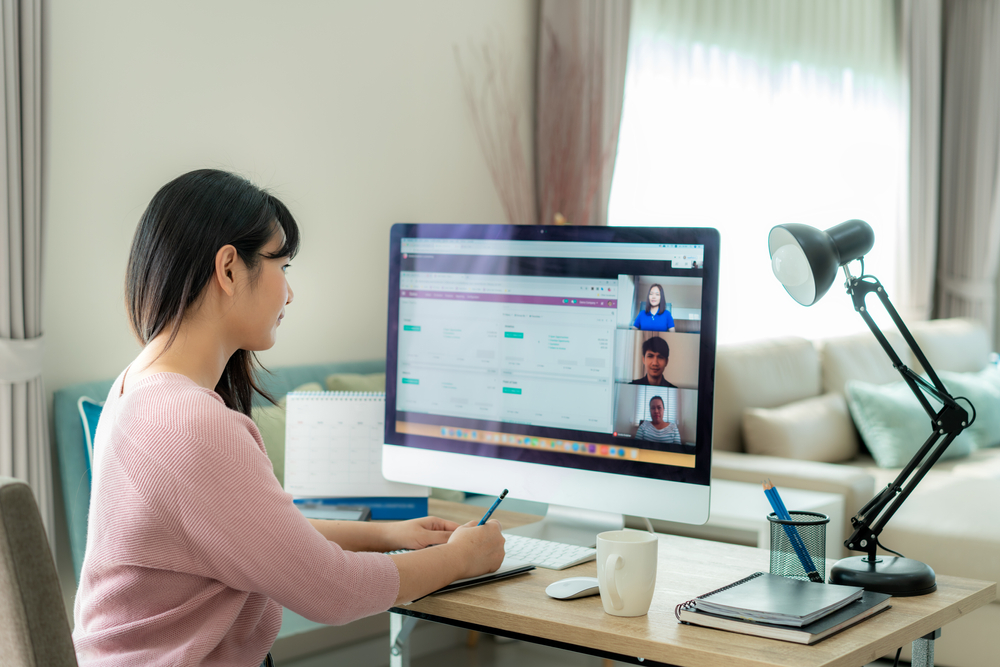 Getting the Lighting Right
Every room needs several levels of lighting. In an office where you may spend 8 to 10 hours per day, I always make sure that my clients have plenty of general light to cut down on eye strain and headaches. Task lighting is important for reading, and your computer monitor should be positioned to avoid glare from a window or overhead light. Proper lighting for video calls is important, too. Your clients and co-workers need to see you clearly – no silhouetting or shadows. I can customize all of your fixtures to put you in the best light, so to speak.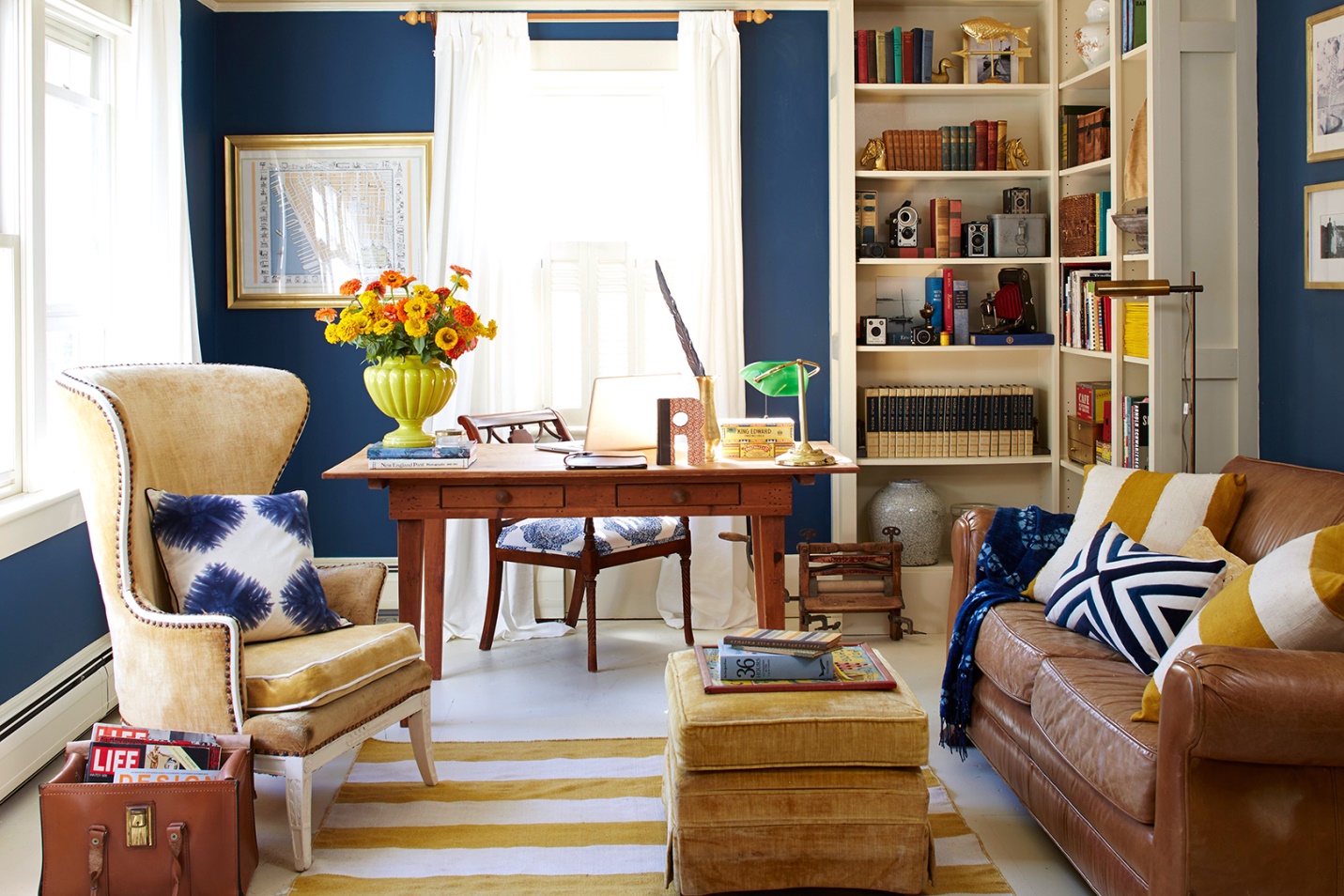 A Place For Safe-Distanced Meetings
Sometimes, meeting a client or co-worker in person is the most productive way to communicate. For now, that means masks and six feet of separation. In the photo above, the seating area and desk chair offer a couple of options for getting together now and in the future when masks and distancing are no longer necessary.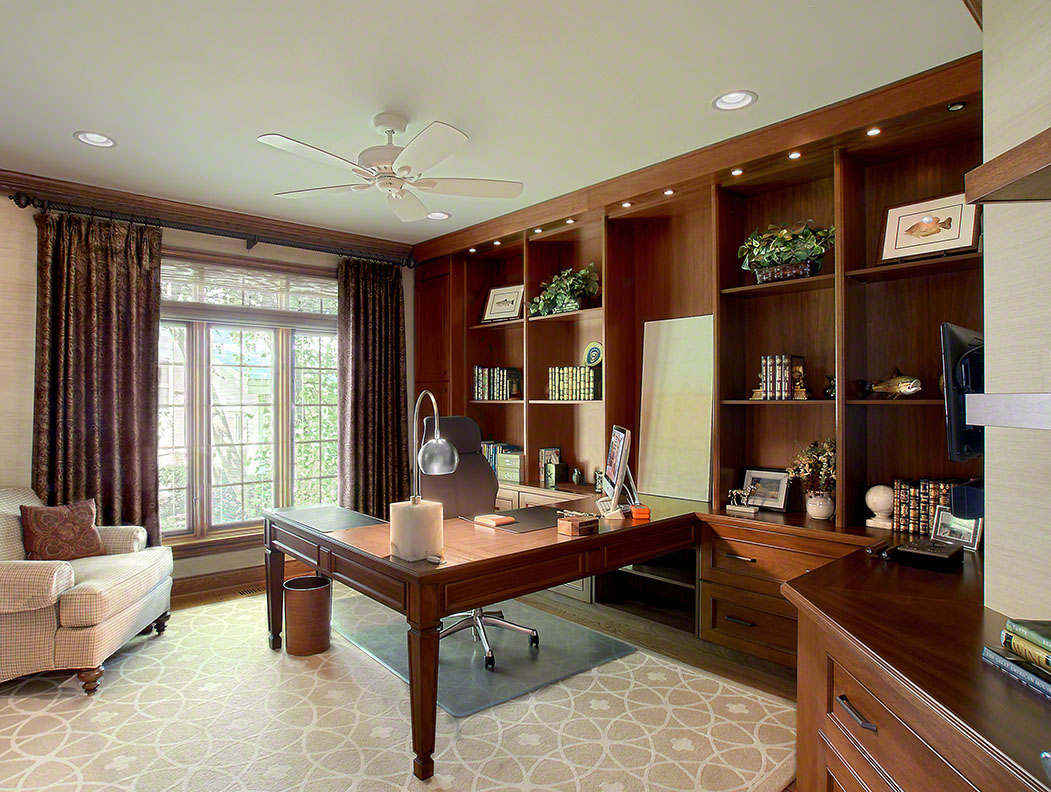 Silence, Please!
Soundproofing is important in any office when you need to concentrate, create or communicate. The custom rug and window treatments in this client's office above not only introduce pattern and energy, they help deaden noise from other areas of the house, a big plus when you are on a video call. We can boost soundproofing even more with acoustic windows, ceiling and floor materials and a solid core door.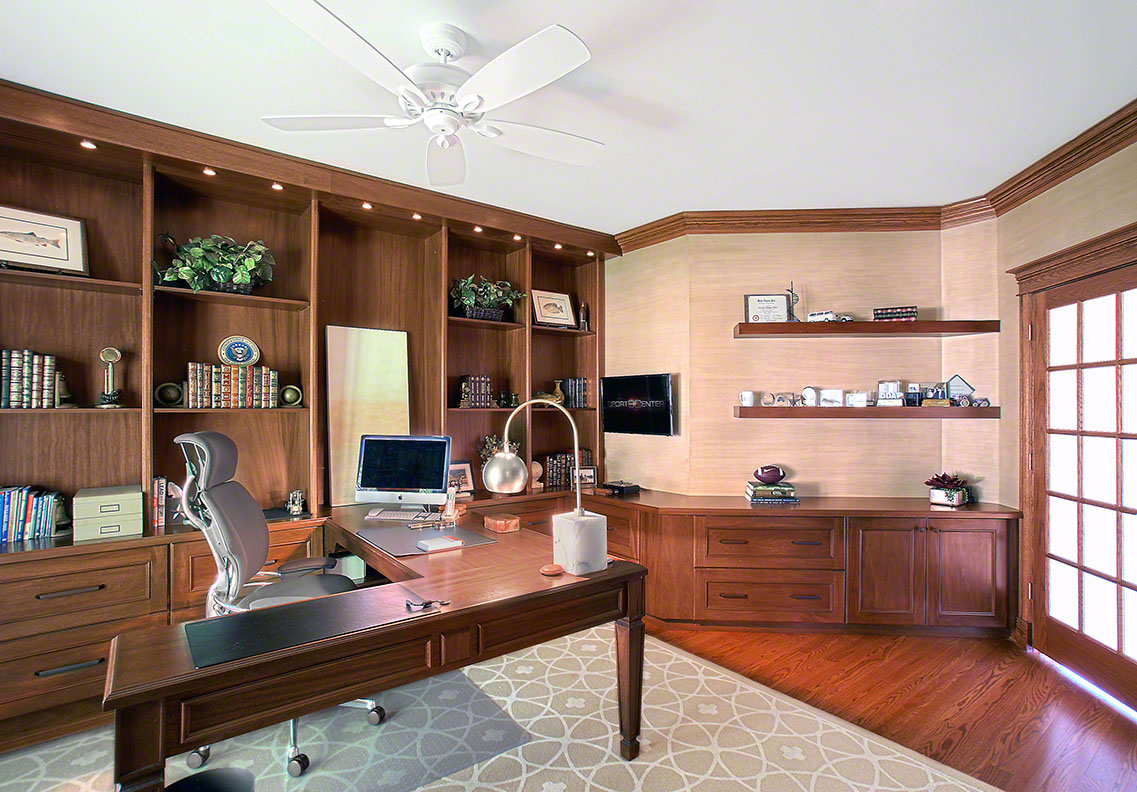 Storage Galore
Even in this so-called paperless world, storage is a must-have in home offices, especially if you're working there more often or full-time. Efficiency depends on having everything you need at hand. For the office above, I designed custom shelving with cabinets and drawers that follow the interesting angles of the walls.
Corralling Your Cords
Power cords can make an unsightly mess in your office, but I have become an expert at bringing organization out of that chaos. Let's talk!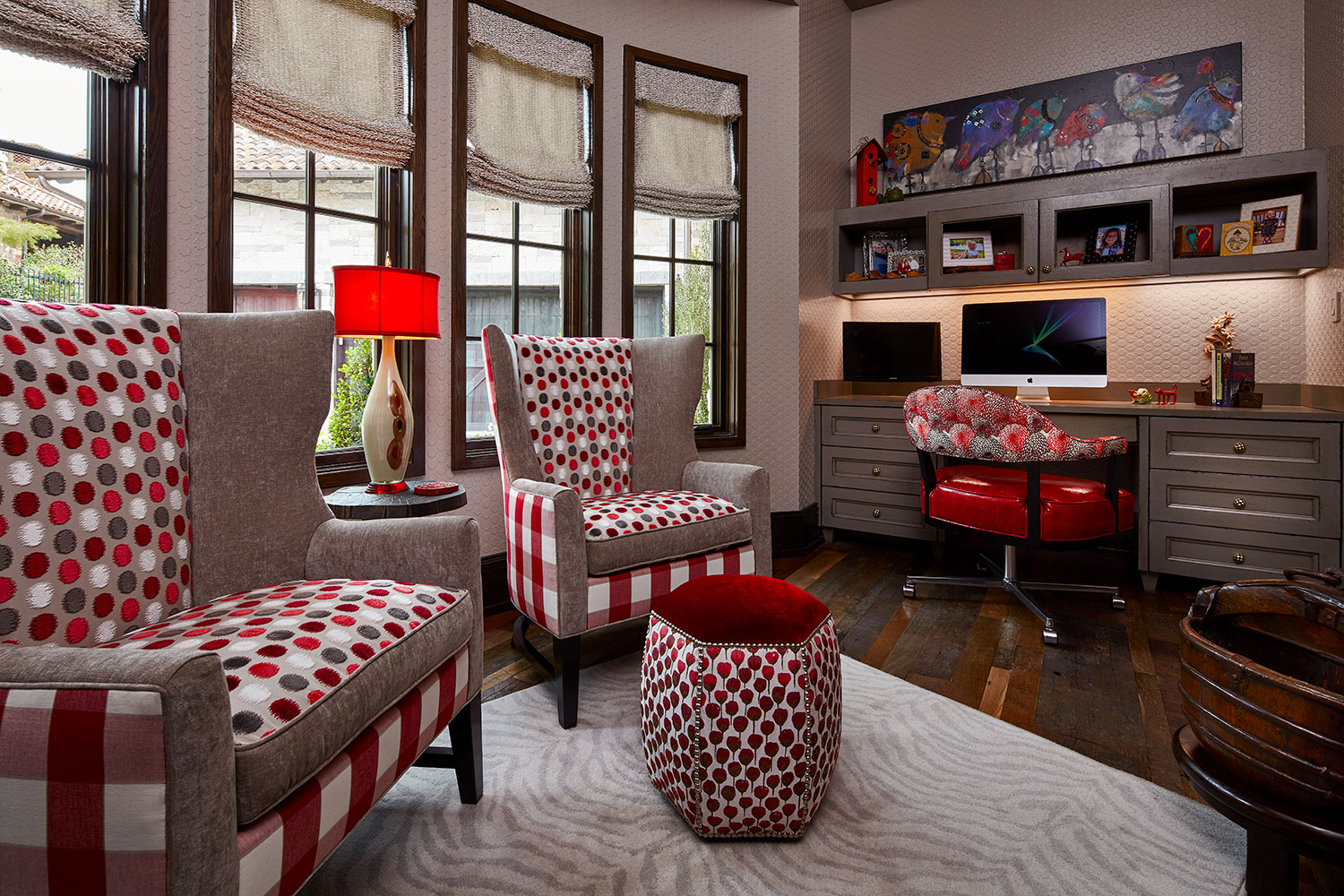 Express Yourself
The great thing about designing a home office? You get to choose all of the furnishings and the color palette, so you can give free rein to your personality. Forget "file cabinet grey." You should choose whatever colors get your creative juices flowing, whether that is soothing neutrals or energizing bolds and brights. This client clearly isn't afraid of color or pattern, and she loves red! The pair of polka dot and plaid chairs set a friendly, casual tone for her home office. The custom gray and white rug with its animal hide pattern is soft contrast for the vintage French farm house wood floor. Photos of her family and a large piece of colorful art give her office that personal touch. It also blends beautifully with the rest of her home, where I chose red accents and the same flooring for many rooms.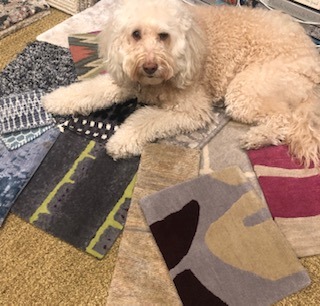 Does your dog hang out with you while you're working? My Dreamypie, above, is my faithful companion whenever I'm at my desk, and I love it. She is always ready to collaborate with me on fabrics and finishes!
How about you?
If you're ready to update your office we can connect via email, phone, video call or a safe-distanced meeting. Let's chat!