Should you integrate pet-friendly design in your house? Absolutely! Pet design, particularly organizational solutions, makes your home more functional and enjoyable for you and your new best friend, or is that friends? People all over the country have been adopting, fostering and buying pets in record numbers. Some pet shelters have even reported that for the first time, they have no more dogs to adopt! That's great news, but I'm not surprised. Many of us are feeling a bit isolated and in need of real—not virtual—hugs and the unconditional love of a pet. A big wet kiss doesn't hurt, either! My best friend, Dreamypie, has been a big comfort and support for me as we face the challenges of COVID-19 together! In fact, research has shown that interacting with an animal can lower your heart rate, blood pressure and cortisol levels while increasing the production of feel-good hormones such as dopamine and oxytocin. Check out more in this article from Mayo Clinic: My Pet, My Wellness.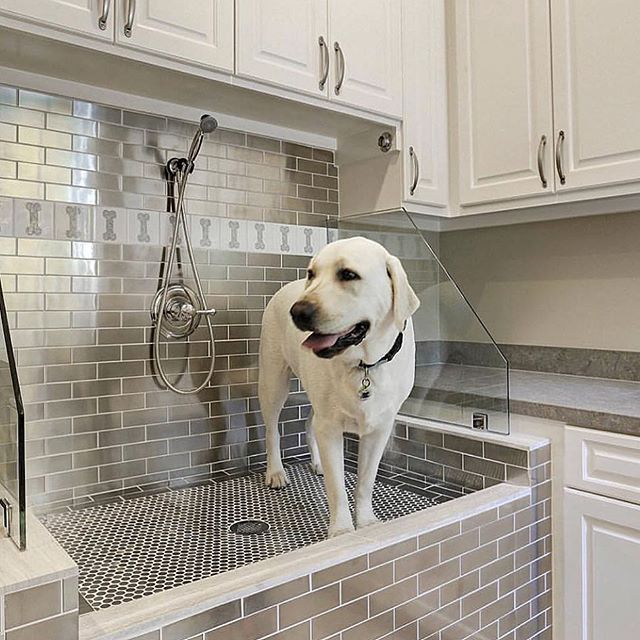 Four Reasons for Pet-Friendly Design
Taking care of Dreamypie has taught me a lot about why pet-friendly design is important:
The way you plan a house influences a dog's behavior and spirit
Good design makes pets feel cared for and content
Keeping pets happy prevents unwanted behaviors
Pet-friendly design makes it easier and less time-consuming to take care of a pet, which makes us pet owners happier
The counter-level pet shower in the photo above is not only modern and stylish, it eliminates kneeling beside a floor-level tub or shower. Because you have to lift your pet, this one is best for small to medium-sized dogs. Nearby cabinets are convenient for storing fluffy clean towels and other bath-time necessities. I especially like border tile of doggy bones! So cute. Beautiful and imaginative tile backsplashes and accent walls are one of my favorite design elements. You can read more in my blog Statement Backsplashes.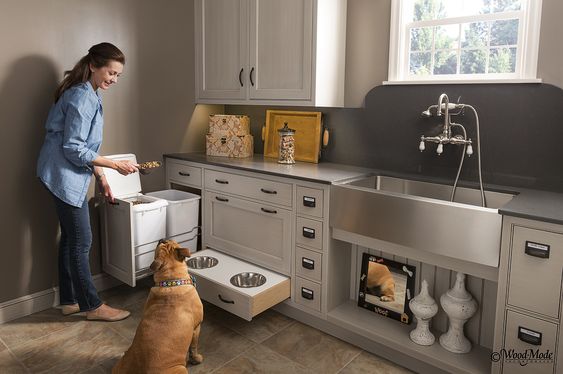 Storage Ideas
After more than 30 years as a designer, I have become a storage guru! The pull-out bins for pet food and treats and the pet dish drawer in the photo above are among my favorite ideas for a pet-friendly home. A laundry room is purr-fect for these custom cabinets! Notice how close the bins are to the dishes and the sink, where the pet can quickly fill the water dish. Spills and kibble crumbs on the tile floor can be easily cleaned up too. Other pet essentials, such as leashes, brushes, combs, medications and supplements can be kept in designated drawers in the same area as well.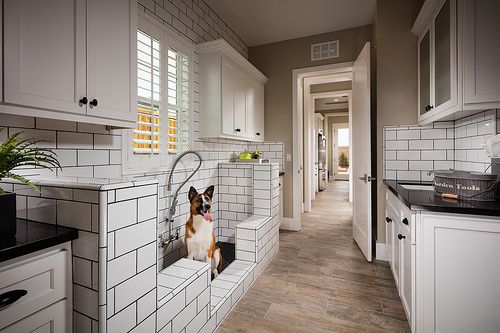 Multi-Purpose Pet Shower
Imagine the possibilities for a pet shower in the laundry room? I can picture hosing off gardening tools and shoes, hiking boots, winter boots, sandy beach flip flops and chairs and the kids' muddy sports gear. Of course, the most important function is to make your pet feel secure and relaxed while he or she gets a bath. This floor-level, semi-enclosed shower addresses those issues, especially for dogs who are nervous about being bathed in a counter-level sink. The goose-neck faucet allows you to direct the flow just to dirty paws or all over for a thorough shampooing. Having your dog wash near an exterior door in a mud room or laundry room is the ideal location. No more snowy, sandy or muddy paws tracking through the house.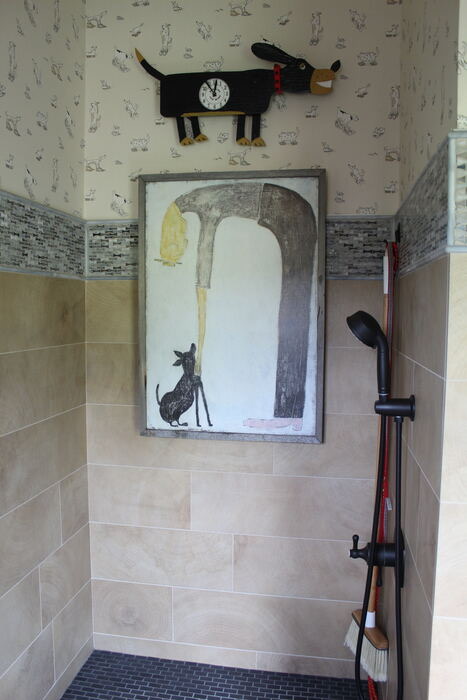 Choosing the Right Accessories
Personalizing your pet shower is a way to unleash your creativity and have fun. For this client's dog shower, above, I selected the playful "Dogs in Clogs" wallpaper by Sanderson. See more images below. The cartoon pups in a variety of footwear always make my clients smile, though I'm not sure about their dogs—haha! A piece of quirky wall art and a dog clock amplify the pet theme and add to the whimsical mood. The tiling is handsome enough for a human shower. Just above the wall tiles I placed a mosaic border that combines the color scheme of the room and adds new pattern and texture.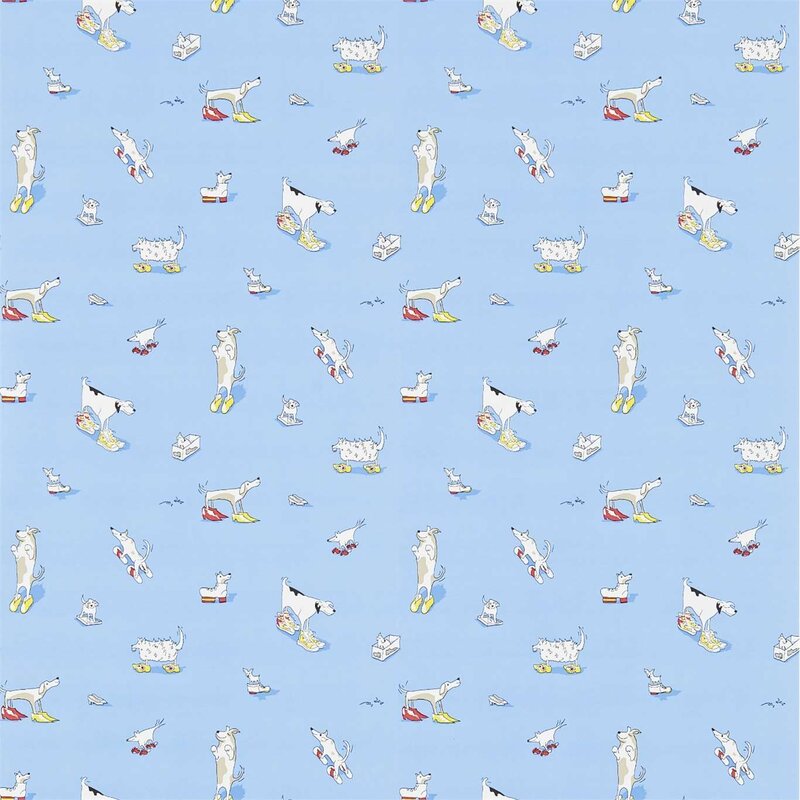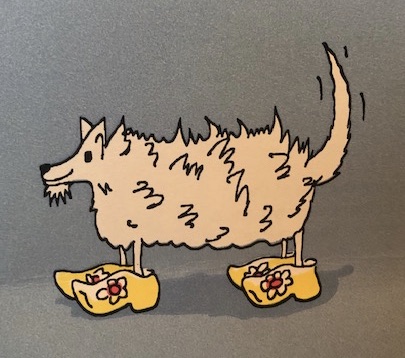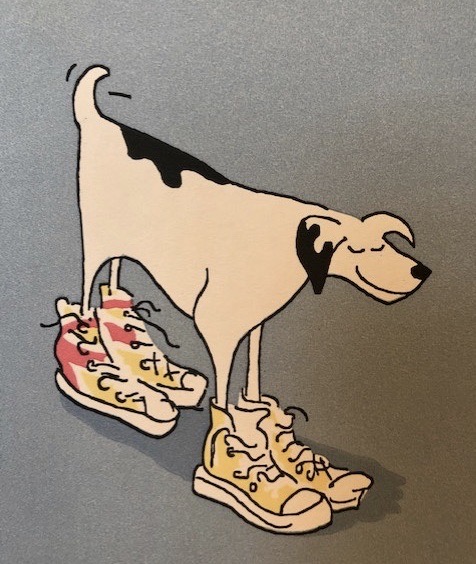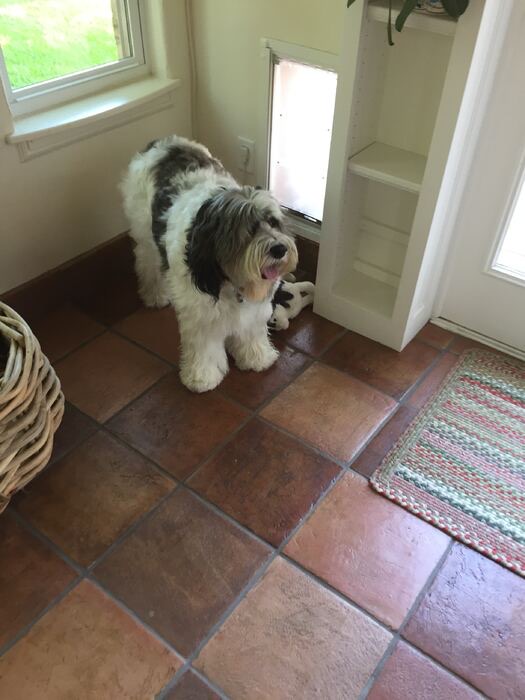 Ins and Outs of Pet Doors
Pet doors are a great way to give your cat or dog the freedom to go outside for business or pleasure, or to access a litter box in the basement. It's a huge convenience because you don't have to worry about hurrying home to let your pet out or interrupt your at-home work days. Ideally I like to install a pet door in a mud room or laundry room that can be closed off to the rest of the house in case your dog gets muddy paws outside. Pet doors should be durable to withstand hard use, and choosing the right size is important. I recommend choosing one that is about two inches taller than your pet's shoulders to ensure easy ins-and-outs. Pet doors have gone high-tech, too! Some of them can be monitored remotely via a smartphone, just as you would monitor the other doors and windows around your home. Others work in sync with a sensor attached to your pet's collar so they only open for your pet, not the neighborhood skunk or raccoon!
Would you like to know more about making your home pet friendly? Contact information is below.