I am so excited to share my newest project photos of a complete home renovation on Chicago's North Shore! When these wonderful clients decided to move from the city into a 16-year-old home in Glenview, we began a multi-phased renovation of the entire five-bedroom,  4,300-square-foot home.  As young professionals with two children, they wanted a fresh take on traditional styling that reflects their lifestyle. This stately two-story residence is located on what I call a "fairy-tale lane" lined with majestic old trees.  Work kicked-off in 2019.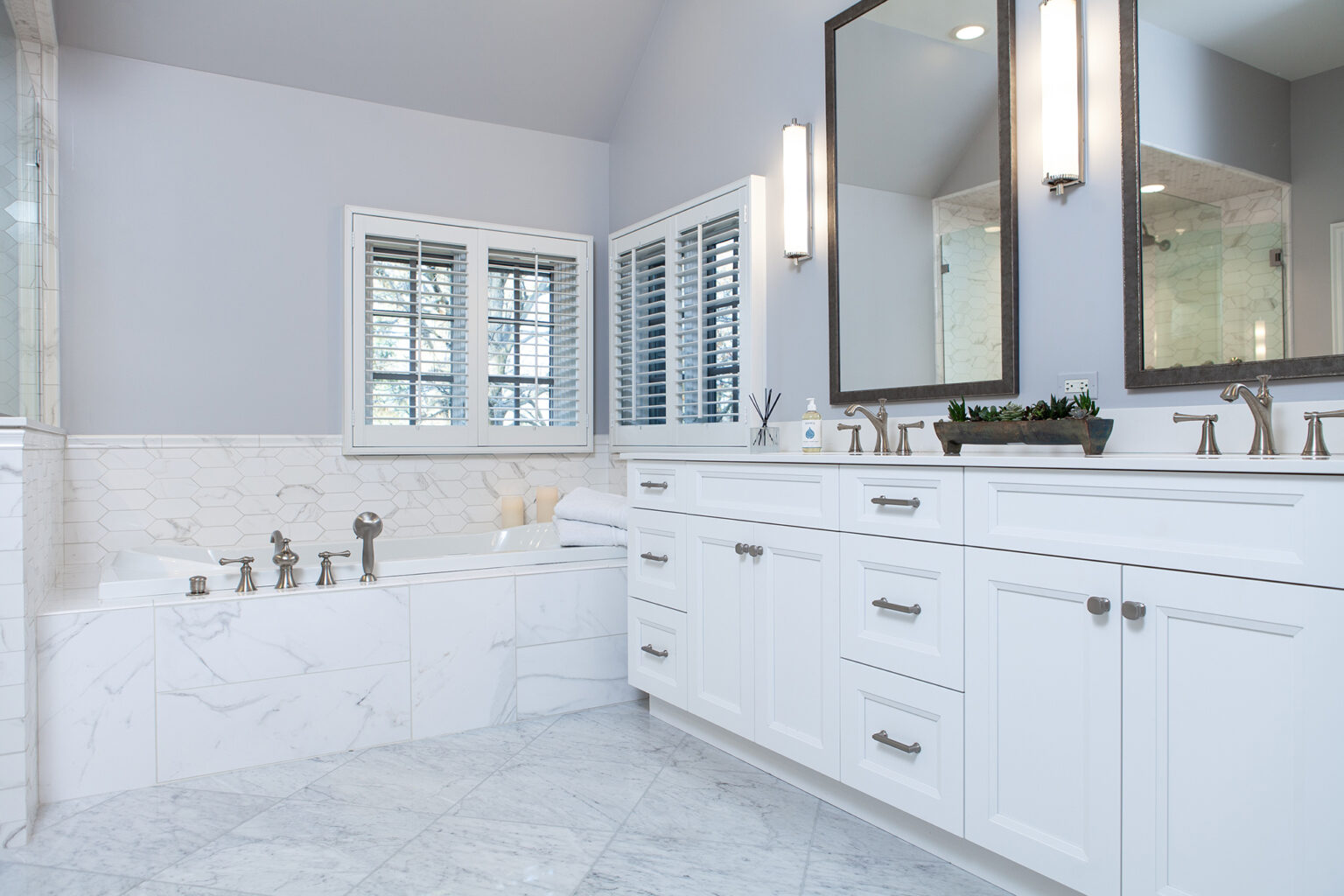 Fresh Traditional Styling
Shouldn't your bathroom make you feel like you are staying at your favorite resort? I think so! Every detail in this master bath is designed to provide that kind of experience, including a new, longer vanity from  BonafideCorp. It allows for his-and-hers task areas with sinks, mirrors, drawers and cabinets for husband and wife. The recessed panel cabinets have a clean-lined, timeless look that channels the new traditional styling these clients wanted throughout their home. I gave the the existing tub a sleek, luxurious look with large-scale tile panels in a pattern that balances the wall and floor tiles.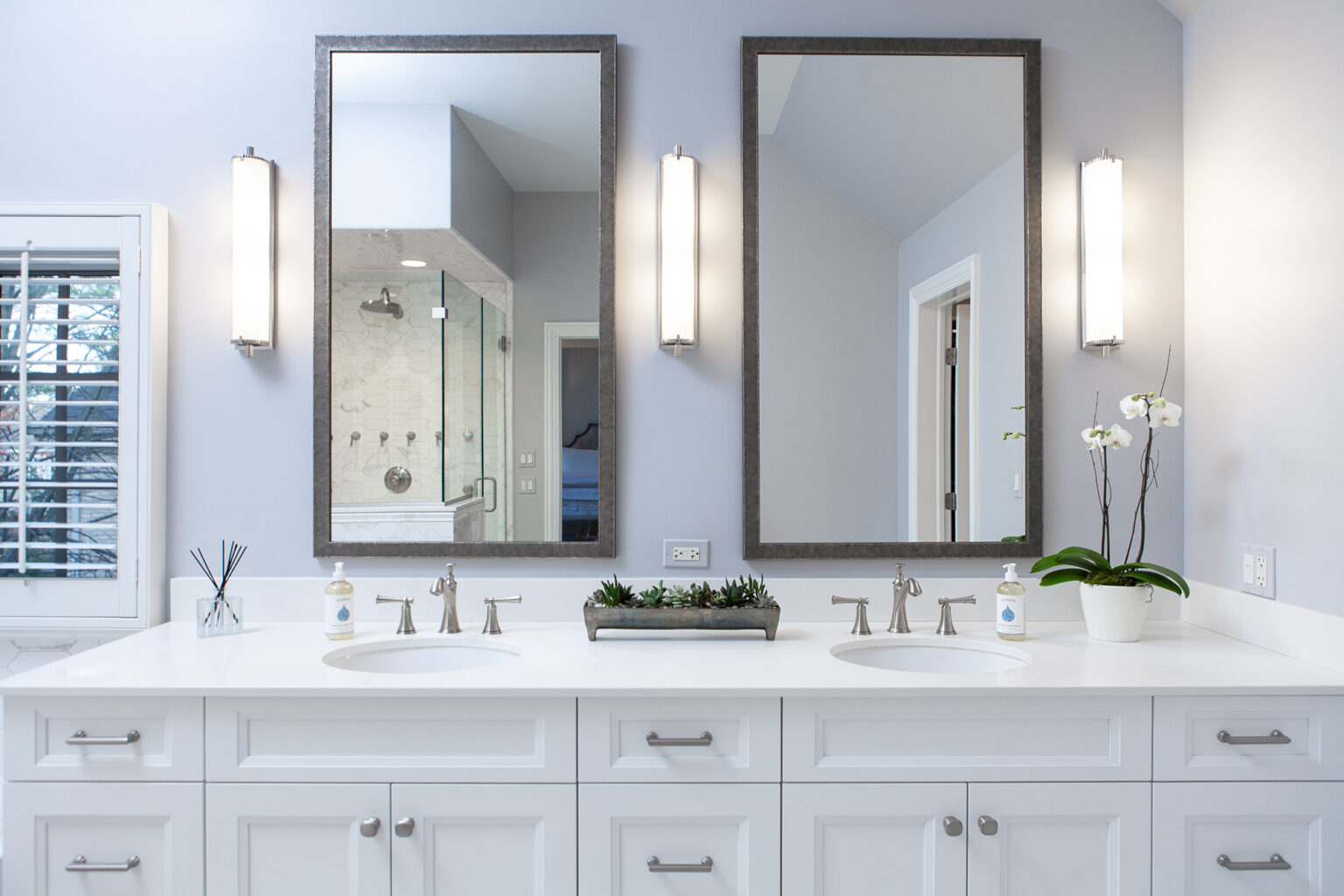 Best Placement for Sconces
Excellent task lighting is a must-have for makeup and shaving, so I placed sconces flanking the mirrors instead of above for better illumination. I framed the custom mirrors in a pewter finish that help define the his-and-hers task areas while adding a new material and sophistication to this space.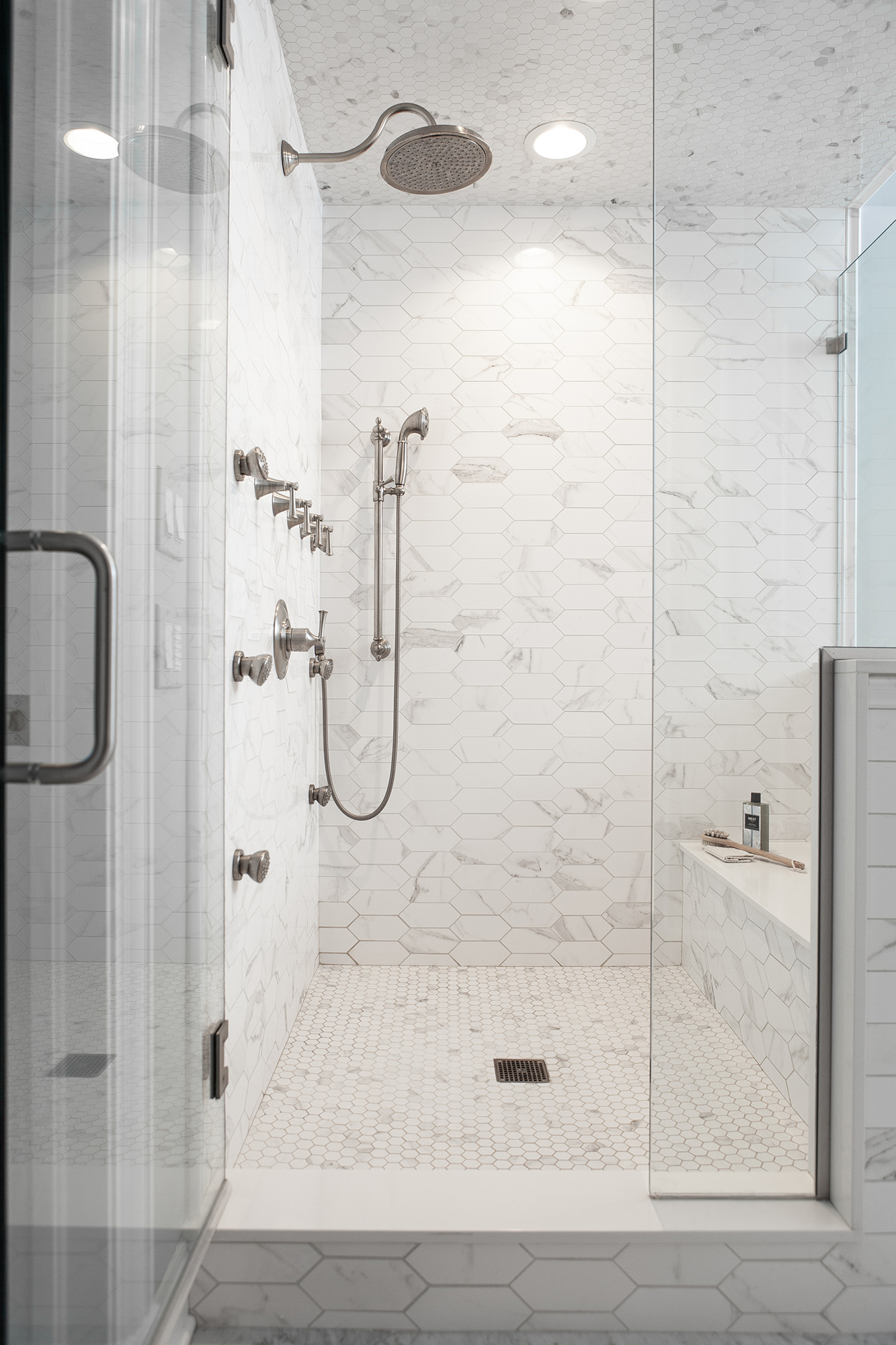 Go For a Resort-Like Experience
Boring showers are for high school gyms and summer camps. At home, our morning or evening showers should invigorate us at the start of the day and reward us after a hard day at work or a challenging workout. For these clients I selected a fixed rain shower head and a handheld shower head plus multiple body sprays, each individually controlled. The thermostatic control valve keeps the water temperature at any level my clients choose. Of course, the shower compartment should be as beautiful as it is functional. In this case, I surrounded the interior in tiles from floor to ceiling to create a seamless look. The color palette is quiet, but I dialed up the energy with hexagonal tiles in two different sizes from MidAmericaTile. The smaller floor tiles also ensure a more slip-free surface. Plus, the sleek stone slabs from TithofTile for the shower bench, the curb and other elements offset the grout lines within the shower.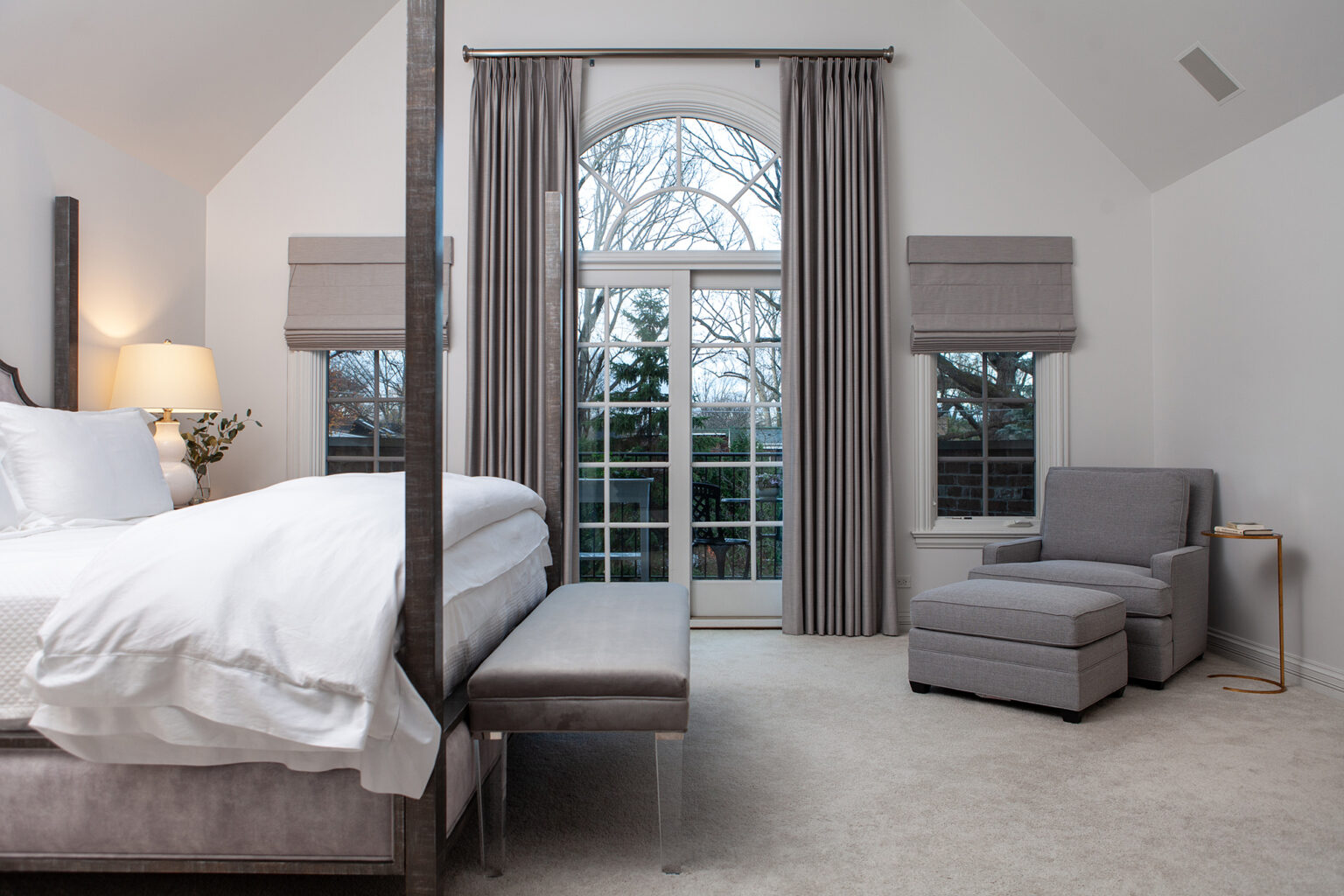 Textured, Tailored and Terrific
My clients wanted the bed to be the centerpiece of this room, so I chose a stately four-poster from Old Biscayne Designs but deleted the metal frame canopy. That modification simplifies the look and retains the open feeling of this lofty space. I love the image of the four posts reaching for the ceiling, like a sun salutation pose in yoga! The horizontal strie finish of the bed posts is designed to balance the height of the room and the window panels from Drapery Connection. To build on the new traditional styling, I chose a bench from Stanford with acrylic legs—so clean and fresh. Benches make a good catch-all for decorative pillows at night, and a handy perch for getting dressed in the morning. Every master bedroom should have a reading chair, too. Wouldn't it be easy to doze off in this thickly cushioned lounge chair from www.kravet.com?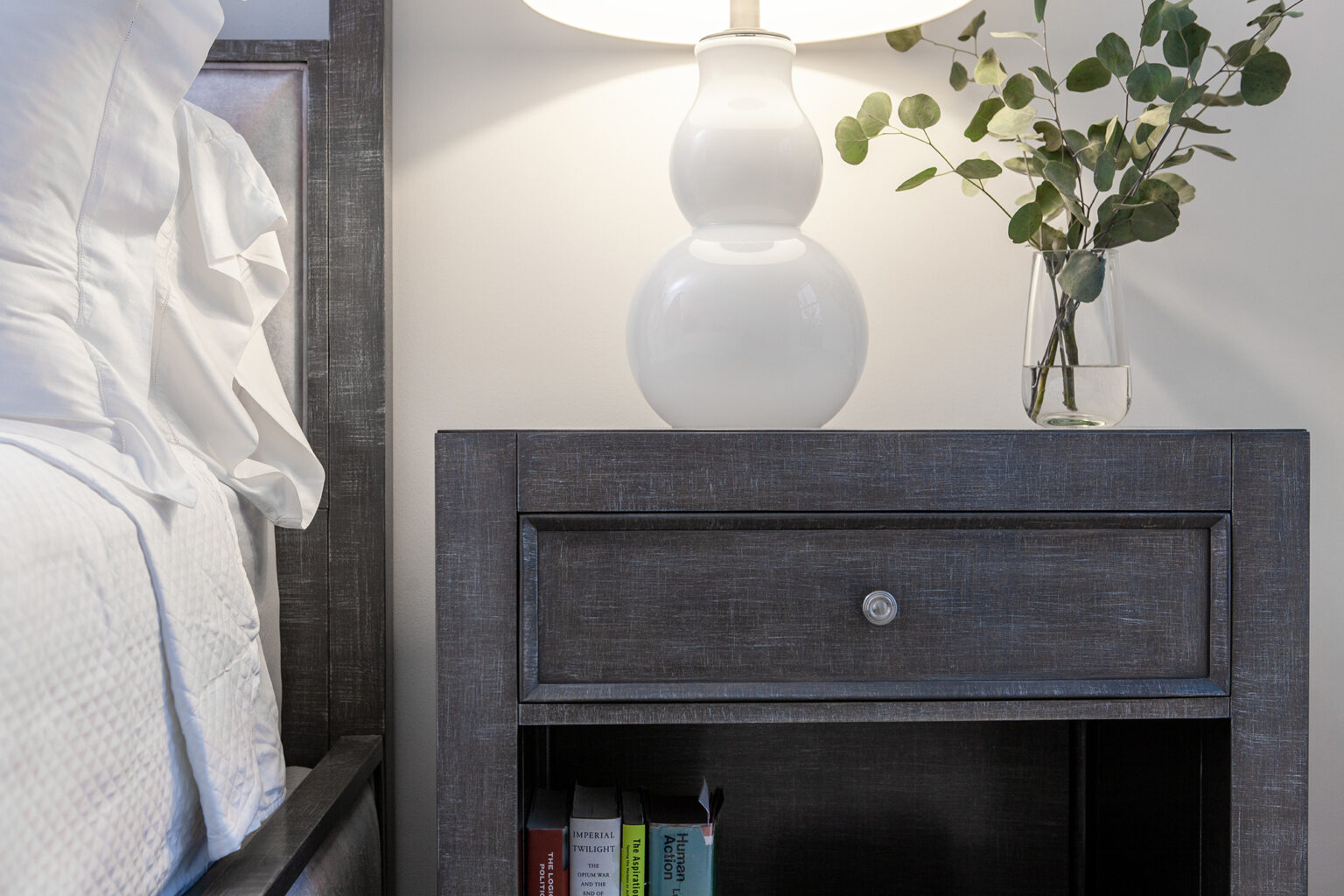 Keep It Subtle and Refined
The linen-like, grey finish of the side tables from Old Biscayne Designs and the horizontal strie finish of the four-poster bed add to the tailored look of this master bedroom.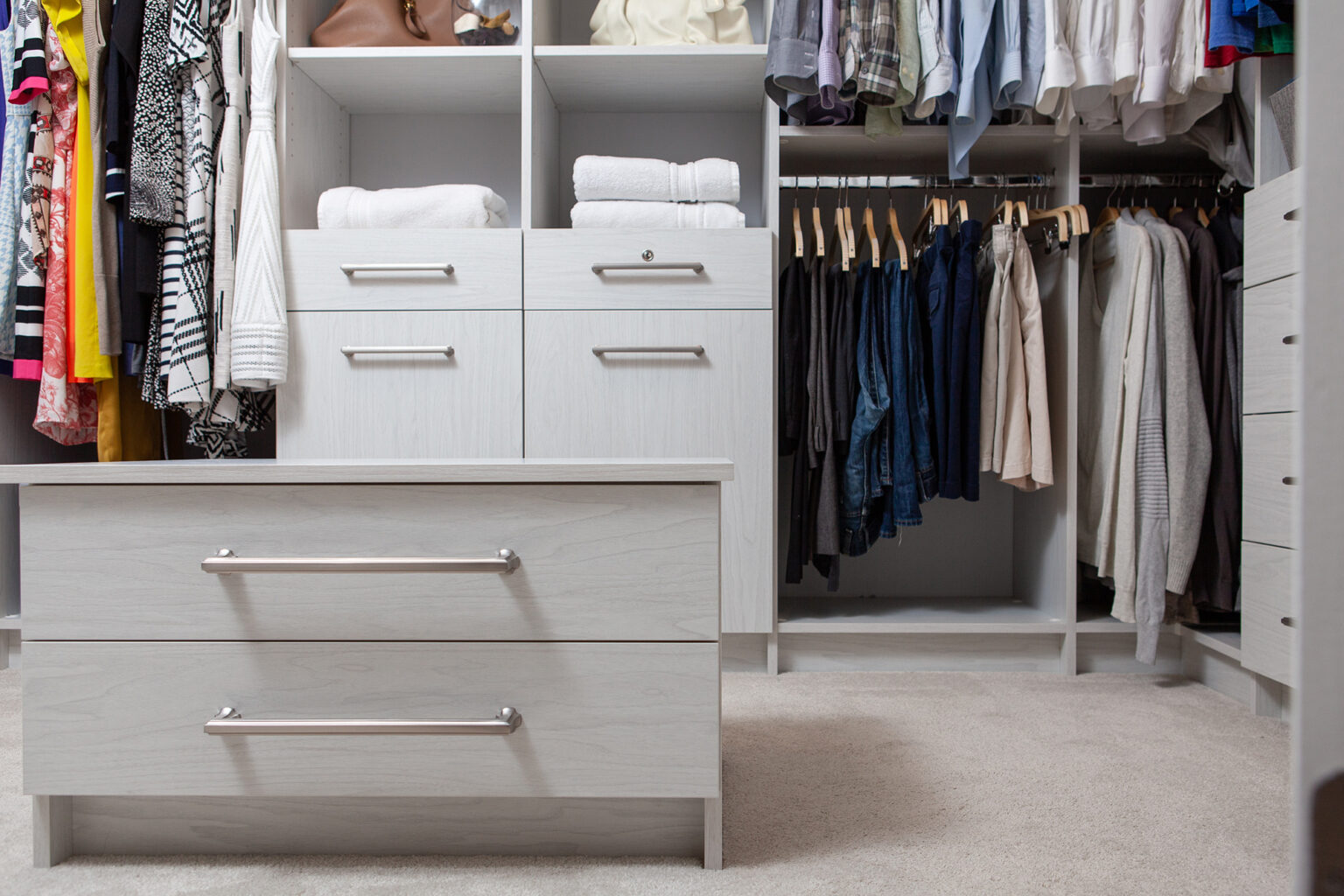 Stay Organized and Efficient
My clients often call me their organizational guru. I guess that's part of my DNA as an interior designer. I just believe that a home cannot feel luxurious and relaxing if it is cluttered and messy. During the past 30-plus years as a designer, I have had a lot of practice creating custom closets that provide a place for everything.
As in the rest of the home, I opted for a grey and white color palette, including dove grey custom cabinetry from Bonafide Corp with long, easy-to-grab pulls from Shop Studio 41. The neutral color scheme suits the clients' style and it doesn't fight with the colors and patterns of their clothing. Notice that as part of my turn-key service, I organized their clothing by color and season. My clients appreciate the extra effort.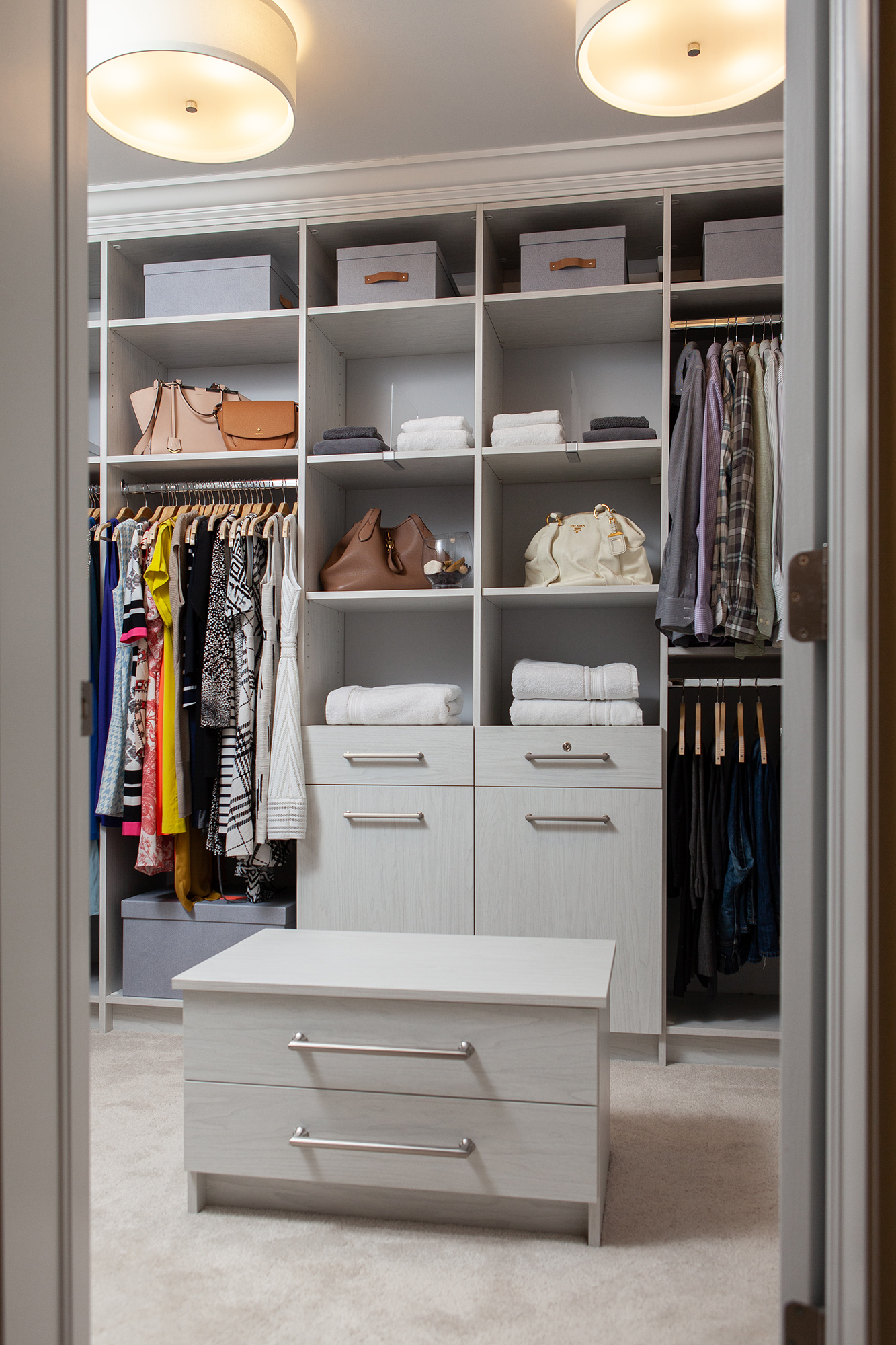 Two Fixtures = Balanced Lighting
Great lighting is important, too. The existing closet had only one fixture, so I doubled up in this phase of the whole-house renovation. The two new ceiling fixtures from Circa Lighting radiate an even light that makes it easier to select the right ensemble. Dirty clothes need a home too, so I provided a custom dual,-purpose bench in the center with a seat for changing shoes and hide-away drawers for laundry. I call that multi-tasking cabinetry!
Managing your wardrobe is another key to organization. For each season, I recommend combing through your wardrobe and making some hard decisions about what to give away. Here are some of my rules of thumb for what to donate or throw away. Say goodbye if: 
You haven't worn something for a year.
It hasn't fit you for a year.
If a piece of clothing is uncomfortable, isn't your style anymore or you don't love it.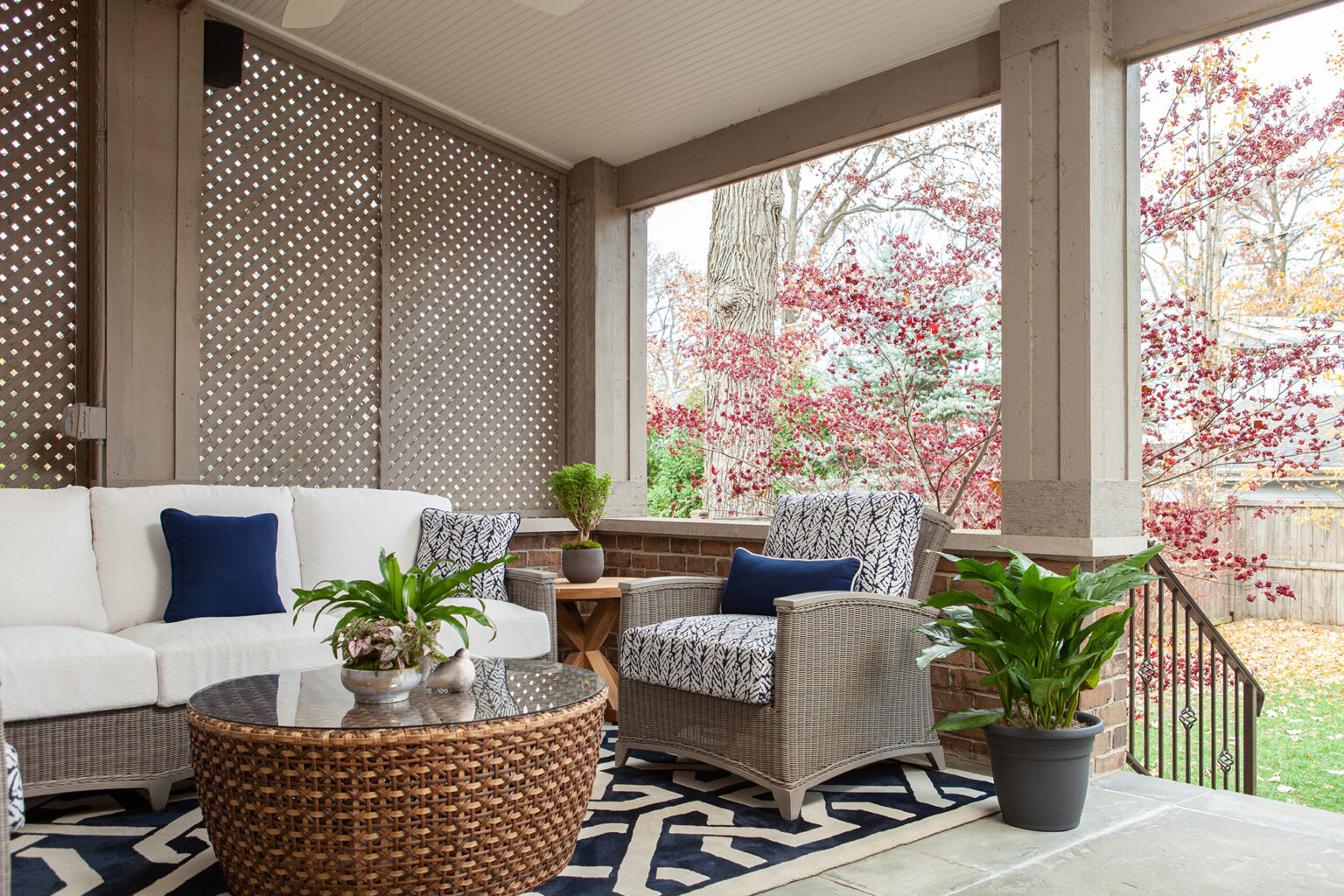 Take Your Indoor Style Outdoors
When I'm planning an outdoor space, I always take my clients' indoor style outdoors. These clients wanted to incorporate an outdoor dining room and family room on their covered porch where they could spend time with their young children, extended family and friends. Though the basic color palette is the same grey and soft white from the interior, I punched it up with vivid blue accents that put everyone in a playful mood for outdoor fun. Eco-friendly options are a plus, including that plush, geometric rug from https://thedeloscompany.com/ in deep-sea blue and white. You won't believe it is made from recycled plastic bottles. It is so soft and pretty it could be used indoors! Plus, I added wood tones to warm up the area, including the sustainable teak table and chairs and the sustainable wicker cocktail table, all from https://summerclassics.com/ .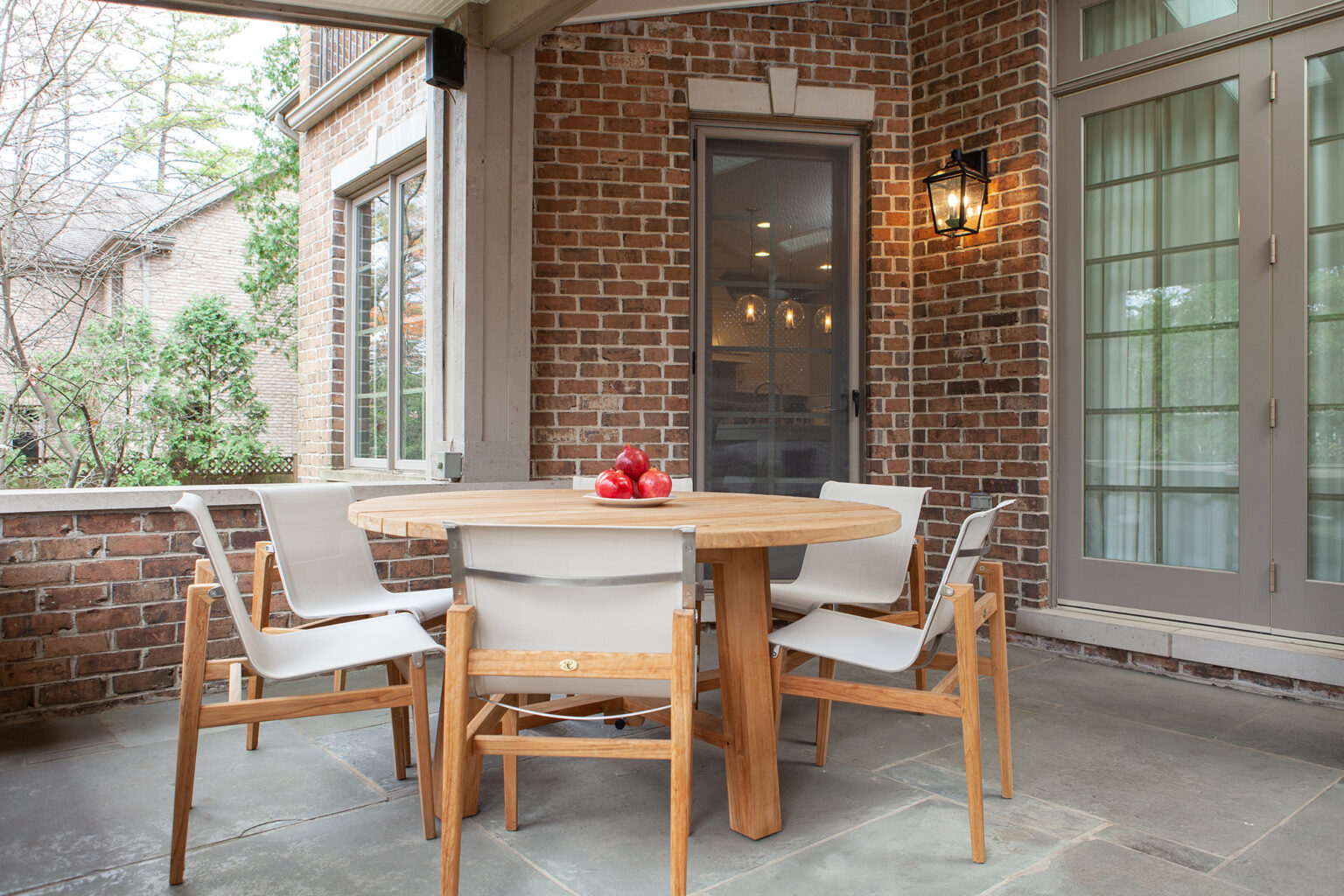 Luxurious and Sustainable
This teak dining set from Summer Classics  is made of renewable, recyclable, plantation-raised teak. It develops a beautiful patina, too. Next up: we plan to screen in the porch and add more lighting.
Are you ready to update your home? Contact me!