Many thanks to all of you who were able to attend "50 Shades of Green," co-hosted by Orren Pickell Building Group of Winnetka.  As a member of the Sustainable Furnishings Council and an environmentalist, I loved sharing my ideas for eco-friendly design options with you and chatting afterwards about the display of sustainable fabrics, woods and cork flooring. We called our event  "50 Shades of Green" because we believe that our clients can choose any level of sustainable "green" for their homes. Eco-friendly home décor and home construction is like switching to organic foods—you can start with a few sensible choices and expand from there. Even small changes at home can make an important difference in your indoor air quality and the health of the planet. After all, we spend most of our time at home. Our indoor air quality is as important to our health as eating well and exercising. Reducing out-gassing from home furnishings, such as formaldehyde in wood floor finishes, protects us, our families and our much-loved pets.
Here is a summary of my top tips for eco-friendly home furnishings.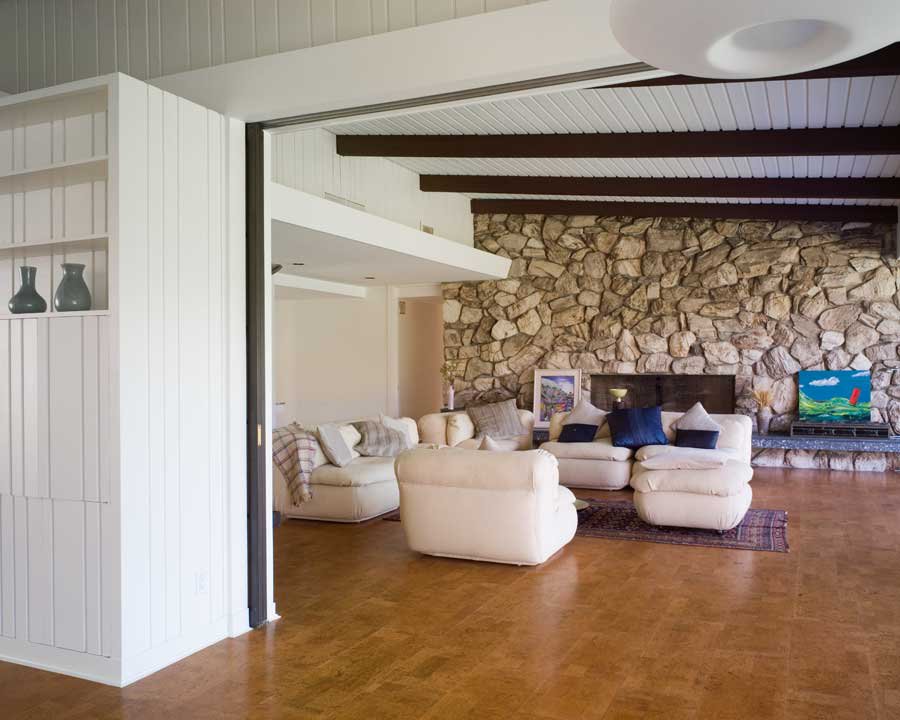 Sustainable and Reclaimed Flooring
I have already blogged about fast-growing eucalyptus wood for floors and cabinets and reclaimed French farm house wood for floors here:  JustCertifiedinEco-FriendlyDesign and here: GreenFurnishingsAreSmart.  But I have gathered some extra facts about eucalyptus wood:
It is a fast-growing, sustainable hardwood. Ten-year-old trees often reach 90-100 feet.
The wood is dark-red and durable.
It a long, straight-grain that yields one of the strongest and most stable of all the hardwood building materials. In fact, the wood is said to be as durable as teak and 10 to 20 percent more dense.
Eucalyptus Is grown on plantations and known not only for its rapid growth but its affordability.
Fascinating Facts About Cork
Today I am adding another sustainable flooring to my list—cork. Surprise! It isn't just for wine bottles and memo boards anymore. Cork is harvested from the bark of the cork oak, which is grown primarily in Spain and Portugal. Did you know that cork oak trees are not harmed when their bark is harvested? Some cork forests have been harvested for a thousand years, which is absolutely amazing. Using cork supports those farmers and protects this vital resource. The preservation of cork oak forests also is important to the survival of thousands of species in its rare ecosystem.
Why is Cork Good for Homes?
Because cork is a protective barrier for the tree, it also is naturally hypo-allergenic, anti-microbial and anti-fungal. Cork is very resilient too, due to its unique cellular construction. It cushions impacts, resists dents and absorbs sound. It also feels warm underfoot because of its high insulation value.  Cork is very durable, too. Your floor can last over 50 years! My go-to vendor for this sustainable, renewable resource is Duro-Design. Their product has a water-based finish with minimal out-gassing.  It is resistant to abrasion and only needs routine damp-mopping with water. Of course, I love the variety of styles they offer, too. Duro-Design manufactures this flooring in 88 colors and six patterns. I would recommend it for any room in the house.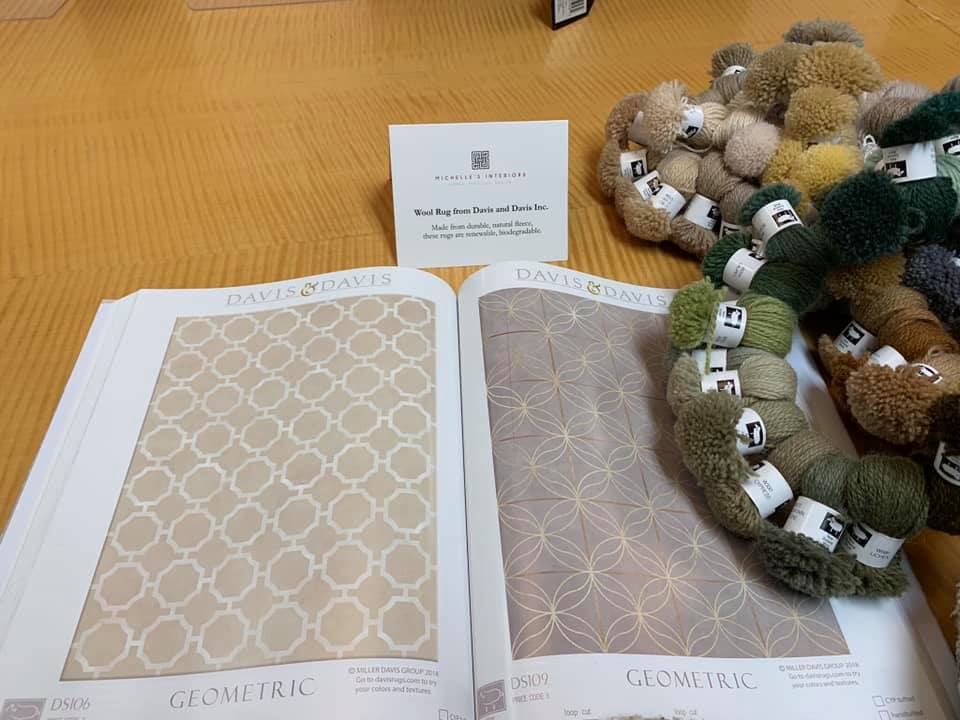 Choosing Natural Wool Rugs
Wool rugs are a win-win for your home. One of my favorite vendors is Davis Rugs because their wool rugs are:
Made with a natural, renewable resource – sheep's wool!
Biodegradable
Energy efficient to produce, creating a much smaller carbon footprint
Manufactured without petroleum, which is a limited, non-biodegradable resource
Made in the USA – shorter distance to ship
Durable and easy to clean
Can be protected with a "green" stain resistant finish
Recyclable – it can be unraveled and repurposed for new products
Soft and warm underfoot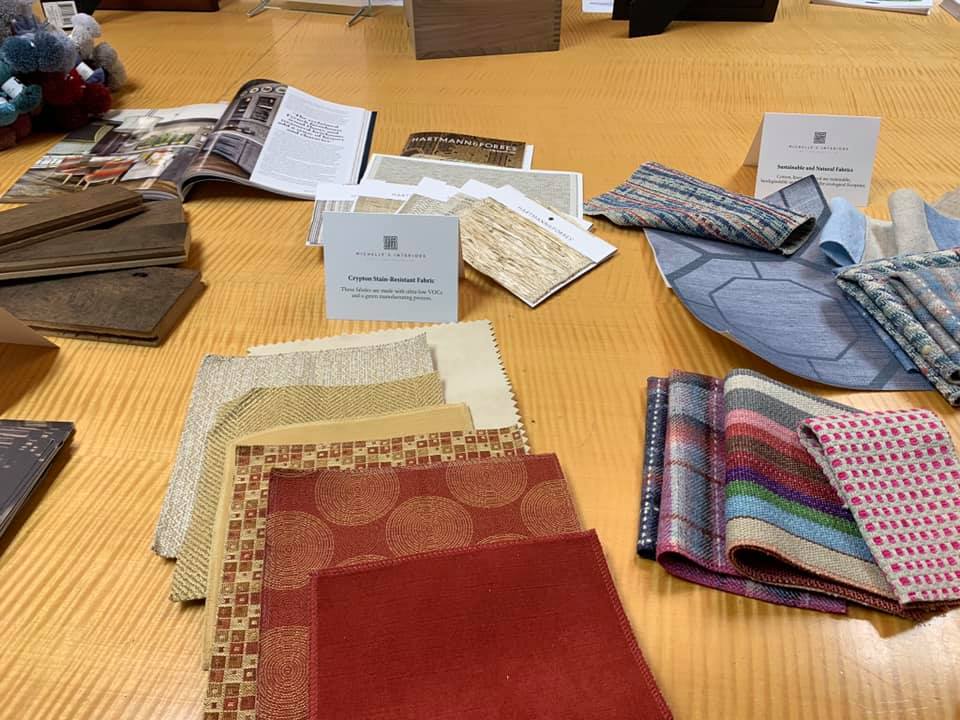 Natural Fabrics and Finishes
Why should you choose natural textiles for upholstery, window treatments, mattresses, bedding and decorative pillows? They are sustainable, biodegradable and breathable. They produce minimal out-gassing and are often made using green manufacturing processes that have a smaller ecological footprint. You can protect these fabrics with "green" stain resistant finishes, too.
Among my favorite natural fabrics are wool, linen and cotton. I like Crypton  fabrics too. Though the fabric is not natural, the company uses an eco-friendly stain resistant finish, so it does have some "green" credentials. Remember too that while you spend most of your time at home, the majority of that time is spent in bed, so it is important to consider choosing a mattress made of natural materials.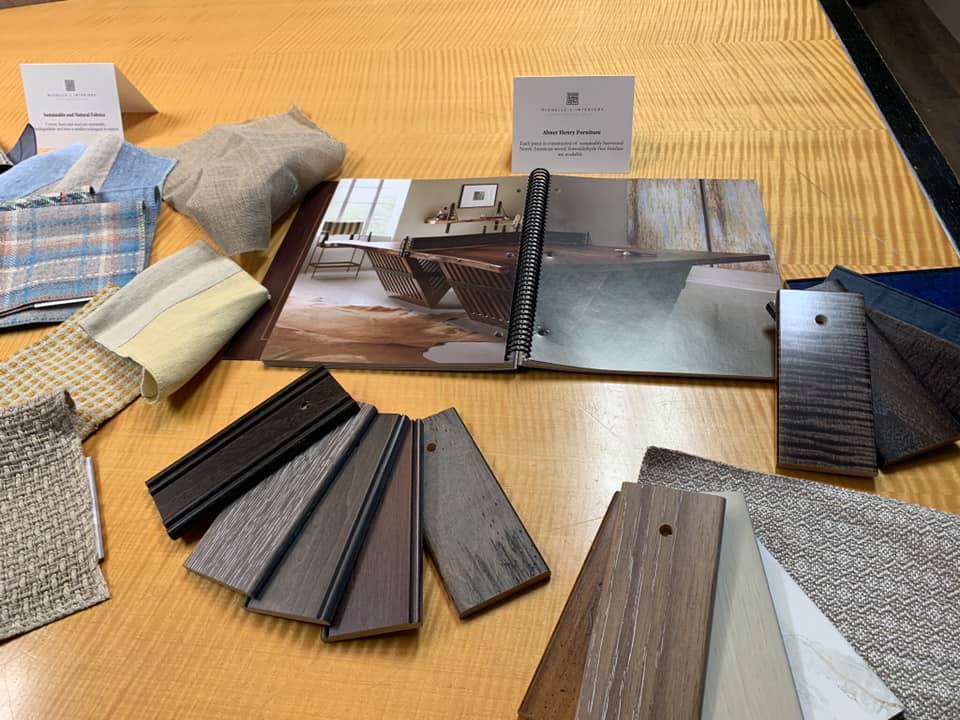 Choosing Sustainable Wood
The wood floor samples above are from Abner Henry,  a 100-year-old Amish furniture company in Ohio that uses only sustainably harvested wood. What does that mean? All of the trees harvested to make their furniture are individually chosen so that only the most mature trees are cut down and the younger ones can continue to thrive. Abner Henry uses virtually all North American woods, and they offer a formaldehyde-free finish as well as their Pro Tekt finish which after 21 days has minimal to no off-gassing. Both finishes protect furniture from hazardous spills such as hot coffee, finger nail polish remover, tomato juice and acids. And here's an interesting fact: the United States Forestry Service says we now have 2 ½ times more harvestable timber in North America than in the 1950s because of improved harvesting techniques.
Final Words
I believe that luxury and sustainability can be combined to create outstanding design. Whether you choose to make your whole house "green" or you just want it to be a lighter shade of green, I would love to help you select furnishings to meet your goals.