Shopping for designer wallcoverings is like visiting my favorite French patisserie—it can be difficult to choose from all the tempting options on display. Before I know it, my plate is overflowing! The task can be even more of an adventure for interior designers because we have access to an entire world of vendors who create custom designs available only to the trades. To stay on top of the newest and coolest, I periodically schedule a "shopping trip" to visit my wall covering vendors online for their freshest patterns, colors and materials. Plus, I want to show you some favorites from my portfolio.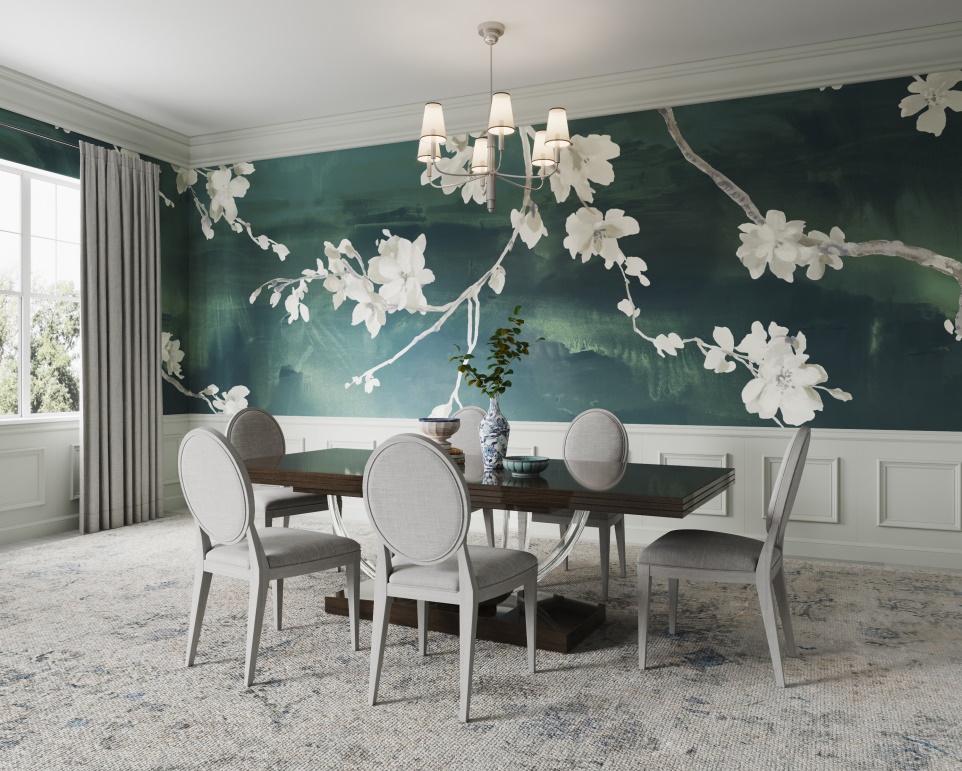 Can You Haiku?
I kicked off my latest shopping spree at Phillip Jeffries, where I found this gorgeous "Haiku" designer wallcovering in a shade they call "Teal Regeneration." Isn't it amazing? I love that it looks hand painted and so fresh. The cherry blossoms, twisting branches and color wash in shades of green give it an Asian quality that feels very calming to me. This pattern is striking in the dining room above, but I can picture it in a guest bedroom with a tall, upholstered white headboard. Wouldn't that be beautiful?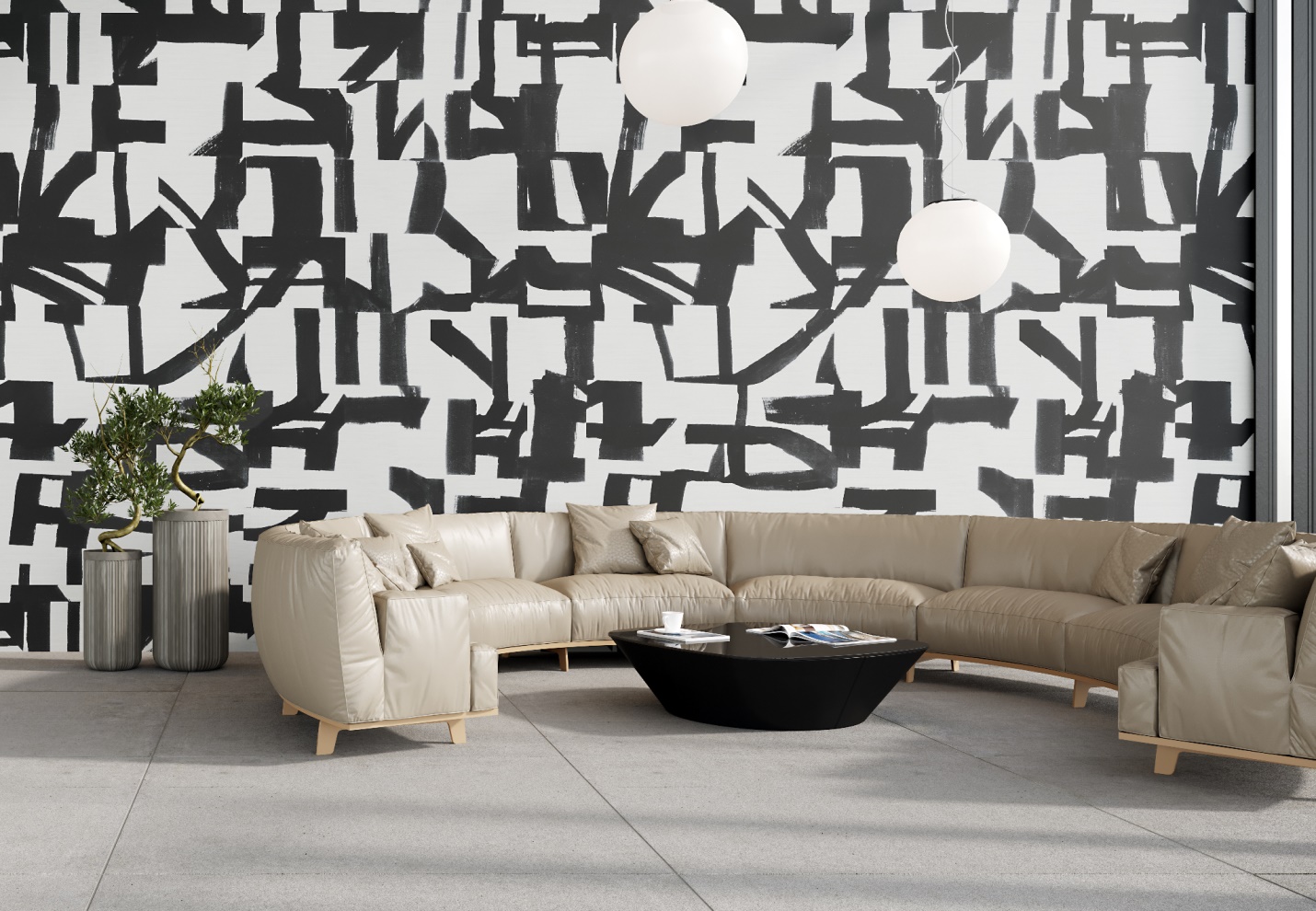 Be a Free-Spirit
As I mentioned above, it's hard to stop at just one pastry or one wall paper. Before I left Phillip Jeffries' site I couldn't resist putting this energetic "Offset" pattern on my plate in the "Black Ink on White Dove" colorway. Whoever chose this paper for their house would definitely have a free spirit! This pattern would be a knock-out in a foyer, too, with a black door and white floor, welcoming people into your home.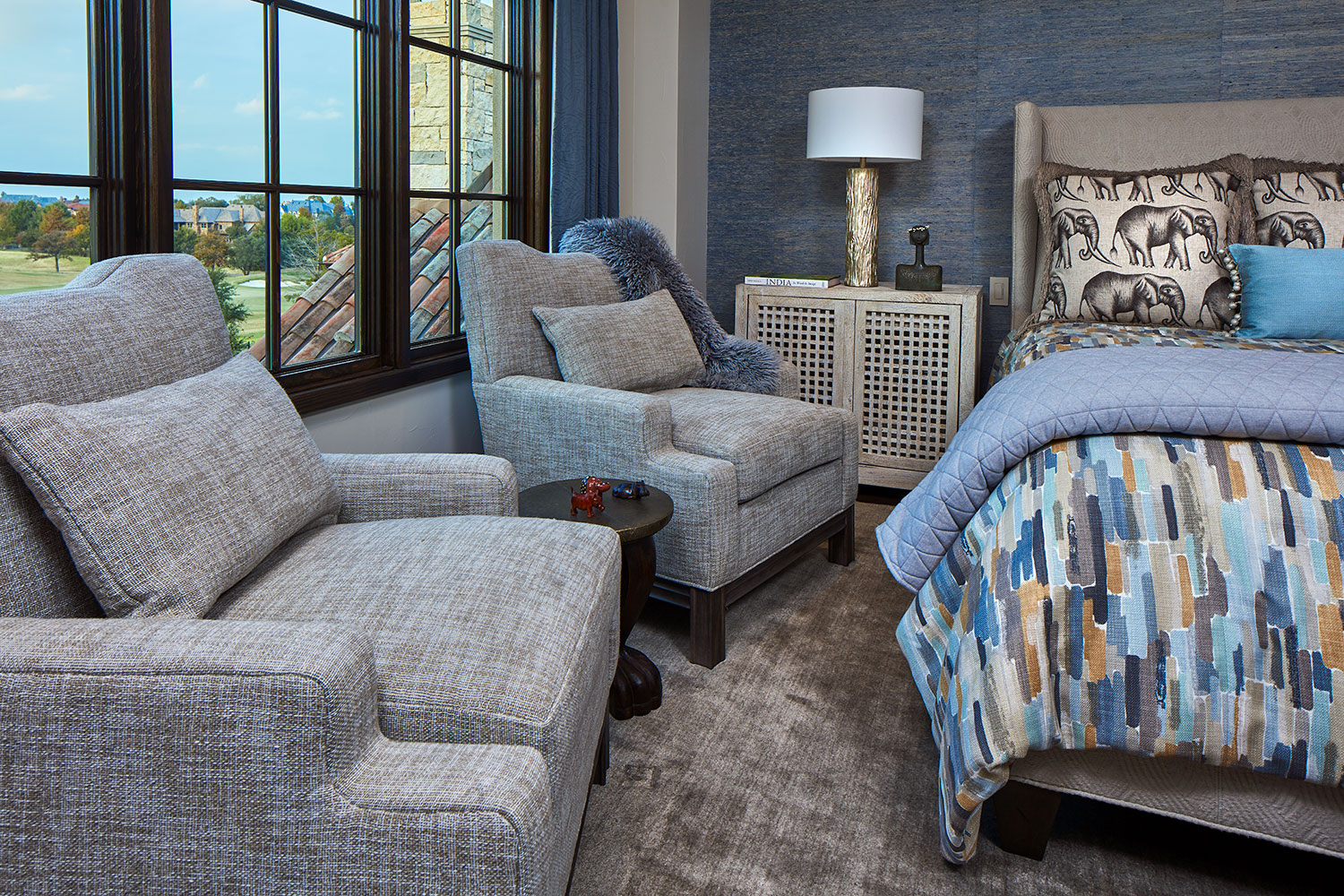 Opt for Peace and Serenity
Did you know that the color blue has been show in various studies to reduce blood pressure? Maybe that's because it's the color of the sea and sky on a beautiful sunny day. Shades of blue in a bedroom make me feel peaceful, and that's why I chose it as the backdrop for this guest bedroom. The textural grass cloth wallcovering picks up the color of the custom window treatments, bedding and the fuzzy throw on the arm chair. The elephant shams are an unexpected accent. In feng shui, they represent strength, protection, wisdom and good luck. That's a heavy burden, but elephants are definitely massive enough to manage it!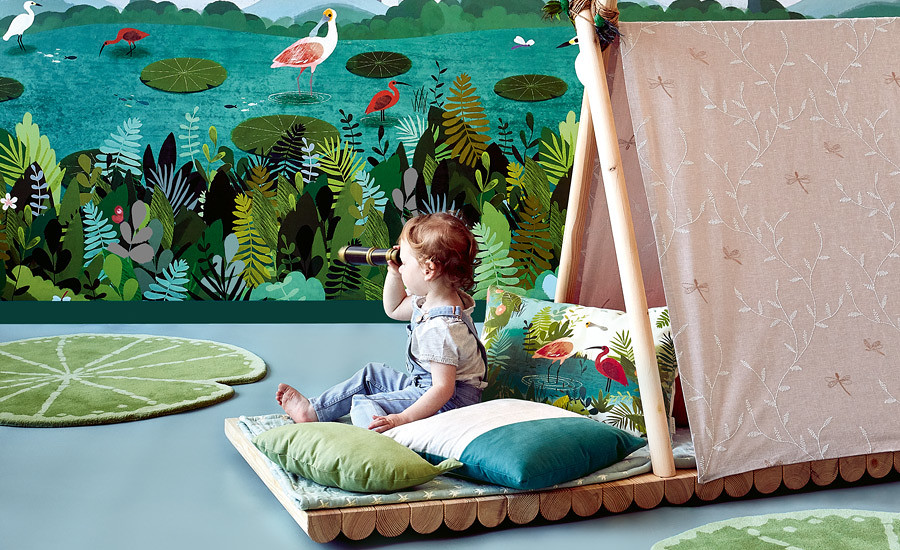 Stretch Your Imagination
Oh my gosh—this Dusky Amazon wallpaper mural makes me feel like Peter Pan! I want to play in that tent with my 19-month-old granddaughter and imagine that we are camping in a rainforest. The attention to detail, the rich colors and whimsical charm are so appealing. Designing spaces for children has always had a special place in my heart. Take a look at my earlier blog with Cool Ideas for Kids' Bedrooms.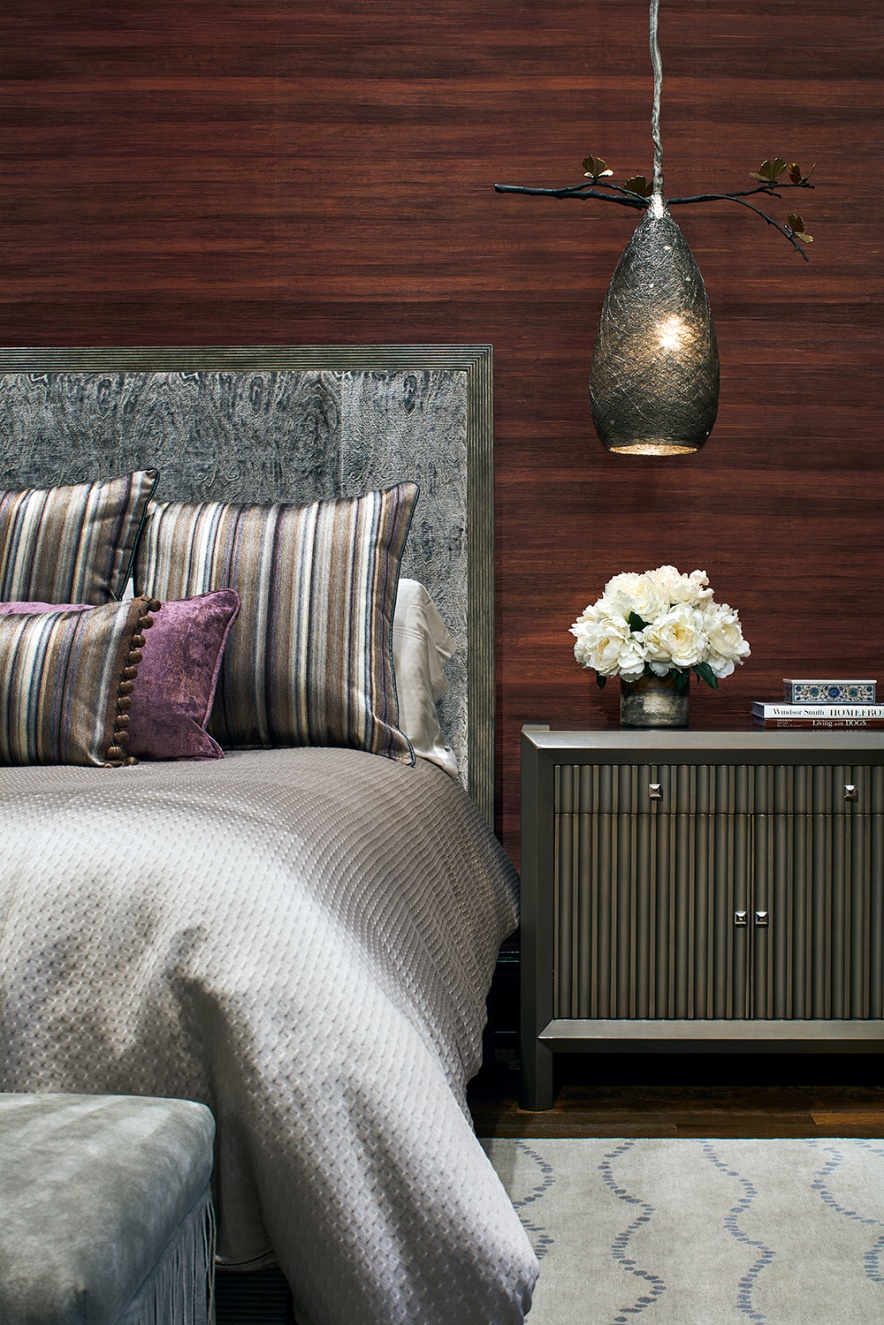 Aim For a Consistent Style
For the master bedroom in this expansive home, I wanted my clients to feel uber-sophisticated and luxurious. This wallpaper is consistent with the rich fabrics of the bedding and headboard, the custom rug and the exquisite light fixture. Though it isn't obvious in this photo, the muted magenta of the wallcovering picks up the regal purple of the pillows.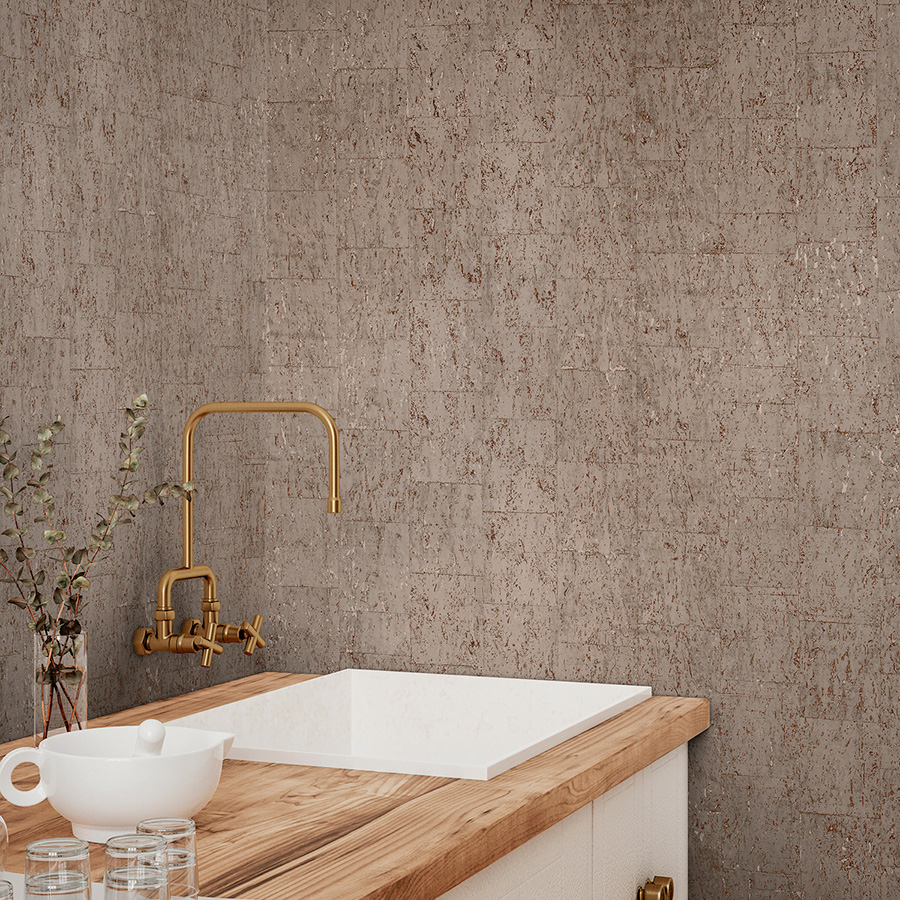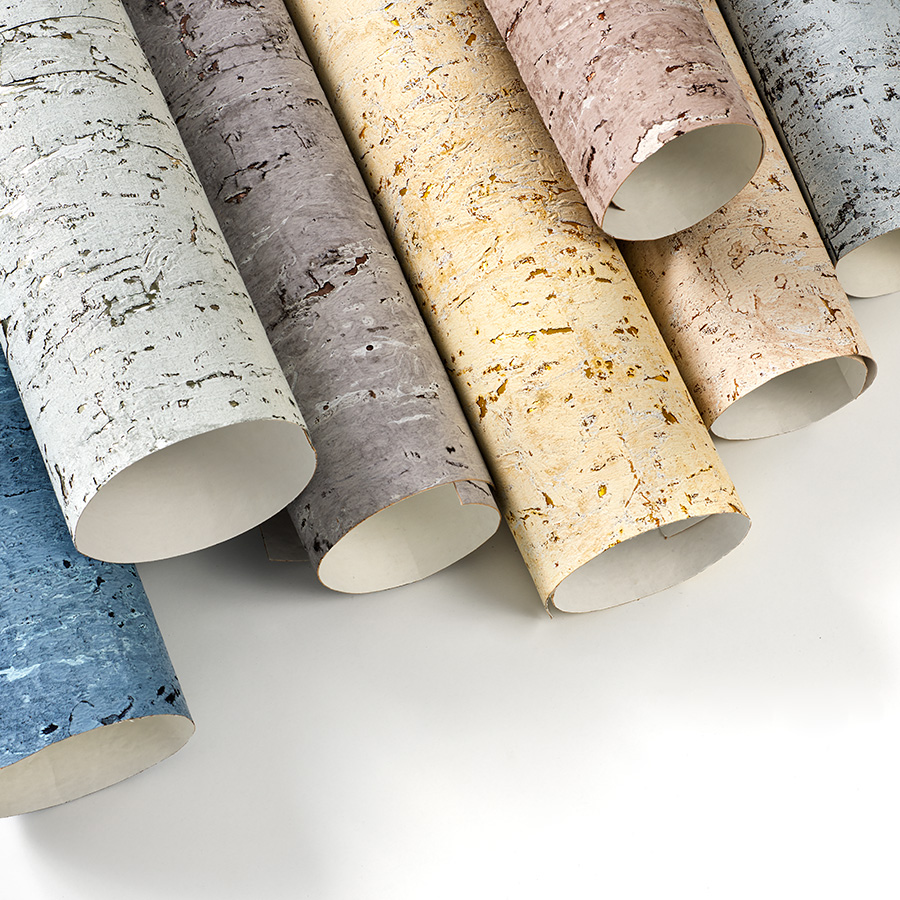 Beautiful and Sustainable
Can you believe that this soft, sophisticated wallpaper is made mostly of sustainable, biodegradable cork? That's even more proof that eco-friendly design can be beautiful and luxurious! It's a knock-out for this web bar, but I chose the "Marbled Cork" pattern in azure (see photo below, far left color) for the bedroom of a client's four-year-old son. The azure paper is awesome because it has the washed, worn feeling of denim with a subtle, metallic foil base that's cool for a boy's room. (Can we still say "cool" or is that outdated? Ha!) The denim look is virtually timeless too, so it will still be in style through the son's college years. I mean, who is ever going to give up their blue jeans?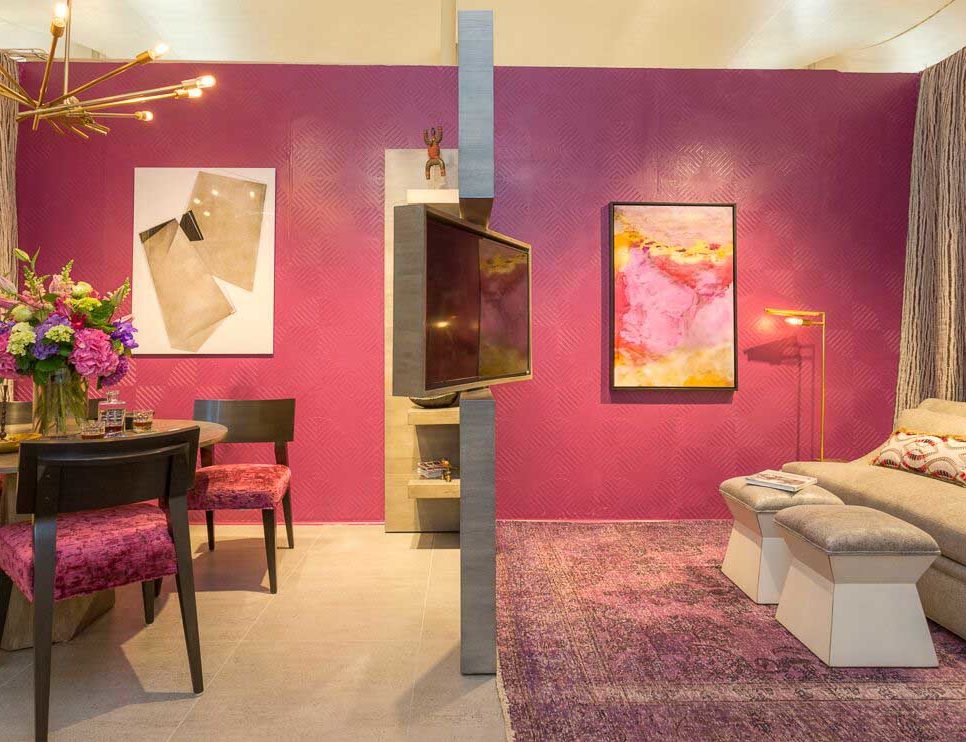 Consider Paintable Wallpaper
Have you ever heard of paintable wallpaper? It's a great invention! This type of wallcovering gives you the option of adding texture and pattern to your walls in exactly the color you want. I created a chic, inviting lounge at the Hamptons Contemporary Home Design & Décor Show with this vibrant wallpaper painted in a high-gloss fuchsia. How yummy, and memorable.
Be Open to New Ideas
Not only do I love this hand-painted wallpaper, I'm crazy about the unusual torn-paper application! The cracked, textural installation is so free-form and sophisticated. You won't see this everywhere you go. I can definitely see it in a powder room or a bar area.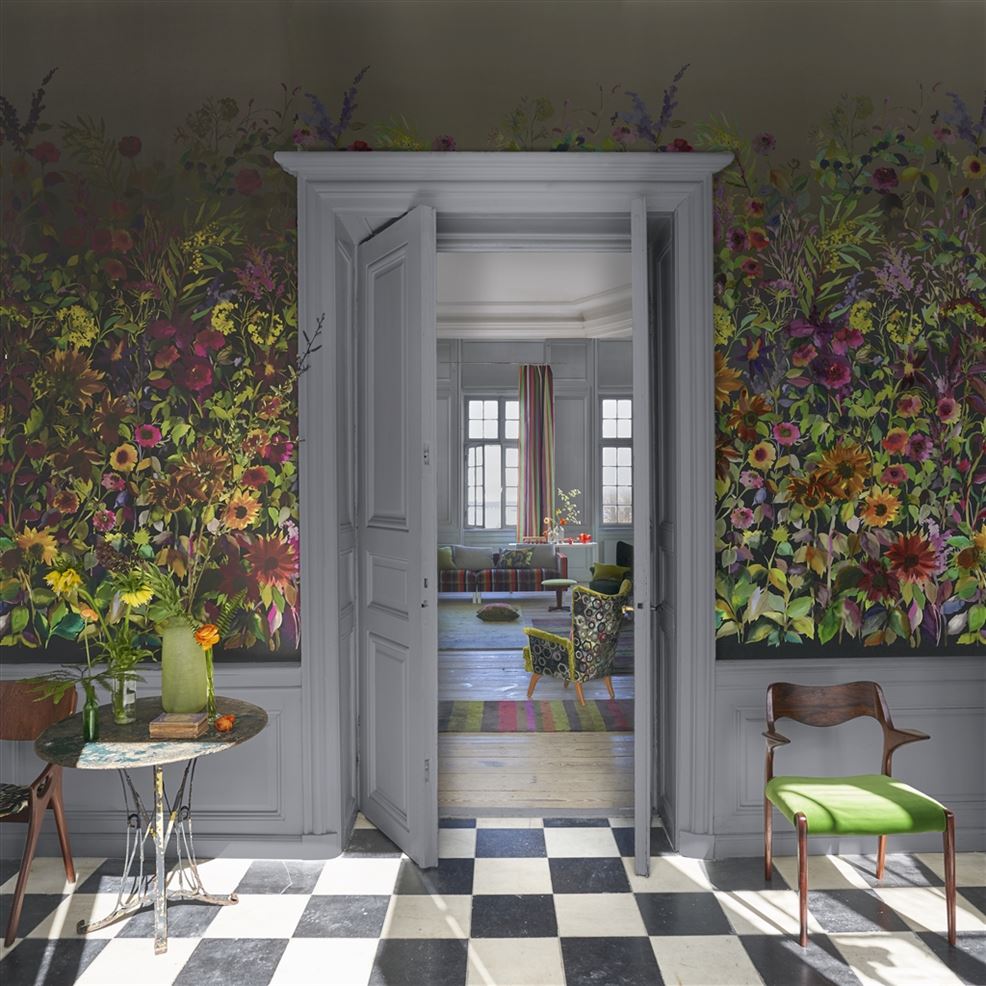 Go a Little Wild!
The sheer exuberance of this vivid wallpaper makes me feel happy! It's a like a summer garden at the peak of the season, flowing down the walls. The white millwork and doors offset the color surge and keep the wallcovering front and center at the same time.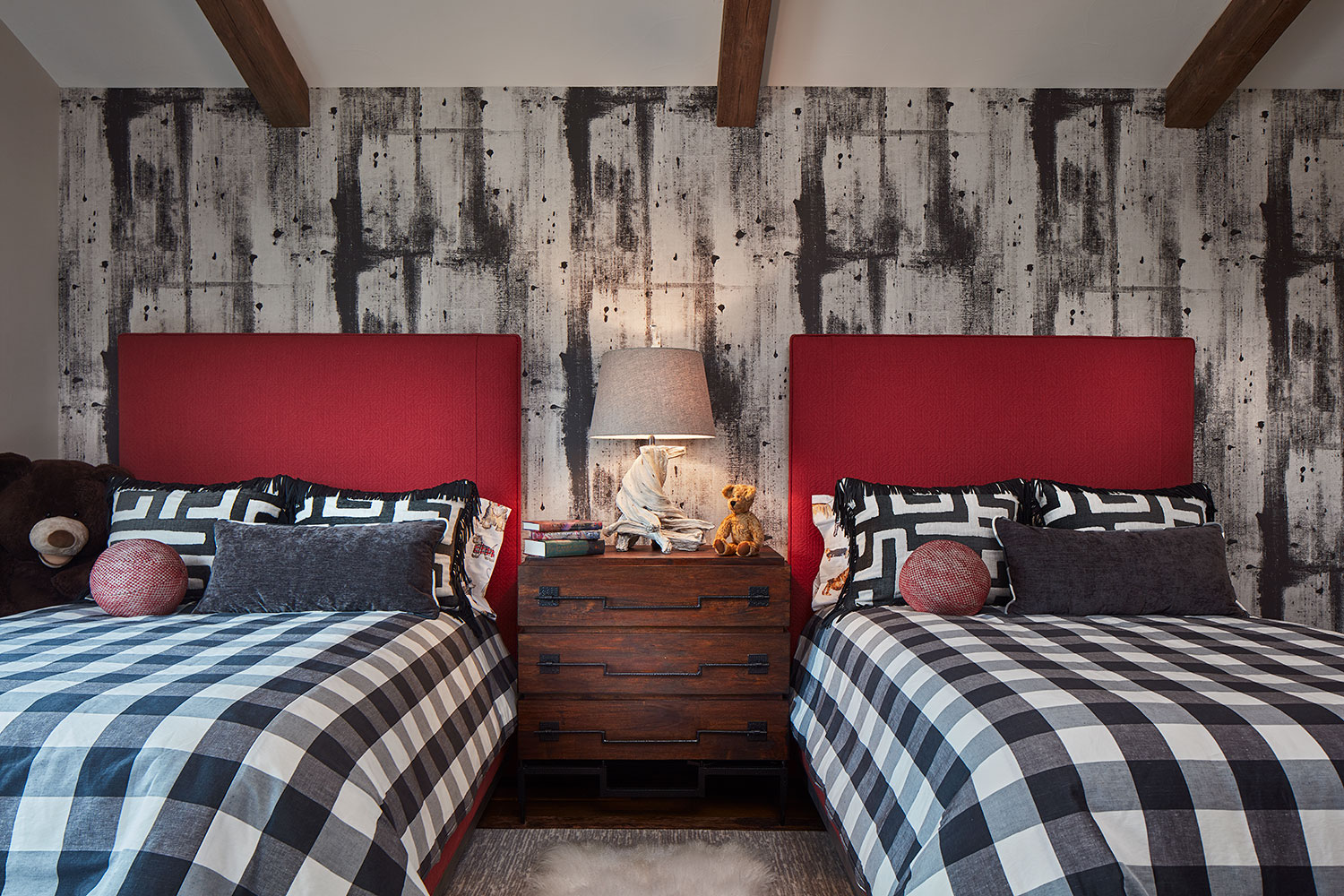 Give the Kids Something Special
Because this grandchildren's bedroom is located in Texas, I wanted it to have a rustic, weathered look that feels like cattle country. This wallpaper ticks all the boxes with its faded-barn look paired with a bleached wood lamp and the buffalo check bedding. Ride 'em, cowboys and cowgirls!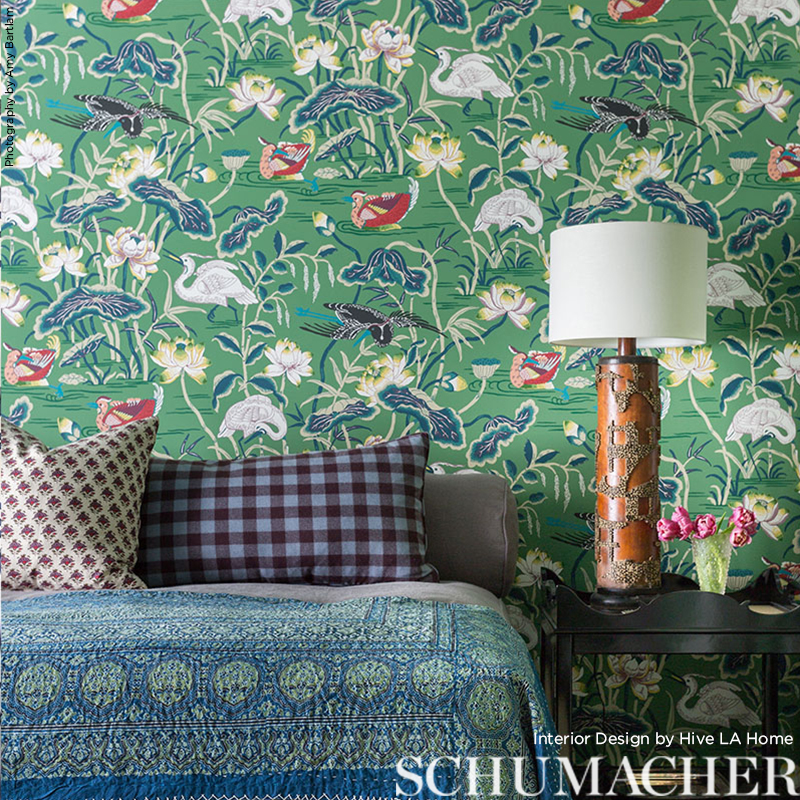 Embrace Color
This lively pattern from FS Schumacher was reimagined from a 1920s document in the company's archives. They call it an ode to Japanese natural motifs. I call it colorful and energizing. It would make me feel like I'm on vacation every day, and that's just the way I want my clients to feel in their homes.
How About You?
If you are ready for some home renovations, we can connect via email, phone, Zoom or in person.