Ready to get outside? Me too! Temperatures are warmer and the sandhill cranes are returning from their winter quarters—clear signs that it's time to plan for luxurious outdoor living. To get started, I have gathered a dozen simply fabulous pieces for your backyard. This is kind of like my must-haves for the 12 Days of Christmas only warmer! In this case, unique design, outdoor durability and comfort were top priorities; sustainability was a bonus. I'm not only getting ready for the outdoor season, I'm preparing for my next 50 Shades of Green event on Thurs., April 8. Watch my Facebook page for upcoming details about how to register. I have invited Chalet Nursery in Wilmette and Scott Simpson of Scott Simpson Design+Build to join me for an afternoon full of ideas for your backyard. Just remember, 50 Shades of Green means you don't have to go 100 percent eco-conscious. Small steps can lead to big changes. Here's a sneak peek at some of the ideas you can see during the event, but we will be presenting much more!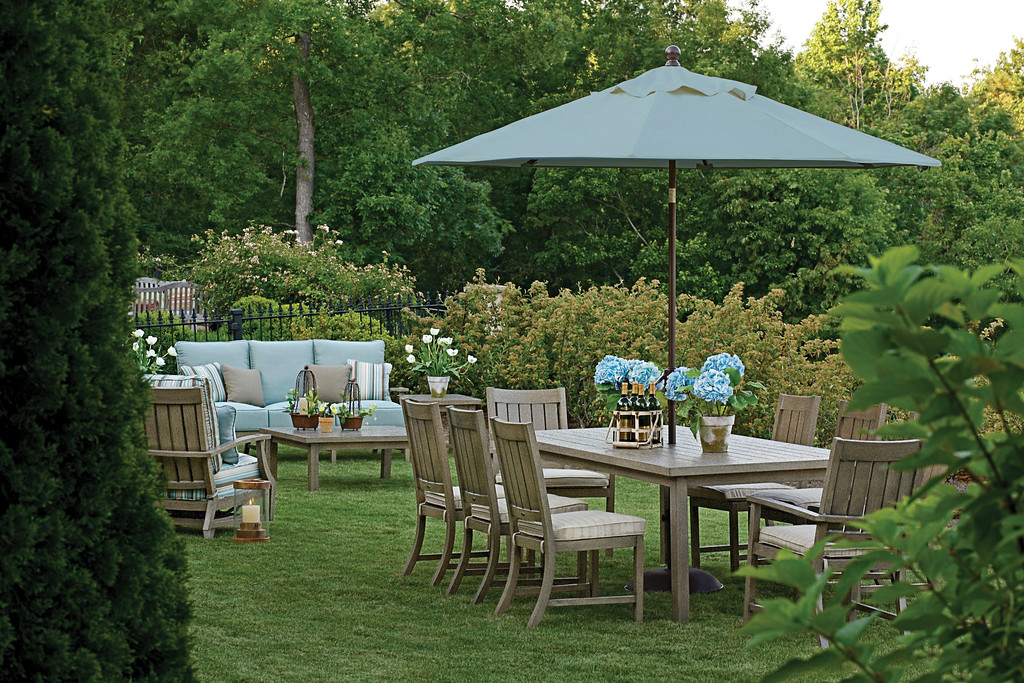 Look for Eco-Friendly AND Luxurious when Creating a Designer Backyard
When I talk about eco-friendly AND luxurious furnishings, this is what I mean! The table and chairs from Summer Classics above have laid-back, classic styling and are fabricated of sustainable aluminum. Did you know that aluminum is infinitely recyclable and highly durable? Nearly 75 percent of all aluminum ever produced is still in use today. That's great to know when choosing outdoor furniture. Plus, these pieces are meant to last and last, so they can be passed along to someone else with just a change of cushion. Furniture is not disposable!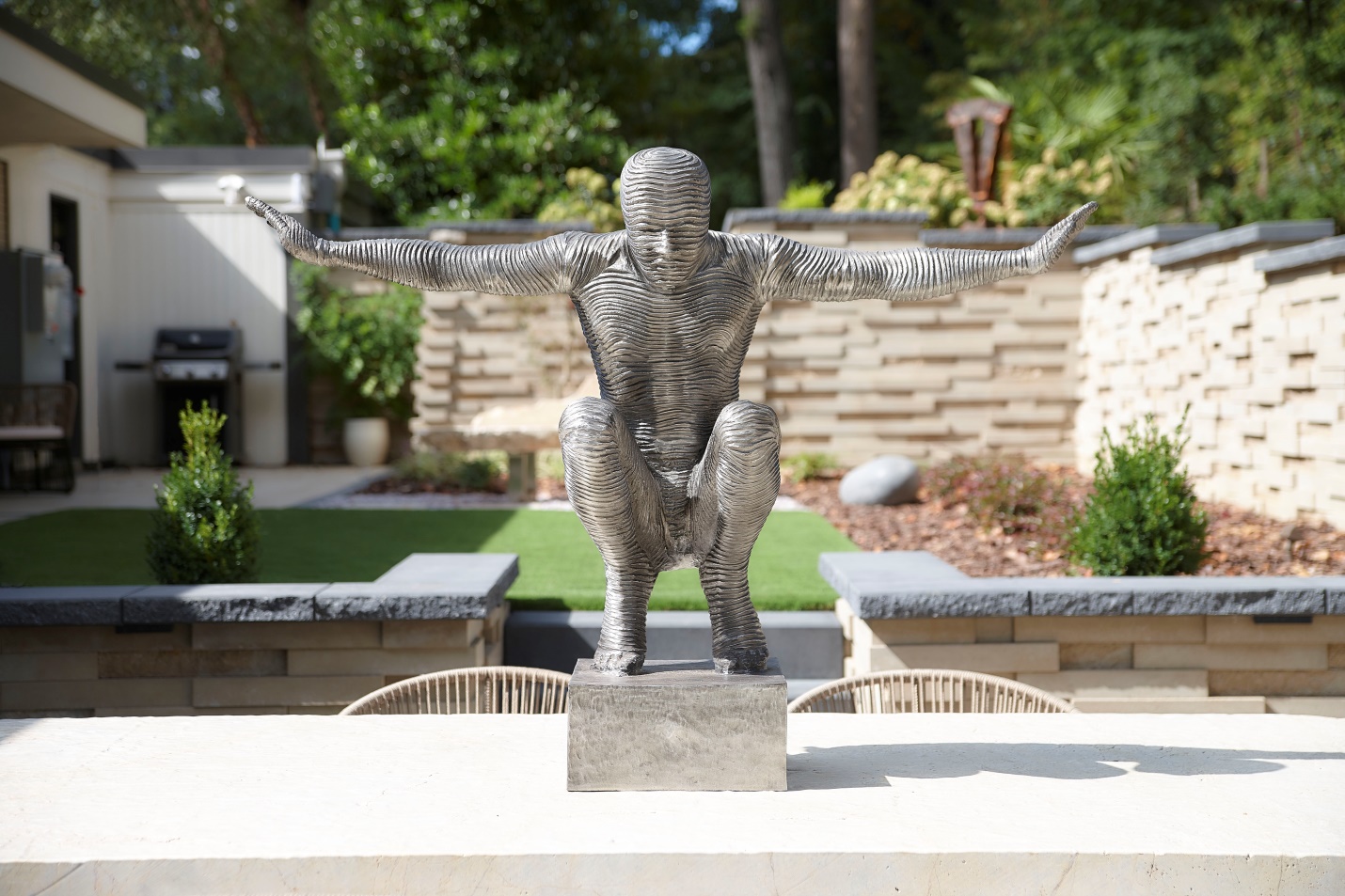 Designer Backyards Use Accessories
Outdoor spaces give us a lot more room to stretch out, so to speak. It's easy to accommodate a sizable sculpture like this one from Phillips Collection, at 55 inches wide x 18 inches deep x 40 inches high. I love the timeless, fine art look, and that edgy quality. As a bonus, the piece is made of recycled scraps of aluminum, which are equally recyclable. The award-winning artist and sculptor, Timbul Raharjo, lives in the village of Kasongan in Yogyakarta, Indonesia. What a great story to tell your family and friends! Phillips is one of my go-to vendors for sustainable pieces. Like me, the company is a member of the Sustainable Furnishings Council. Now check out their crazy bench, below!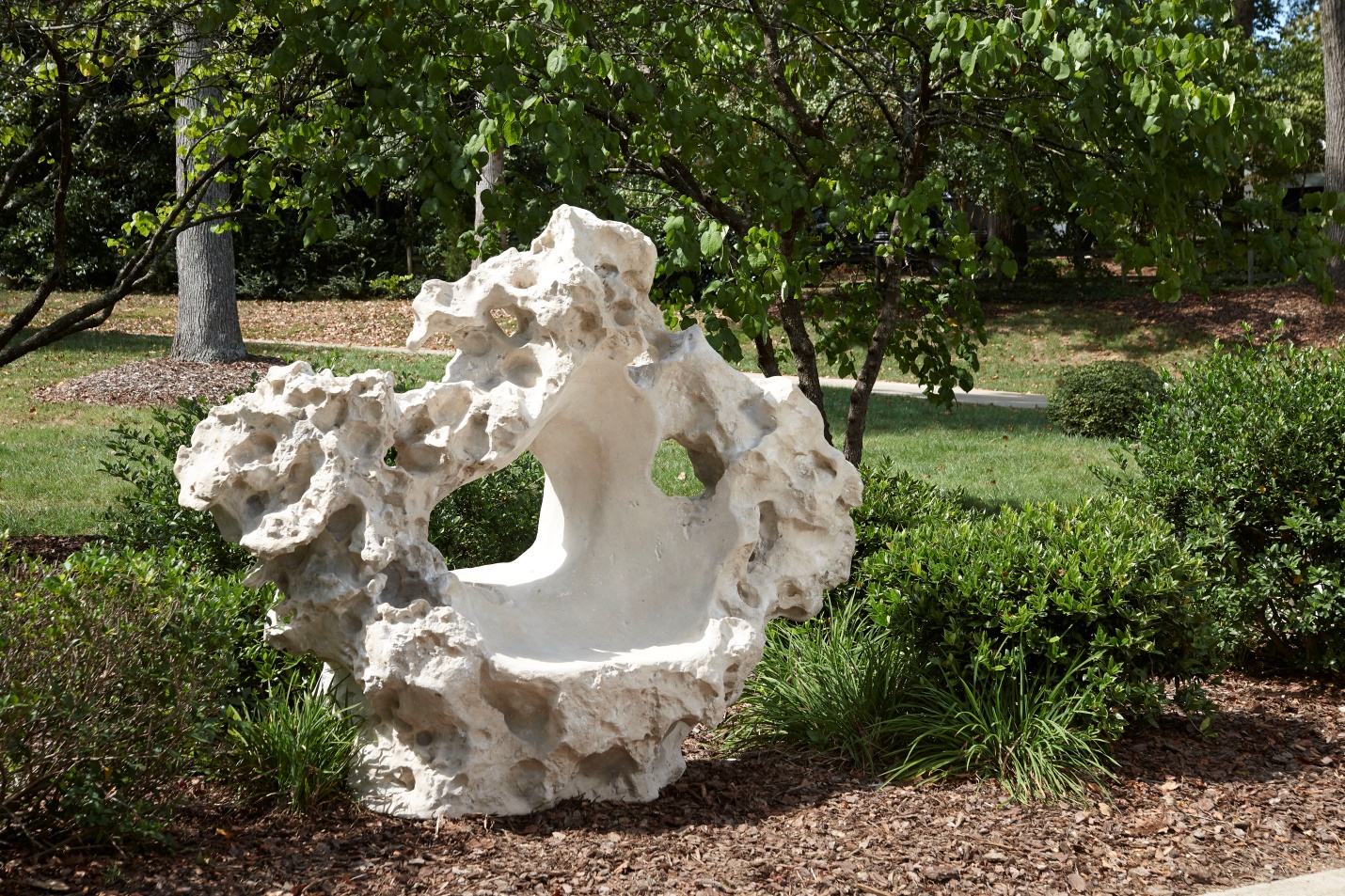 Yes, it's really a bench, and it lives up to its "Colossal" name at 99 inches wide x 40 inches deep x 78 inches high. That's a big piece, and so awesome. The rugged, organic texture is just right for outdoors. This piece is made of durable resin, which is not recyclable, but the company minimized the impact on the environment by adding a natural stone finish that comprises half of the piece.
Recyclable and Really Cool
During this massive shopping spree I discovered that one of my most valuable vendors has just launched its first indoor-outdoor fabric collection. Kravet's "Vista" collection is durable, cleanable, feel luxuriously supple and is 100 percent recyclable. Those words are music to my eco-loving, designer ears! Kravet is another member of SFC, and the company works hard to maintain sustainable manufacturing processes. These outdoor yarns require almost no water to produce, and they absorb color beautifully. The palette is so crisp and refreshing, it will make us feel cool comfortable during the sunny days of summer.
Take a Peek at Teak
Yes, the teak used for this fireside vignette is shipped from Southeast Asia, but it is sustainably raised on plantations, conserving our valuable forests and providing jobs. I was amazed to learn that more than 25 percent of the world's people – nearly 1.6 billion – rely on forest resources for their livelihoods! Check that out and more in my blog about Choosing Eco-Friendly Wood. Because of its high oil and rubber content, teak is naturally weather resistant and because it is slow growing, it is very durable. After all, they make ships out of teak! Of course, I love it because the organic look is perfect for outdoors.
Extend Your Outdoor Season
If you love the outdoors like I do, you'll want one of these heated and lighted umbrellas from Tuuci. With technology like this, I can start the season early and end later. Isn't that a cozy scene?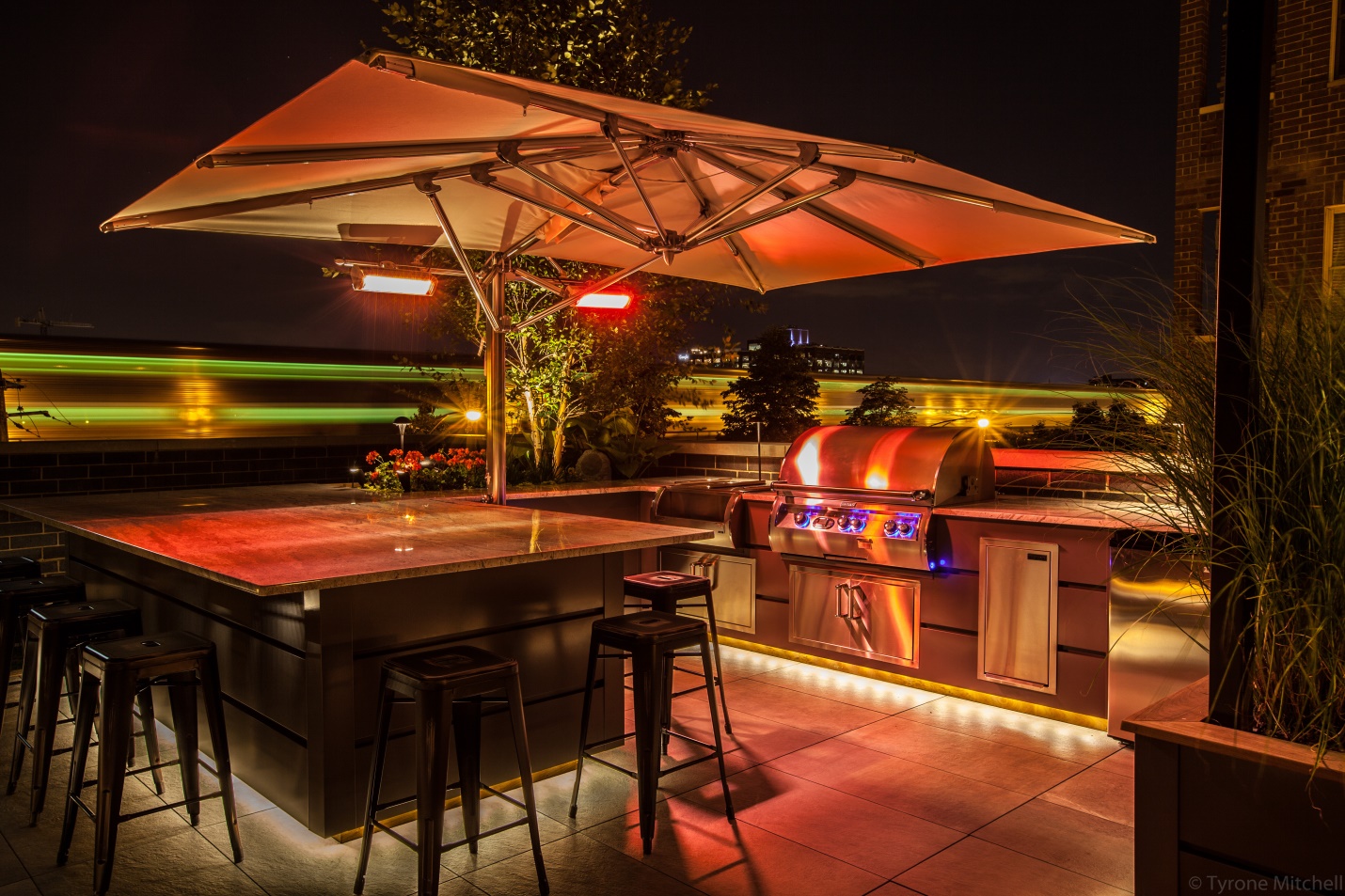 Think Aluminum
The groovy waves of this outdoor cocktail table caught my eye first, and the recyclable aluminum sealed the deal. I'm crazy about this piece! Metals add interest and new texture to an outdoor setting, and they really shine in the sunlight.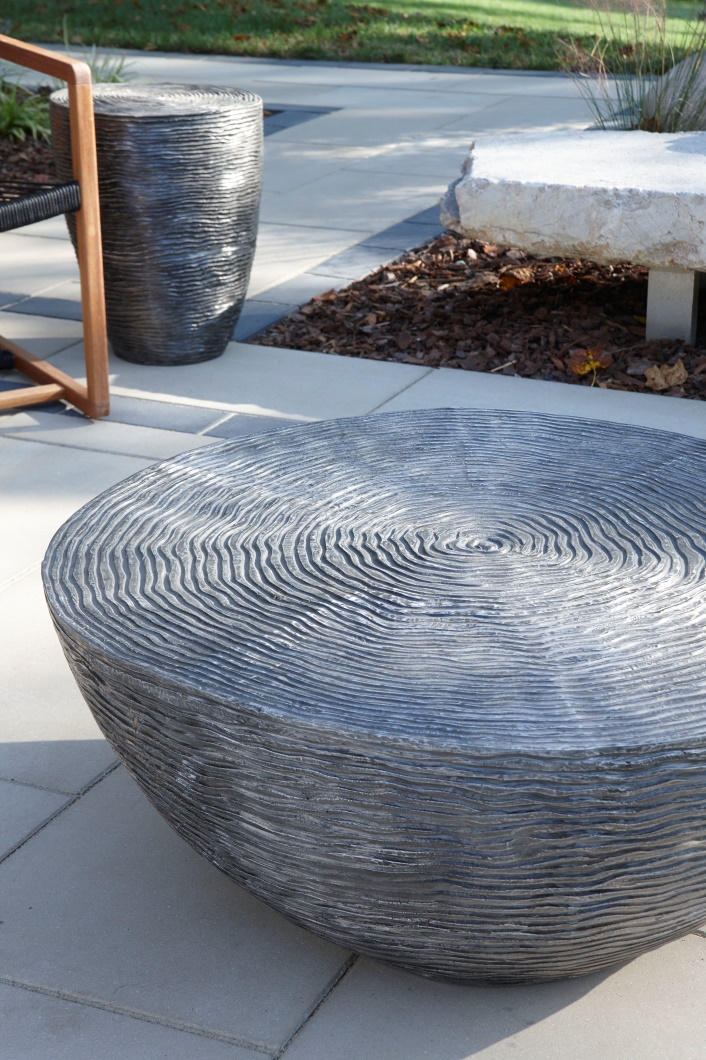 Choose Outdoor Rugs for an Indoor Look
Such a regal look! But these sitting area furnishings would be at home in more understated settings too, including that exciting new "All Season" rug from The Delos Company. Can you tell that it is woven from yarns made from recycled water bottles? According to Forbes and Scientific American, it is estimated that one square yard of carpet keeps 50, two-liter water bottles out of landfills. That's good for the planet, and it is durable, stain-resistant and retains its color. From a design standpoint, outdoor rugs have the same attributes as indoor rugs—they help define a space while contributing texture and color. Delos also offers rugs made from recycled fish nets recovered from the ocean. That's something to talk about as you contemplate a dip in the pool!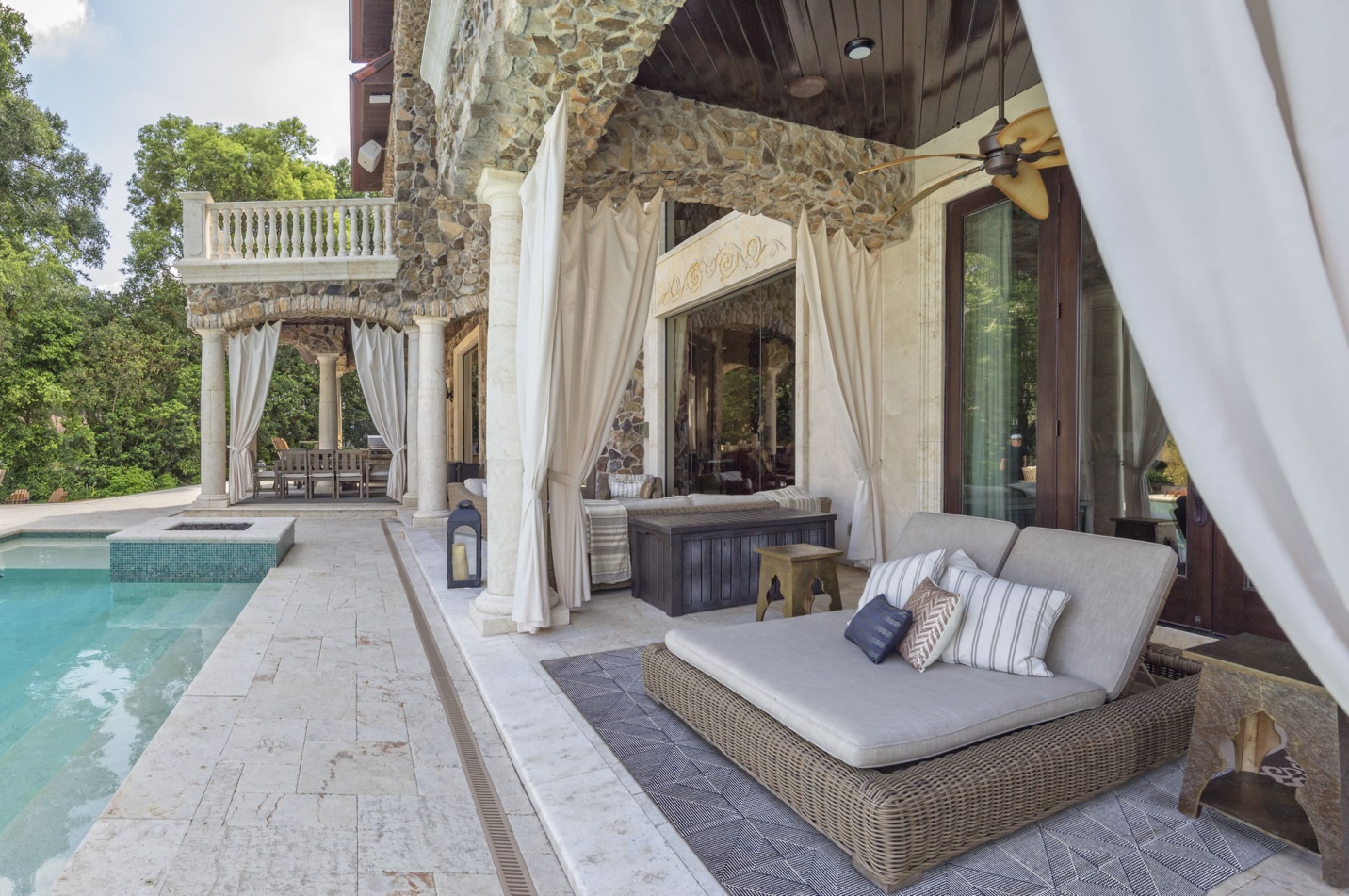 Are you ready to get outside? We'd love to work with you!
PS: Be sure to check out the blog I did last year about Designing Your Dream Backyard too.