I am so thrilled and honored to receive an ASID-Illinois Design Excellence Award for the third year in a row! This year's Best Bathroom for a Small Firm award went to a spacious master bath I completed for clients outside of Dallas. It was part of a newly constructed, whole-house project in an exclusive golf club community. You can see all photos of that project here: Redefining Texas Living.  After working with these clients on their pied-a-terre in Chicago, they commissioned me to review the blueprints and select all design elements for their new home in the Lone Star State.  As frequent flyers, my clients wanted a master bathroom that channels the 5-star luxury of the hotels they visit during their travels. They live casually, but love art and appreciate exceptionally fine quality materials.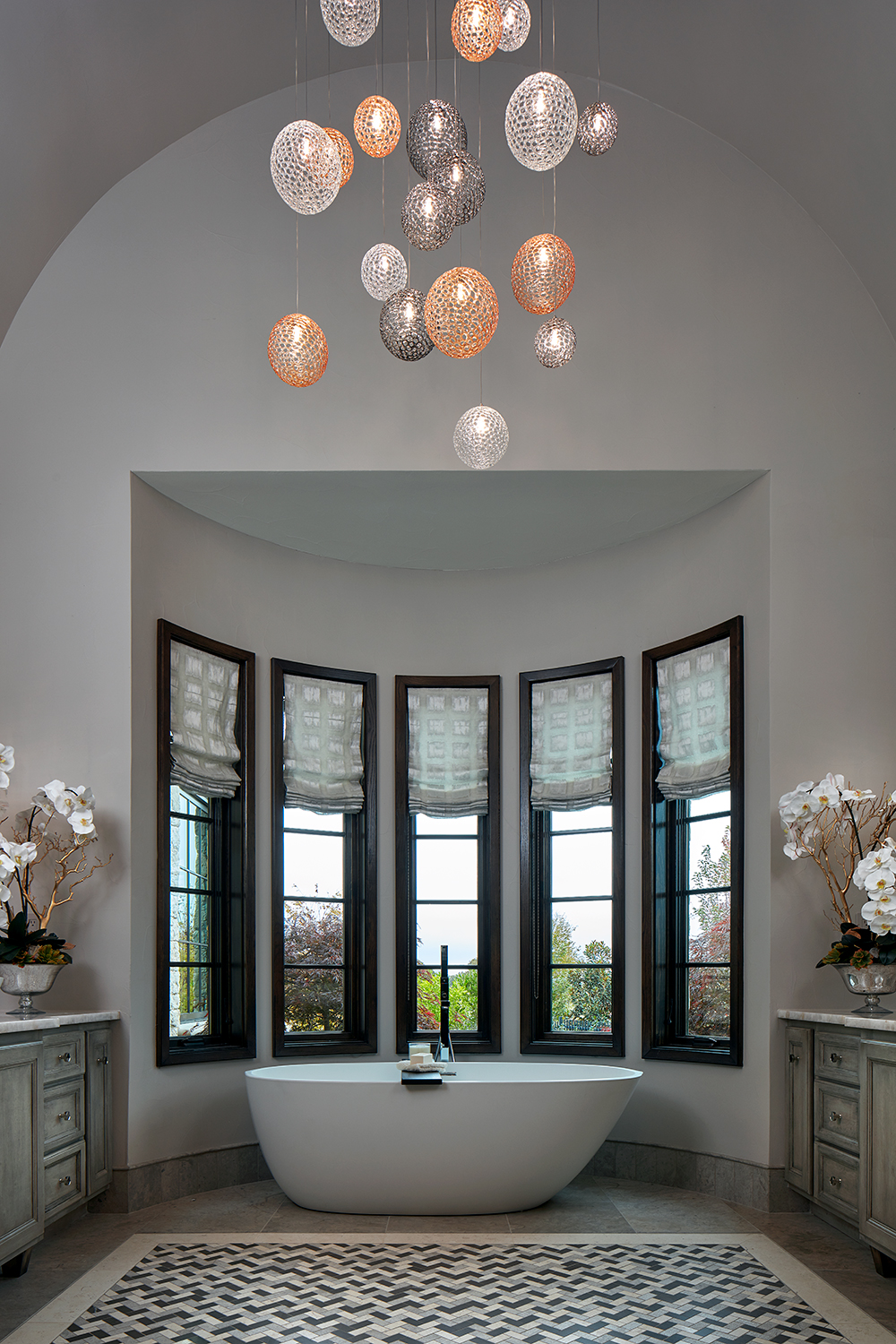 Anatomy of a Winning Bath
My key aim was to create a space where my clients can begin and end their days in an oasis of tranquility. The statement chandelier is just one of several artistic elements in this space. I custom-designed the colors, varying heights and positions of the 18 pendants to create a sculptural effect and to make this large-volume room feel cozier. The hand-blown glass pendants from Israel supply the "wow" factor that was a must-have for these clients. Other highlights from the photo above include:
His and hers vanities. A few degrees of separation is appreciated!
For his vanity, I integrated a TV into one of the mirrors so he can listen to the news to start and finish his days. Because it is out of sight, it doesn't disrupt the flow of the design scheme.
Her vanity has a custom drawer for a hair dryer and flat iron
A framed, mosaic tile floor inset mimics a rug and supplies texture and pattern
The free-standing tub is made of insulating volcanic limestone. It maintains the water temperature longer so my clients can enjoy an uninterrupted, therapeutic soak.
The oval tub echoes the bay window curve
Fast-growing eco-friendly eucalyptus wood for the custom cabinetry.
Why Choose Eucalyptus Wood?
If you read my blogs regularly, you know that I am a member of the Sustainable Furnishings Council and I am passionate about commonsense, eco-friendly design! I chose eucalyptus wood for this cabinetry because:
It is a sustainable, fast-growing hardwood. (Ten-year-old trees often reach 90-100 feet!)
The wood is a beautiful dark red
It has a long, straight grain that yields one of the strongest and most stable of all the hardwood building materials. In fact, the wood is said to be as durable as teak and 10 to 20 percent more dense.
Eucalyptus is plantation grown and known for its affordability.
You can read more about why it's important to choose sustainable wood in my earlier blog: Why Choose Eco-Friendly Wood?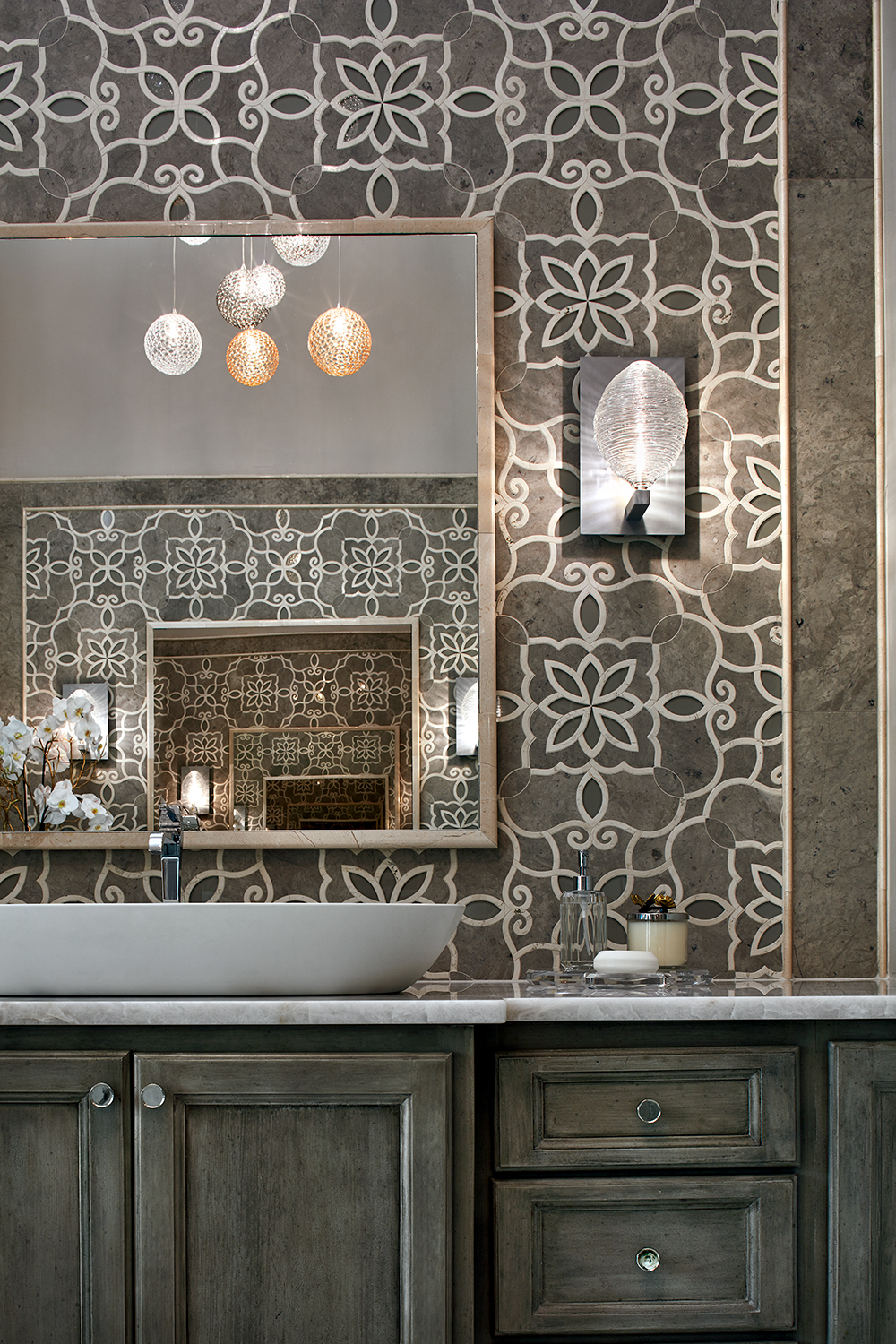 Add Artistic Flair
Statement backsplashes are one of my signature design elements. They create a stunning focal point, especially if they are composed of artistically rendered, high-quality materials such as the stone and frosted glass in the photo above. Don't you love the way the mirror reflects the backsplash on the opposite vanity wall? It appears to echo into eternity. Like a work of art, I framed this installation using a thin border of bull-nose tile. You can see more photos of my backsplash installations here: Dial Up the Wow with Statement Backsplashes. Because the backsplash is the star of this vignette, I offset it with a subdued, but no less elegant mirror, vessel sink, matte-finished countertop and natural toned, recessed-panel cabinets. Details are always important to me, such as the vessel sinks that reference the shape of the freestanding tub and the bay windows. I also bumped out the countertop to follow the shape of the cabinets.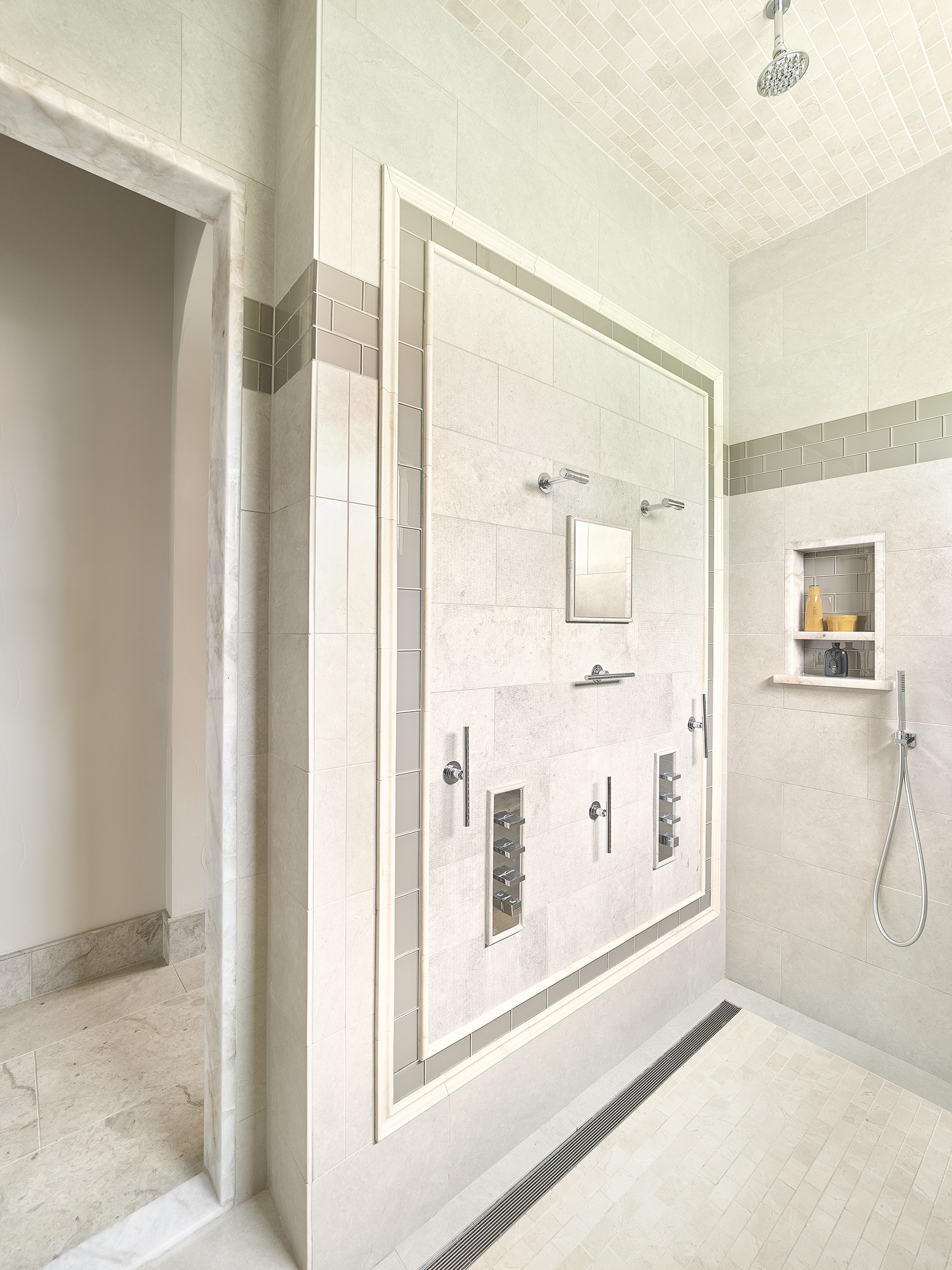 Best Shower Amenities
Before I selected any of the finishes or amenities for this master shower, I revised the original architectural plan, lowering the shower ceiling from 12 to 10 feet. At 12 feet, my clients would have felt like they showering in an echo-y mine shaft! The lower ceiling not only created a more intimate space, it improved energy efficiency for the steam option. Other design choices included:
Individual shower heads – a single-handled faucet for him with a really soft flow, like a gentle rainfall; a more forceful shower head for her for hair washing
A heated shower seat
A fog-free shaving mirror for him
Steam shower option
Hand-held shower nozzle
Not shown – a transom window to allow more light into the space
Stone tiles in grays and whites
Handy niche to keep toiletries organized
The soothing, artful setting, with his-and-hers amenities and eco-friendly elements, contributes to rejuvenation, deeper relaxation and contemplation. That makes my clients happy!