What does a large group of interior designers do when they gather at a resort in Mexico? For one thing, we sometimes play games like "Love It Or Lose It." This is a fun take-off of the popular HGTV program, "Love It or List It." It's all about the trends we love and the ones we'd like to lose in the world of design. We had a blast sharing our ideas during the latest C.Next Global Design Summit sponsored by our valued vendor, Cosentino, at the luxurious Nizuc resort in Cancun.
You Can Play Too!
I thought you might enjoy playing a game, too, so I put together questions and answers about design trends below.  Do you agree or disagree with me? Let's discuss!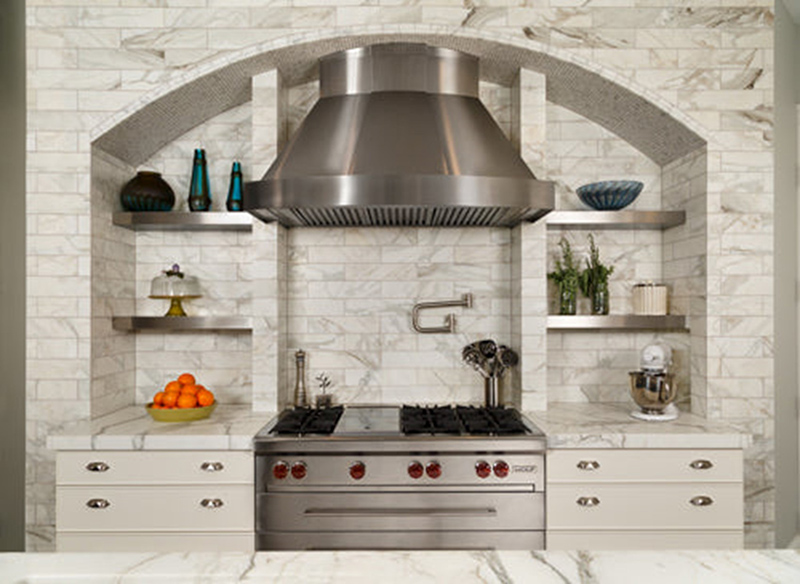 Subway Tile: Love It or Lose It?
My advice is to lose those traditional 3 x 6-inch subway tiles and think longer! I still love the look of rectangular tiles, but now they come in a variety of longer lengths up to 12 inches at least. Imagine installing them horizontally, as above, vertically or even in a herring bone pattern.  It's time to change it up.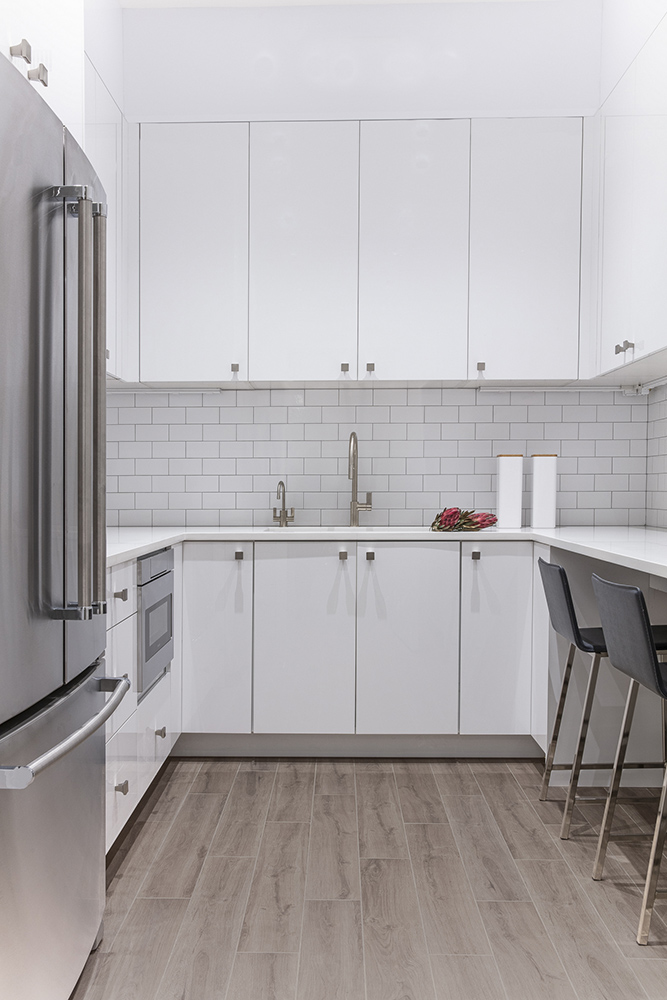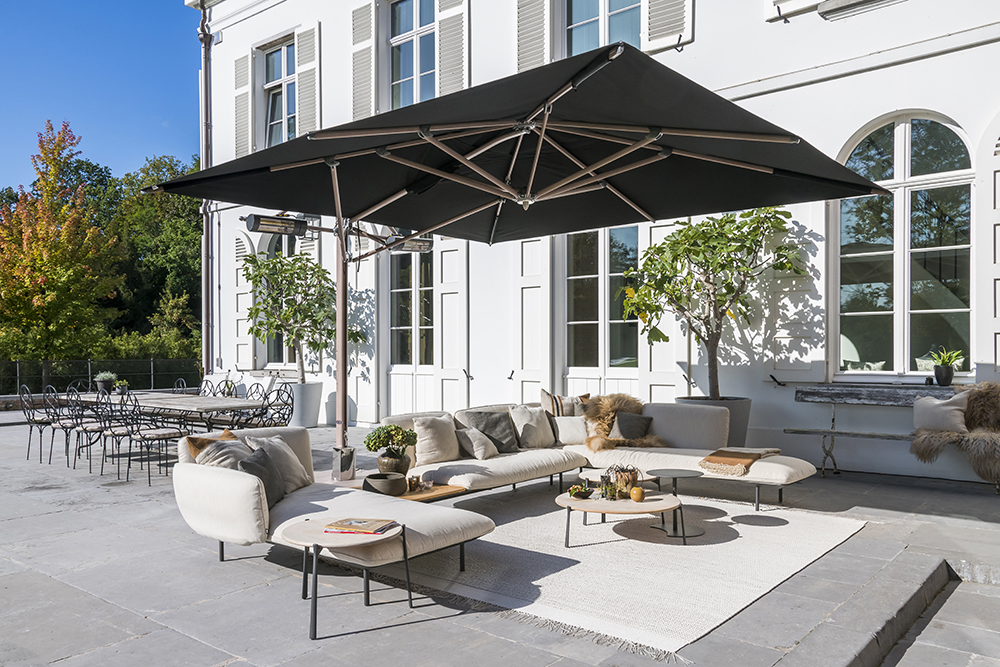 I LOVE that people are thinking of their backyards as their destination for relaxation, entertaining and even working outdoors. That mindset took hold during the first wave of COVID and it is here to stay. People are continuing to invest in luxurious backyards that are an extension of their interior design. Kitchens, dining areas, resort-like lounge areas, outdoor TVs and projectors – it's a mini-vacation or a party whenever you step out the back door. Just imagine inviting the neighborhood over for movie night under the stars! As the outdoor living design expert for Lake Homes, I am up-to-date on the hottest outdoor furnishings, including eco-friendly options and ideas for extending your backyard season from early spring to late fall. Check out that heated parasol in the photo above. We can add lights, too!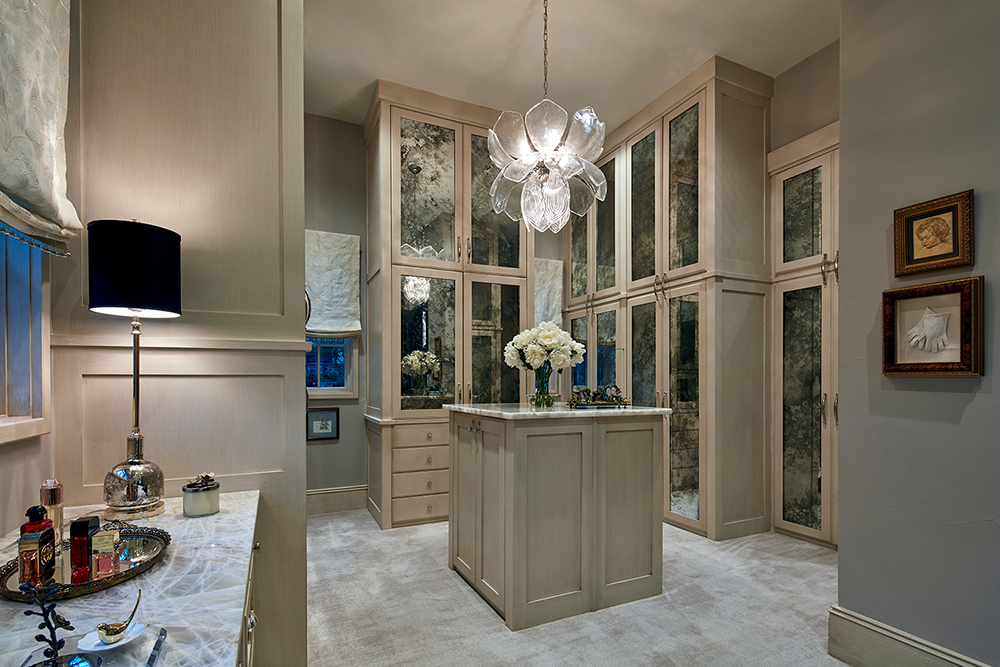 Love Your Closet or Lose It?
I say give your closet the "wow" factor and LOVE it! Closets have become showpieces. They make you feel like you just walked into your favorite boutique where everyone knows your name. And guess what? I just designed my first closet that features a wine cooler! My client considers it her private get-away, but she likes to invite friends over too so they can collaborate on what she should wear for the next girls' trip, an upcoming wedding or a family vacation. I added a couple of comfy chairs so her girlfriends can sit while she displays her latest finds. It's better than schlepping outfits onto the bed for inspection!
Closets have gone high tech, too. Remember those motorized clothing racks from the movie Clueless with Alicia Silverstone? We can do that! The rack is operated with a foot pedal that spins your clothes in a circle so you can see everything in your closet without reaching into corners. I can add shoe and purse carousels to your closet, too and motorized shelves that automatically bring the highest shelves in your closet down to eye level at the push of a button.  Do you need a locked safe, too? I can disguise one in a cabinet so it's your little secret.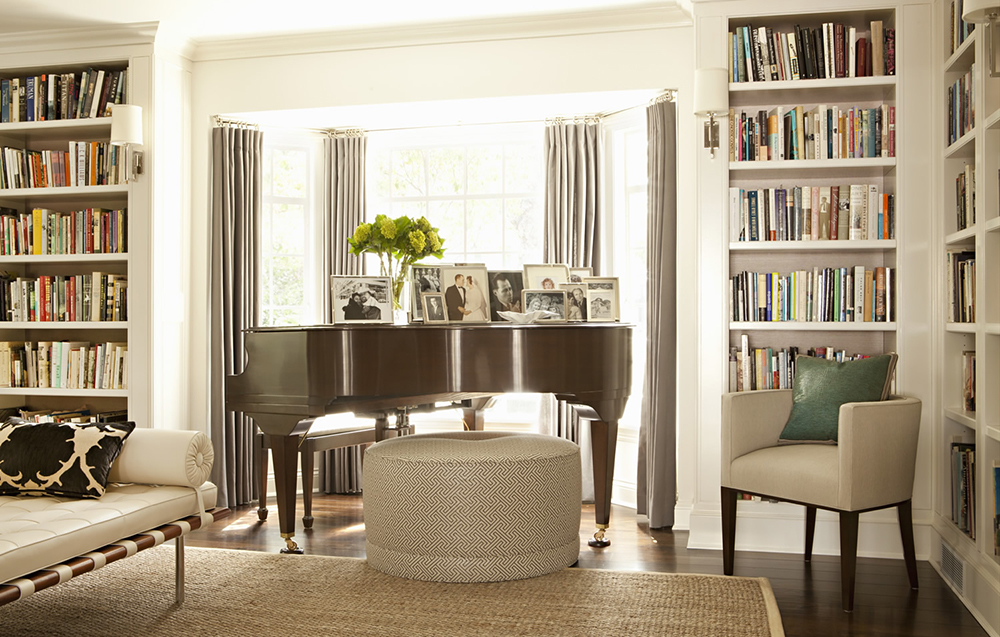 Formal Living Room – Love It Or Lose It?
More and more often, my clients are saying "lose it" to formal living rooms and opting to make better use of that space. It's about choosing function versus a pretty space that doesn't fit your lifestyle. How about turning it into a library or a music room? Or how about both, as in the photo above? I could imagine curling up and reading a book in this living room every evening, or on a lazy weekend morning. Now that's a great use of space.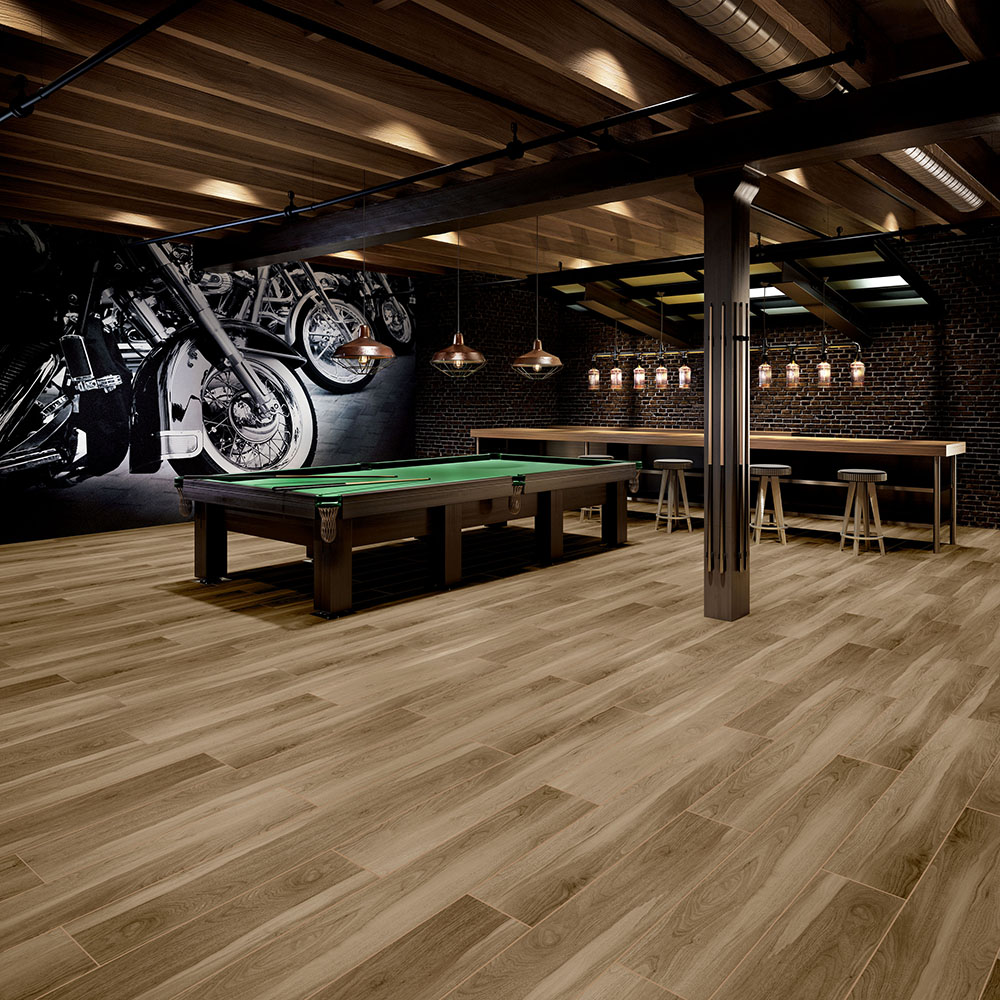 Love Luxury Vinyl Tile Or Lose It?
I love it, with limits! For a primary home, luxury vinyl tile is excellent for home gyms and lower level bars, game rooms and media spaces. If you have a backyard pool, it's a smart choice for the entrance to the house nearest the pool. As a lake home owner, I love luxury vinyl for the main living areas of beach houses where you and your guests may drip water and track in sand and other bits of nature. Luxury vinyl is easy to clean, sand won't scratch it, and if it gets wet, it's not a big deal.  I know from years of experience that even if you rinse off after a day on the beach, some sand always manages to get into the house!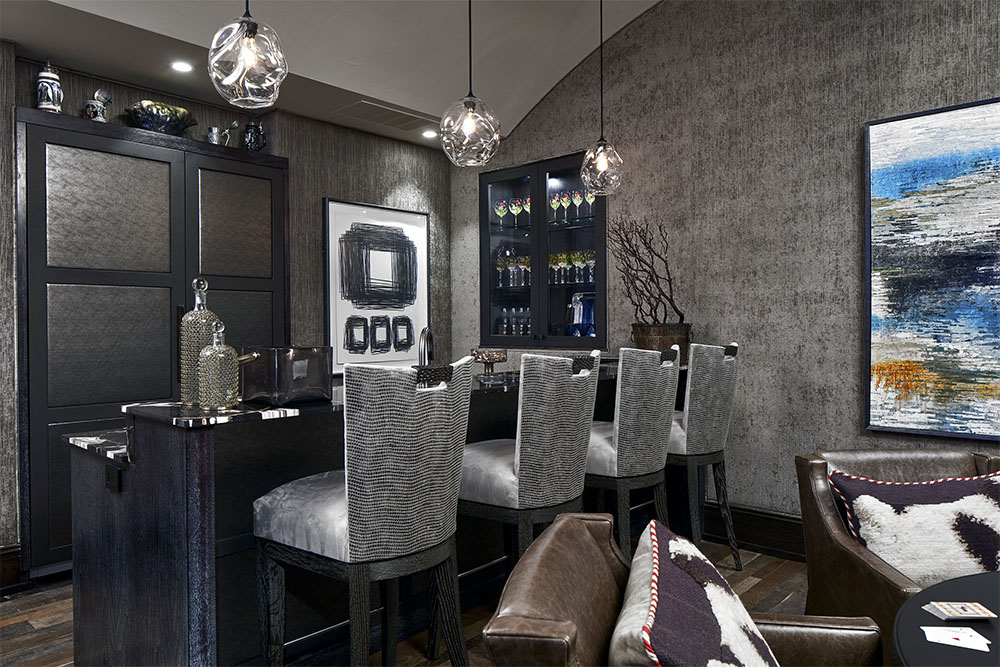 Acoustics: Love It Or Lose It?
This is a big love! Of all the pollutions in the world, I think noise is the most under-estimated. Our ears are bombarded daily by power mowers and snow blowers, cars, trains, airplanes, loud music and conversations. In the refuge of our homes, we can gain some control over noise through rugs, window treatments, windows, upholstered furniture and – in the photo above – upholstered walls! This multi-use entertainment space won First Place Wildcard Residential Space in the ASID-IL Design Excellence Awards 2021, partly because of the creative acoustics. It is a high-energy space with a bar, game table, media-conversation area and a custom shuffleboard table. To dampen the decibel level, I included:
Walls upholstered with chenille-like fabric that is quiet, luxurious and intimate
Upholstered bar back panels
Natural woven shades with black-out lining and side panels
Upholstered sofas and chairs plus a rug
My clients do love this space and their acoustics!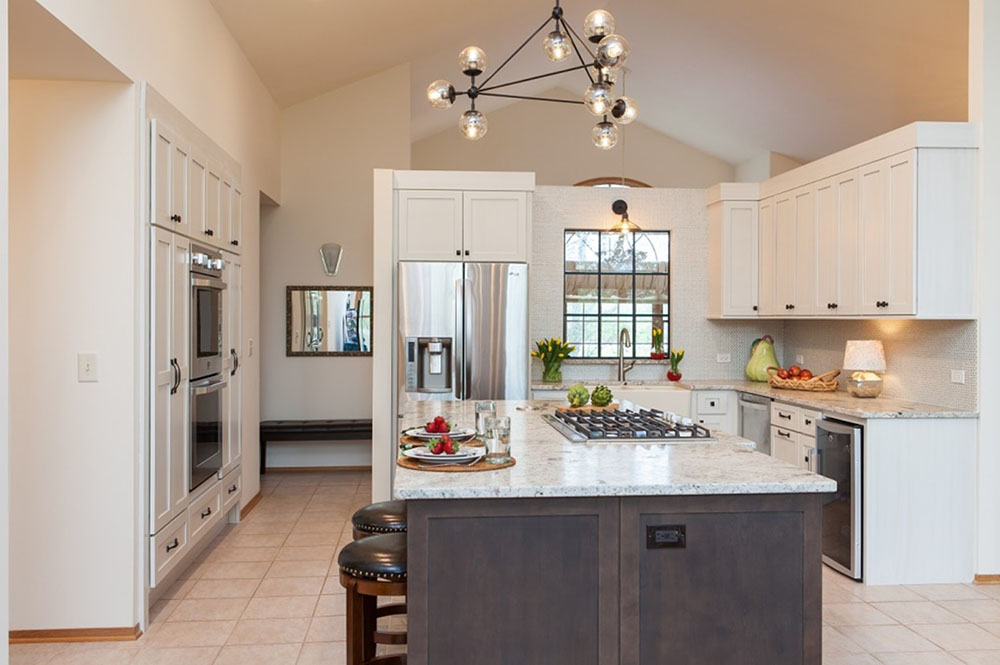 Open Floor Plans: Love It or Lose It?
Open floor plans have been on-trend since the 70s, but people are beginning to say, "lose it."  Many of us are spending more time at home, working and playing, and we crave quiet, private space for down time. Imagine using a food processor in the kitchen while people are trying to watch television or read in the adjacent family room. The above kitchen is separated from the living room and dining room by partial walls of cabinetry, which helps dampen down noise, and guests can't see any dirty dishes from food prep. That's a plus!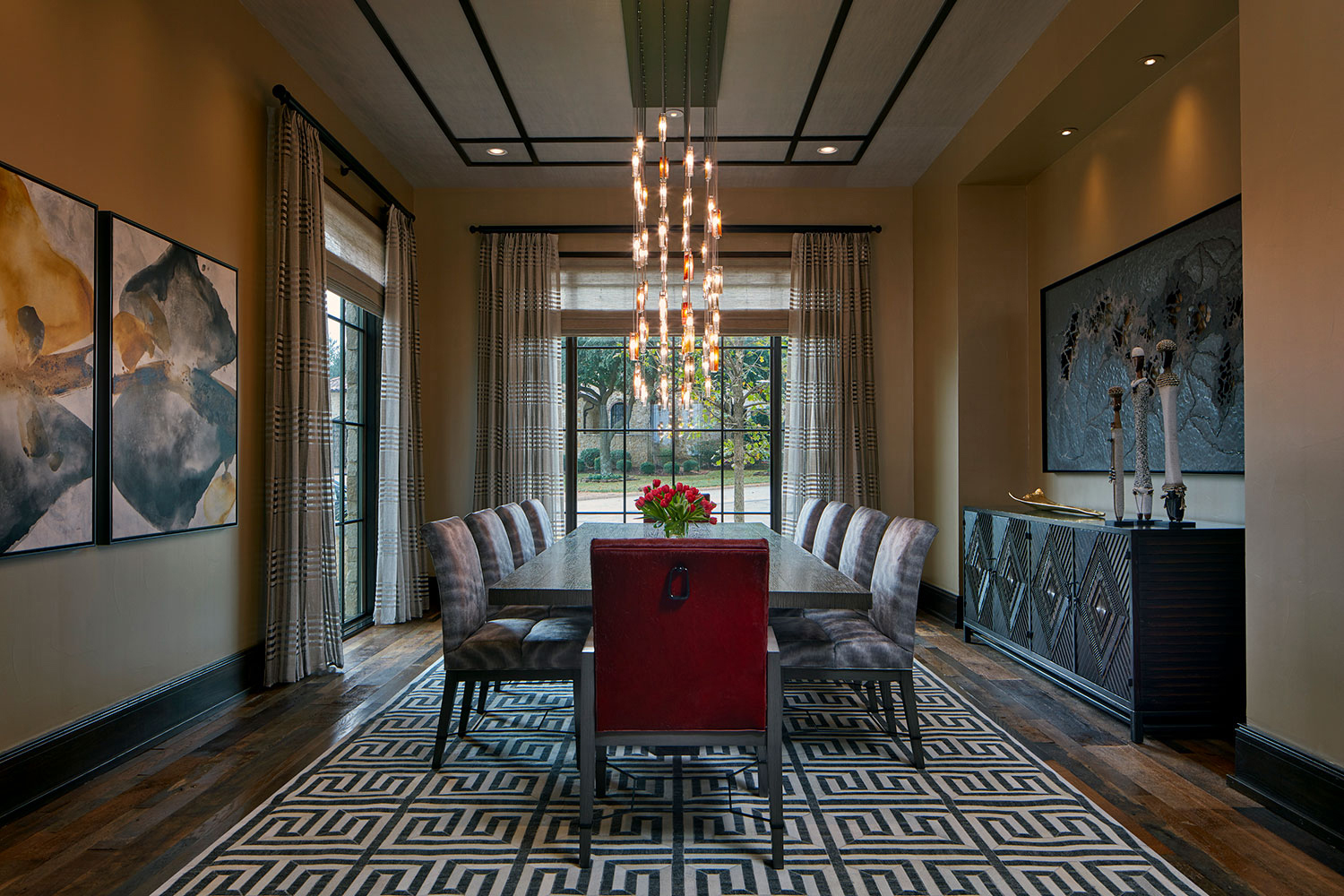 Love Your Dining Room or Lose It?
Love it, but use it in different ways! Most of my clients still want a dining room. They almost always talk about how important it is to host meals for family and friends at one big table in their home. That's difficult to accomplish in a kitchen! Plus, if you're eating in a kitchen, the hosts may feel that urge to clear the table faster. In a private dining room, you're not in a hurry. Everyone sits around the table longer, having great conversations.
But we need to lose the concept that dining rooms are for dining only. I can picture a thousand-piece jigsaw puzzle spread across this table – no need to put it away until company comes. This space could be a great place for drawing or playing board games, too.  Multi-purpose rooms are more important now that we are spending more time at home.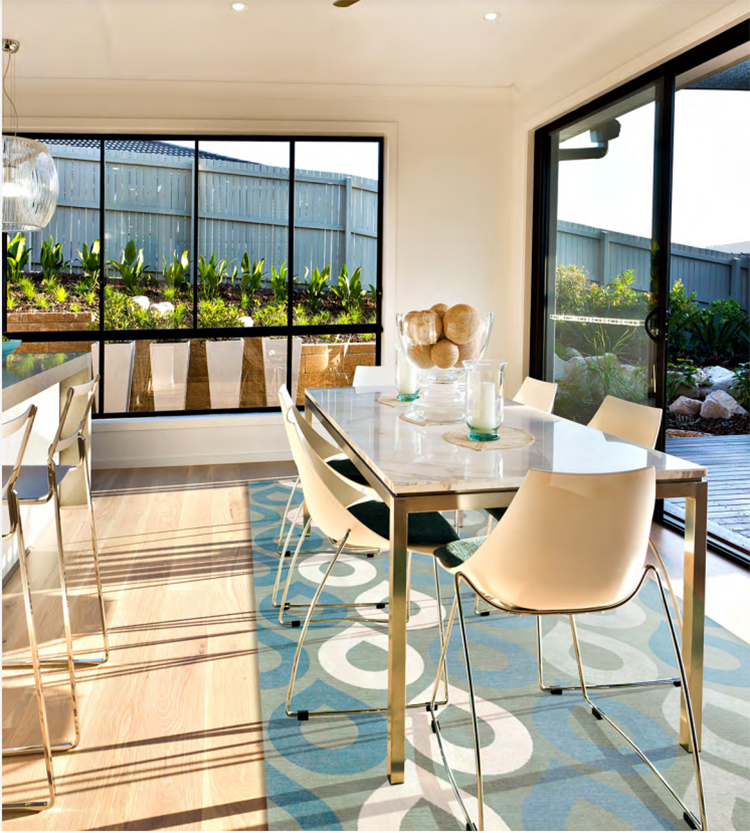 Eco-Friendly Design: Love It or Lose It?
Well, this one is easy – I love it!! What else would you expect from the "Green Queen?" Sustainable design is a passion for me, so I am always looking for manufacturers who offer eco-friendly furnishings and embrace sustainable practices. Delos Custom Carpets and Rugs fits the bill. This raindrop-inspired rug above is made in the USA from Econyl,® a fiber made entirely of regenerated nylon from recovered fishing nets, reclaimed carpets and other recycled nylon products. Isn't that awesome? Nylon is excellent for saturated colors and durability. It is resistant to stains and sun, too. Plus, Econyl® helps reduce our carbon footprint. Every 10,000 tons of Econyl® saves 70,000 barrels of crude oil, avoids 57,000 tons of CO2 equivalent emissions and over 1,000 gigajoules of primary energy demand. Love that!
Are you contemplating a home renovation project for 2022? Contact me!