It's hard to describe how great it feels to win a fourth ASID-IL Design Excellence Award in four years. Let's just say I'm walking on clouds! This year's winner is a multi-purpose entertainment room which took First Place "Wild Card Residential Space." I designed it for clients who live outside Dallas and love to entertain. Coincidentally, my next "50 Shades of Green" event, on Thurs., Oct. 14 in Libertyville, will focus on how to create the ultimate eco-friendly gathering spaces. Be sure to reserve a space for "Let's Entertain!"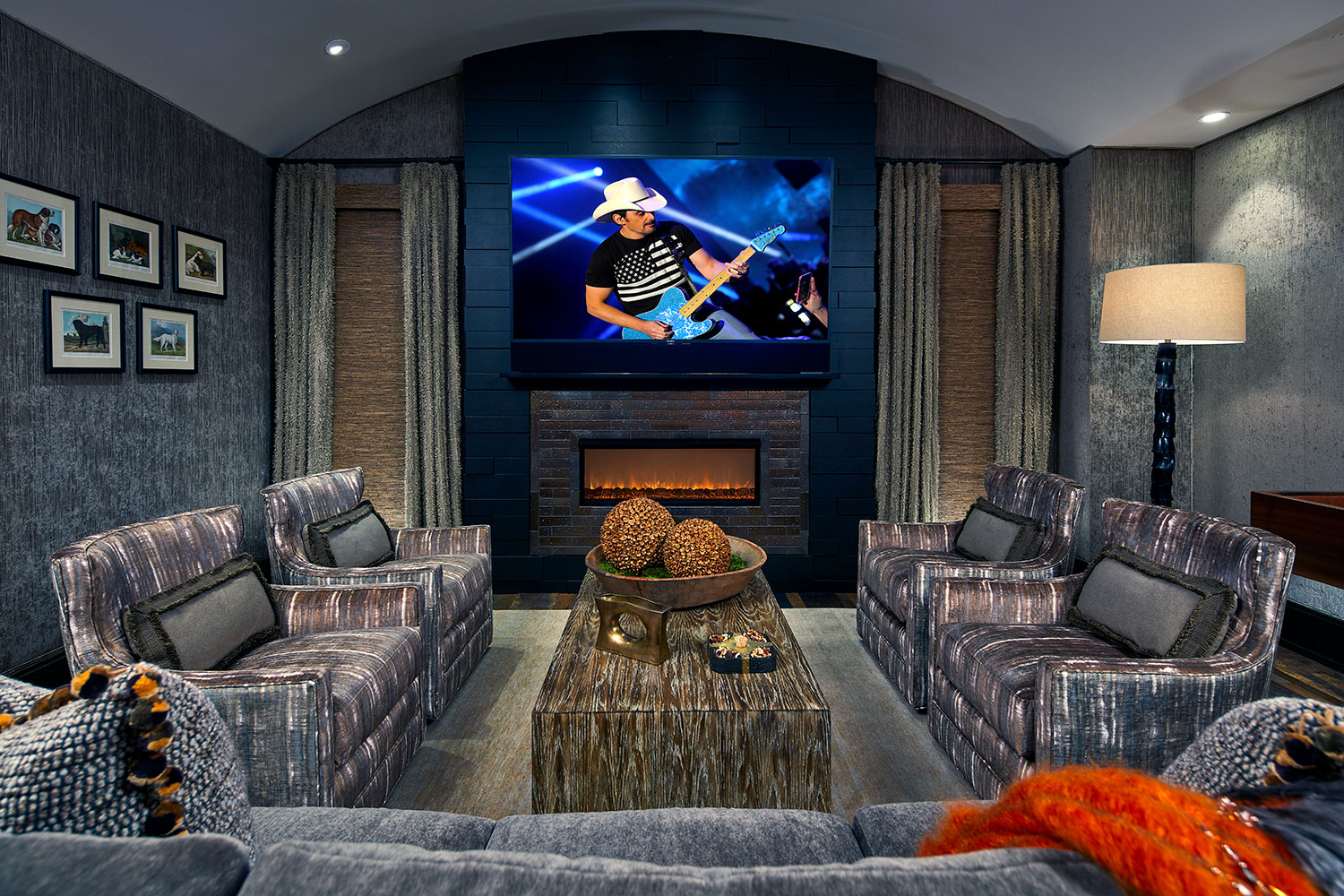 What They Wanted
Fun, fun fun! That was the primary goal for this multi-purpose entertainment room. My clients wanted me to pack as much enjoyment into this 486-square-foot space as possible without compromising aesthetics. With two grown children, four grandchildren and many friends, my clients imagined a party-like room where they can entertain in their luxurious-yet-Texas-casual style. On their wish list: four distinct areas including a media/conversation grouping, shown in the photo above, a bar, a game table space and a shuffleboard game. Plus, they wanted outstanding acoustics so that people at the bar can chat while others are watching the big game on TV or playing shuffleboard.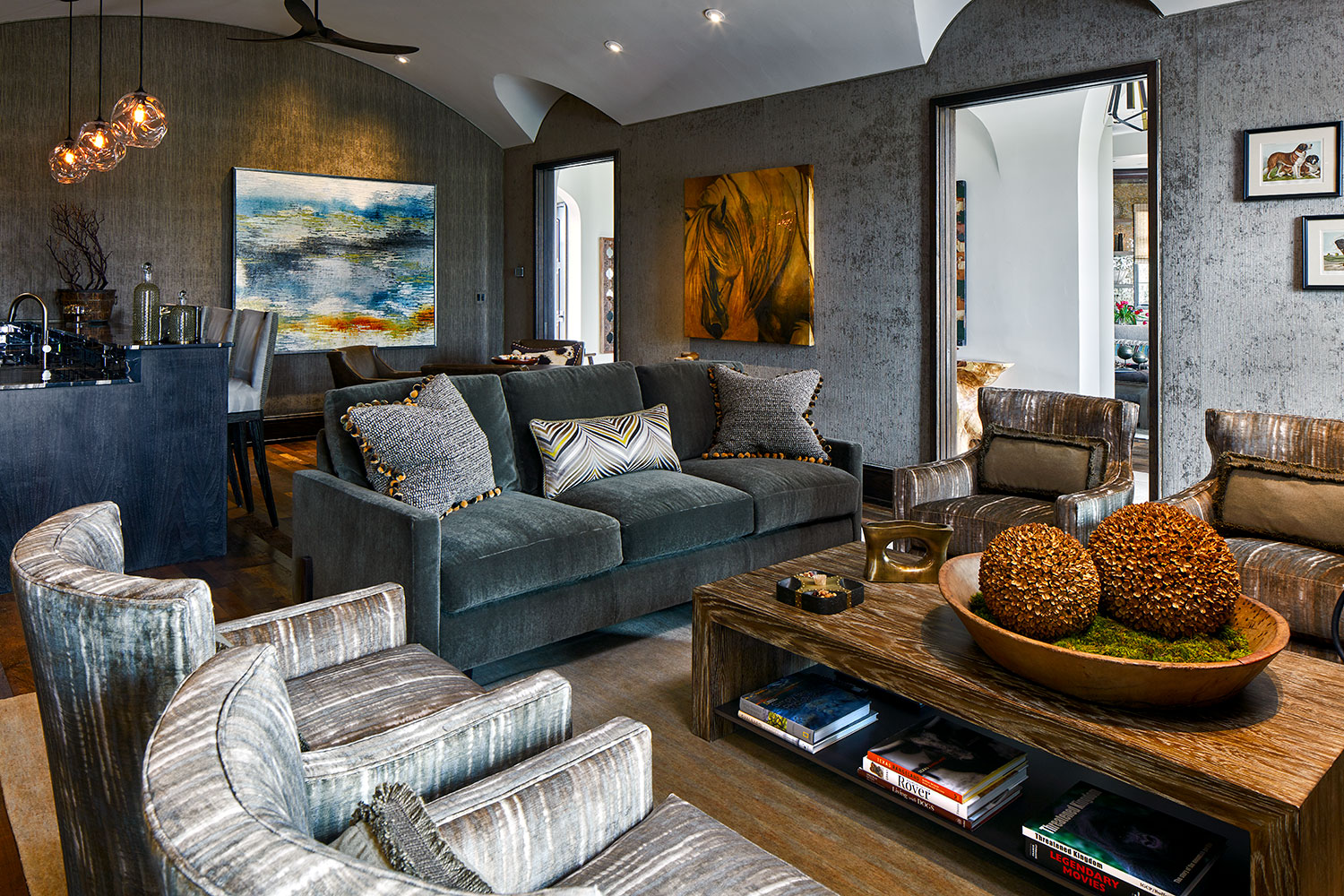 How to Bring Down the Sound
To begin, I covered the walls in a velvet-like fabric that looks luxurious, creates an intimate feeling and significantly dampens down noise. The upholstered sofas and chairs provide more than comfortable seating—they absorb sound waves too, along with the rug and the fabric-covered bar back panels.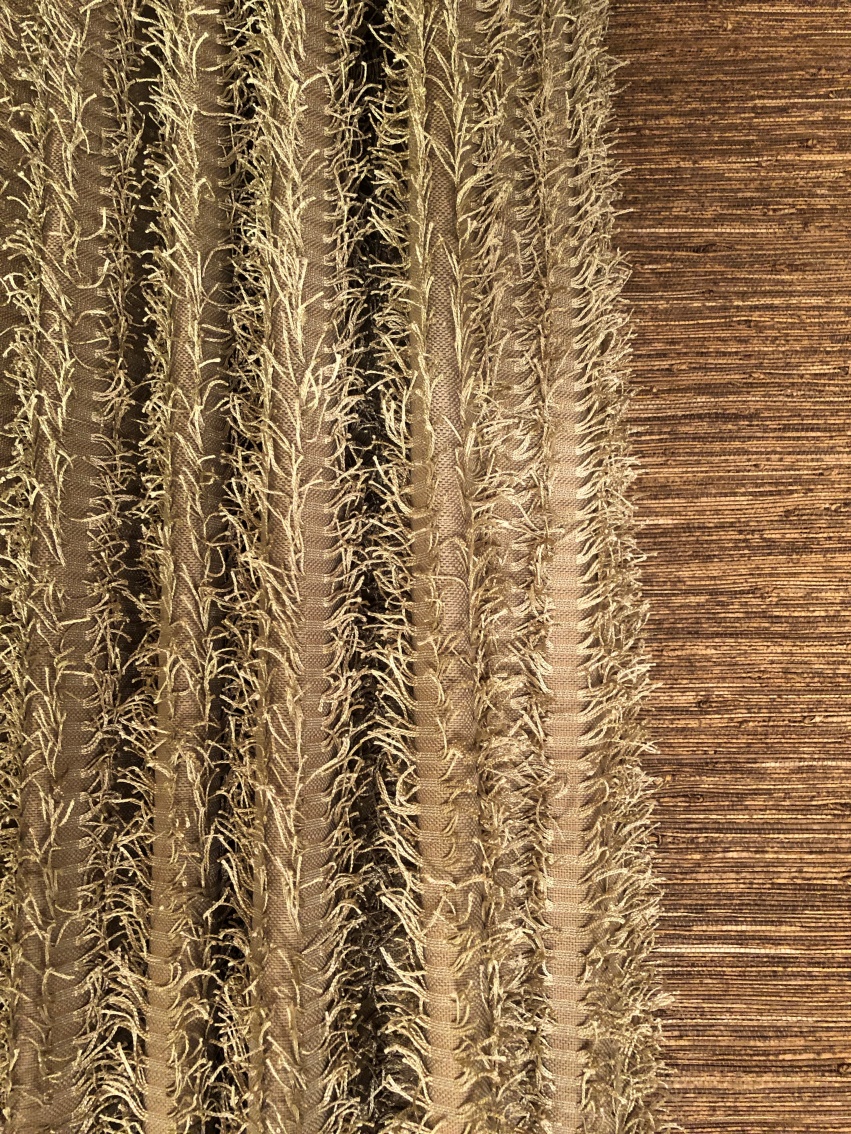 Sound Advice for Choosing Window Panels
With their rich folds and wispy texture, these window panels add another acoustic element to the entertainment space. My clients tell me that when they are hosting large groups, with people talking at the bar, kibitzing over a card game and others watching sports, this space develops a festive buzz that isn't overwhelming. Don't you just want to reach out and touch that feathery fabric?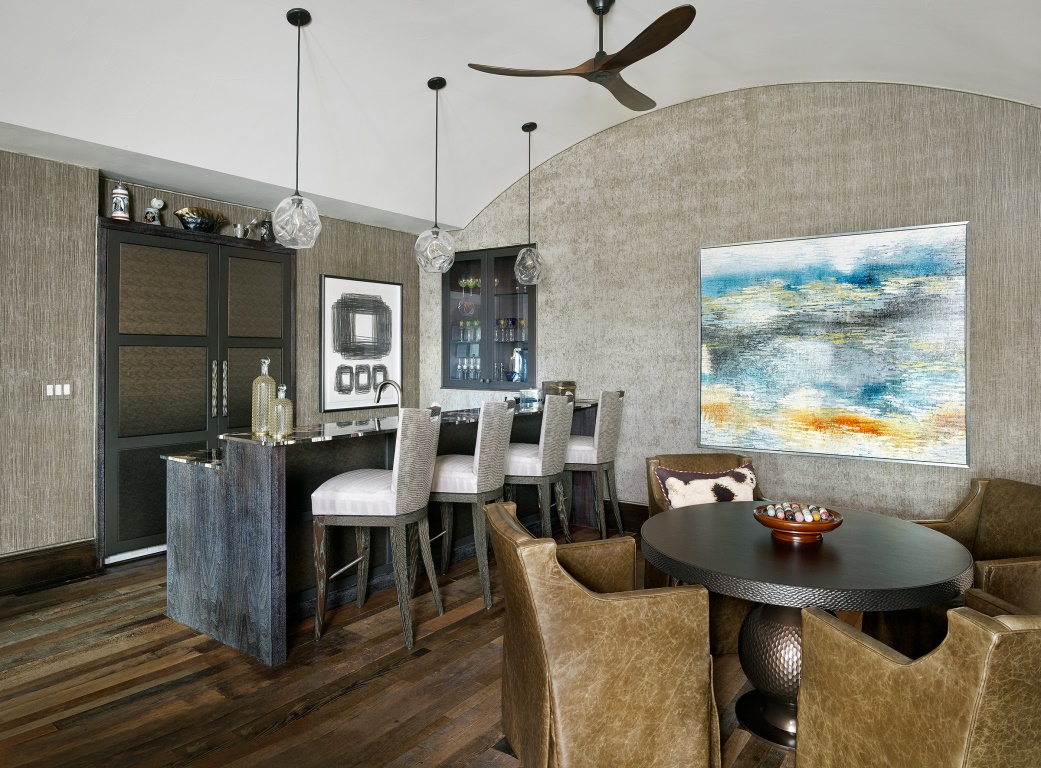 Tips for a Clubby, Cozy Vibe
Before construction on this spacious home began, my clients asked me to review and revise the architect's blueprints. For this room, I reduced the proposed doorways from three to two because they broke up the space too much, and one of the doorways was dangerously close to the stairs leading down to the powder room. Eliminating one doorway also freed up more wall space for design. At the same time, I recommended pocket doors in place of the architect's proposed French doors, which would have opened into the room, encroaching on the space. Finally, I relocated the fireplace from the wall between the two doorways to the window wall, improving traffic flow and design options. The result is a well laid-out, clubby and cozy space.
Remember the Details
Custom interior design is all about the details! Do you see the subtle shading in the wall fabric above and below? That shading creates an illusion of movement and provides a beautiful backdrop for artwork. The fabric also adds warmth. I think it's the perfect environment for laughing and having a good time while watching the Oscars or the Super Bowl.
Remember that fabric walls need to be trimmed or they won't look professionally finished. For this space, I outlined the top edge of all the fabric walls and around the edges of the door casings with a decorative flat trim called a "gimp" trim. Typically, fabric walls would be trimmed with rounded cording or piping, but I like the crisp, tailored look of the flat-backed gimp. Doesn't it highlight the elegant curve of the ceiling?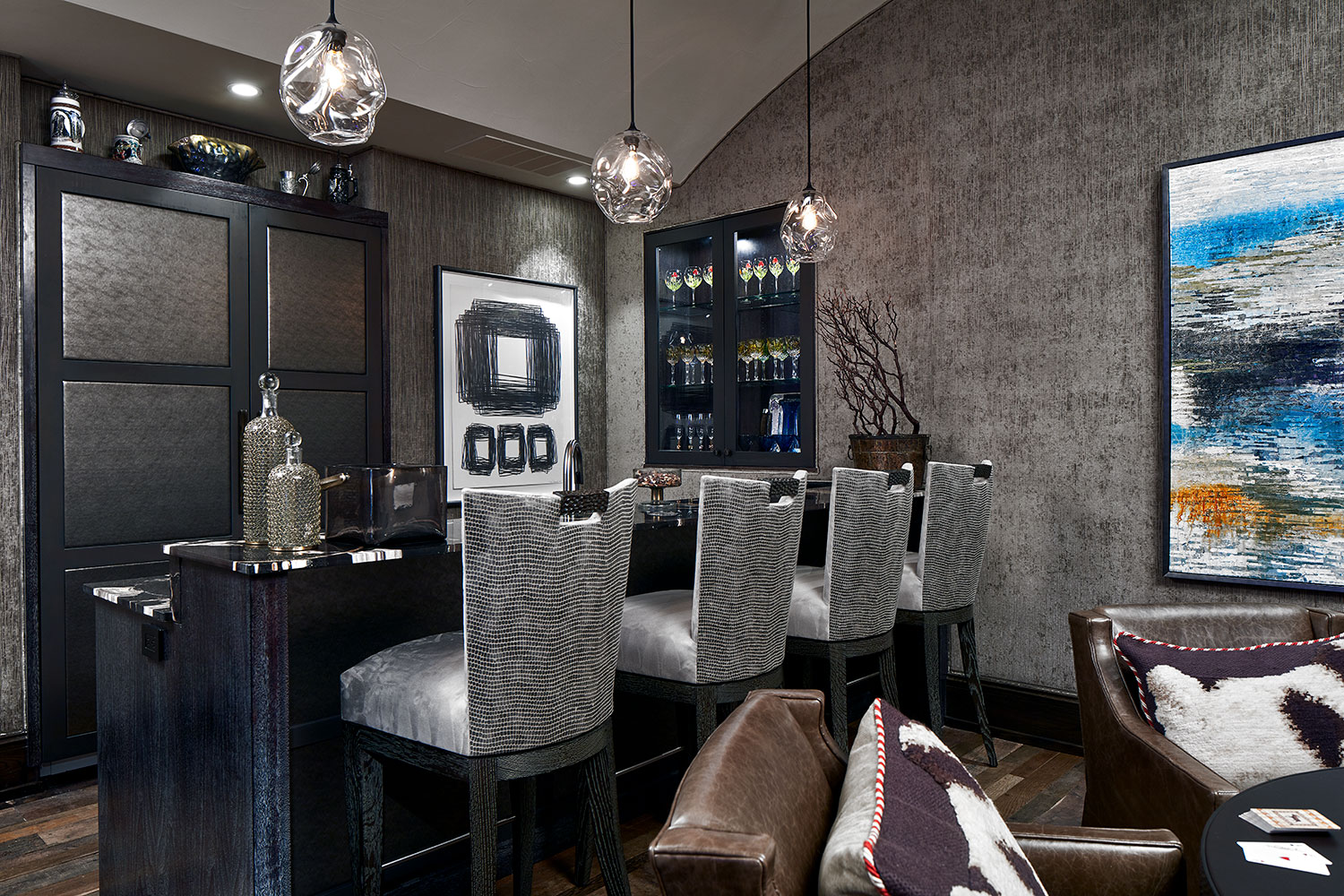 Choose a Variety of Seating
With four bar chairs, four game table chairs, four swivel chairs by the TV and a three-person sofa, my clients can seat 15 people comfortably while four more are playing shuffleboard. I call that a party! Notice that the bar chairs are upholstered in two understated yet elegant fabrics. So sharp! Plus, I included a glass-fronted cabinet for stemware that is recessed so it doesn't eat up any space.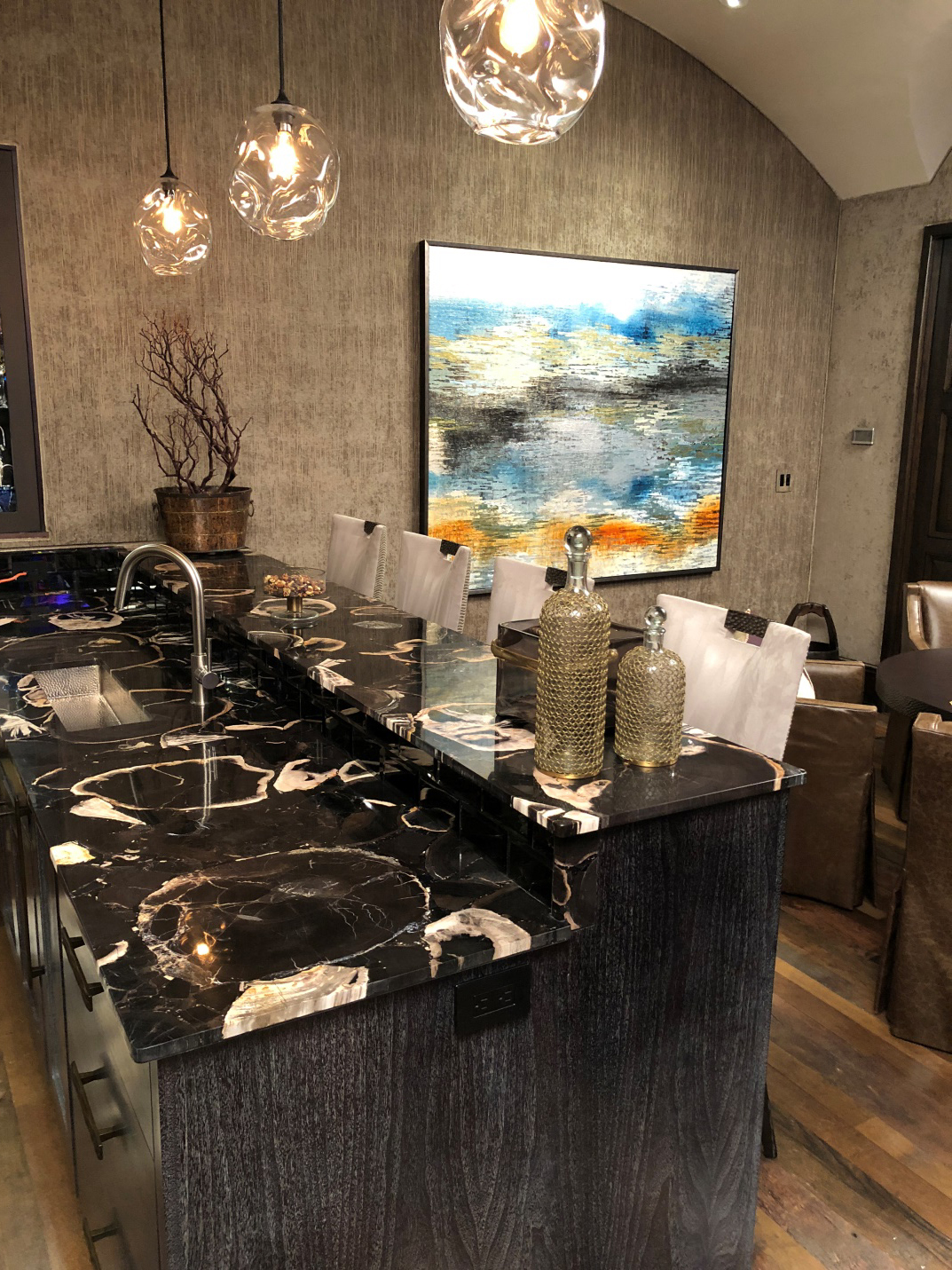 Include Eco-Friendly Elements
As a long-time nature lover and member of the Sustainable Furnishings Council, eco-friendly options are a priority for my clients' health and the health of the planet.
For this space I chose recyclable petrified wood for the bar top, fast-growing, sustainably harvested eucalyptus for the bar and reclaimed farm house wood for the floors. The support frames for the game table chairs, swivel chairs and the sofa are fabricated in the United States from renewable, bio-degradable maple that is sustainably harvested. I tell my clients it's easy to be (eco-friendly) green! In fact, your home can be any shade of sustainable green you like. That's the basis of my "50 Shades of Green" philosophy and my ongoing series of design events. Want to learn more? Just a reminder to sign up for my live event, "Let's Entertain" Want to learn more? Check out photos of two of my earlier award-winning projects here: