Greetings and Happy New Year from Michelle's Interiors! Are you feeling a little breathless after 2021? I know I am! We have survived our second pandemic year and we don't know what awaits us in 2022, but the start of each year is always an exciting time for me. I feel so full of hope and energy anticipating the opportunities to work with new clients and our valued long-time clients. Last year I talked about How 2020 Transformed Our Homes. This year I have some predictions about lifestyle and design trends in 2022, but first I want to reflect on the bright spots of the past year. Yes, there were some exciting moments!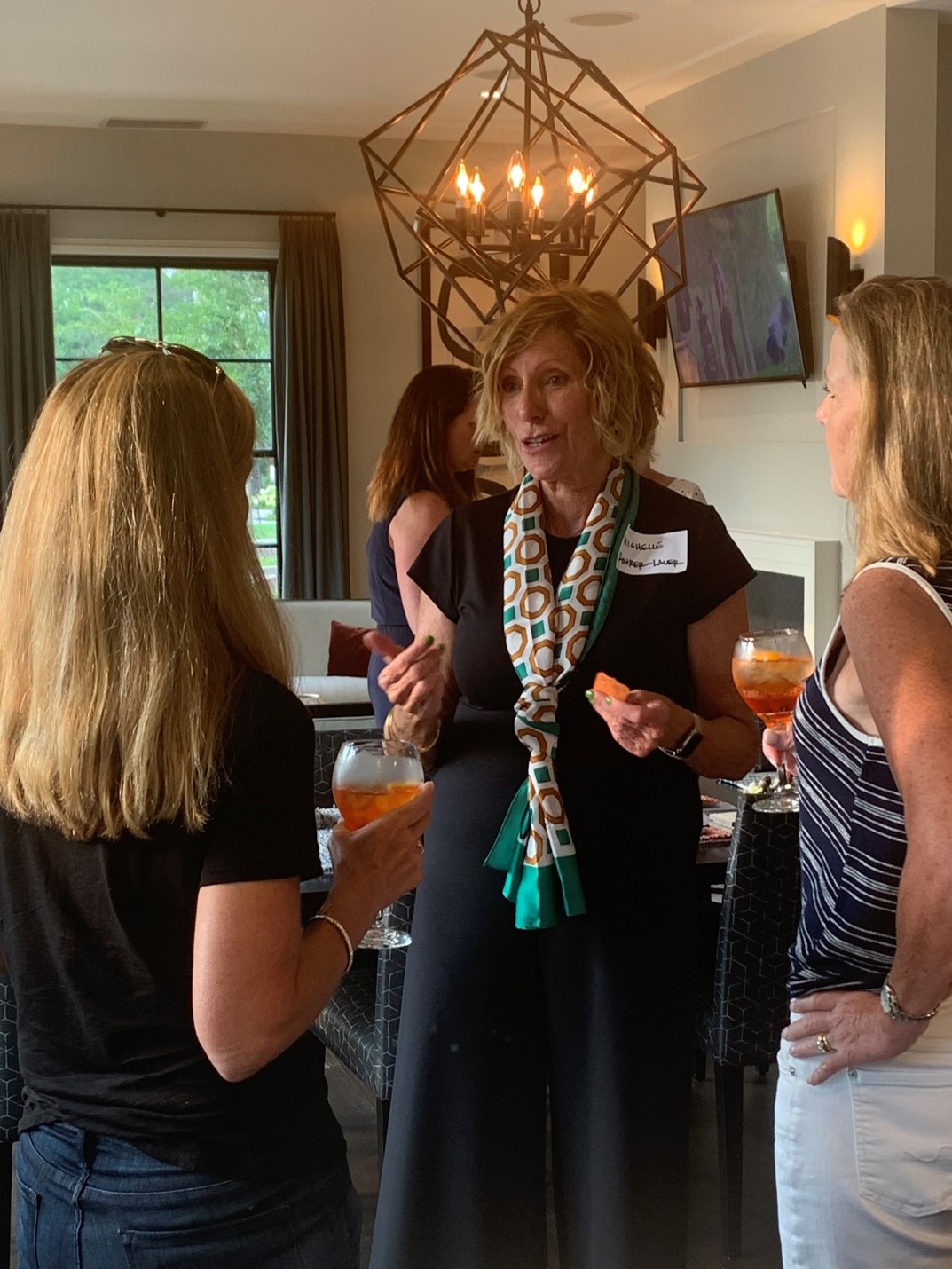 Getting Our Green On
I was so thrilled to share eco-friendly design ideas with everyone who attended our four, "50 Shades of Green" events last year. We traveled from Lake Forest to Libertyville and Lake Geneva, with our partners, Orren Pickell Building Group and Schmechtig Landscapes,  and we co-hosted a virtual event with Chalet Nursery.  As a member of the Sustainable Furnishings Council, I am passionate about creating healthier homes and communities by connecting our clients to sensible, eco-friendly design solutions. Why do I call my philosophy "50 Shades of Green?" Because I believe that we don't have to be 100 percent eco-friendly "green" at home to make a difference in indoor air quality and the health of our planet. Be on the lookout for details of this year's new "50 Shades of Green" events. I am planning to host three to four more sessions packed with information on sustainable design. We would love to see you there!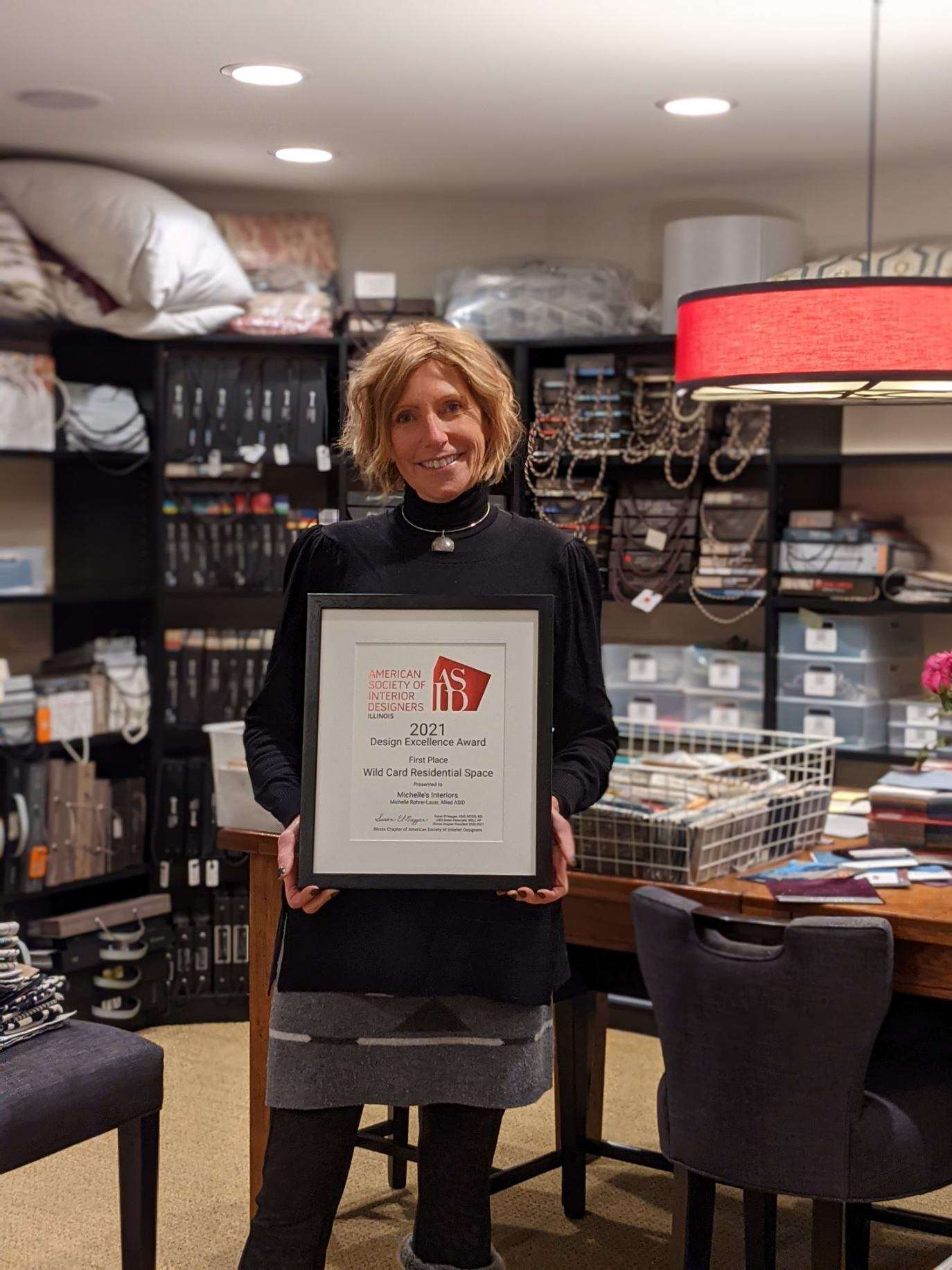 A Fourth ASID-IL Award and More Headlines
It was so exciting and humbling to win another ASID-IL Design Excellence Award last year, my fourth in four years. Last year's winner was a multi-purpose entertainment room which took first place in the "Wild Card Residential Space" category. I can tell you, our clients actually play some "wild cards" at the game table in that space! Check out the project photos here: A Fourth ASID-IL Award.   
A big thanks also to Jeanne Hudson, editor at Lake Homes, for featuring my ideas on Flexible and Functional Lake Home Living in their magazine, Lake Home Lifestyles, and my tips for Safely Renovating Your Lake Home in their blog. The website is a multi-state real estate brokerage for lake homes. Be on the lookout this spring for my "Outdoor Bliss" blog that will publish in Lake Homes' magazine and website. Plus, Sheridan Road magazine is featuring my ASID-IL award-winning Highland Park project in an upcoming issue. We will share those with you when they go live.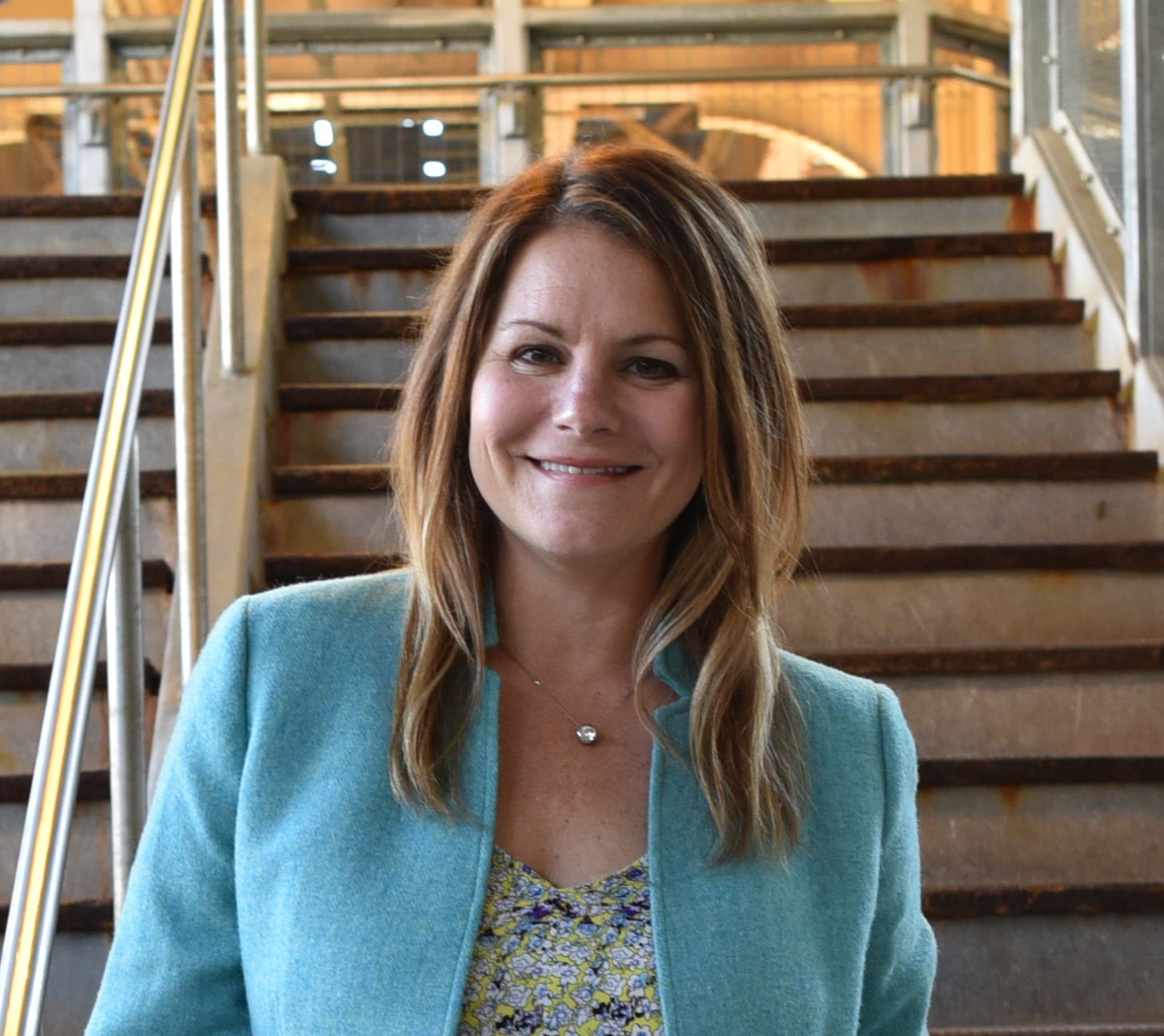 Say Goodbye and Say Hello
We are all sorry to say goodbye to our talented interior designer Kerry Panko, who is moving on to new responsibilities. She made a valuable contribution to our team, and we wish her well.
We also want to welcome Jennifer Paddock, a very experienced designer, to Michelle's Interiors. Jennifer is an NCIDQ-licensed interior designer who worked with an architect for nine years and a design-build firm for six years. I love her ideas and her style.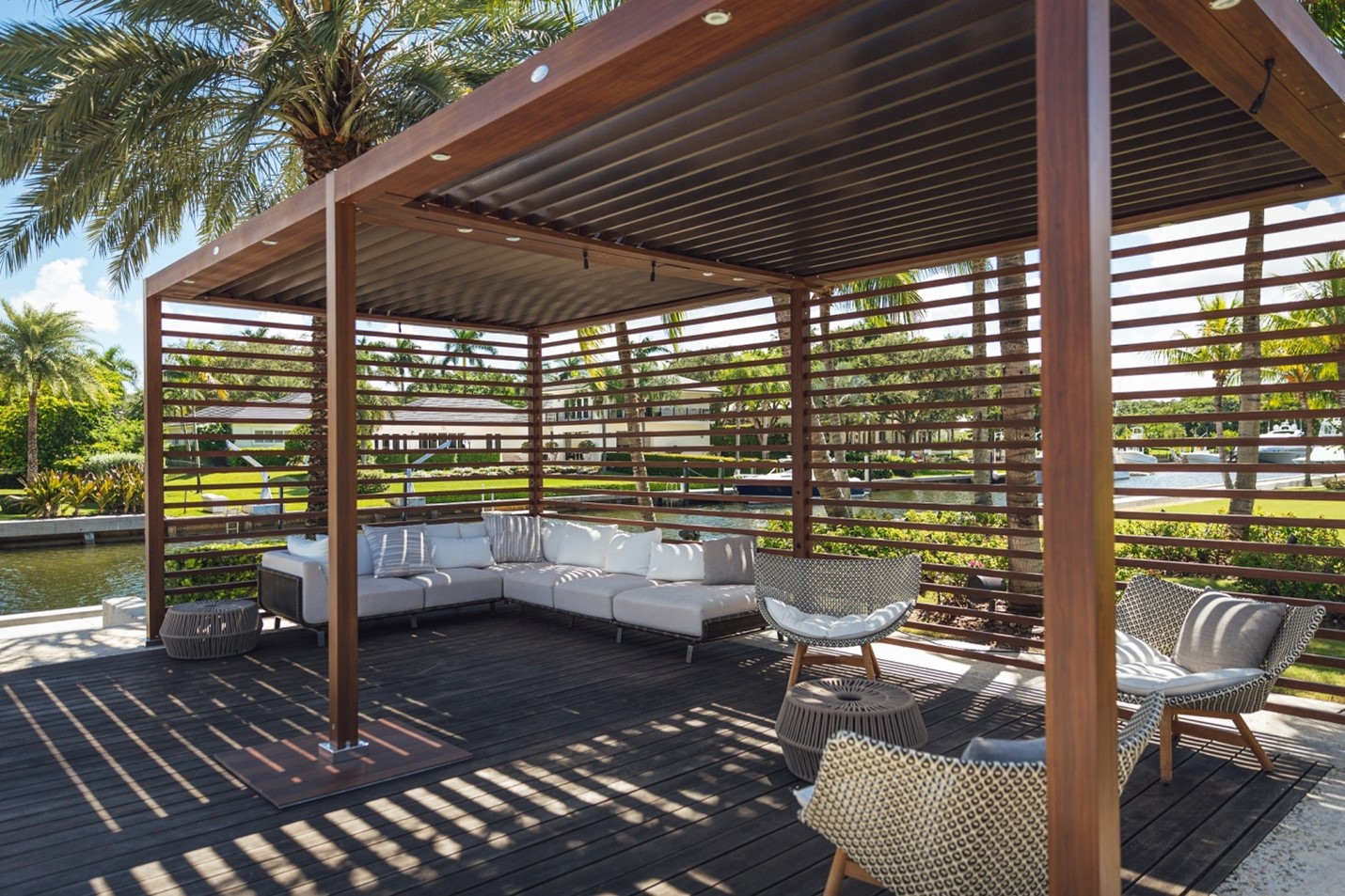 And Now – My Predictions for 2022!
Offices Will Go Al Fresco
Can't you picture yourself working outside in this awesome cabana once winter is behind us? That's something to look forward to! More than ever, people are working at home, and working outside is going to be a logical extension of that trend. I just recently installed a multi-purpose cabana like this one from Tuuci for clients in the Chicago area. It has automated louvres on the roof to block out sun or rain, and we added lights, heating elements, a plug-in for electronics and – believe it or not – beautiful outdoor drapes, including a fabric roof. Those add-ons will stretch our clients' outdoor season from early spring to late fall, whether they are working, practicing yoga, reading, texting or doing absolutely nothing. Ahhh.
If you love the outdoors, you know that it's important to protect your skin. With the louvered roof and retractable cloth cover you can choose how much sun you soak up. The draw curtains not only provide some privacy and protection from the wind and sun, but when they are closed, they convert the cabana into a really cool clubhouse or theatre for young children or grandchildren staging plays or pretending to be pirates or Antarctic explorers.
As a member of the Sustainable Furnishings Council, I love that this cabana is fabricated of durable aluminum and stainless steel, which are both 100 percent recyclable. Seventy-five percent of all aluminum that has ever been made is still in use because the metal can be recycled over and over again. Here's another tidbit: Recycling aluminum requires only 5% of the energy used to make primary aluminum for the first time. That's so green!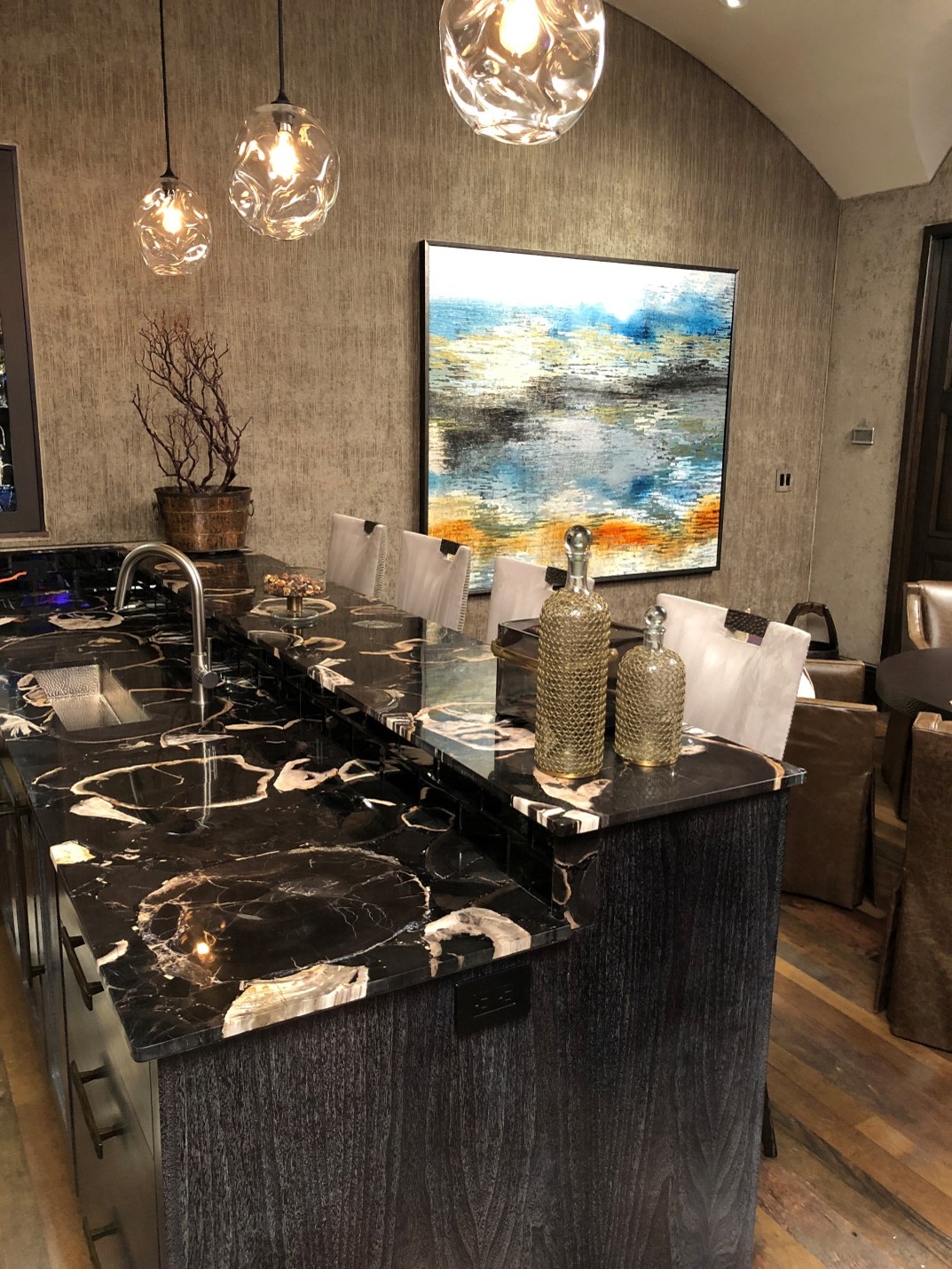 Home Entertainment Will Power Up
I predict that once the latest COVID surge recedes, entertaining at home is going to power up. Many of us are working from home more often, and we need to be more deliberate about connecting with people. I know that I need the energy infusion I get from hanging out with family and friends.
Home bars will be one hot spot for home entertaining this year. Whether your beverage of choice is beer, wine, cocktails or Glaceau Vitamin Water, a well-designed home bar is a friendly, relaxing place to enjoy it. I have a lot of ideas for making this space uniquely yours, such as the black and white petrified wood bar top in the photo above. In fact, I'm going to devote an entire blog to that topic later this year, including a display idea for a popular beverage. Stay tuned!
Resort-style entertaining in your own backyard – call it "backyarding" – is another concept that's gaining traction. I have always said that our homes should feel like our favorite vacation destination, every day.
During these past two years that philosophy has become even more apparent.  My clients appreciate the day-to-day rewards of making their home as inviting and luxurious as their go-to resort or vacation spot.  Demand is going to increase for all the comforts.   
Bathrooms with Backyard Access
One of the most in-demand amenities is a bathroom with direct outdoor access. In fact, I just added bathrooms with backyard access to the blueprints for two new houses I am working on.  After all, who wants a lot of people tracking through their home to the bathroom during an outdoor party, even if they are your friends and family? Haha!  Of course, fire pits, full-equipped kitchens, cabanas and lounge areas will continue to be popular.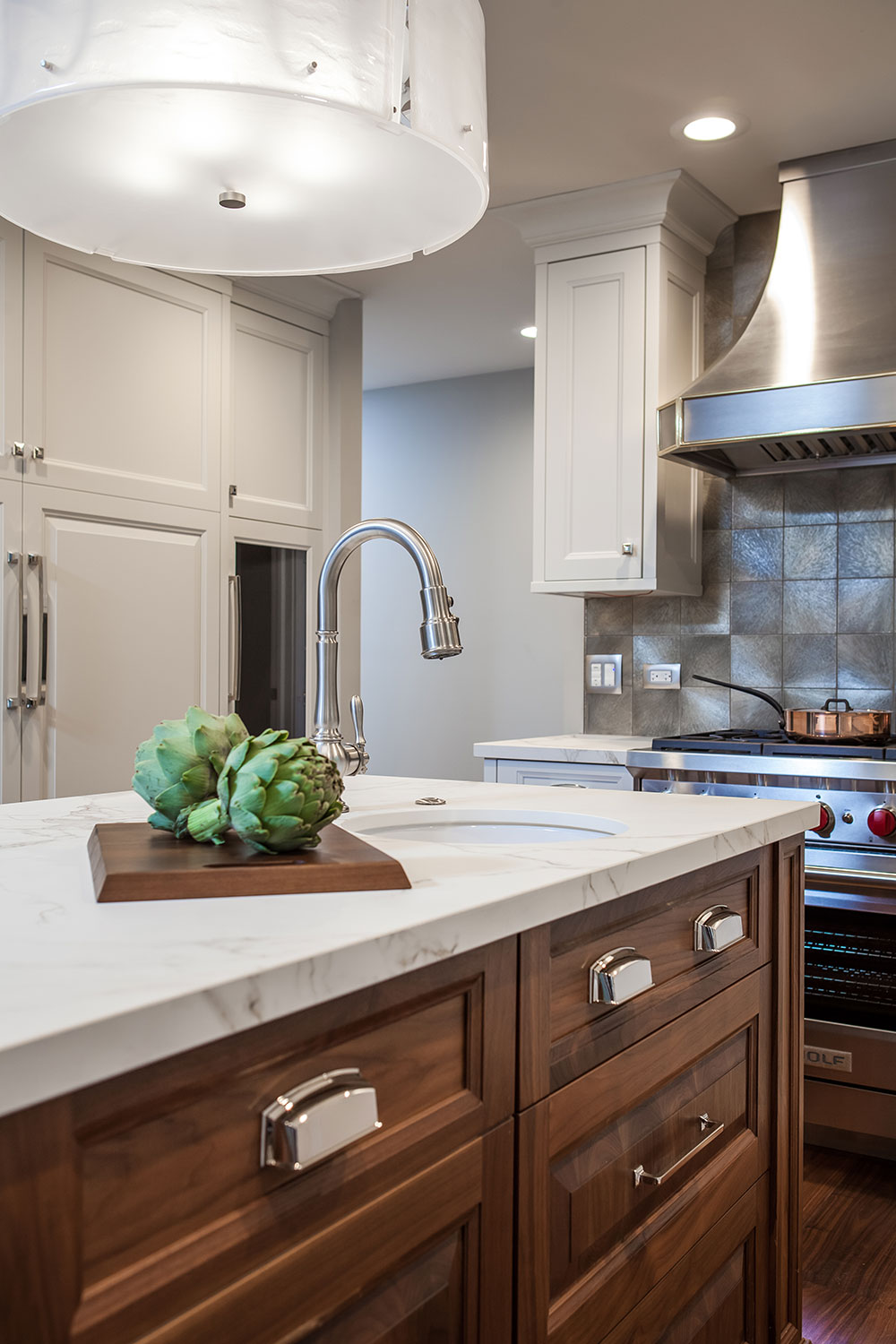 Home Cooking Boomlet Will Persist
I confess, my husband Jeff does all of the cooking at our house and I love coming home to a hot meal! But the pandemic has spurred a renewed love for home cooking for a lot of Americans. The Food Industry Association reported that 49 percent of shoppers were cooking or preparing their own meals more than before the pandemic. New studies suggest that the Shift to Home Cooking Might Outlast Pandemic. I can see it! Couples are cooking together. Children are getting into the act. Families are going to be scheduling cooking nights the way they schedule game or movie nights. What does that mean? Function will be more important than ever. A few important elements for 2022:
Refrigerator drawers in the island to keep most-used foods close by
Storage drawers instead of cabinets for easier, more accessible storage, as in the photo above
Two prep areas, each with a sink for group cooking!
At least one sink that is large enough for big pot and pans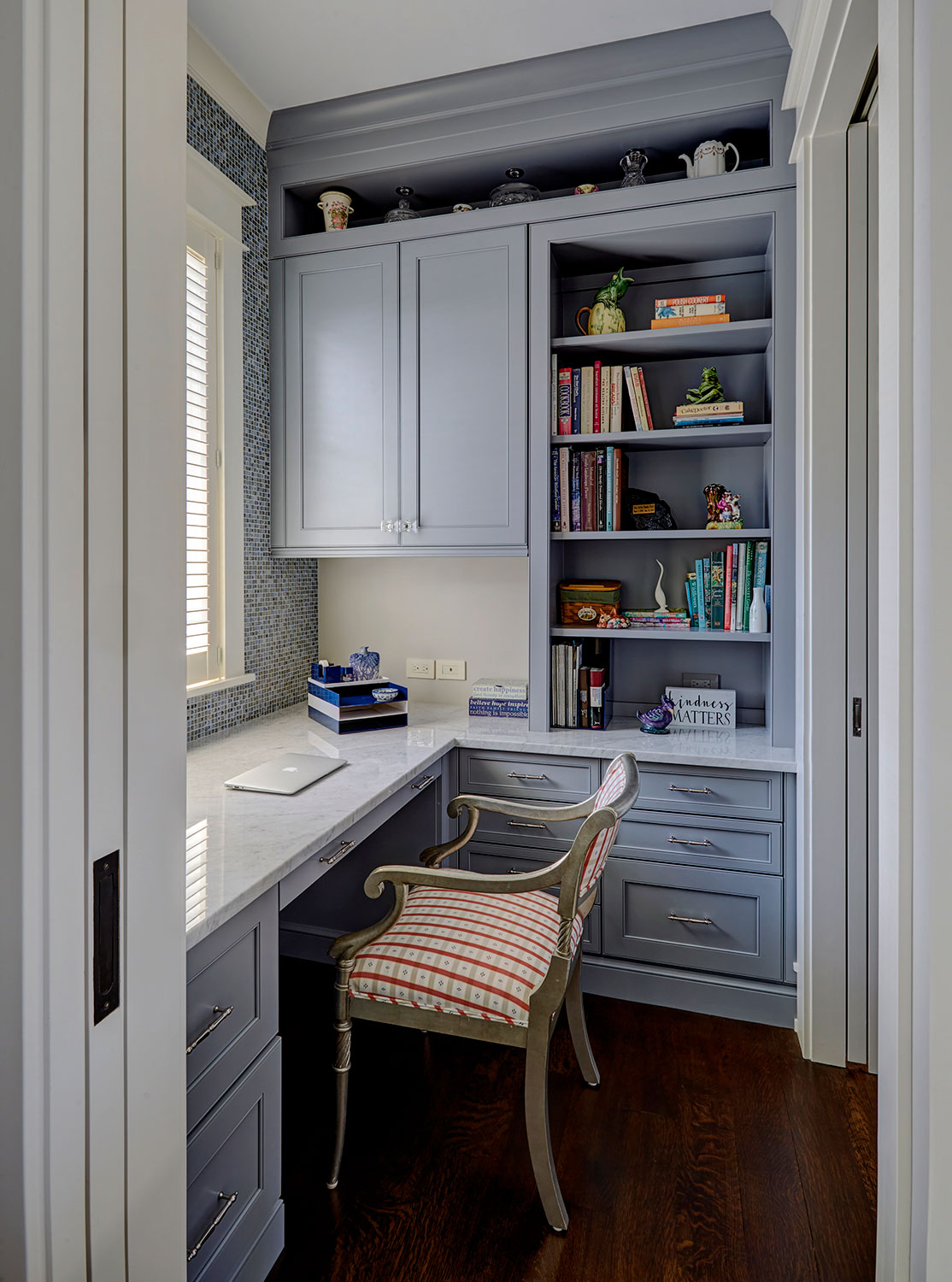 Open Concept Will Fade
My niece and I were talking recently about how happy she feels about living in an older home with a "closed" floor plan instead of open.  She said that in her previous home, she felt like she was in the kitchen all the time because it was open to the family room and dining room. My niece isn't alone in craving private spaces. Even before the pandemic hit, the open space concept had been declining, and that trend continues to gain momentum. One clever solution to creating private space in an open space is this cozy office hidden from the adjacent kitchen by a pocket door. It was constructed by my partners, Orren Pickell Building Group.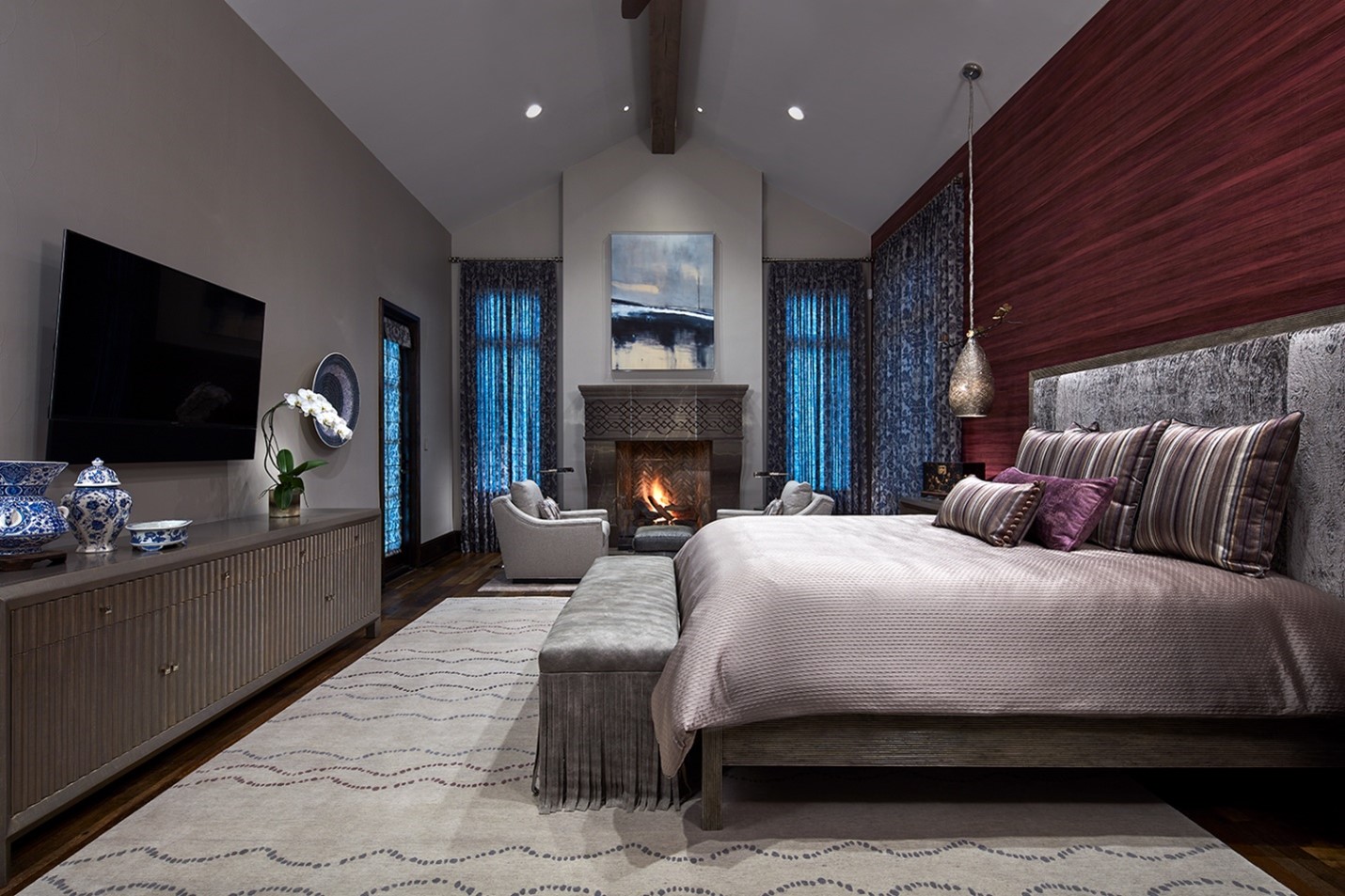 Acoustics Will Improve
Life at home can get loud if two people are taking phone calls and Zoom meetings, the kids have arrived home from school and the dogs are barking to get outside for a walk. The decibels can rise quickly! Three sound solutions:
Area rugs. So many homes today have wood floors, which are beautiful, but they can be noisy. Area rugs help dampen down the volume while protecting the wood from scratches and providing a design element. Better yet, if you choose a wool or bamboo fiber rug they are eco-friendly! 
Window treatments offer the same acoustical and design benefits, while also adding privacy and insulation. Both bring soft elements to a space, too.
Fabric-covered walls are another acoustical option, especially in a media room.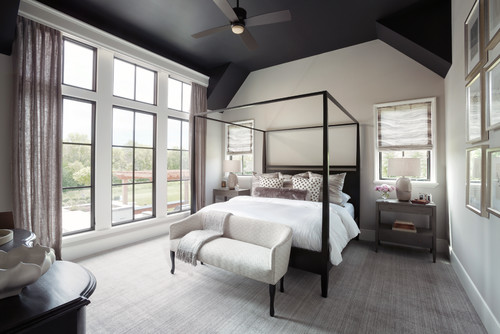 Photo by Vivid Interior Design – Danielle Loven – Discover bedroom design ideas
Accent Ceilings
Take a moment to look up at your ceilings. Are most of them ceiling white? I think a lot of us are noticing little details like that as we spend more time at home. Painting ceilings an accent color or applying a faux finish can make a huge difference in the right space. Imagine this – for clients with a new house under construction, I am going to paint the great room ceiling glossy black. Sound scary? It isn't if you love black and white, as these clients do. The black will be a dramatic backdrop for the white glass fixtures I have chosen. Once this whole-house project is completed, I will share lots of photos! In the meantime…
Let's Chat!
Are you ready to update your home or furnish a new home in 2022? Contact us at 847-223-2660.